Sold Out
Northern Edge Algonquin
Quest for Balance: Yoga & SUP Retreat

We're sorry, but this package is not currently available. Please see the Northern Edge Algonquin page for other package offers.
or talk to Vacayou travel concierge
Where are you dreaming of taking your yoga practice this summer? How does practicing sun salutations on a yoga platform as mist rises off the water sound? Or mastering a new skill on a stand-up paddleboard (SUP)? The Quest for Balance Yoga & SUP Retreat at Northern Edge Algonquin offers two yoga daily practices—one active and one restorative—while also learning to SUP on scenic Kawawaymog Lake.
Challenge your core with warrior poses while balancing on a SUP. Ground down with tree pose on a small island in the middle of the lake. Restore your body and soul in the wood-fired sauna. Balance the active yang practice of the day's adventures with a restorative yin practice.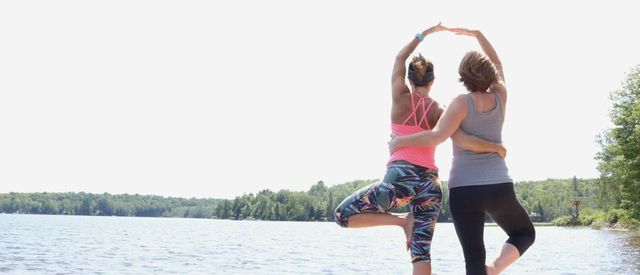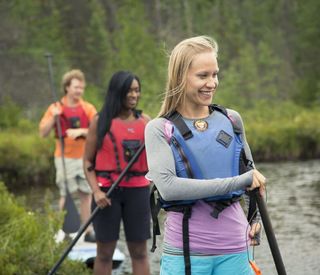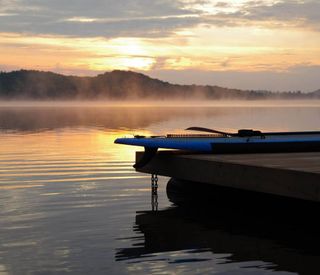 Experience
Who doesn't need a little Yin for their Yang? Get back to nature and back to your body while trying something new. The retreat is open to all skills levels, from beginner to advanced.
Four days and three nights of accommodation and mouth-watering locally grown, organic meals
After a day on the water plus yoga in the summer sun, you'll be treated to Chef Gregor's amazing cooking
Gather around a fire pit to gather around as you connect with your new yoga and paddleboarding pals
Enjoy space to dream, be creative, rest, rejuvenate and experience a sense of community
Itinerary
Welcome! Get to know your facilitators and other participants in the waterfront gardens (lemonade and snacks served). Enjoy a brief introduction to stand-up paddleboarding before a delicious dinner introduced by Chef Gregor in the dining room. In the evening, settle into a welcoming circle and a soothing introductory yoga session geared toward preparing you for the weekend.
Start your day at 7:30 am with a morning yoga session before a delicious natural breakfast. Afterward, get comfortable on and in the water with an intro to SUP and kayaking. Enjoy a healthy lunch followed by unstructured dream time or free time to explore. The sauna will be fired up for a 4 pm sweat session. After dinner nature beckons for an evening hike or sit in meditation on the floating yoga platform. 
Another early wake-up for your 7:30 am morning yoga session followed by a hearty breakfast. Today's activity is a day trip to Blueberry Island for a picnic lunch and swim. We throw in an early evening yoga session before gathering around the forest bake oven for the best hand-made artisan wood-fired pizza you've ever had. Wrap up the evening around the campfire.
Enjoy a continental breakfast followed by an optional yoga session or a choose-your-own activity. Everyone meets at 11 am for a farewell brunch, sauna and a closing circle before saying your goodbye.
Northern Edge Algonquin
Read more about Northern Edge Algonquin
More than a digital detox, a stay at Northern Edge Algonquin is like a visit to a place where time stands still—a little corner of paradise without all the stressors of everyday noise. Guests who come to the Edge feel renewed and transformed, and leave ready to live their extraordinary lives.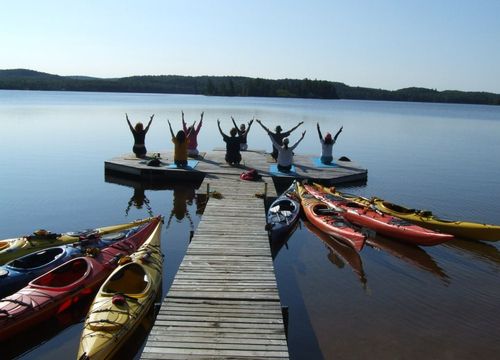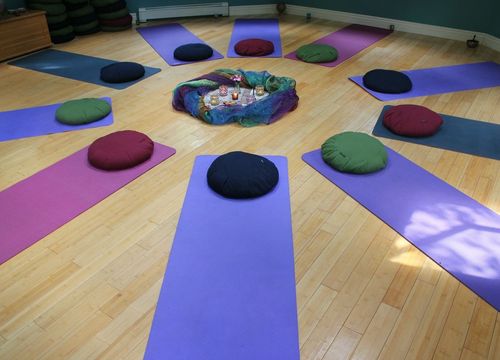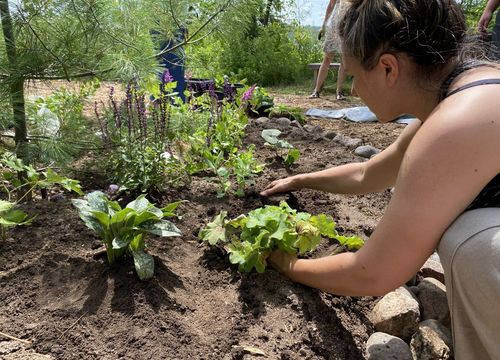 Accommodations
Accommodations are simple yet comfortable, providing a range of options to meet the needs of guests participating in a scheduled program or group stay. 
Studio Cabins
These cabins feature spacious rooms with many eco-friendly features including a small en-suite bathroom with composting toilet and running water. Each equipped with a double bed and single bed, these cabins are ideal for couples and/or friends. Studio cabins are heated year-round and used for winter and summer retreat guests.
Log Cabins
Designed for your comfort, the spacious and colorful rooms are some of the most upscale (and the first accommodations featuring private showers). Each room has a queen bed that can convert into two twin beds, giving lots of flexibility with sleeping arrangements. A small gathering area surrounding a gas fireplace will be a great hangout spot for those guests looking to visit or read a book.
Canvas Cabins
These wood and canvas tent cabins are clean, dry and nestled on a hillside surrounded by the lush greenery of the retreat center. Some call it glamping or glamorous camping and for most, it's the best of both worlds. The best outhouse in Canada is steps away featuring a tiled floor and composting toilet; flush toilets and showers are located one minute walk away. These seasonal unheated accommodations are available May through September.
Habitat Cabins
Surrounded by the maple and balsam fir forest, these cabins were designed for year-round comfort. These well-insulated buildings feature two single beds plus a loft with a double bed, topped with feather duvets and colorful linens.  Washrooms and showers for these cabins are a short walk away. These cabins accommodate two to four guests.
Highlander House
Close-knit groups of friends or family will appreciate the history of this restored 120-year-old cabin that is located at the top of a hill, featuring a double bed and four single beds in a private loft upstairs, as well as plenty of space for lounging. On the lower level, a wood-fired stove sits center stage, surrounded by seating, a dining room table and a card table. An attached bathroom with a composting toilet is easily accessible.
Features & Amenities
Year-round comfortable accommodation
Comfortable feather duvets and colorful linen sheets
En-suite bathroom featuring a composting toilet & running water
Showers located just a short walk 
Yoga garden and fire circles
FAQ
Airfare
Transport to/from the Edge
What should I pack?
A printable packing checklist is available in the welcome package that is sent to you upon registration. If you forgot your towel, flashlight, toothbrush or water bottle, your host can help. The Edge has extras of most gear.
Alcohol and Drug Use
Even moderate alcohol consumption or recreational drug use would interfere with the ability to deliver safe, memorable experiences. Alcohol is only permitted when served by Edge staff as an accent to experiences at mealtime. Recreational drugs are never permitted.
Phone and Internet
Our experiences are 100% unplugged. Cell phones don't work here. The Edge uses satellite internet to communicate to the office, or for emergency phone calls & messages only.
Dreams Coming True
Communicate with your host and let them know what you would like to experience! Participants actively co-create each retreat to ensure their bucket list dreams come true.
Community Spaces
Please contribute to clean & clear shared spaces by keeping doorways free of shoes, tidying up after your own dishes, and keeping personal items such as toothbrushes & towels in your cabin until you need to use them.
Gratuities
Gratuities are welcome, but not required. The team appreciates gratitude in all forms: a word of thanks, a written note or a goodbye hug will make their day! If an individual has made your stay especially enjoyable, you may tip that person directly.
Guests should plan on arriving between 1-3 pm on arrival day. Departure time for most experiences is also 1-3 pm. In most cases, the Edge is not equipped to host guests who wish to extend their stay. They are happy to provide suggestions for alternate accommodations if you plan on extending your time in the area. 
Terms
Deposit protection
Your non-refundable deposit or enrollment fee allows the Edge to make commitments to hosts, facilitators, guides, suppliers & on-site support staff for your retreat. Much of the planning for your visit takes place months and even up to a year in advance. They also, make purchases, prepare materials & spaces, plan menus and buy fresh food to support programs based on your registration.
The programs require a minimum number of registrants, and once that number is reached guests and staff make travel arrangements while the Edge prepares for the event, all with the assurance that the program will run. Deposits help protect the ability to offer these programs even in the event that some participants cancel their attendance.
Due to the high staff to guest ratio, the addition of one or two guests on an experience can result in additional staff making commitments to work for the duration of your visit. To ensure the best experience possible, the Edge makes commitments to facilitators and guides at the earliest possible date.
While the funds paid in your deposit are used toward the retreat experience and thus cannot be refunded, the Edge does offer a credit to be used toward a future event.
Lifetime Credit
Your deposit is protected. If your trip is canceled or delayed by you, the Edge will credit you for the amount of your deposit. Whether you opt to use this credit for the same experience in the future, register for a different retreat, save it up for a rainy day, gift it to a friend or donate it, you are covered.
Cancellations
Cancellations can be made by phone or email. Please inform as early as possible if your plans change.
Cancellation made 15+ days prior to arrival day:
The Edge will create a Lifetime Credit for the amount of your deposit (typically 50% of your overall balance, including any add-ons) and refund the rest if you've paid in full.
Cancellation made 2 – 15 days prior to arrival day:
At this point, your full balance is past due and should be fully paid.
The Edge will create a Lifetime Credit for the entire balance of fees paid for your experience.
Cancellation made within 48 hours of arrival day, including non-arrivals:
By this point, the Edge has used your payment to prepare for your visit and is unable to provide refunds or credits of any type.
Covid 19 Cancellations
Deposits for both guests and facilitators are currently refundable at any time leading up to a retreat experience if a cancellation occurs as a result of government-mandated closures, or the appearance of any Covid-19 related symptoms. This allows the Edge to safely move forward with retreat experiences, keeping both their own and your minds at ease that everyone on site will be happy and healthy. 
Early Departure
As stated in the Acknowledgement and Release, Northern Edge Algonquin reserves the right to ask a guest to leave prior to the scheduled end of their stay when deemed necessary for the well-being of our staff and/or other guests.  
Guests may also choose to depart early of their own accord.
Refunds and credits are never available in the case of early departure, nor shall Northern Edge Algonquin be responsible for any additional expenses (ie: transportation) created by the early departure.
Program Cancellation
If the Edge cancels an experience due to under-enrollment you'll receive a minimum of two weeks notice and your choice of the following:
Substitute any other visit to the Edge in the same year at 20% off.
A full refund for the balance paid.
Please note, NEA is not responsible for incidental expenses or consequential losses (such as non-refundable travel costs, loss of earnings) incurred in the event of cancellation. Check with your airline or travel planner for cancellation policies upon making travel arrangements.