Reset Inside Out
Northern Edge Algonquin was created as a sanctuary from cell phones and constant connectivity to help guests rediscover themselves, empower one another and reconnect with nature. And their philosophy transcends this. People have a right to be healthier, happier, more successful and more inspired by spending more time unplugged from technology and plugging into nature, paying attention to the people and things that matter most, eating healthy locally grown and organic food, creating richer local connections with the people in their community. Most of the experiences at The Edge are 100% unplugged. This makes it possible for guests to fully enjoy every moment of their experience without the distraction of technology.
South River, Ontario

Retreat Center

Award-Winning
What We Love
More than a digital detox, a stay at the Edge is like a visit to a place where time stands still—a little corner of paradise without all the stressors of everyday noise. Guests sleep comfortably in private or semi-private cozy eco-luxe cabins, enjoy mouthwatering meals crafted with care from locally sourced ingredients, and participate in specially curated experiences hosted by local guides, facilitators and storytellers who make use of the lakeside studio and natural gathering spaces. Sometimes you might align with the pace of nature and rise with the sun to paddle a misty river in search of moose and other wildlife or unwind in the wood-fired sauna before jumping in the lake or rolling in the snow. At night, everyone huddles around a fire circle to share stories and music under a festival of stars.
Guests who come here feel renewed and transformed, and leave ready to live their extraordinary lives. Your Vacayou options include:
Accommodations in comfortable forest cabin 
Mouthwatering locally grown, organic meals
Lakefront wood-fired sauna experiences
Solo exploration surrounded by nature, engaging personal momentum to canoe, kayak, bike, hike or SUP
Time to dream, be creative, rest, rejuvenate and experience a sense of community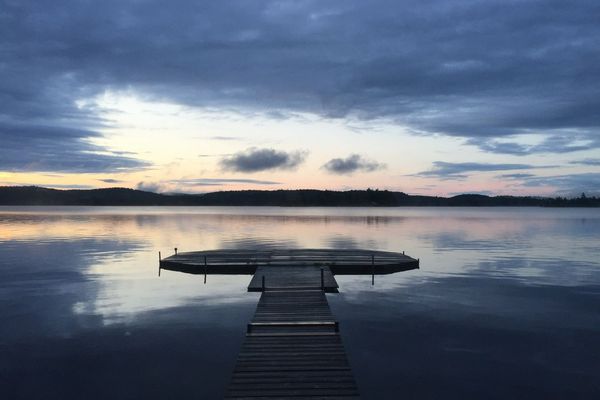 Experience
Discover the pristine waters, expansive night skies, green forest and deep peace that a visit to the Edge offers. Experience sunrise and sunset yoga in the forest, meditation on the water, workshops in the studio; then explore the area via canoe, stand-up paddleboard, a hike,  snowshoeing or skiing. The Edge hosts only one retreat group at a time, which means that in addition to meals, accommodation and provided activities, groups have use of a variety of gathering spaces to use for programming or during free time. The floating platform is the best place to take your coffee and watch the sunrise. There is lots of room for yoga, reading and even for making a cozy space and stargazing in the evening. The Edge also has a yoga garden and three fire circles on-site.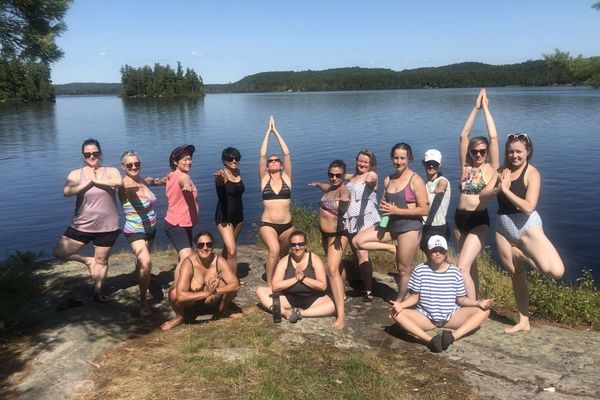 Activities
There are many magical places to connect deep within and feel inspired and nourished in nature. The Bearfoot trails are beautiful pathways in the forest that explore the property. Step into the labyrinth to walk with intention, moving toward the center of the spiral and the center of your heart. Turtle Shell adventure center is the home of fun, adventure and creativity! Here you'll find equipment for outdoor experiences as well as a variety of craft materials. Kawawaymog Lake beckons you to swim, paddle, dip your toes in, (or ski, snowshoe and skate in the winter) and watch the waves roll by. The Edge is surrounded by forests ripe for exploration and it is highly encouraged to get outdoors and do some forest bathing.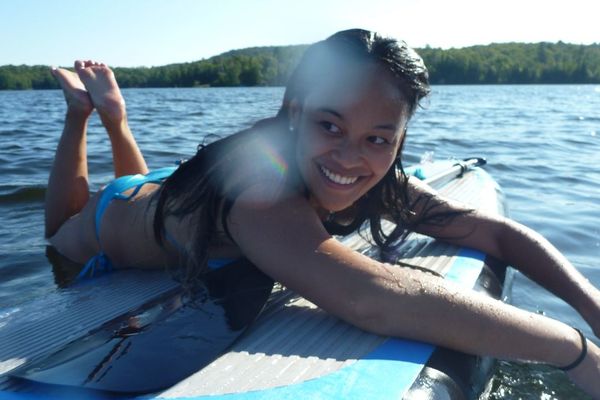 Culinary Highlights
Proudly serving a taste of the region, the cooking at the Edge focuses on balancing globally far-flung tastes with provincially produced foods. While seasonal menus are inspired by flavors from afar, the chefs seek to prepare meals with ingredients raised closer to home. Your mealtime experiences will be remembered and treasured by everyone. The meals take into account specialty food restrictions for health and personal reasons ensuring each individual's needs are looked after for a colorful and tasteful buffet-style meal.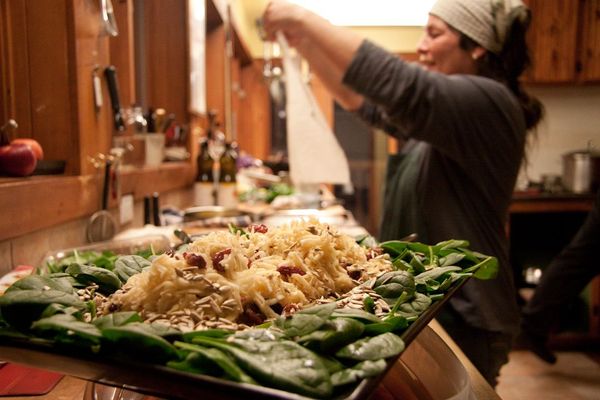 Northern Edge Algonquin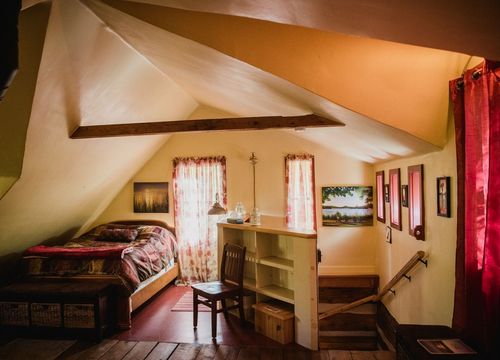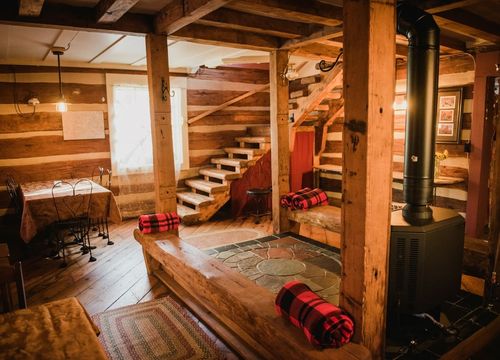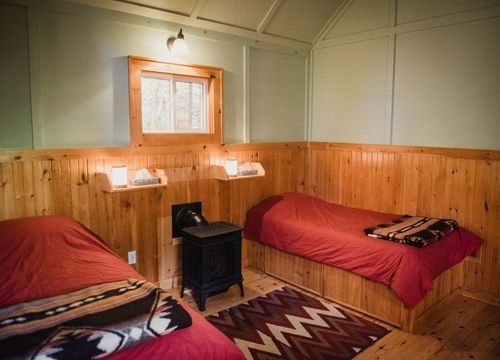 Accommodations
Accommodations are simple yet comfortable, providing a range of options to meet the needs of guests participating in a scheduled program or group stay. 
Studio Cabins
These cabins feature spacious rooms with many eco-friendly features including a small en-suite bathroom with composting toilet and running water. Each equipped with a double bed and single bed, these cabins are ideal for couples and/or friends. Studio cabins are heated year-round and used for winter and summer retreat guests.
Log Cabins
Designed for your comfort, the spacious and colorful rooms are some of the most upscale (and the first accommodations featuring private showers). Each room has a queen bed that can convert into two twin beds, giving lots of flexibility with sleeping arrangements. A small gathering area surrounding a gas fireplace will be a great hangout spot for those guests looking to visit or read a book.
Canvas Cabins
These wood and canvas tent cabins are clean, dry and nestled on a hillside surrounded by the lush greenery of the retreat center. Some call it glamping or glamorous camping and for most, it's the best of both worlds. The best outhouse in Canada is steps away featuring a tiled floor and composting toilet; flush toilets and showers are located one minute walk away. These seasonal unheated accommodations are available May through September.
Habitat Cabins
Surrounded by the maple and balsam fir forest, these cabins were designed for year-round comfort. These well-insulated buildings feature two single beds plus a loft with a double bed, topped with feather duvets and colorful linens.  Washrooms and showers for these cabins are a short walk away. These cabins accommodate two to four guests.
Highlander House
Close-knit groups of friends or family will appreciate the history of this restored 120-year-old cabin that is located at the top of a hill, featuring a double bed and four single beds in a private loft upstairs, as well as plenty of space for lounging. On the lower level, a wood-fired stove sits center stage, surrounded by seating, a dining room table and a card table. An attached bathroom with a composting toilet is easily accessible.
Features & Amenities
Year-round comfortable accommodation
Comfortable feather duvets and colorful linen sheets
En-suite bathroom featuring a composting toilet & running water
Showers located just a short walk 
Yoga garden and fire circles
Location
Northern Edge Algonquin: Centre for Transformational Retreats is located in Kawawaymog Lake, Algonquin Park (South River, Ontario), Canada.