Quinta Camarena
Work & Play Extended Stay in Portugal

or talk to Vacayou travel concierge
How does a quick dip in the ocean followed by a home-style brunch with local bread and fruit juice from your backyard—before you even open your laptop for your first e-meeting on Zoom—sound? Quinta Camarena invites you to relocate to the rustic countryside charm of Cercal do Alentejo and work remotely as a digital nomad. Indulge in long days in the sunshine, relax by the pool and enjoy the sounds of the birds and sheep while you live the simple joys of a workcation. And if you get restless, there's a world of activities that will fill your days when you step away from the screen. Use the indoor gym with an outdoor deck and exercise surrounded by nature. Have a run up and down the hills of the property. Practice your down dog in the yoga pavilion. Try your hand at surfing and SUPing on the coast. Keep your productivity in check as you choose the pace and work mode that best suits you.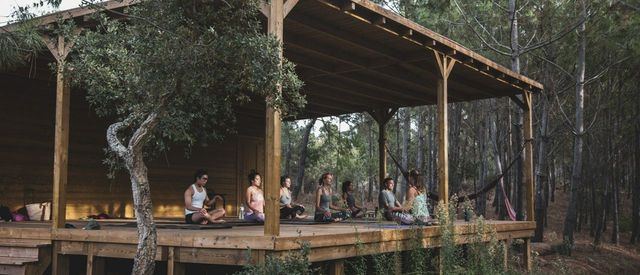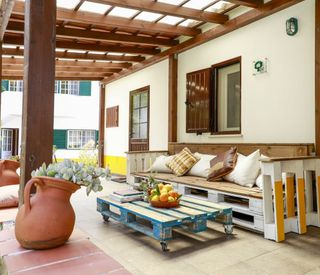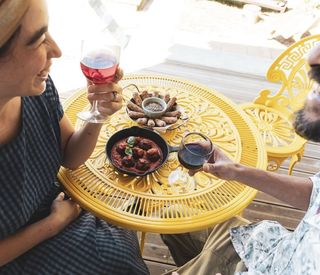 Experience
Beyond the beautiful views and tranquil oasis Quinta Camarena provides are the intangibles that elevate your extended stay from a workcation to an experience you'll remember forever. Attention to detail and a warm, welcoming community are just a few of the features that paint this colorful digital nomad escape.
A diverse landscape provides opportunities for adventure* 
Eat healthy, locally grown foods and sip vineyard-fresh wines
Unwind with a soothing outdoor massage
Let nature serve as your office
* Hiking | Biking | Horseback riding | Guided nature tours | Bird watching | Surfing | SUP | Kayaking | And more!
Offers
Work & Play Extended Stay
Vacayou Exclusive
As a Vacayou guest, receive a bottle of local wine; local organic, artisanal body soap + body cream; organic local brunch.
Package rate is per person based on double occupancy for a monthly stay. Shorter week stays available on request. Long stays are available in low season from October to March.
Package Includes:
Accommodation with kitchen & living room*
All utilities (electricity, water, internet, heating
Co-working space
Weekly change of bedsheeta
1-2 weekly baskets of laundry 
Complimentary bike rental
Guide to local producers
Access to pool, gym, yoga shala and other amenities
1 brunch
The following are available for a little extra:
Dinner experience
Wine tasting/visit to wineries
Brunch
Happy hour
Deliver organic groceries
Outdoor massage with Quinta Camarena's goddess masseuse
Yoga & Pilates classes
Surf lessons with the best badass team in the area
SUP tours
Photo workshop
Cooking class
Extra laundryTransfer from Lisbon
Accommodation options:
Villa do Laranjal
4 rooms w/ private bathroom
Kitchen + dining room
Living room with fire stove
Private patio
Outdoor dining area with barbecue
Max capacity: 8 persons
Loft do Campo
1 room (attic style)
Equipped kitchen + dining room
Living room with air conditioning
Max capacity: 2 persons
Casita Mae
1 room (attic style)
Private patio
Equipped kitchen + dining room
Living room with air conditioning
Max capacity: 2 persons
Quinta Camarena
Read more about Quinta Camarena
Quinta Camarena—a not-so-serious take on retreats—with hiking, biking, surfing, horseback riding, yoga, meditation, wine tasting, you name it.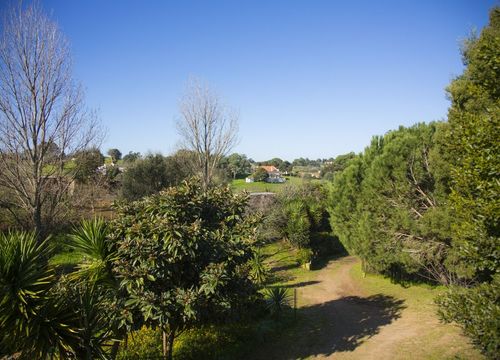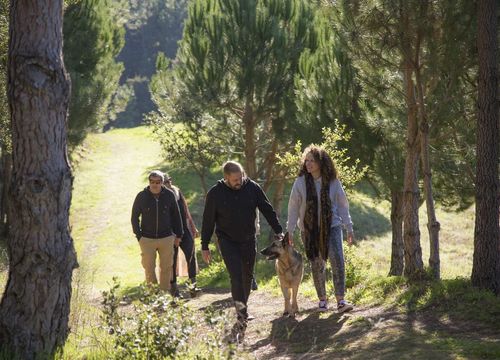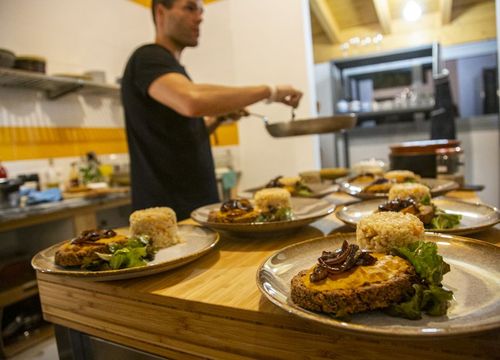 Accommodations
A villa, a casita, a loft or private rooms. Each house has a private entrance, living room and equipped kitchenette. All spaces are decorated differently and curated with love, based on sustainable principles using local materials, antiques and artwork. You will find comfortable mattresses and quality linen bedsheets from one of Portugal's most historical textile brands. 
Features & Amenities
Pool

Indoor/outdoor gym

Outdoor yoga platform

Hiking trails

Meditation spots

Bar

Food & wine 

Guesthouses are also an art gallery and library

Outdoor lounging spots

Kitchens (private or shared)
Terms
Deposit
50% of payment required at reservation to secure spot. The remaining must be paid one (1) week prior to arrival.
Cancellation
Flexible cancelation policy: 30 days before arrival. 30 days prior to arrival cancellations will only be accepted if due to health complications or government restrictions.
Rates
USD prices are an estimation and may fluctuate based on exchange rates.
Fees
There are no resort fees, however, the property does encourage a contribution for a local charity (this is not mandatory).