Verdad Nicaragua Beach Hotel
7-Night Surf & Fitness Retreat in Nicaragua

One of the first things you notice when you arrive for your surf, yoga and fitness retreat at Verdad Nicaragua Beach Hotel is the striking beauty of this hidden gem. Nestled on a hillside overlooking a secluded beach, the surrounding tropical forest boasts a colorful array of flora, fauna and wildlife, and the hillside perch affords you striking, expansive views across the valley and out to the wide-open Pacific Ocean.
Beautifully landscaped pathways link each of the casitas and guest rooms to a gorgeous open-air yoga and fitness studio, a pool and honor bar and a comfortable lounge area where you'll find ample space to relax, play a board game or enjoy a sunset cocktail poolside. Travel beyond expectation at Verdad.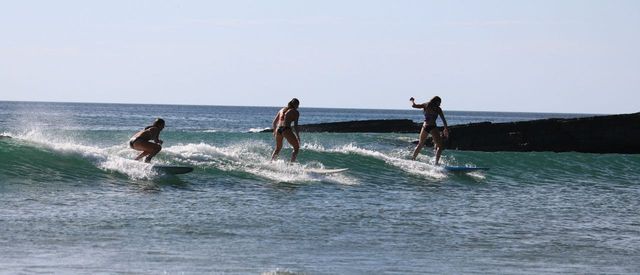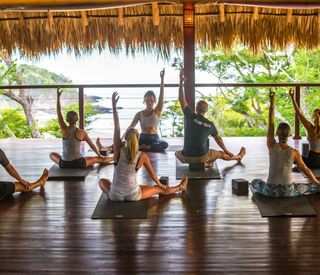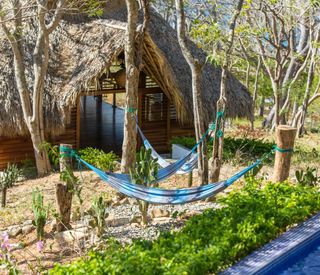 Experience
Sun, Sand, Surf. Fitness. Nica. Imagine hitting the surf and shredding a barrel or two first thing in the morning, followed by a hearty breakfast and then some functional fitness before treating your tired muscles to a soothing massage while the sweet sound of waves breaking on the shore lull you into relaxation. 
​Stay seven nights in an architecturally designed casita or guest room with private deck and ocean view  
Enjoy authentic Nicaraguan ocean- and farm-to-table cuisine for breakfast and dinner
Hit the waves with three surf lessons with a professional coach (board rental included)
Strengthen body, mind and soul with two yoga or surf fitness classes at the open-air studio
Learn about Nicaragua's nature and wildlife on a nature hike and excursion to a turtle sanctuary
Fishing, boating, ziplining, horseback riding and waterfall hiking are available for a nominal additional cost
Offers
The perfect mix of action and relaxation, combined with delicious and healthy meals, for a balanced beach vacation that will nourish mind, body and soul. The package is per person based on single occupancy; double occupancy add $865 for 7 nights. Prices vary by season. 
Package Includes:
7-night accommodation in a casita or guest room
Healthy pre-breakfast, breakfast and dinner
3 surf lessons (board rental included)
2 yoga or surf fitness classes
1 guided nature hike
2 massages (60-minutes)
Excursion to a turtle sanctuary
Airport transportation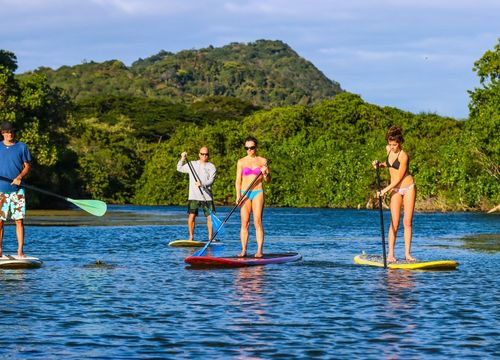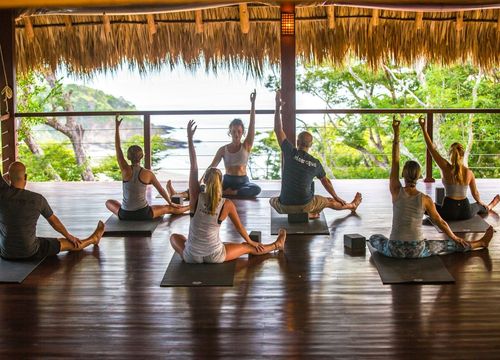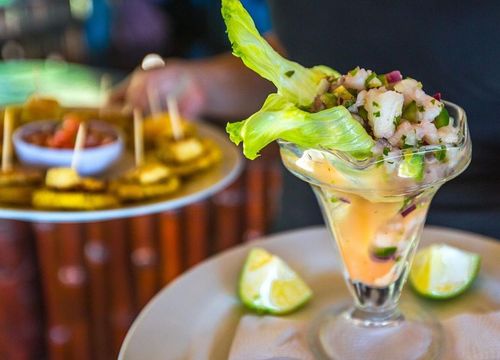 Accommodations
Stay in laid-back luxury in one of the architecturally designed rooms or casitas with gorgeous ocean views. All of the bathrooms have solar-generated hot water showers.
Ocean View Casitas
Each of these four casitas is nestled into the hillside with open views of the Pacific Ocean. They all have a queen-size bed, an indoor daybed large enough for a third guest, a ceiling fan, a private deck and an outdoor shower as well as a full bathroom with an ocean view, gorgeous tiles handmade in Nicaragua and rain showerheads.
Ocean & Valley Casita
This casita is located hillside with both a valley and ocean view. It has a queen-size bed, a ceiling fan, an indoor daybed, full bathroom with and a private deck with daybed, hammock and two chairs. This casita is a little further away from the others so it's perfect for those wanting more privacy.
Ocean View Duplex
Perfect for families, the duplex casita boasts separate entrances. The upper level features a queen bed and a built-in single daybed large enough for a third guest, a ceiling fan and an outdoor shower as well as a full bathroom with an ocean view, gorgeous tiles handmade in Nicaragua and a rain showerhead. The lower level features a double and twin bed, a ceiling fan, outdoor shower and full bathroom with rain showerhead. Both levels of this casita have private decks with expansive views of the Pacific Ocean.
Ocean & Valley Rooms
Both rooms are poolside with a full-size bed and private bathrooms. Each room has a ceiling fan and air conditioning. They overlook the ocean and valley. 
FAQ
Whether on land or sea, there are many things to do including hiking local trails, snorkeling, horseback riding, deep-sea fishing, and of course, world-class surfing, boogie boarding, ocean swimming, body surfing and just relaxing on a hammock with a book. In addition, Verdad can help arrange a variety of off-site adventures to various tourist attractions such as a nearby zipline canopy tour, the colonial city of Granada, the tropical island of Ometepe in Lake Nicaragua, the Masaya Volcano and Artisan Market and the village of San Juan del Sur.
There are surf instructors and board rentals based right on the beach, Playa Escameca. You can also venture out straight from the beach for snorkeling, or you can arrange for a boat trip so you can check out various places along the neighboring shores to enjoy the underwater world. Please bring your gear from home. Additionally, there are offshore fishing expeditions.
You can of course walk to the beach and nearby beaches, but if you want to travel further than your feet can take you, Verdad offers transportation services to most locations throughout the country. Please inquire if you have somewhere you'd like to go, but know there's plenty to see and do nearby so you won't need to venture far! 
What does off-the-grid mean?
Verdad Nicaragua is 100% solar-powered and there are still occasional interruptions of electricity service. The outages usually last for only an hour or two, so it is unlikely you will be without power for long during your stay.
Is the water potable?
Verdad provides purified water at the restaurant and pool bar for drinking. Although you can safely bathe and brush your teeth with tap water, it is not recommended to drink a full glass of water. 
What is the tipping policy?
To allow for a more relaxing stay it is recommended that guests wishing to leave tips for the staff do so upon check out, rather than each time service is provided. Any tips left are at the total discretion of the guest and can either be given to specific persons, departments or left with the front desk to be shared amongst all staff. It is customary to leave a 10% tip for staff.
Are there fans or air-conditioning in the rooms?
Verdad is mindful of electricity use. All of the cabins are situated and designed to take full advantage of the near-constant breezes on the hilltop.  They each have a powerful ceiling fan as well which makes a great alternative to air conditioning and keeps everyone comfortably cool. The two guest rooms by the pool have both fans and air-conditioners.
Are Single Travelers welcome?
The Verdad Beach Hotel and San Juan Del Sur takes pride in a healthy and safe environment. The property and location is very welcoming to Single Travelers.
Terms
Booking Policy
There is a tax rate of 15% for rooms. Credit cards can be used for payments of your deposit through the website or PayPal; full payment of room required upon booking. 
 All other expenses (board rental, bar tab, etc....) can be paid at the end of your stay. Please ensure your dollar bills are in good condition, as any notes with tears, ink stains, etc. are deemed unacceptable in Nicaragua (Note: the closest ATM is in San Juan del Sur).
​Please note there is an extra fee for guests beyond double occupancy of $25 pp. 
Check-in time is 3 pm and check-out time is 11 am. The hotel is happy to store luggage at the front desk either before check-in or after check-out so guests can relax and take full advantage of what the area has to offer.
Cancellation Policy
If a cancellation is received 90 days or more before the arrival date of the reservation then a full refund will be issued. Any cancellation inside the 90-day period will not be refunded. Changes to reservations will be made if possible and at management's discretion, any refunds resulting from changes are subject to the same cancellation policy rules.  In the event of any COVID-related cancellations, Verdad offers a fully transferable credit for any deposits that have been made with no expiry date on the credit.