Mirbeau Inn & Spa Rhinebeck
Spa Getaway for Two at Mirbeau Rhinebeck

Rhinebeck, NY

2, 3 nights

from $380 Per Night

Based on rate for two guests
---
or talk to Vacayou travel concierge
Reminiscent of an old-world chic Parisian Hotel with all the modern comforts that today's travelers expect, awaken your senses and enjoy all that is life at Mirbeau Inn & Spa Rhinebeck. Mirbeau's philosophy is to balance life with wellness and indulgence. Take the time to get away,  focus on yourself and your companion and be cared for by the world-class staff. After all, life is meant to be savored.
Spa Mirbeau
During this getaway for two, rest and restore within Mirbeau's 12,000 sq. ft. spa. You're invited to lounge or nap in the European-style resting room and take in the herbal-infused saunas, eucalyptus-infused steam rooms, or the thermal whirlpool with private bar in the Aqua Terrace.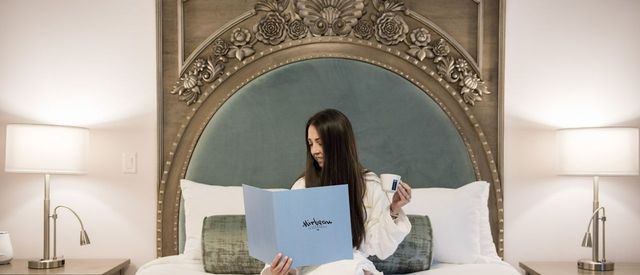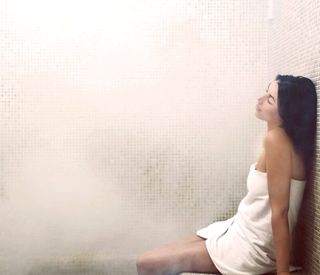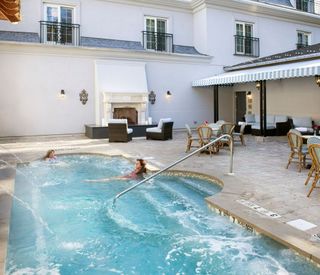 Experience
Partake in complimentary indulgences and let your experience last the entire day. Also as part of your stay, you're invited to take a complimentary exercise or yoga class or work out in the fitness center. All are open for you.
Fourteen treatment rooms, with fireplaces and private sound systems
Changing rooms, eucalyptus-infused steam rooms and Himalayan salt saunas
A unique resting area located in the heart of the spa with a fireplace and meditation rock
The Aqua Terrace: an outdoor oasis offering a relaxing large hot spa pool with massage jets, fountain heads, over-sized fireplace and bar featuring small plates and beverages (open year-round)
Fitness center, featuring cardio equipment with individual televisions and free weight training equipment
A large daily schedule of expert-led yoga and fitness classes
Offers
3-Night Spa Getaway for Two
from
$380
Per Night

Based on rate for two guests
Unique to This Package
As a Vacayou guest, receive a $50 breakfast credit.
The rates displayed are per person based on double occupancy for a mid-week stay and exclude taxes and a nightly resort fee of $24. Rates may vary based on room type, dates booked and a different number of guests.
Package Includes:
Luxurious accommodations for two in a Signature room with one king-size bed
A 50-minute Mirbeau Signature Massage per person
Access to spa amenities
Special welcome amenity
2-Night Spa Getaway for Two
from
$410
Per Night

Based on rate for two guests
The rates displayed are per person based on double occupancy for a mid-week stay and exclude taxes and a nightly resort fee of $24. Rates may vary based on room type, dates booked and a different number of guests.
Package Includes:
Luxury accommodations for two nights in a Signature Room with one King-sized bed
A 50-minute Mirbeau Signature Massage per person
Access to spa amenities
A special welcome amenity
Mirbeau Inn & Spa Rhinebeck
Read more about Mirbeau Inn & Spa Rhinebeck
Welcome to the French-inspired Mirbeau Inn & Spa Rhinebeck where old-world chic Parisian charm meets the must-have comforts of a boutique hotel.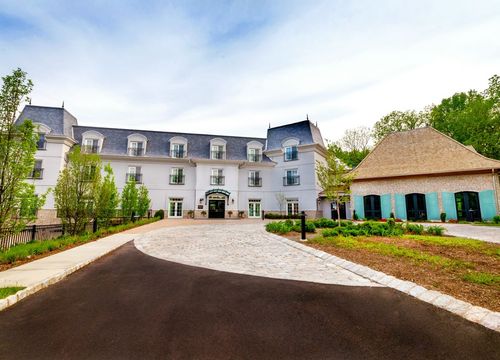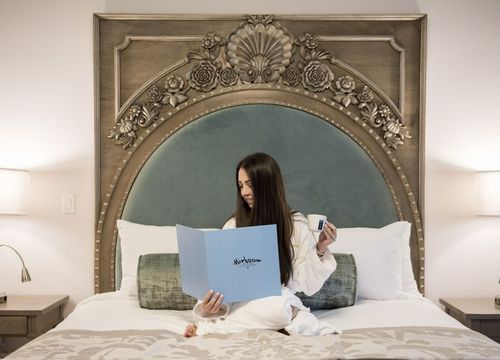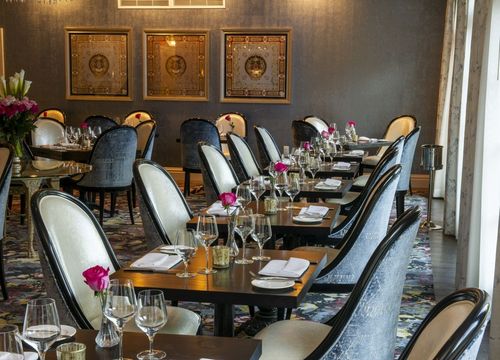 Accommodations
The resort offers 49 well-appointed guest rooms complete with a cozy fireplace, French-style soaking tub and European walk-in shower and double vanity. Mobility and hearing accessible guest rooms feature a roll-in shower, visual alarm and notification devices for the doorbell or door knock and incoming telephone calls.  
Guest Room Amenities
Cozy fireplace
French-style soaking tub and large European tiled walk-in shower
Mirbeau luxury bed, made exclusively for Mirbeau, topped with a down-alternative comforter
Mirbeau exclusive line of personal hair and body care products
Plush bathrobes
Concierge services including pre-arrival services for special arrangements for your room and your stay
Turndown service
High-Speed Internet Access (complimentary Wi-Fi and data port)
24 hr. hotel front desk service 
Daily housekeeping
room service
FAQ
Spa Mirbeau is an oasis of relaxation and tranquility where quiet and calm are of the utmost importance. Mirbeau Rhinebeck appreciates your assistance in preserving the tranquil atmosphere at Spa Mirbeau.
All Spa Guests and Resort Guests are required to check in at the Spa Desk upon arrival and upon departure.
Please plan to arrive at least 30 minutes prior to your scheduled appointment time. Arriving late for your scheduled appointment will limit time for your treatments. All treatments will end at the appropriate scheduled times.
Spa Guests must be 18 years of age to experience a spa treatment, to enter and utilize the spa and fitness facilities.
Alcohol is NOT recommended before or after spa treatments. Should you choose to consume alcoholic beverages, a 2-drink maximum is strictly enforced by Mirbeau Aqua Terrace staff. Mirbeau reserves the right to refuse treatment(s) to guests who appear impaired. Guests will still be responsible for and charged the full price of treatment(s).
Guests will not be permitted to enter or depart the premises with alcoholic beverages. All alcohol must be purchased from the Inn. Aqua Terrace offers food and beverages for Spa Guests and Resort Guests only. For the safety of guests, alcoholic beverages must be transported in plastic cups available at the Spa Desk and Bistro.
The Resting Area is a quiet oasis; Mirbeau kindly asks that you refrain from conversation. Respect the silence. Please place all mobile devices on "silent" mode.
The use of the steam room and whirlpool is a beneficial part of your spa experience but should be used in moderation. Proper usage time will vary due to individual health considerations.
Drink plenty of water before and after treatments to avoid dehydration.
Swimsuits are required when using the Aqua Terrace whirlpool.
To respect the privacy of others, photography is NOT permitted.
The solarium currently has an occupancy of 10 due to COVID restrictions but it is never meant to be monopolized by one group of guests nor used as an event space – it is for the use of all guests. The level of noise or activity by a group in any of the spa areas should never impact other guests.
Covid Update:
Employee & Guest Health: Temperature & Wellness Check Points. Points of entry will be limited to allow the team to conduct non-invasive temperature and wellness checks utilizing no-touch thermometers. Employees, guests, members or vendors confirmed to have a temperature over 100.0°F will not be allowed entry to the property and will be directed towards appropriate medical care.
Physical Distancing
Guests will be advised to practice physical distancing by standing at least six feet away from other groups of people not traveling with them while standing in lines, using elevators or moving around the property. Physical layouts will be arranged to ensure appropriate distancing. Employees will be reminded to practice physical distancing by standing at least six feet away from guests and other employees whenever possible. All resort outlets will comply with, or exceed, local or state-mandated occupancy limits.
Hand Sanitizer
Hand sanitizer dispensers, touchless whenever possible, will be placed at key guest and employee entrances and contact areas.
Employee & Guest Health Concerns.
Mirbeau employees have been given clear instructions on how to respond swiftly and report all presumed cases of COVID-19 on property. We will be ready to provide support to guests. Employees are instructed to stay home if they do not feel well and are instructed to contact a manager if they notice a coworker or guest with a cough, shortness of breath, or other known symptoms of COVID-19. Employees and guests who are exhibiting any of the symptoms of COVID-19 while at the property are instructed to immediately notify their manager (employees) or hotel front desk (guests).
Hand Washing
Correct hygiene and frequent handwashing with soap is vital to help combat the spread of virus. All Mirbeau employees have been instructed to wash their hands, or use sanitizer when a sink is not available, every 60 minutes (for 20-seconds) and after any of the following activities: using the restroom, sneezing, touching the face, blowing the nose, cleaning, sweeping, mopping, eating, drinking, entering and leaving public areas, going on break and before or after starting a shift.
COVID-19 Training.
All employees will receive training on COVID-19 safety and sanitation protocols with more comprehensive training for teams with frequent guest contact including Housekeeping, Food & Beverage, Spa and Fitness.
Personal Protective Equipment (PPE)
Every employee entering the resort will be provided a mask and required to wear that mask while on property. Gloves will be provided to employees whose responsibilities require them as determined by medical experts including housekeeping and public area attendants in direct contact with guests.
Guest Arrival
All guests will enter through designated checkpoints. A Mirbeau Screener will greet each visitor to the property. Visitors will be screened and asked to use hand sanitizer and to wear a mask (which will be provided by Mirbeau). Appropriate signage will also be prominently displayed outlining proper mask usage and current physical distancing practices in use throughout the resort.
Cleaning Products and Protocols
Mirbeau hotels use cleaning products and protocols which meet EPA guidelines and are approved for use and effective against viruses, bacteria and other airborne and bloodborne pathogens.
Here are some tangible ways Mirbeau has ramped up efforts to guarantee guest and employee safety:
Temperature and Wellness screenings upon arrival
Offering and wearing of masks and other protective equipment as required by law to protect staff and guests
Lockers will be assigned at the time of check in to adhere to physical distancing guidelines
Schedule changes and treatment restrictions have been put into place to support reducing the number of guests in communal areas.
Limited seating and maximum occupancy restrictions to practice physical distancing in non-treatment spaces
Visible promotion of sanitation and hygiene efforts
Opportunity to pay for your treatment and gratuity in advance to allow for a touchless payment transaction.
No cash payment transactions onsite. All payments will be collected via credit, debit or gift cards.
The Steam Room is Limited to only 1 person at a time.
Terms
Terms & Conditions
Rates displayed exclude taxes and a nightly resort fee of $24.
Cancellation: Should you need to change or cancel an individual room reservation, you must do so seven (7) or more days in advance of your arrival date. Holidays, Holiday Weekends require a 14-day cancellation. Once you are within the cancellation period, you are financially obligated for the entire length of stay. Individual Spa treatment reservations must be changed or canceled more than 48 hours in advance of the scheduled treatment time. Spa treatments canceled within 48 hours will be charged at the full price of the service. Mirbeau Inn & Spa is a non-smoking facility.
Check-in and check-out: Check-in will be after 4:00 PM and check out is before 12:00 noon.
Age restrictions: The Spa at Mirbeau welcomes all guests 18 years and older.