The Lodge at Woodloch
Romantic Getaway for Two

Hawley, Pennsylvania, USA

2 nights

from $1,371 Per Night

Based on rate for two guests
---
or talk to Vacayou travel concierge
There's something about being tucked away in the Pocono Mountains that takes you out of overdrive and brings you back to neutral. Here, you're grounded, centered and more aligned with your partner and yourself. If it rains, you remember the romance of dancing in it. And when the sun shines, you watch your partner light up anew and remember the magic that made you fall for them in the first place. The Lodge at Woodloch provides the perfect setting for reconnecting and rekindling.
Have more of the little moments you love so much while hiking the trails of the forests. Get inspired for homemade date nights while watching the chef's cooking and baking demonstrations. Find new things to love about each other during creative discovery classes. Notice a shift underway between you after a workshop or attending an inspirational speaker's talk. Best of all, meet with a Personal Spa Concierge to curate the ideal selection of treatments for both of you. Power couples need to be pampered too and that's just how you'll feel after some time away in the luxurious accommodations at The Lodge at Woodloch.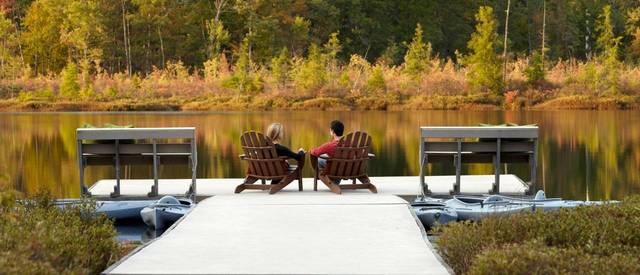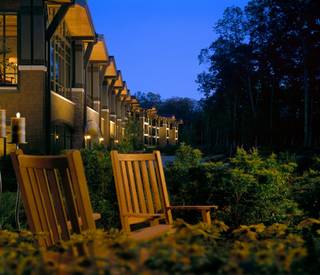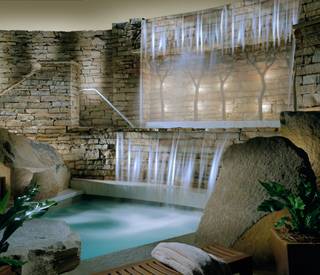 Experience
The Lodge at Woodloch believes in the philosophy of personal awakening. This luxury Poconos resort gives you an opportunity to shift from your everyday routine and re-focus on yourself. Relax and unwind as your body, mind, and spirit are transformed. Feel your worldly burdens melt away as you rejuvenate at this destination spa with treatments and services customized to meet your wellness goals.
The Lodge at Woodloch offers over 35 classes per day for you to explore your passions, discover new hobbies, or re-discover your interests. 
Select from a wide variety of group classes and one-on-one training at this award-winning fitness health spa.
Whether relaxing in the co-ed Whisper Lounge, enjoying the Aqua Garden's Hydromassage WaterWalls or activity pool with floor to ceiling windows surrounded by nature, select from a unique selection of expert body treatments, massages, facials, and salon services designed to create heightened levels of relaxation and well-being.
All 58 rooms offer the simple luxuries and warm comforts expected at an award-winning Pennsylvania resort along with a private veranda where you can relax and watch the sun rise over the lake.
Offers
2-Night Romance Package
from
$1,371
Per Night

Based on rate for two guests
Vacayou Exclusive
Vacayou travelers will receive a VIP welcome with chocolate-covered strawberries.
Offer subject to availability and based on a two-night minimum stay. Not combinable with other offers or promotions.
Package Includes:
Lavish accommodations for two nights
3 consecutive artfully-crafted gourmet meals per night of stay
Personal Spa Concierge to help design your program
$140 spa credit per person, per night of stay
Stimulating speakers and workshops
Inspiring creative arts
Scheduled group fitness classes and lectures
Chef's cooking and baking demonstrations
Guided group outdoor adventure excursions

Health and fitness amenities (indoor pool, Hydromassage WaterWalls, indoor and outdoor whirlpools, steam rooms, saunas and a state-of-the-art 3,000 square foot CardioWeight Studio)
In your room upon arrival, you will find:
A bottle of Sommelier selected red wine & a Lodge at Woodloch wine key

Two signature Riedel wine glasses (yours to keep)

A couples yoga book

Zents Lotion in a euphoric scent

Chef's sweets to greet you

A touch of fresh flowers
The Lodge at Woodloch
Read more about The Lodge at Woodloch
What's not to love about The Lodge at Woodloch. From the lavish guest rooms to the heavenly spa and rock garden waterfall to the workshops and classes, you can't help but feel—dare we say—completely reborn by the experience. Best of all the location in the Poconos allows for outdoor exploration galore. This is wellness at its best.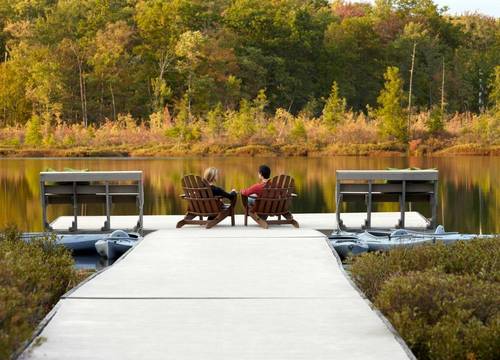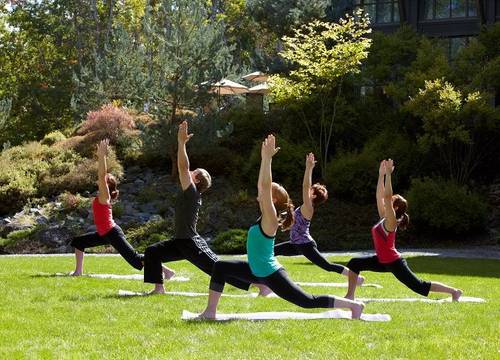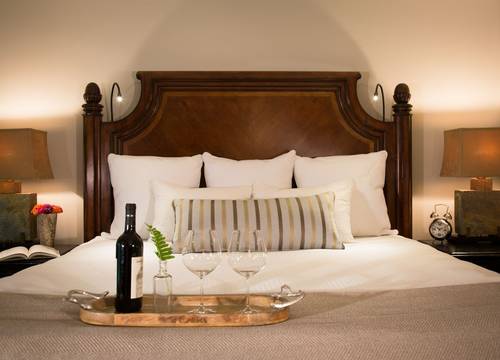 Accommodations
Each room features a private veranda where guests can relax and watch the sunrise over the lake or listen to the restorative sounds from the rock garden waterfall. 
Guest Room & Suite Amenities
Private, spacious verandas with woodland lake or rock-garden waterfall views
Flat-panel televisions
Wi-Fi
Telephones with voice mail message system
Refrigerator
In-room safe
Signature rosemary-mint bath amenities
Plush robes and slippers
Hair dryer
Iron and ironing board
Room service
Housekeeping service twice daily
Complimentary morning paper available
Complimentary self-service laundry facility
Health & Fitness Amenities
Indoor pool
Hydromassage waterwalls
Indoor and outdoor whirlpools
Steam rooms and saunas
State-of-the-art 3,000 square foot cardio-weight studio
FAQ
Health & Safety
First and foremost, The Lodge at Woodloch is dedicated to the health and safety of their guests and staff. They are proactively monitoring the recent situation of the Coronavirus (COVID-19) and are following best practice guidelines and hospitality service protocols issued by the CDC, World Health Organization (WHO), OSHA and local and national government advisors. The Lodge at Woodloch has committed to the Pocono Promise and American Hotel & Lodging Association's (AHLA) Safe Stay program to ensure that they are adhering to industry standards and community safety.
In addition to their on-site certified Safety Director, they also have contracted with East Coast Risk Management to assist in establishing effective health and safety protocols at the resort. They are holding ongoing trainings for their team, and the Lodge has a strict prevention program ensuring that any staff with signs of an illness stay home until cleared for work by medical professionals.
Precautionary Efforts
As guided by OSHA, all staff will wear masks during their time on property and will have their temperature checked upon arriving to work each day.
Guests will have their temperature taken on arrival to The Lodge at Woodloch. Masks are required in all public indoor locations and any outdoor location where social distancing cannot be maintained. Masks are not required when using the water features or for outdoor fitness classes & activities as long as social distancing is maintained.
Existing and enhanced housekeeping procedures for cleanliness and sanitization (including EPA-approved disinfectant) that meet and exceed industry best practices and standards have been instituted on a heightened schedule.
They are actively monitoring and capping class and activity sizes.
They will be providing daily briefings and updates to our internal teams as the Coronavirus (COVID-19) situation evolves.
They will continue frequent deep cleaning of common areas and frequent touchpoints such as: handles, faucets, trash-receptacle touchpoints, light fixtures, remote controls, elevators, buttons, keypads, luggage carts, and counters.
Additional hand sanitizing stations have been placed in common areas throughout the property. The Lodge at Woodloch's Safety Services team, who are all trained in advanced first aid and are available 24 hours per day, 7 days per week, are up-to-date on the latest developments on COVID-19 as reported by local, state, and federal agencies.
Terms
Terms & Conditions:
The package is subject to change and vary based on room type, single or double occupancy, and date of stay. Rates quoted do not include a service charge (18%) and applicable state and local taxes. Additional gratuities are not necessary or expected for any services included in your package during your stay at The Lodge. Any add-on spa treatments, private consultations, activities or bar charges will automatically add the service charge and applicable tax to the quoted price. All guests must be at least 16 years of age.
Deposit:
Full advance deposit is required to secure your room reservation. For your convenience, your deposit is fully refundable, minus a $25 processing fee (per deposit) if cancellation is received more than 14 days prior to arrival.
Cancellation:
If for any reason, your travel plans need to change, the following arrangements have been made: 
Cancellations received more than 14 days prior to arrival are refundable minus a $25 processing fee.

For cancellations 3-13 days prior to your scheduled arrival date, your advanced deposit will be kept on file and may be applied toward a future stay within one year of your cancelled reservation. 

For cancellations made within 48 hours of your arrival, half of your advanced deposit will be forfeited and the other half will be held for use within one year of your cancelled reservation.