Sold Out
Adventures on the Gorge
New River Gorge Whitewater Rafting Adventure

We're sorry, but this package is not currently available. Please see the Adventures on the Gorge page for other package offers.
or talk to Vacayou travel concierge
Nestled in the heart of West Virginia, Adventures on the Gorge has combined a premier location, industry expertise and a deep enthusiasm for adventure to create a vacation experience unlike any other. Drawn to the rim of the New River Gorge by world-class whitewater, rock climbing, mountain biking and hiking, the founders of Adventures on the Gorge were driven to create a resort that could live up to the natural wonders that surrounded it.
Not only is Adventures on the Gorge a jumping-off point for adrenaline-packed adventures like Class V whitewater rafting and ziplining at speeds of up to 65 mph, but it is also a basecamp for family-friendly excursions such as exploring a lake or learning to paddle rapids for the first time. And, at the end of the day, it's a place where you can come home to casual dining in an upscale environment with breathtaking views, drinks by the pool, beautiful cabins with wonderful views and quality time with the people who matter most.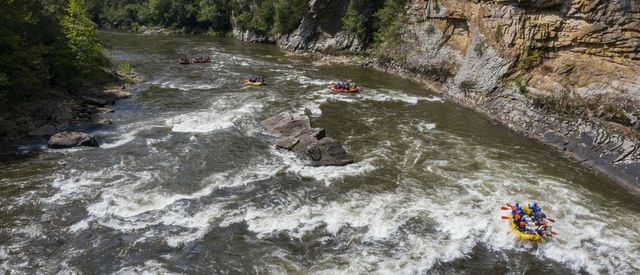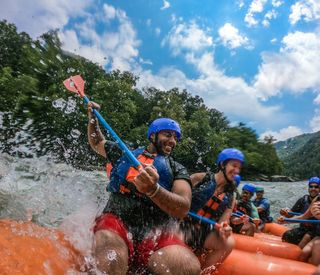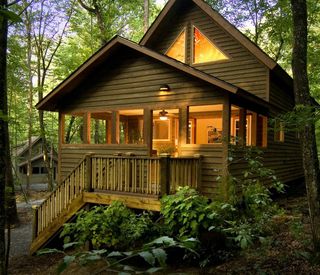 Experience
Adventures On The Gorge is the premier outdoor adventure resort in West Virginia with some of the best Whitewater on the planet.
Exhilarating whitewater rapids rafting in either the New River or the Gauley River
Variety of outdoor adventures from rock climbing, rappelling, ziplines, mountain biking, paintball and stand-up paddleboarding
Exceptional staff including guides and instructors; the staff is like family and always looking out for your comfort
Feel like you're swimming at the edge of the world in the Canyon Falls swimming pool
Great restaurants offering casual fare and delicious meals, all with stunning views of the beautiful West Virginia wilderness
Kids 11 and under raft free
Adventures on the Gorge
Read more about Adventures on the Gorge
Let Adventures on the Gorge guide your next getaway. Nestled in the heart of West Virginia, Adventures on the Gorge combines a premier location, industry expertise and a deep enthusiasm for adventure to create a vacation experience unlike any other.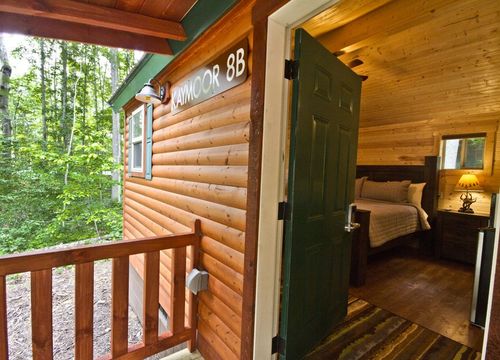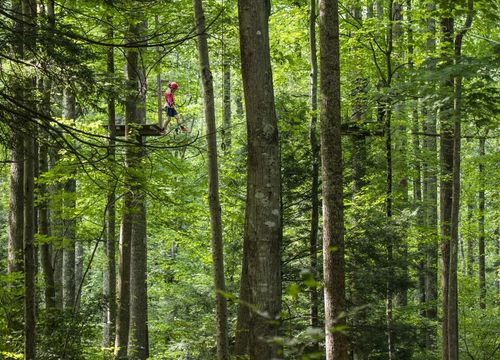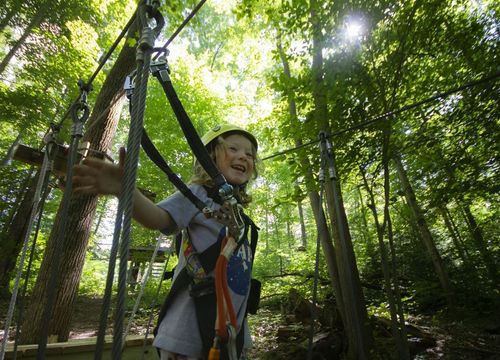 Accommodations
Whether you're traveling with friends, family, or a significant other, the deluxe cabins offer a spacious getaway. Sunnyside forest cabins feature a deck with wooded views and everything you need for a cozy stay. Known as a hotel suite in the woods, the Kaymoor Suite offers a simple and comfortable design meant to mimic the warmth of being at home. Each accommodation allows you to be one step closer to crisp fresh air, surrounded by the West Virginia mountains.
Fully-equipped kitchen
Spacious living room
Full bathroom with shower
Cable TV with DVD player
Wi-Fi
Washer and dryer
Iron with iron board
Air conditioning and heat
Bed linens and towels included
Private deck with hot tub
Charcoal grill
Fire ring
Picnic table
Features & Amenities
Canyon Falls Swimming Pool
Horseback trail ride
Paintball
Mountain biking
Rock climbing
Rappelling
Laser tag
Wild cave tour
Kayaking
Paddle-boarding
Whitewater rafting
Fly fishing
Aerial activities
Adventure park
Zipline
Canopy tour
FAQ
A favorite among everyone from first-time rafters to whitewater enthusiasts. The Lower New River steps up the pace with exciting whitewater rafting and over 25 rapids from Classes II – V. Between the rapids and drops there are pools of calm water where you can catch your breath and gather strength for the next challenge. This trip runs through the scenic New River Gorge and finishes up right below the New River Gorge Bridge. Trip length and intensity vary based on water levels which change throughout the season. In the spring, the trip is usually 16 miles long, in the summer and fall it is typically 11 miles long. Both trips include a jump rock, swimmer's rapid, riverside lunch and over 25 other rapids.
Upper New River  
The most popular trip for families, the mild whitewater of the Upper New River offers gentle rapids and scenic views of the New River Gorge. This trip is ideal for family raft trips, scouts and youth groups as an introduction to whitewater rafting. Larger rafts are used on high water days and duckies (small inflatable kayaks that hold 1 adult or 1 child and 1 adult) on normal days. Every day, all season long, kids ages 12 years old raft at half the price of the adult Saturday rate with an accompanying adult. 
On class III-IV and harder trips, a guide sits in every raft and provides instruction at each major rapid and throughout the trip. On some trips, guests may be in their own inflatable kayaks (duckies). If that is the case, guides will be present to instruct, advise and assist.
The standard rafts are 16 feet long, comfortably seating 8 guests and a guide.
Depending on the water level, you'll spend between 4-6 hours on the water plus shuttle time to and from the river.
Bring any medication you need throughout the day, plus sunscreen, sunglasses and a change of clothes to keep at the resort upon your return. Guides carry small waterproof bags to stow necessary medications. Depending on the time of year and the weather, you may also want a synthetic layer. If necessary, wetsuits and splash jackets are available for rent.
Terms
Terms & Conditions
Tour and package provided by Adventures On The Gorge (AOTG).
Reservations
Advanced reservations are preferred and required for most activities. Capacities are limited for several activities due to regulations set forth by the Department of Natural Resources. Other activities are limited based on the guest to guide ratios that Adventures On The Gorge sets forth to protect your experience and their natural resources. Early reservations and prompt payments are the best way to ensure your preferred dates and accommodations.
Pricing Policy
All prices are per person except when stated otherwise. Youth discounts apply for those 12 and under when accompanied by at least one family member paying the regular price. Rates listed do not include applicable taxes or fees. Prices are subject to change without notice.
Inclement Weather
AOTG trips generally go out rain or shine. River activities (rafting, fishing, kayaking, etc) still go in the case of thunderstorms as well. They reserve the right to cancel or postpone your Adventure Activity including but not limited to Canopy Tour, Zip Lines, Rock Climbing and TimberTrek if they feel the weather will hinder safety.
Cancellation Protection and Procedures
Cancellations within 3 days of the start date or no-shows on the day of a trip will not be considered for any reimbursement. All cancellations must be made more than 30 days prior to the trip start date to be considered for reimbursement less a processing fee. 
Payment Policies
To confirm a reservation, 10% deposit down is required upon booking. An additional 40% payment is required within 14 days of making a reservation. The full balance is due 30 days prior to the first day of activity or arrival date of lodging. No personal checks will be accepted when you are within 21 days prior to your trip date. Payment methods accepted will be cash, cashier's check travelers check, money order, Visa, MasterCard, Discover and American Express. You will be required to sign a damage deposit form at check-in for all lodging options.