Sold Out
Sonora Resort
Luxury Celebration Package in Sonora Island, B.C.

We're sorry, but this package is not currently available. Please see the Sonora Resort page for other package offers.
or talk to Vacayou travel concierge
From the moment you arrive at this 5 star luxury resort, your celebration has already begun. Whether you are celebrating your birthday, anniversary or another important life event, this getaway is filled with feelings of joy, laughter and memories. The Sonora Resort has the perfect setting for a more memorable celebration. Spend time with your loved one and share unique moments of love and intimacy.
After arriving at this remote, breathtaking island, you are welcomed with a bottle of sparkling wine. Right away, the natural surroundings with forests and the ocean make you feel more tranquil. With the access to adventures, relaxing spa treatments and delicious, specialized meals - you are sure to have days that fill your heart with joy. With this luxury celebration package, you get to celebrate your special occasion in one of the most breathtaking natural settings at the remote Sonora Island.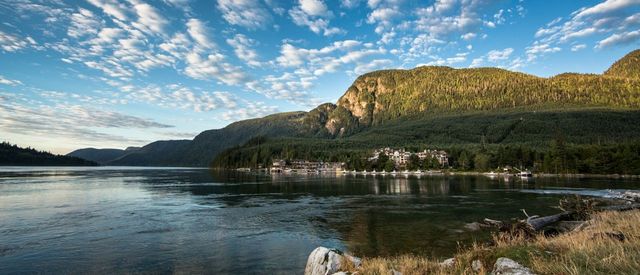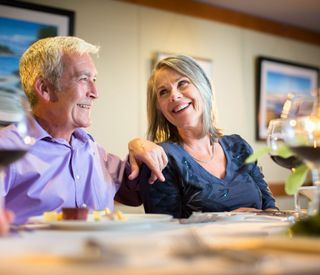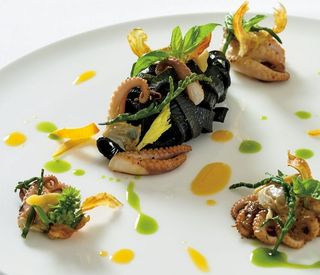 Experience
What better way to celebrate your birthday or your anniversary than at a luxury resort in the wilderness of British Columbia's Sonora Island? Sonora Resort is where you shut out the rest of the world, reconnect with each other and experience nature and pampering at full volume.
Create lifelong memories of your special occasion with this celebration package for two 
Taste the flavors of exceptional gourmet food, all included in your stay 
Enjoy moments of pure relaxation with treatments at the Island Current Spa
From helicopter excursions to guided adventure tours and wildlife viewing, a vast wilderness waits to be explored
Spend 3 nights in luxurious accommodations overlooking the ocean—a chilled bottle of sparkling wine will be in your room upon arrival
Sonora Resort
Uncompromising eco-adventure travel meets warm hospitality and five-star facilities at Sonora Resort off the coast of British Columbia.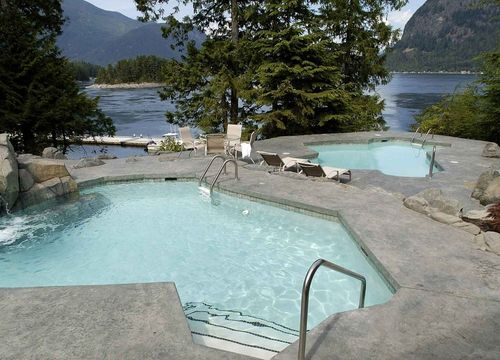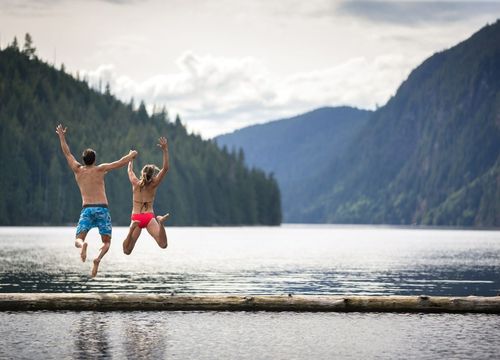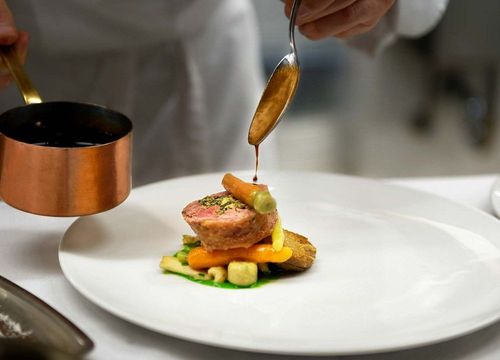 Accommodations
Crafted in cedar and stone with picture windows, Sonora's intimate lodges invite the outside in. After a day of adventure, draw a bath, start the fire and settle into an ocean view room designed to relax and refresh. Warm and welcoming, the alpine-accented Gold rooms offer views of the Yuculta Rapids and mountain ranges beyond the comfort of a pillow-top Queen or King-sized bed. The elegant ensuite boasts a soaker tub, separate glass shower and heated natural slate tile. Within the Arbutus, Gillard and Haida lodges, rooms connect to lavish common lounges with vaulted ceilings, stone fireplaces and state-of-the-art electronics, as well as a garden patio or roof-top balcony hot tubs from which to enjoy another angle of Sonora's wild panorama.
Features & Amenities
Ensuite with heated floors
Soaker tub
Luxurious linens
Goose down duvet and pillows
Gas fireplace
Glass and slate tile shower
Outdoor heated pool 
Rooftop hot tubs
Mineral pools
Stocked fly-fishing ponds 
9-hole putting green
Hiking and biking trails
Covered outdoor tennis court
Conservatory
12-seat movie theater
Games room
Fitness center
Virtual golf
Business center
Wi-Fi
FAQ
Transfers to Sonora are not included and will need to be booked at an extra cost. Inquire about helicopter, seaplane and water taxi transfers within.
Terms
Reservation Policy
Reservations must be confirmed with a non-refundable 35% deposit, refundable up to 91 days prior to travel after which it is non-refundable. Sonora may, where circumstances allow, hold unconfirmed reservations for up to one week, where such reservations are at least 90 days prior to scheduled arrival.
Payment
Balance is due 61 days before scheduled arrival, after which it is non-refundable. In exceptional circumstances and in its sole discretion, Sonora may consider requests to provide alternate dates to guests. We accept payment by credit card or corporate cheque. Sonora accepts Visa, MasterCard, American Express and Union Pay. Cheques should be made payable to London Enterprises Limited. Unless otherwise stated, all monetary amounts referred to in Sonora invoices and in these terms & conditions of booking are in Canadian Dollars and are exclusive of applicable taxes.
Cancellation Policy – We are a "Travel Insurance Environment"!
The deposit of 35% is refundable up to 91 days prior to travel after which it is non-refundable. Payments made in excess of 35% are refundable upon written notice of cancellation from the client not less than 61 days prior to scheduled arrival. We strongly recommend that all resort guests purchase travel insurance. A short resort season prevents us from making exceptions to our 60-day cancellation policy. Inquire within for assistance with purchasing Travel Insurance.
Taxes, Fees and Surcharges
Guests are responsible for all applicable taxes, fees and surcharges payable in respect of each booking. These taxes include the Goods and Services Tax (GST) of 5%, a Carbon Surcharge of $37.90 per person per day plus GST, a Hotel Tax of $8 per room per day, a Health & Safety Surcharge of $50 per person per stay and, with the rising cost of fuel, an additional fuel surcharge may apply for seaplane and water taxi transportation, fishing boats and eco-tours. There is also a supplementary conservation fee of $20 per person per day plus GST that will be added to each booking. The conservation fee is used to improve and support local resources and the surrounding environment. All taxes, fees and surcharges are subject to change without prior notice.
Transfers
Transfers to Sonora are not included and will need to be booked at an extra cost. Inquire about helicopter, seaplane and water taxi transfers within.