Sold Out
Hacienda El Porvenir
11-Day Inner Vision Quest Journey in Ecuador

We're sorry, but this package is not currently available. Please see the Hacienda El Porvenir page for other package offers.
or talk to Vacayou travel concierge
This journey through Ecuador begins in the World Heritage Site Quito, with the purpose to bring you closer to your own mission in life. This adventure with Tierra del Volcán includes 11 days of guided exploration through the Andes, lakes, indigenous communities and some of the world's most precious natural reserves. The name of this trip to Ecuador —"Inner Quest"—describes perfectly what this journey is about. Through sacred ceremonies, Shaman experiences and a VIP seat to Mother Nature's spiritual magic, something within you is sure to awaken. 
The sacred Temazcal ceremony included in this tour is an ancient ritual, all about rebirth. To experience this is to let yourself heal, get rid of toxins, release mental burdens and get clearer on where you are heading in life. You will also experience the therapeutic connection with your horse on a horseback riding tour, spend time in the highlands and hike through old towns and colorful places.
The Basics
Start and Finish: Quito, Ecuador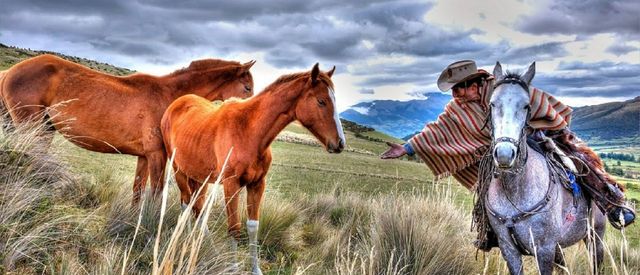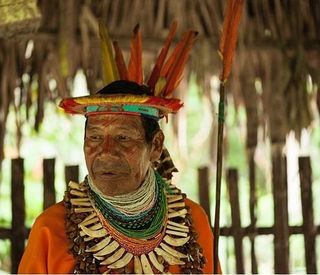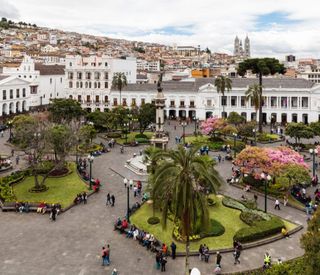 Experience
This experience brings you some of the best of Ecuador's nature, adventure and sightseeing. But it is much more than that. The "Inner Quest" package is all about re-discovering your purpose, or coming closer to it, as you are guided through indigenous lands. You will get to know yourself better, heal parts of yourself and transform within by attending a sacred ceremony with herbs, hot stones and a Shaman present. Prepare yourself to be impacted in more than one way, through your sight, your emotions and all of your other senses.
Unique opportunity to disconnect to reconnect
Incredible cultural encounters in the Andes and Amazon
Establish a path to reach your goals in the future
Visit the highest active volcano in the world
Possibility to give back and support the areas you visit
Experiencing a Temazcal, a Pan-American tradition to get into the womb of the Pachamama, on a rebirth ceremony
Itinerary
Welcome to Quito, where you will be greeted at the airport and transported to Casa Centro, a fully restored colonial house located in Quito's historic downtown. Overnight stay.
After breakfast we head to visit the place that gives Ecuador its name, the equatorial line also know in Spanish as la mitad del mundo or middle of the world; where you can stand in the North and South hemisphere simultaneously. We will also visit the very interesting museum (Intiñan) where you can conduct scientific experiments and know more about the history of that place. Then we will drive to Quito's downtown and enjoy lunch at a typical restaurant. In the afternoon, we will discover the Cathedral, located in Independence Square. With its neo-colonial style, it is one of the most traditional churches in Quito. Built in the 16th century, this church has been part of the city since its founding and to this day preserves most of the ancient traditions of the colonial era. You will also visit the Compañia church, which is the best example of baroque architecture in South America. With its amazing gold-leaf altar, this church is one of the most magnificent buildings of Quito's Colonial Quarter. We will return to our hotel before taking an awesome car ride through the spectacular Ecuadorian mountains to Hacienda el Porvenir for our overnight stay. (Breakfast/Lunch)
You will get acquainted with your horse in a way you have never done before. After learning to saddle your horse, an idyllic horseback ride will get you across mystic highlands and paramos at the base of the extinguished Rumiñahui volcano. Return to the hacienda to enjoy a delicious lunch. In the afternoon we will have a presentation of the content of the program, prepare yourself for a transformational conversation. Overnight stay at Hacienda el Porvenir. (Breakfast/Lunch)
After breakfast, enjoy an adventurous hike in the low squirts of the Cotopaxi volcano to El Tambo and its pristine surroundings. This hike is a huge opportunity to practice what we learned in yesterday's conversation and apply concepts like conscious walking. At Hacienda El Tambo we will enjoy a delicious dinner before our overnight stay. (Breakfast/Lunch/Dinner)
Plunge into a life-changing solitary experience in the highlands of the Andes range where you will find yourself and we will ask you to fill up some questions regarding your life, at the end of the experience you will write an action plan. Overnight at a camping site. (Breakfast/Lunch/Dinner)
In the morning we are going to have a debrief of your solo experience before a good breakfast. We leave El Tambo house and begin our return to civilization. The first 12 miles have a slight uphill inclination and short climbing portions. Once we reach El Encañonado, the trail flows downhill until we reach Santo Domingo lagoon where our transport will be waiting for us to take us back to Hacienda el Porvenir. We do a wrap-up meeting to analyze what we have learned and the compromises and agreements that we will apply during the Galapagos expeditions. Return to Quito for our overnight stay in Hotel in Quito. (Breakfast/Packed Lunch)
Early breakfast before our flight over the Andes to the frontier oil town of Lago Agrio and one of the largest virgin jungles in the world. When we arrive, we are going to do a wrap-up about the experience to see if we can find things that can be improved in our lives. Overnight at Cuyabeno National Reserve. (Breakfast/Lunch/Dinner)
Monkeys or birds will probably wake you up in the morning. After breakfast, a short canoe ride takes you to one of the trails in the national park. Walk through the "Terra Firma forest" and listen to your guide explaining the wildlife, medicinal forest plants, the forest ecosystem and indigenous life. As you're getting a close look at the jungle, pay attention to the small details you might see: different species of ants that have perfected the organization of their colonies, tiny poisonous frogs hiding under the leaves, insects on the hunt for their next meal, or fungi that take over and kill small organisms like insects or spiders. After dinner, get your flashlight out and walk through the primary forest, looking for insects like giant grasshoppers, stick insects, praying mantis and others that come out at night and are fascinating to see from up close. If you're lucky (and quiet) you might
see some of the other nocturnal jungle animals, like night monkeys, owls and different kinds of rodents. Overnight at Cuyabeno. (Breakfast/Lunch/Dinner)
Submerge in a deeply transformative cultural experience within an indigenous community, get to know their way of living. Your guide will give you some explanations about the indigenous people of the area and their history. Then we will return to the lodge for lunch. Enjoy a late afternoon a siesta and a refreshing swim in the Laguna Grande. In the evening, after dinner, embark on a night excursion by canoe to spot caimans, snakes and nocturnal birds. Overnight at Cuyabeno. (Breakfast/Lunch/Dinner)
After breakfast, you will enjoy a paddling journey by canoe to experience the silence of the lagoon and at the same time the exotic sounds of birds and insects. In the afternoon embark on an excursion to discover smaller lagoons or hike along paths in the Cuyabeno Nature Reserve. Overnight at Cuyabeno. (Breakfast/Lunch/Dinner)
Bird watching early in the morning. You have one last breakfast at the lodge and then a discussion about what we have learned during your journey. Afterward travel back to the bridge where our vehicle will take you back to Lago Agrio. Enjoy a packed lunch. Return to Quito where transportation will be waiting for you to take you to Casa Centro. Overnight stay. (Breakfast/Packed Lunch)
After breakfast, our transportation will take you to the airport where you will get our flight to return home. (Breakfast)
Hacienda El Porvenir
Read more about Hacienda El Porvenir
Hacienda El Porvenir is an undiscovered gem at the foot of Cotopaxi National Park and one of the best ways to get a glimpse of the Andean culture.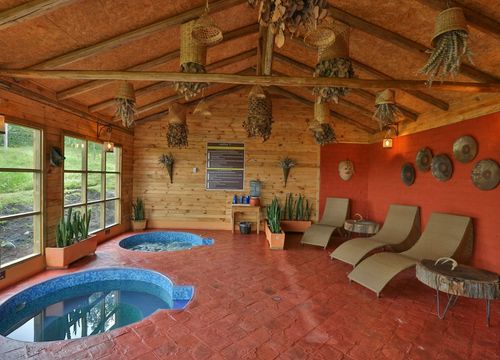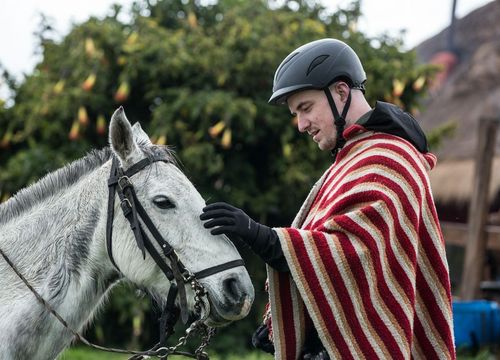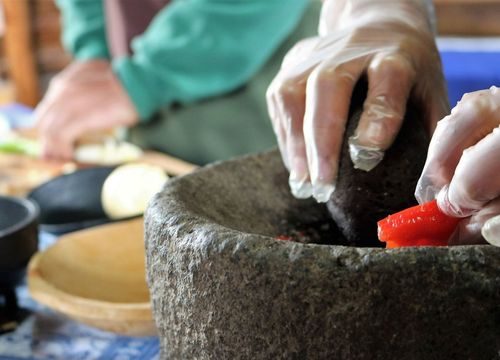 Accommodations
The salmon-pink rustic farmstead boasts 21 rooms divided into three types. Each has a unique personality that makes guests enjoy a comfortable and perfect stay. Many rooms and suites are wood-beamed and full of traditional character with the thatched roofs paying homage to the lodging used by the Quechua people, the local indigenous population. 
Suites
These are the more exclusive and spacious rooms, where you will definitely feel at home! Each suite has a sitting area, fireplace, hairdryer, ensuite bathroom with hot shower and a spectacular view. 
Traditional Doubles
These authentic hacienda rooms are designed for two people. Each room features an ensuite bathroom with hot shower.
FAQ
Sleeping bag
Insurance
Dinner at el Quito and El Porvenir
Tips
Alcoholic drinks
International flight to Quito
Anything else not described in the tour
For the "Family connections through adventure" package, you will start your trip and overnight at Casa Centro your first and last night. Casa Centro is located in the colonial area of Quito in Ecuador. You will also visit and overnight in Hacienda el Porvenir and the Galapágos Islands safari camp. 
Altitude sickness occurs when you cannot get enough oxygen from the air at high altitudes. This causes symptoms such as a headache, weakness or dizziness, loss of appetite, digestion problems and trouble sleeping.
It happens most often when people who are not used to high altitudes and go quickly from lower altitudes to higher ones. Mild altitude sickness is common. Experts do not know who will get it and who will not. It doesn't depend on your fitness level nor being male or female, adult or child.
To prevent altitude sickness it is important to hydrate and acclimatize yourself properly and to inform your guides if you have any of the described symptoms. To treat altitude sickness, the most effective solution is to lower down in altitude.
Around 80% of our guests have never experienced riding a horse before. We, and our own trained horses are experts with first time riders. We will provide you with a briefing of how to handle the horses and every ride is led by our experienced and knowledgeable Chagras (Andean Cowboys), expert riders that manage all our safety standards (prevention, mitigation and evacuation plans). We provide riding accessories in the form of a woolen poncho, waterproof poncho, saddle bags, riding helmets and zamarros (sheepskin chaps) in the style of the chagras. Enjoy it!
Terms
Cancellation fee
If you cancel your trip 45 days or more before your trip then you will be charged 5% of the total package price
If you cancel your trip between 44 and 30 days before your trip then you will be charged 50% of the total package price
If you cancel your trip between 29 and 0 days before your trip (or no show) then you will be charged 100% of the total package price
Safety
All of the processes take into account the necessary biosecurity measures to prevent any disease, increasing the frequency of cleaning and disinfection in public spaces, focusing on the reception, rooms, door handles, public bathrooms, room keys, among others.
To protect the environment and your health, a chemical-free steam disinfection process is used. The staff is trained in biosecurity and handling of cleaning and disinfection protocols. Protective equipment is required for all personnel who will be in contact with you.
In the spaces used by staff, cleaning frequency has been increased, focusing on areas of frequent contact such as entrances, changing rooms, laundries, and offices. Information is provided about the basic protection measures that all must follow in visible places in the common areas of the entire establishment.
Protocol at Hacienda El Porvenir
At Hacienda El Porvenir, upon arrival, they will verify that you are wearing your mask (remember that the use of a mask in common areas is mandatory). Your luggage will be disinfected upon arrival as well. 
You will be provided with an antibacterial gel formulated with 70% alcohol to disinfect your hands. The first dispenser will be located in the parking area so that you can use it as soon as you get off your vehicle. Throughout the house, you will find more dispensers located strategically. You will be asked to disinfect your footwear in the disinfection trays located in the designated areas.
When settling into the accommodations, your temperature will be taken and you will be required to fill out a symptom questionnaire while you enjoy delicious canelazo with the delicious empanaditas.
You will then receive keys to your disinfected room.
Use of Facilities and Community Guidelines
At the entrance of all the common areas and rooms, you will find a bottle of antibacterial gel and another of alcohol for your use during the stay. Please leave them where you found them. These bottles are also disinfected several times a day.
You can try the delicious food in the restaurants taking into account the scheduled times for breakfast, lunch, and dinner. The restaurant areas will be completely disinfected before and after each service.
Wear your mask when you are indoors with other people. Wash your hands frequently. Keep physical distancing between yourself and other people.
Protocols for Activities
You must fill out a risk disclaimer document in order to carry out any activity you want. All of the equipment will be checked and disinfected with alcohol at the beginning and end of your activity. The tour guides will give you a safety talk in designated areas. To maintain social distance during the talks, they will use a condor flight technique, the distance of a condor's wingspan will mark an adequate distance from one end to the other.