About Hacienda El Porvenir
A working ranch dedicated to sustainable gardening and livestock, Hacienda El Porvenir is an undiscovered gem at the foot of Cotopaxi National Park and one of the best ways to get a glimpse of the Andean culture and experience a bit of thrilling adventure. El Porvenir is a meeting point between cultures, traditions and legends—where guest rooms and suites are full of character with thatched roofs paying homage to the lodging used by the local indigenous population. The hacienda is the ideal basecamp for adventures with exclusive trails at your doorstep. Besides horseback riding, mountain biking and hiking, relax in the on-site spa and purify your mind, body and soul in the temazcal sweat lodge. 
What We Love
With incredible views of four volcanoes, Hacienda El Porvenir is one of the most authentic places to stay in Ecuador. Horseback riding here isn't just any old trail ride. You get to gear up with ponchos and chaps like a real Chagra (Andean cowboy). With miles of signposted or self-guided paths, you can explore untouched nooks and crannies of the region passing through dense woods, pristine páramos, waterfalls, conservation areas for bird-watching and wildlife. And after a long day of adventure, there is nothing better for tired muscles than a relaxing and soothing massage at the spa with treatments designed to connect you with nature and the energy of the four elements. Something to note, all of the excursions are led by Spanish-speaking guides so if you want an English-speaking guide you need to book an all-inclusive tour in advance. From the traditional farmhouse with thatched roofs and farm-to-table dining to a temazcal sweat lodge and horseback riding with Chagras, the hacienda is a transformative environment where you experience first-hand the Andean culture.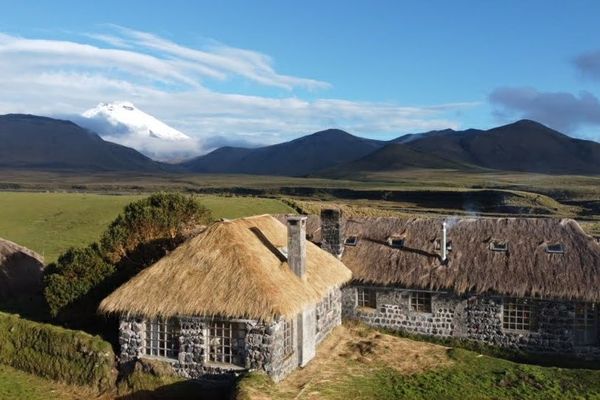 Spa
Inspired by the Andes and its rich volcanic setting, APU Spa features two treatment rooms, a Jacuzzi and two therapeutic hot tubs in the relaxation area. After a full day of adventure, there's nothing better than pampering yourself with a massage to relieve and energize your muscles and senses. Or unwind in the Jacuzzi before purifying your soul in the temazcal, or sweat lodge, which is heated with volcanic stones. This sacred ritual leaves you feeling physically, emotionally and mentally healthier—and connected to Pachamama or Mother Earth.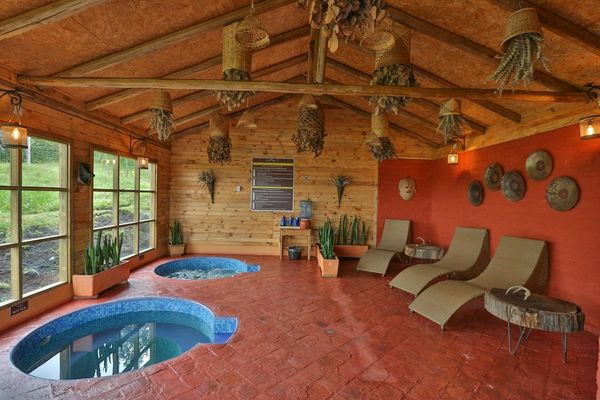 Activities
Hacienda El Porvenir is located at the base of Cotopaxi National Park, the perfect basecamp for Andean Highlands adventures—all led by local Spanish-speaking guides. The best way to explore and connect with the local culture is by horseback. The two-hour ride takes you through incredible territory where you can observe a large number of endemic plants and various birds. For a high adventure with low environmental impact, try the high ropes course. You'll traverse ladders, nets, tightropes, swinging logs, wobbly bridges and more fun surprises. One of the most fun activities is the cooking class in the clouds where you learn the culinary secrets and local techniques of the native women. Some activities are also self-guided such as mountain bike rides (bike and equipment rentals available) or short hikes on the exclusive trails within the hacienda where you'll enjoy a mix of stunning landscapes. The trails offer a variety of options ranging from Andean forests, waterfalls, lookouts, conservation and reforestation areas where you can observe birds and wildlife. 
*English-speaking guides are available with an all-inclusive tour.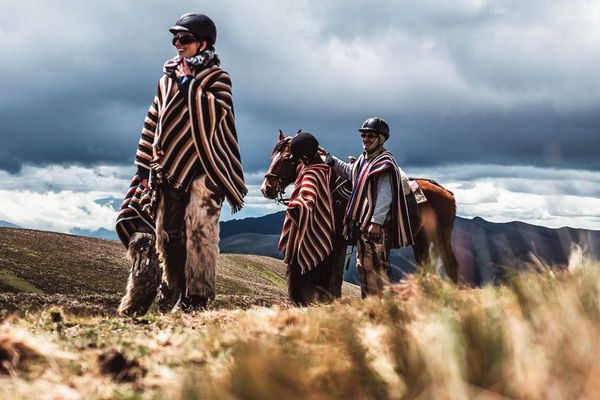 Culinary Highlights
Food is an essential part of the stay and the restaurant serves up an authentic farm-to-table culinary experience fusing the richness of Andean Highlands ingredients with traditions of Ecuador. A continental breakfast is offered with lunch and dinner served ala carte. The menu includes soups, salads, vegetarian dishes and meat, chicken and fish with signature dishes prepared over volcanic stone and served with Andean tortillas. The kitchen can also prepare a picnic basket for an excursion.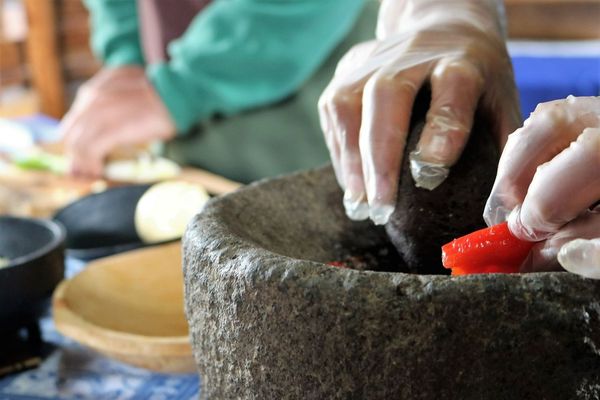 Hacienda El Porvenir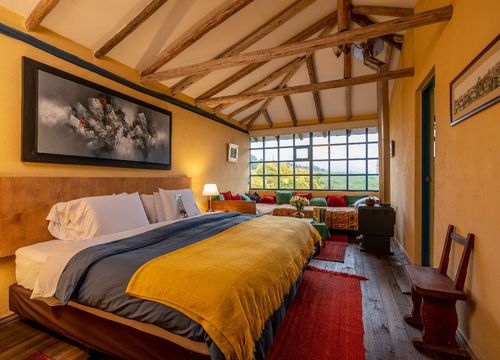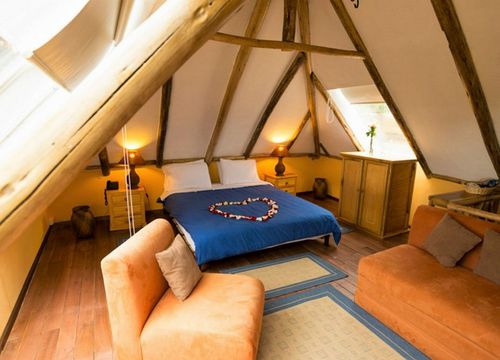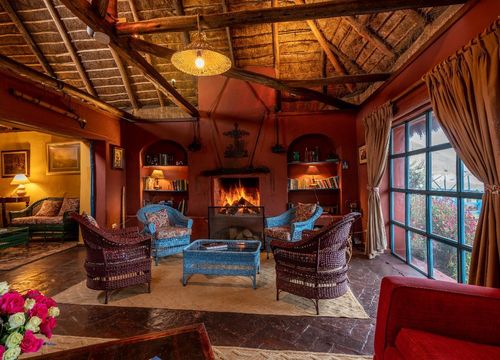 Accommodations
The salmon-pink rustic farmstead boasts 21 rooms divided into three types. Each has a unique personality that makes guests enjoy a comfortable and perfect stay. Many rooms and suites are wood-beamed and full of traditional character with the thatched roofs paying homage to the lodging used by the Quechua people, the local indigenous population. 
Suites
These are the more exclusive and spacious rooms, where you will definitely feel at home! Each suite has a sitting area, fireplace, hairdryer, ensuite bathroom with hot shower and a spectacular view. 
Traditional Doubles
These authentic hacienda rooms are designed for two people. Each room features an ensuite bathroom with hot shower.
Location
Hacienda El Porvenir by Tierra del Volcan is located in Cotopaxi, Machachi, Ecuador.