AmaTierra Retreat & Wellness Center
All-Inclusive Holistic Yoga & Wellness Retreat

San José, Costa Rica

7 nights

from $427 Per Night

Based on rate for two guests
---
or talk to Vacayou travel concierge
Nestled on eight acres of jungle forest in the Costa Rican mountains, AmaTierra is your restful, secure and welcoming home away from home. AmaTierra caters to the whole person—body, mind and spirit—through yoga, meditation, mindfulness, healthy foods, fresh spring water, herbal medicine and bodywork.
Whether you want to relax in a natural setting with breathtaking views or venture to area attractions or discover a new flow, there is something for everyone at this oasis of tranquility. Explore sandy beaches, waterfalls, Carara National Park, Poas Volcano, a snorkeling trip to Tortuga Island and even a zip-line through the jungle canopy. 
AmaTierra Yoga
AmaTierra's commitment to gentle Hatha yoga honors the traditional roots of yoga's ancient history, offering a strong foundation for your physical yoga practice, grounded in a spiritual tradition that has stood the test of time. Begin your day with a gentle Hatha yoga class in the open-air yoga studio overlooking the lush jungle valley.
No matter your age or ability, you'll discover a yoga class tailored to suit your body. At sunset on most days, AmaTierra guests gather on comfortable cushions for a mindfulness meditation session designed to help you let go of constant thinking and worldly worries in order to find stillness and deep understanding, to better get to know what some people call the "True Self."
NOTE: AmaTierra's season runs from November 23 to April 24.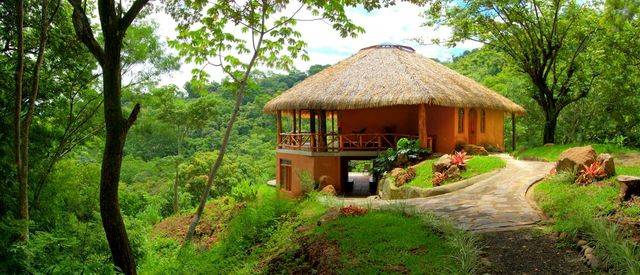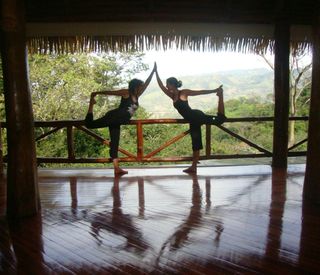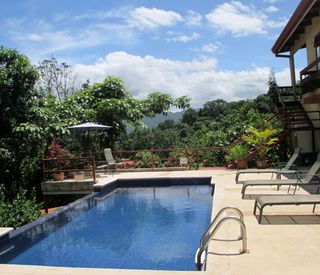 Experience
AmaTierra is a life-enhancing yoga retreat, wellness center and guest facility nestled on eight acres of jungle forest in the Costa Rican mountains. An all-inclusive holistic health resort, visitors will leave their stress far behind and reconnect to their most vibrant self while immersed in the power of Nature.
Rejuvenation through yoga, meditation, mindfulness, healthy foods, fresh spring water, herbal medicine and bodywork ion an oasis of tranquility.
AmaTierra offers daily gentle Hatha Yoga classes for all ability levels and Free Meditation Classes in an open-air teak wood Yoga Shala, overlooking the jungle setting and inspirational views.
Experience life-enhancing therapies including massage, energy balance, and mind/body sessions.
Herbal and Nutritional Consultations with AmaTierra's highly professional wellness therapists.
International cuisine with an emphasis on fresh fruits and vegetables and home-grown in AmaTierra's organic gardens. Meals are accented by delicious spices such as fresh turmeric, ginger, basil and lemongrass grown on their permaculture farm.
Offers
7-Night Yoga & Wellness
from
$427
Per Night

Based on rate for two guests
Vacayou Exclusive
As a Vacayou guest, receive a $100 credit per person (applies only to either wellness services or tours, cannot be used at bar or restaurant).
Rates based on two people traveling together and staying in the same room. Single guests, extra rooms or upgrades may increase the price. Some days may be higher due to seasonality.
Package Includes:
7 nights lodging in a spacious, comfortable suite with private bath
3 delicious gourmet meals per day, made with local and organic foods
Daily yoga class and meditation (except on tour day)
1 relaxing full body massage per person by AmaTierra Spa & Wellness professional (1 hour)
1 session on the Amethyst BioMat per person (30 minutes)
Full-Day Tour: Carara National Park & the Pacific Beach, including transportation
Roundtrip airport transfers
*Additional wellness treatments and tour options available at additional cost. Please inquire for more information.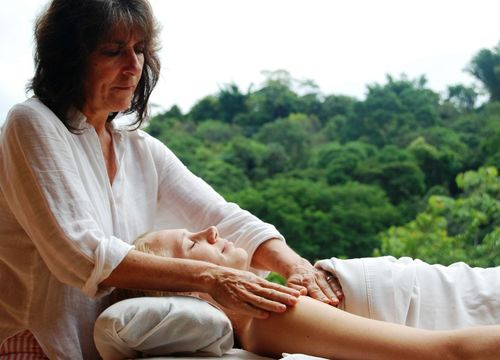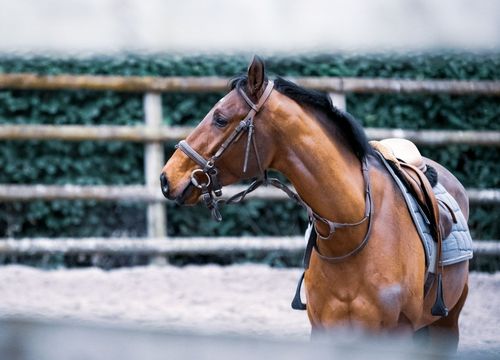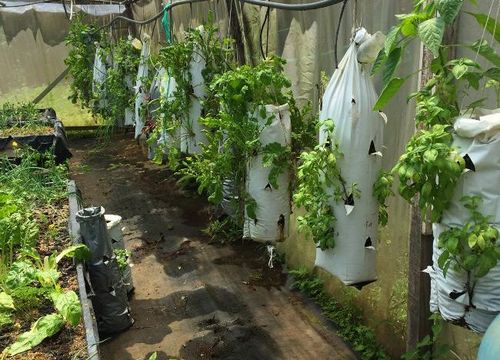 Accommodations
Feel at home in quiet comfort, cradled by nature amid the mango trees and sounds of the living forest in your beautifully appointed private casita. Tastefully designed and decorated, each suite features one or two queen beds, a spacious private bath with shower/bathtub, ceiling fans, a refrigerator, tea/coffee maker, phone, complimentary snacks and your very own terrace and garden with outdoor seating. Hardwood furniture and a locally harvested teak wood ceiling bring the ambiance of the forest into your room.
Features & Amenities
Spa and Wellness Center
Daily yoga and meditation classes in the open-air yoga pavilion
Yoga retreat services
Restaurant facilities, organic gardens and hydroponic greenhouse
Arrangements for tours, group activities, guided nature hikes and horseback tours
Educational medicinal plant walks and wellness seminars
Transportation to and from the airport and to local area attractions (fees vary)
FAQ
Yoga and Meditation classes are included. One at 7:30AM and either a restorative Yoga Class or Mediation class while on the property at 5:30/6:00PM before dinner at 7:00PM daily and on weekends. Sunday no meditation or Yoga class at night.
The resort's name, AmaTierra, loosely translates as "Beloved Earth". It embodies the belief that human beings exist as part of the delicate web of nature and, as vital members of the Earth community, must be conscious in minimizing their impact on the Earth's ecosystems, especially in a place with so much diversity. Virtually 5-6% of all the plant and animal species on the earth are found here in Costa Rica.
The owners and staff of AmaTierra are dedicated to supporting the local Costa Rican community and protecting the natural environment, reducing waste and conserving, reusing and recycling resources. Much of the produce used in the kitchen comes directly from AmaTierra's farm – including organic gardens, hydroponic greenhouse and free-range chickens for eggs. The AmaTierra Foundation is committed to helping the local town of San Pablo meet basic needs in education, environment and waste management.
AmaTierra is a birdwatcher's paradise, with three lush acres of mountain forest – home to two types of toucans and hundreds of varieties of birds and butterflies. The white-face monkeys swing between the trees in the early mornings, and scarlet macaws squawk as they fly across the valley. A stream, hiking trails with stunning views, dozens of mango trees and reforested pochote hardwood are all part of AmaTierra's tropical ecology.
Meditate immersed in nature. Visit the nearby waterfall for a refreshing soak in crystal fresh waters. Relax in a hammock in the shade or poolside in the sun. Let the scents, sounds and healing energies of nature soothe your soul.
Committed to rainforest conservation and sustainable agriculture, herbalist owner Jill Ruttenberg has created an organic garden, hydroponic greenhouse and an atmosphere of discovery for learning about and healing with tropical plant medicine. Jill offers educational herb walks for you to learn about the plants and their many medicinal uses.
Terms
All taxes are included in listed prices. For extra guests in the same room, however, there are extra charges of $25.00 per person per night plus the cost of meals. Taxes for these extra persons are 13% on lodging and 10% on meals. For children under 12, lodging is free and meals are priced at $30 per day for all 3 meals per child.
Deposit
To secure your room we request 50% of the amount of your total reservation. The balance of your bill is due upon departure of your stay.
Cancellation Policy:
If you must cancel your reservation, please do so at least 30 days before the date of your arrival. Otherwise, you will be charged 50% of your total for a cancellation 15 – 30 days before the reservation date, and 100% of your total if your reservation is cancelled 14 days or less before the reservation date.
Gratuities:
Gratuities are not included in prices as that is up to the guest for tipping the staff at the end of the stay. Prices range from $5.00 per person per day and up depending on how the service was and is customary but not required.
Spa and Wellness Appointments:
Some services are offered only by specialists and are subject to their availability. Please inquire about these specialized treatments when you arrive. Please make appointments at least one day in advance at the front desk or by phone. Arrive on time; sessions will end at scheduled time. If you cancel your treatment fewer than 12 hours in advance, you will be charged as follows:  6-12 hours prior: 50% of the fee; 0-6 hours prior: full price of the session. All wellness and spa treatments are subject to an additional 13% sales tax.