Skyterra Wellness Retreat
Holistic Wellness: Fitness, Mindfulness & Nutrition

or talk to Vacayou travel concierge
Imagine yourself exactly where you want to be. What does it look and feel like? A wellness retreat at Skyterra puts you on the path to achieving the greatness you're after. Whether you're enhancing your quality of life through fitness, nutrition, stress management, meditation or all the above, consider Skyterra your sanctuary for self-improvement. It's where you go to unplug and regroup. It's where you put you first and learn to take care of yourself. It's where your healthy new chapter begins.
Sustainable Lifestyle Changes
Discover a wide range of enriching, health-promoting activities in this peaceful environment. Hike to waterfalls, practice yoga, learn the power of meditation and focus on fitness of all kinds in the heart of North Carolina's wondrous Blue Ridge Mountains. Whether you choose to spend most of your time on the trails, on the mat or simply in reflection, your time at Skyterra can be whatever you want it to be. And with a maximum capacity of around 30 guests, your personal needs are always being met.
Feel like a new you when you leave this life-changing place, and know that the sky's the limit on your wellness journey.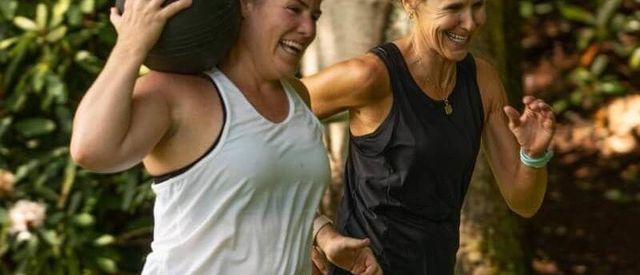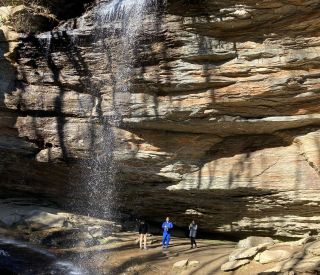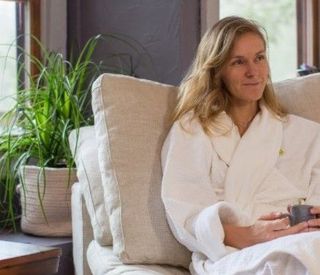 Experience
Slow down, reset and begin your wellness journey by choosing you. Skyterra's all-inclusive wellness experience is tailored to your specific needs. Create lasting, healthy habits in this serene oasis surrounded by a dreamy mountain range in a lush forest.
Wellness center in picturesque Pisgah National Forest
Daily customizable schedule can include wellness programs for weight loss, fitness and meditation
Daily health-based culinary cuisine, plus learning to cook and eat mindfully
Inspired-by-nature spa offering a wide range of services
Skyterra Wellness Retreat
Read more about Skyterra Wellness Retreat
When you're ready to unplug from everyday life and reconnect with nature, take a look at Skyterra Wellness Retreat and their tailored program that helps you to develop a healthier lifestyle.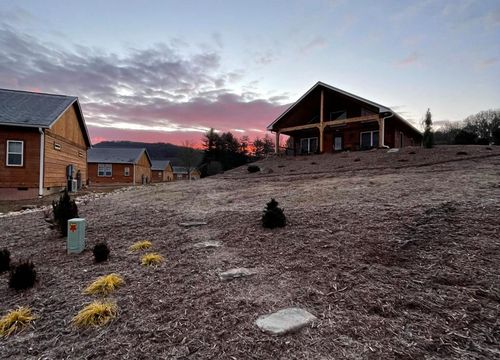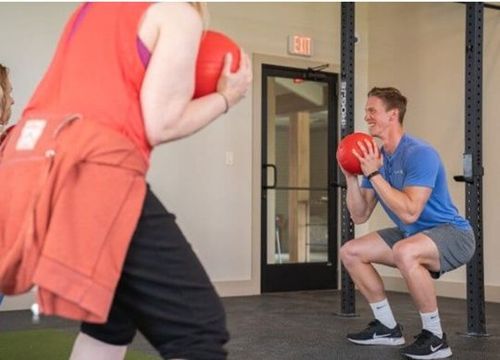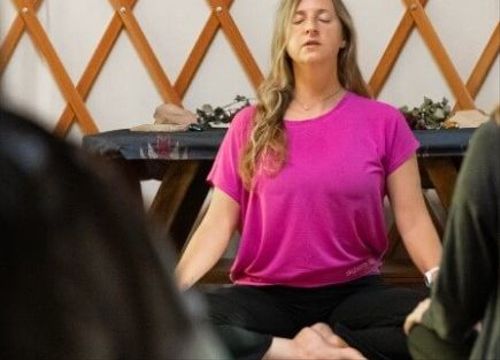 Accommodations
Your private lodge or cottage has a living room, fully equipped kitchen, fireplace, washer/dryer, a beautiful bathroom and a luxuriously comfortable bed for peaceful sleep after a day of adventure. Pet-friendly lodging is available.
Features & Amenities
Your rate includes everything you'll need for your wellness retreat: all meals, private accommodations, airport transportation, Wi-Fi, and access to more than 80 classes, lectures and experiences all designed to give you the reset you deserve. The pillars of the program include:
Self-Care and Stress Management
Fitness and Mobility
Culinary and Nutrition
Yoga and Mindfulness
Recreation and Adventure
Apart from lodging, you will find the gated property extremely alluring. Onsite features include:
Indoor fitness center including a cardio room and gym
Indoor and outdoor yoga spaces
Firepit
On-campus trails
Lecture halls
Kitchen
Teaching kitchen
Dining area
Lounge
Gift shop
Stand-alone spa
Waterfall
Open space and untouched nature
Golf carts for assistance traversing the property
Indoor pool 
FAQ
Skyterra is proud to average 5-star ratings on TripAdvisor, Facebook, and Google.
A sample of guest testimonials:
"The place is filled with positive energy and the staff is highly experienced & educated. I learned a lot about what activities are the best for me. The meals are delicious and healthy. I learned a lot about mindful eating and nutrition. It is focused on positive lifestyle changes, so I can keep taking good care of my mind, body & spirit after leaving. I flew in from California and it's totally worth it. Thank you Skyterra!" - Monika Spisakova via Facebook
"I booked a week at Skyterra because I was impressed with the smaller guest groups and individual care described on their website.  My Skyterra was everything I hoped it would be and more. Sue made the booking process very easy. MacKenzie offered information, advice, and assistance in advance of my stay, Theresa made sure my every need and concern was immediately addressed, Brent took care of all my transportation needs and more. The chefs are excellent and the farm to table meals are prepared with input from the nutritionist to provide a very tasty and healthy meal every time! I sure miss those meals now that I am home!!! All the exercise/activity coaches are extremely warm, knowledgeable and invested in the success of each guess.  I was able to trust that I was being cared for as I tried new experiences in exercise. I was surprised to see improvements in myself over the course of the week I visited Skyterra.  I never felt hungry and always looked forward to the creative and yummy meals.  You are always your own boss and can decide how much you eat and how much you do....suggestions are presented, but you decide.  I also loved the balance offered with interesting classes on nutrition,  exercise, breathing, cooking, self-image and more.  Give yourself this gift, it's well worth the investment!"
- Debby Stein via Google Reviews
"A fantastic life changing 2 weeks for me and my wife. The skilled and professional staff, the wonderful location, the delicious food, the superb accommodation and the incredible variety of options on the daily activity lists all combined to make it the best vacation I have ever had! My wife and I both followed tailored programs each day to suit our needs and interests and had wonderfully peaceful and energizing evenings in the wooded surroundings of our superb cottage. The mix and combination of coaching and counseling skills leave no gaps in a very broad agenda where there is something for everyone and every day we were spoilt for choice. I am reasonably fit but I have returned reenergized, even fitter and with a whole new list of exercise, fitness and dietary options. We will definitely go back!" - via TripAdvisor
Guests stay in well-appointed mountain lodging, eat community-style high-quality chef-prepared meals in a bright, welcoming dining area, and attend classes and lectures in our cozy conference rooms. The environment is casual and nature-centric, but with a full array of comforts and accommodations.
Whenever weather allows it, they hold sports and fitness classes outdoors. They hold classes indoors during cold and inclement weather. There in the mountains, you can enjoy favorable weather for much of the year. The summers are much cooler and less humid than the rest of the south. They do see low temperatures and snow during the winter, but the season is relatively short.
No matter what time of year you visit, enrollment is around 30 guests at a time. The community there is caring, intimate and family-like. And they preserve a high staff-to-guest ratio so your needs never go unmet.
Housing, meals/snacks and laundry facilities are provided at Skyterra, but the essentials you should bring with you include: plenty of active, season-appropriate clothing, preferred personal toiletries, travel essentials like sunblock, phone/computer/camera and corresponding chargers.
A wide variety of individuals have enjoyed and benefited from the Skyterra program, including different ages, genders, lifestyles and fitness levels. Anyone looking to invest in their long-term physical, mental and emotional health is welcome.
Here are some guest demographics from their first year of operation: On average, women outnumber men by about 7:1. Most guests (about 78%) have been in 40-69 age range. Nevertheless, this is a place for everyone–they have helped everyone from college students, to cancer survivors, to individuals with a fair amount of pre-existing fitness knowledge and conditioning, and people in their 80s.
It is a safe, secure and welcoming environment for single travelers. It's also common to bring along a friend, partner, spouse or family member.
If you are younger, older or in any way different from their average guest, don't give it a second thought! Skyterra's staff members will still provide personalized attention and guidance for your priorities, even if they differ from the rest of the group.
Their program is designed to jumpstart new habits and help you develop a healthier lifestyle. Anyone who is experiencing health issues as a result of an unhealthy lifestyle can benefit from their retreat.
As you can imagine, that means virtually everybody, considering how the modern way of life makes it so hard to take care of ourselves! Guests come to Skyterra seeking assistance for common issues including, but not limited to:
Limited mobility
Weight loss and weight loss maintenance
Reliance on medications
Diabetes and pre-diabetic conditions
Work-related stress management and executive burnout
Family-related stress management and caregiver burnout
Recovery from a traumatic loss, illness, or life change

If you're experiencing any of these issues, you are not alone! Committing to a retreat can help you see new possibilities for yourself and your circumstances.
Skyterra is not a medical facility, so if you have a condition that requires close medical attention, please call before booking your retreat.
… am self-conscious about my weight?
Many people come to them wanting to lose a significant amount of weight. If you have been afraid to work out and unable to live your life fully because of your weight, this is the place you want to be. The founders of Skyterra know what you are feeling, and that's why they created a place where women and men of all shapes and sizes would feel free to be themselves while embracing new ways to be fit and healthy. This is a judgment-free zone!
… have limited mobility, trouble walking long distances or have pain/injuries?
Their fitness experts provide alternative or adapted routines for all physical abilities. They meet you at your current level and guide you according to your own priorities. You will never be asked or expected to do anything dangerous, painful or exacerbating to an injury.

… have high blood pressure?
They note your blood pressure and any medications as part of the intake process. Under the watchful guidance of their staff, you can be confident that all of the activities you pursue are safe and appropriate for your condition.

… have diabetes?
Many of their guests have diabetes or pre-diabetic conditions. Their chef, dietitian and fitness experts have guided guests toward lifestyle changes that manage diabetes and diabetes symptoms. Here's an example of a guest that dramatically lowered her blood sugar levels using what she's learned at Skyterra.

… have cancer?
You are a survivor! And they are here to lighten your load. Let them take care of you–in turn, you will be empowered to take care of yourself. However, they are not a medical facility. The support they provide is not a substitution for physician-guided cancer treatment.
… am on a work sabbatical?
If you are taking a break or looking for a transition in your professional life, this is the perfect time to visit Skyterra! Taking the time to invest in yourself will set you up for better mental clarity and physical energy.

… need help managing my stress levels?
At Skyterra, you'll unplug from daily stresses, learn about how stress affects your mind and body and enjoy classes that illuminate valuable stress management strategies that you can apply long after you leave. Stress management is a pillar of the Skyterra philosophy.

… have recently suffered a loss?
Sincere condolences on the loss of your loved one. Skyterra's team understands this pain and the potentially lifelong damage that grief can do on your health. Self-care is an instrumental part of unpacking those feelings, harboring resiliency and feeling strong again. The core Skyterra program will teach you the essentials of self-care.

.... experience depression?
When you are in the depths of depression, the last thing you want to do is get out of bed. They do everything in our power to make it easier. When you do, you'll experience the endorphins from working out, the relaxation and mood-lightening effects of being immersed in nature, the comfort of delicious, nourishing food and the warm support of a caring community.
However, please keep in mind that they are not a medical facility. The support they provide is not a substitution for depression treatment from a physician.
As long as you are able to walk around on your own (even if it's not long distances) and are able to climb a set of stairs five steps high, you will be able to participate, learn and experience results. All fitness levels are welcome at Skyterra. They meet you where you are and help you improve from there. A desire to learn, caring enough about yourself to give your full effort and a willingness to try new things is all they ask.
Absolutely! Solo travel can be anxiety-inducing for some; you may be wondering if everyone else will be busy with their friends and loved ones. That is not the case at Skyterra! You'll feel at ease as soon as you arrive.
Once you join the group, you'll see that the majority of our guests–about 70% or more at any given time–visit as solo travelers. With a maximum capacity of around 20 individuals and a high staff-to-guest ratio, you'll be welcomed by an intimate group of like-minded and supportive people of all ages and backgrounds.
Visiting solo (or with a very close companion or partner with whom you feel extremely comfortable) frees you to truly focus on yourself and your own needs. A solo wellness retreat represents a tremendous opportunity to connect with and nourish yourself and to expand your comfort zone without distractions.
Every Skyterra package includes on- and off-campus programming. From 7 AM until about 7 PM each day, enjoy a well-rounded roster of enriching lectures and enlivening classes and activities.
The schedule accommodates plenty of downtime, so you can relax by the lake or stroll the grounds as you please. Keep in mind that their program is very small and they adjust classes accordingly. Even in group classes, you receive far more personalized attention than in most other wellness settings.
This core weekly programming includes:
Comprehensive body composition and mobility screening
Daily guided nature walks
Daily breathwork and meditation sessions
A full array of fitness classes, including both low- and high-intensity strength training and cardiovascular workouts
Yoga and mobility sessions to address range-of-motion issues
Nutrition education and culinary demonstrations
Waterfall hiking
Seasonal outdoor sports and activities
Stress management skill-building
Guidance on establishing sustainable positive habits
A typical day at Skyterra starts with a guided trail walk around 7:15 am, followed by breakfast at 8 am in their culinary center. Following breakfast, enjoy an interval cardio class, participate in a circuit fitness session or join a hike to a nearby waterfall.
By then, it's lunchtime! After the mid-day meal, you'll have another opportunity to take in a lecture, work on mindfulness breathing or delight in the seasonal offerings. Enjoy some pre-dinner yoga or learn a few kitchen techniques in a cooking demo and then enjoy the last meal of the day.
After-dinner activities might include off-campus recreational field trips, campfire gatherings, more guided self-improvement sessions, or simple downtime.
Please note that the exact schedule varies according to the season and their guests' interests and that every day is slightly different to keep both their short-term and long-term guests inspired.
Terms
Deposit
They collect a non-refundable $1500 per person deposit when you make your reservation. The reservation deposit is applied to your balance upon check-in and is non-refundable and 100% transferable without a penalty for one year from the date above. Deposits made may be transferred without penalty up to 48 hours of your arrival.
Reservation Fee
The Skyterra $150 reservation fee covers the administrative time involved to create a customized ("one of a kind") retreat experience for all guests pre-arrival. This might include a special meal plan, gathering health metrics of the guests, customized fitness and consultation sessions, and even accommodations.
Cancellations
Cancellations or no-shows made in fewer than 48 hours before your arrival incur forfeiture of your deposit. If you are not satisfied within the first 24 hours of your stay, you may depart and they will refund your program fee (minus the deposit).
Check-In
Sunday check-in hours are between 2:00 and 4:00 PM with Orientation beginning every Sunday at 4:30 P.M. All guests must arrive on campus no later than 6:00 pm. Check-in outside of the Sunday arrival time frame must be coordinated prior to your visit.
Transportation
Every Sunday Skyterra provides complimentary airport shuttles for incoming and departing guests to Asheville Regional Airport (AVL) and Greenville-Spartanburg International Airport (GSP). As you prepare for your travel, please be aware of pick up and departure times and share your flight information with the Concierge prior to your arrival.
Children & Pets
Children are not allowed. Your pet is welcome to stay at Skyterra whenever housing availability permits. They require a $250 non-refundable cleaning deposit.