Hacienda El Porvenir
Family Connections Through Adventure in Ecuador & Galápagos Islands

or talk to Vacayou travel concierge
In many cultures, family time comes first. Studies have shown how people within these cultures are actually happier and healthier. Maybe you haven't thought about how doing activities together affects your relationship to your kids and loved ones, but it's never too late. This adventure trip with Tierra del Volcán to Ecuador is an exciting one and focuses on experiences with the people you care about the most. After all, what is more precious than spending time with the people you love? With this package, you get to do it in a country with wild beauty, close to beaches, next to cute, wild creatures, among green highlands and with indigenous teachings. 
As you and your family go on a trip that is filled with adventure, you also get closer because of the things you see and feel together. Your camera will be a good friend to you but don't forget to be in the present too and enjoy the smiles, the tears, the laughter of your precious family. The "Family Connection Through Adventure" package in Ecuador is wellness for the entire family. Explore the breathtaking Galápagos Islands with animals only found here and watch giant turtles one day and tiny ones the next. Gather around the fire and together, share your individual and common visions for the entire family. 
This journey to Ecuador is just filled with so much love!
The Basics
Start and Finish: Quito, Ecuador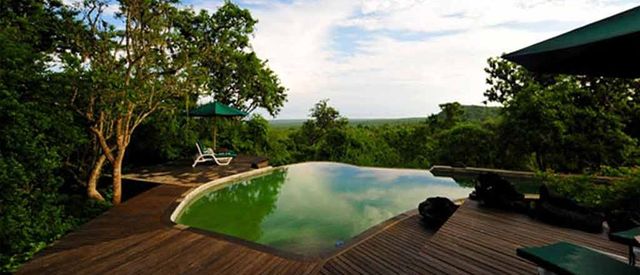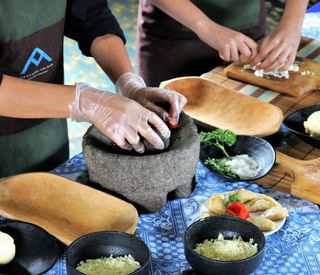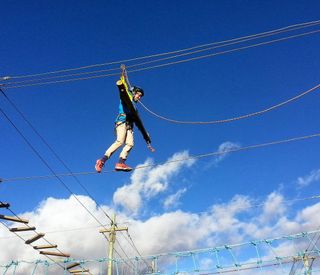 Experience
Prepare yourself to be amazed by nature, laugh with your family until your stomachs hurt, cook together, explore wild creatures, visit the stunning Galápagos Islands and play to have fun. This all-inclusive trip to Ecuador takes you through the impressive city Quito, brings you close to the cutest creatures, under and above water and so much more. 
You get to know your children better, your partner better and focus on beautiful things within each and every person of the family that you might not have thought of in a while. On this journey, you will be each others' support, loving presence, and caring guidance. And the best thing is that you get help from experienced guides and teachers to restore values, and focus on taking your bond to another level. 
Experience horseback riding therapy with the whole family
Visit the famous and incredible Galapágos Islands and spend 4 nights in a Safari camp
Explore UNESCO World Heritage Sites and Ecuadorian Highlands
See some of the most incredible wildlife and encounter species only found in Ecuador and Galápagos
Guided tour to private reserve 
Exercises and activities specially made to bring you and your kids/parents closer
Learn how to cook traditional meals from locals 
Itinerary
Welcome to Quito, where you will be greeted at the airport and transported to Casa Centro, a fully restored colonial house located in Quito's historic downtown. Overnight stay.
After breakfast, we begin the day understanding the challenges ahead and how our adventure will develop. Get to know the first city to be declared a UNESCO Cultural Heritage and visit its marvelous cathedrals, historic streets, and hidden architectural beauties. Prepare yourself for a transformational conversation spiced by challenging personal activities. Transfer to Hacienda El Porvenir for the overnight stay. (Breakfast/Lunch/Dinner).
Activities such as horseback riding, take a new level when we approach it with the focus of the Horse heard therapy. This approach familiarizes you with the importance of the connection between you and your horse, and between you and your herd or family. Learning how to handle the horses, how to saddle and how to ride according to ancestral ways. It's about learning, but overall it is about having fun as a family. In the afternoon you will sit next to the fire to play different games that will be the tool to establish family goals that you would like to achieve during the rest of their Journey in Ecuador. Overnight in Hacienda El Porvenir (Breakfast/Lunch/Dinner).
Get amazed by the skills of Andean cradle handlers, experience the magnificent views of the Cotopaxi volcano. You will join a Chagra in the fields to gather your horses and bring them to the hacienda corrals.  We will ride out across the slopes of the dormant volcano, Rumiñahui. A respected chagra from the area will come with us and share some of his deep knowledge of the country's life.  In the afternoon we will participate in our Cooking in the clouds lessons, which are perfect for you to experience the regional culture, the highland family traditions and the use of antique cooking instruments in an informal and friendly environment. The class starts with cooking lessons or our famous cheese empanadas, followed by the elaboration of aji, which is a very important sauce part of Ecuadorian cuisine. At last we will learn how to prepare the delicious canelazo, a traditional hot drink that is served on celebrations in the Highlands of Ecuador. After the class the participants will enjoy their preparations next to a crackling fireplace. Overnight stay at Hacienda El Porvenir. (Breakfast/Dinner/Lunch)
This is your opportunity to immerse yourself in a fantastic day trip of exploration to the Iconic Cotopaxi National Park. Home of the biggest flying bird in the world: the Andean Condor and home of herds of truly wild horses. On our visit, we will reach the car park below the Cotopaxi's Refuge, where we begin our short hike up to the climbing hut (Refugio José Ribas) at 4,800m. (15,744 feet). We continue driving down to Limpiopungo Lake which is a vast territory with ancient Inca military fortresses plains full of volcanic rocks from past eruptions where we will learn how to recognize the oldest stones. Back at the Hacienda, kids will have the opportunity to write a guided letter to their parents and share through it, feelings, dreams, and concerns on family life. At night we will enjoy a indigenous Temazcal ceremony to connect with mother earth known as Pachamama. Overnight at Hacienda el Porvenir. (Breakfast/Lunch/Dinner).
After a wholesome country breakfast, we get ready to enjoy the Cotopaxi High Rope Course, a circuit designed for both kids and for adults. This is a perfect activity for bonding and strengthening family bonds. Guests traverse ladders, nets, tightropes, swinging logs, wobbly bridges, and more fun surprises at 20 feet (6m) from the ground. Our challenges today will be based on situational leadership and find out what are the best practices with your kids. After lunch, we do a family wrap up meeting to analyze what we have learned and the compromises and agreements that we will apply during the Galapagos expeditions. Return to Quito. Overnight stay at Casa Centro. (Breakfast/Lunch/Dinner)
After breakfast, transportation will take us to the airport to fly to Galápagos. Once you arrive at the enchanted islands you will meet your bilingual naturalist guide. We will travel by private transport into the lush highlands of Santa Cruz. The reserves of Santa Cruz are home to Giant tortoises with domed shells and short necks to accommodate the environment of the island. The first stop is Los Gemelos or the Twins; two overgrown, lava tunnels that formed massive sinkholes when they collapsed. The larger of the twins is 2,300 feet deep and almost 1,300 feet wide! On a short hike around the rim, your guide will point out the birds of the endemic Scalesia forest such as Galapagos doves and eight species of Charles Darwin's finches. From Los Gemelos the day takes you to a tortoise reserve. Enjoy a sunset cocktail on our lookout, and a four-course, tapas-inspired meal in the main lodge before retiring for the evening. Overnight at Galapagos Safari Camp. (Breakfast/Lunch/Dinner)
Early morning finds you on a motor vessel to one of the neighboring islands: North Seymour, Bartolomé, Plazas, Santa Fé, Floreana or Isabela. Each island is an endemic treasure to explore and enjoy. The Galapagos Marine Reserve is the second largest marine reserve in the world, and snorkeling off the boat is highly recommended. Destinations will be given once dates are confirmed. Overnight at Galapagos Safari Camp. (Breakfast/Lunch/Dinner).
Early morning finds you on a motor vessel to one of the neighboring islands: North Seymour, Bartolomé, Plazas, Santa Fé, Floreana or Isabela. Each island is an endemic treasure to explore and enjoy. The Galapagos Marine Reserve is the second largest marine reserve in the world, and snorkeling off the boat is highly recommended. Destinations will be given once dates are confirmed. Overnight at Galapagos Safari Camp. (Breakfast/Lunch/Dinner).
In the morning, you can explore the various trails at the Cerro Mesa private reserve in the eastern highlands of Santa Cruz -  home to endemic Santa Cruz tortoises, and rich in endemic flora and birdlife; with subspecies of finches, mockingbirds, and short-eared owls. You will then make your way to Garrapatero Beach. Depending on your level of energy you can hop back in your vehicle or take a gentle eight-mile bike ride for the rest of the way. Through the mangroves skirting the sand is a freshwater lagoon where you can often spot flamingos, white-cheeked ducks and black-nested stilts in the morning or in the late afternoon. On your way back to the Camp you will visit El Trapiche Ecológico, a working farm in the highlands that produces sugar cane liqueur and Galapagos coffee. Learn about the different methods used to refine sugar cane, including the use of a mule-driven press. There is also a demonstration of how artisan coffee is produced, from picking the berries to roasting the bean. Overnight at Galapagos Safari Camp. (Breakfast/Lunch/Dinner).
Enjoy the sunrise from our observatory before departure back to Quito where we will have the chance to share our family experience and lessons learned when we applied the agreements we compromised before Galápagos and decide steps for our future. Return to Quito where transportation will be waiting for us to take us to a restaurant to enjoy lunch. Overnight stay at Casa Centro. (Breakfast/Lunch/Dinner).
After breakfast, our driver will take us to the airport where we will get our flight to return home. (Breakfast).
Offers
11-Night Family Connection Retreat
from
$497
Per Night

Based on rate for one guest
The package price displayed is per night for one person in shared accommodations (based on double room occupancy). Single supplement available for an additional cost. Trips may be confirmed and set up for packages less than 11 nights.
Package includes:
Accommodation based on double occupancy 
Cultural experiences, such as cooking in the clouds
Family activities such as horseback riding and a high rope course
City tour around UNESCO World Heritage city
Four nights in Galápagos Safari Camp
Certified facilitators and guides
Transfers & ground transportation
All-inclusive package with breakfast, lunch and dinner plus one soft drink per meal
Gear and safety equipment for all proposed activities
Entrance to APU Mountain SPA wet area at El Porvenir
Entrance fee to natural sites, museums, or other places described on the itinerary
Internal flight to Galapagos
Galapagos National Park entrance fee
Galapagos tourist transit card
Hacienda El Porvenir
Read more about Hacienda El Porvenir
Hacienda El Porvenir is an undiscovered gem at the foot of Cotopaxi National Park and one of the best ways to get a glimpse of the Andean culture.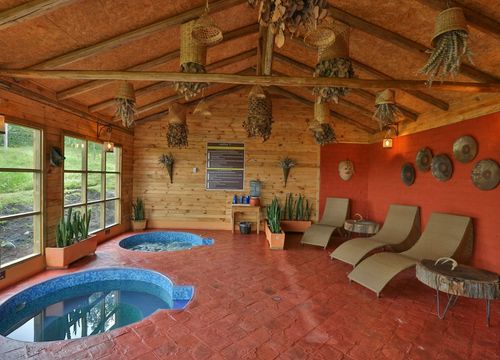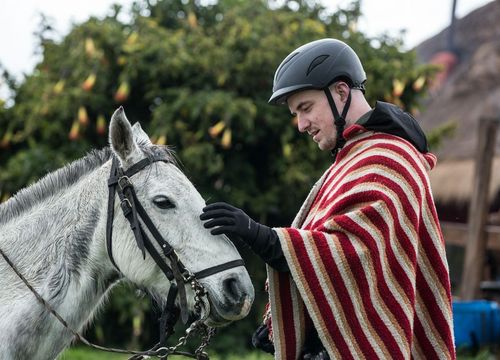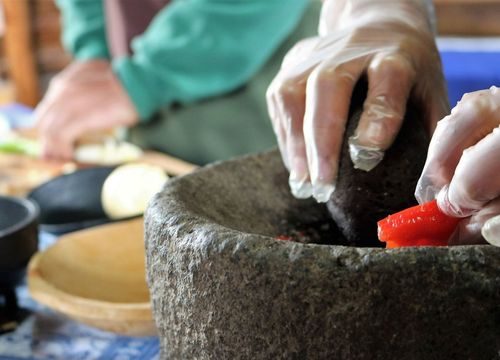 Accommodations
The salmon-pink rustic farmstead boasts 21 rooms divided into three types. Each has a unique personality that makes guests enjoy a comfortable and perfect stay. Many rooms and suites are wood-beamed and full of traditional character with the thatched roofs paying homage to the lodging used by the Quechua people, the local indigenous population. 
Suites
These are the more exclusive and spacious rooms, where you will definitely feel at home! Each suite has a sitting area, fireplace, hairdryer, ensuite bathroom with hot shower and a spectacular view. 
Traditional Doubles
These authentic hacienda rooms are designed for two people. Each room features an ensuite bathroom with hot shower.
FAQ
For the "Family connections through adventure" package, you will start your trip and overnight at Casa Centro your first and last night. Casa Centro is located in the colonial area of Quito in Ecuador. You will also visit and overnight in Hacienda el Porvenir and the Galapágos Islands safari camp. 
Altitude sickness occurs when you cannot get enough oxygen from the air at high altitudes. This causes symptoms such as a headache, weakness or dizziness, loss of appetite, digestion problems and trouble sleeping.
It happens most often when people who are not used to high altitudes and go quickly from lower altitudes to higher ones. Mild altitude sickness is common. Experts do not know who will get it and who will not. It doesn't depend on your fitness level nor being male or female, adult or child.
To prevent altitude sickness it is important to hydrate and acclimatize yourself properly and to inform your guides if you have any of the described symptoms. To treat altitude sickness, the most effective solution is to lower down in altitude.
Around 80% of our guests have never experienced riding a horse before. We, and our own trained horses are experts with first time riders. We will provide you with a briefing of how to handle the horses and every ride is led by our experienced and knowledgeable Chagras (Andean Cowboys), expert riders that manage all our safety standards (prevention, mitigation and evacuation plans). We provide riding accessories in the form of a woolen poncho, waterproof poncho, saddle bags, riding helmets and zamarros (sheepskin chaps) in the style of the chagras. Enjoy it!
Galapagos is about 1240 km (768 miles) from Quito, it will take around a 2 hours flight to get there.
Terms
Cancellation fee
If you cancel your trip 45 days or more before your trip then you will be charged 5% of the total package price
If you cancel your trip between 44 and 30 days before your trip then you will be charged 50% of the total package price
If you cancel your trip between 29 and 0 days before your trip (or no show) then you will be charged 100% of the total package price
Safety
All of the processes take into account the necessary biosecurity measures to prevent any disease, increasing the frequency of cleaning and disinfection in public spaces, focusing on the reception, rooms, door handles, public bathrooms, room keys, among others.
To protect the environment and your health, a chemical-free steam disinfection process is used. The staff is trained in biosecurity and handling of cleaning and disinfection protocols. Protective equipment is required for all personnel who will be in contact with you.
In the spaces used by staff, cleaning frequency has been increased, focusing on areas of frequent contact such as entrances, changing rooms, laundries, and offices. Information is provided about the basic protection measures that all must follow in visible places in the common areas of the entire establishment.
Protocol at Hacienda El Porvenir
At Hacienda El Porvenir, upon arrival, they will verify that you are wearing your mask (remember that the use of a mask in common areas is mandatory). Your luggage will be disinfected upon arrival as well. 
You will be provided with an antibacterial gel formulated with 70% alcohol to disinfect your hands. The first dispenser will be located in the parking area so that you can use it as soon as you get off your vehicle. Throughout the house, you will find more dispensers located strategically. You will be asked to disinfect your footwear in the disinfection trays located in the designated areas.
When settling into the accommodations, your temperature will be taken and you will be required to fill out a symptom questionnaire while you enjoy delicious canelazo with the delicious empanaditas.
You will then receive keys to your disinfected room.
Use of Facilities and Community Guidelines
At the entrance of all the common areas and rooms, you will find a bottle of antibacterial gel and another of alcohol for your use during the stay. Please leave them where you found them. These bottles are also disinfected several times a day.
You can try the delicious food in the restaurants taking into account the scheduled times for breakfast, lunch, and dinner. The restaurant areas will be completely disinfected before and after each service.
Wear your mask when you are indoors with other people. Wash your hands frequently. Keep physical distancing between yourself and other people.
Protocols for Activities
You must fill out a risk disclaimer document in order to carry out any activity you want. All of the equipment will be checked and disinfected with alcohol at the beginning and end of your activity. The tour guides will give you a safety talk in designated areas. To maintain social distance during the talks, they will use a condor flight technique, the distance of a condor's wingspan will mark an adequate distance from one end to the other.