The Retreat Costa Rica
Emotional Healing & Recovery Retreat

or talk to Vacayou travel concierge
Experience the healing energies of a Costa Rica wellness retreat located in a rainforest and a crystal quartz mountain—a world-class, nature-inspired, holistic healing oasis that will nourish and renew your mind, body and soul. The Retreat Costa Rica is the innovation of celebrity chef, best-selling author, and health and wellness life coach, Diana Stobo. The transformational wellness center has become a distinctively Costa Rican experience of "Heaven on Earth"—a resort and spa where guests experience harmony of nature, nutrition and wellness. 
Emotional Healing & Recovery Retreat
Help you find your way back to you. Letting go and releasing the emotional traumas and stresses of life, recovering from difficult times and finding a renewed sense of life and desire are cornerstones to longevity and happiness. The Retreat reintroduces you to bio-available nutrition and helps to remove obstacles of negative thinking and promotes emotional healing as you realign your chakras and open your heart energies.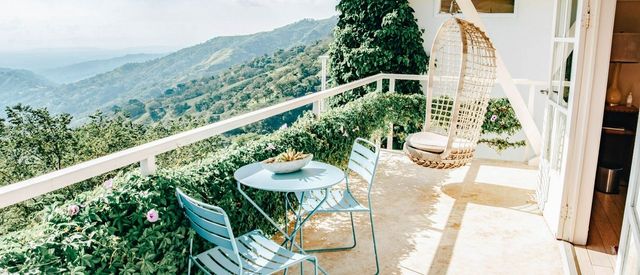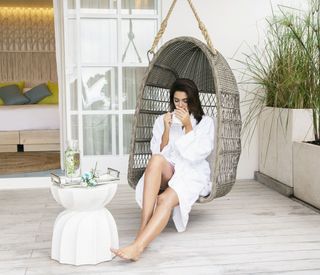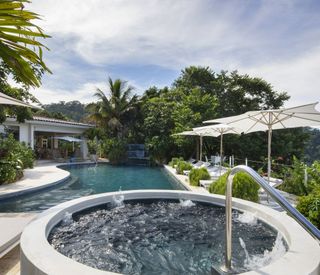 Experience
The Retreat Costa Rica is mindfully designed to strengthen, nourish and renew—carrying you from wherever you are to wherever you wish to be!
Pamper yourself at Vida Mía, the luxury Ayurvedic Healing Spa
Nourish mind and body during a daily yoga class with one of the resident teachers
Savor the organic, garden-fresh cuisine sourced from the crystal quartz mountainside
Enjoy signature wellness programs, spiritual elements and gastronomic innovations among the soothing rhythms of nature
Learn how to be your best self through four guiding principles:
A delicious anti-inflammatory diet
Gentle movement with just enough challenge for most fitness levels
Mental and emotional support
Human connection, cultural involvement, education and empowerment
Offers
5-Night Emotional Healing & Recovery
from
$512
Per Night

Based on rate for two guests
Vacayou Exclusive
As a Vacayou guest, receive 10% off additional spa treatments.
Special Offer
Enjoy complimentary transportation from SJO Airport (value $100 USD). Please note the ride back to the airport is NOT included.
The package price displayed is based on a nightly rate for two persons. Lowest rates found from late April through November. Other months may be higher. Rates do not include applicable taxes (13%). 
Package Includes:
5 nights in a deluxe guest room
Daily hike for returning to nature negative energy and absorb ions that produce good feelings
Yoga twice daily to help open the heart and align energies
Anti-inflammatory organic breakfast, lunch and dinner
2 healing food preparation classes
2 Infrared Sauna Treatments (25 minutes each) for stimulating lymphatic and healing tissue
1 Hands-off Reiki Energy Therapy (60 minutes) to remove obstacles and balance chakras 
1 Tropical Fruit Smoothie Facial (60 minutes) to infuse fresh nutrients into the skin
​Choice of 1 (60-minute) treatment: Self Love Crystal Therapy Treatment or Digital Detox Crystal Therapy
Choice of 1 (60-minute) Gentle Release treatment: Lymphatic Drainage Massage or Heart Opening Deep Tissue
Access to Vida Mia Healing Center and Spa
Customized spa itinerary
Access to the fitness studio
The Retreat Costa Rica
Read more about The Retreat Costa Rica
More than a healing center, The Retreat Costa Rica is a transformational resort and spa nestled in a rainforest amidst a mighty crystal mountain.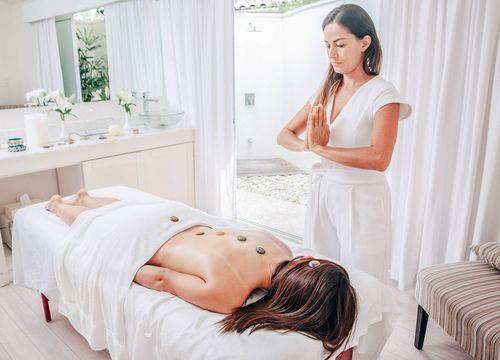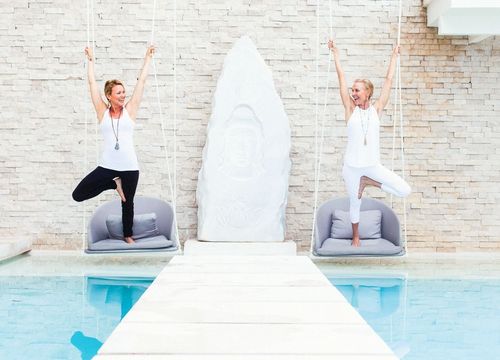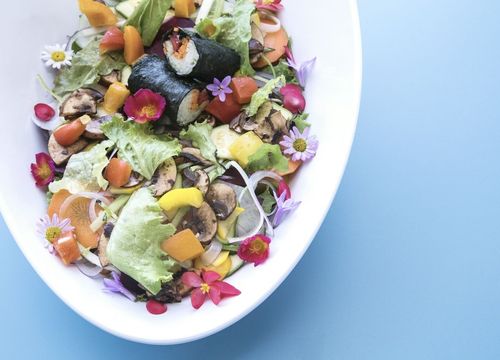 Accommodations
Each of the 19 guest rooms is named for the plants and superfoods grown on the property. There are no phones or TVs in the rooms so as not to disturb the peaceful ambiance. The bedding is plush and the amenities are organic and natural. The deluxe rooms are cozy and comfortable with the charm of home. Located in the garden area, guests have the choice of a King-sized bed or Queen option plus Hollywood twins.
Features & Amenities
19 cozy guest rooms

Vida Mia healing center and spa

Two organic restaurants

Organic tea and wine bar

Garden cocktail bar

Community reading room

Yoga studio

Outdoor covered pavilion

Two saltwater pools

Organic vegetable and herb gardens

Permaculture gardens and features

Fitness studio

Meditation and yoga deck

River swings

Organic coffee plantation

Meditation and yoga temple

Wine cellar

Curated boutique

Meeting room

High-vibration crystal lobby
FAQ
US currency is accepted everywhere in Costa Rica. Guests traveling from the US and Canada (and many other countries) do not need a visa but will need to provide a return ticket or evidence of onward travel. Your passport must have at least 6 months validity remaining to enter the country.
No shots or vaccinations are needed for visits to Costa Rica. (Health Pass is required with either proof of vaccination or a negative Covid-19 test that is no older than 72 hours). 
The staff gratuities are not included in the package price. Tips are optional and entirely at your discretion. The Retreat recommends you tip what you feel is comfortable and reasonable per guest for your stay for the general staff of 13 plus wellness instructors and spa therapist. A good rule of thumb to follow is $25 per day for general staff (pooled), plus any additional tips for individual staff you feel went above and beyond in services provided. The Retreat asks you to tip add-on services providers such as your spa therapist (15-20%) per treatment and tour guides ($20 tour guide, $10 driver) per excursion.
The Retreat's chefs are fully versed in many types of foods and special dietary needs and can accommodate any special request. The Retreat does ask that you let them know in advance if you have any special needs, diets, or desires.
The Retreat is located on a steep mountainside with high cliffs and edges, however they have taken the appropriate measures to ensure that there is wheelchair access to all common areas within the property.
Yes, the water at The Retreat is safe to drink from every faucet on the property. The Retreat filters the water on the premises with both a 1-micron filter and a UV filter. Countrywide, water quality standards in Costa Rica are generally quite high and visitors normally do not have any problems
The Retreat has fresh infused spring water in your room and at the bar, as well as water stations throughout the property to refill personal bottles. Cocktails, beer and organic wines are also available. Their restaurant is a casual buffet and the staff takes great pride in serving delicious meals. The menu includes a variety of vegetarian fare as well as chicken and fish. The Retreat also adheres to a grain-free and dairy-free menu and can also accommodate vegan, gluten-free, and high-protein diets.
Guests should bring clothes for active daytime, such as hiking shoes, yoga clothes, beachwear, swimwear, and casual daywear as well as casual resort wear for sunset and dinner. The nights can be chilly so light jackets, pashminas, and long sleeves are recommended. The Retreat also recommends a rain jacket or poncho for day trips
The country uses 120V, 60Hz current, and the same for wall outlets. This is the same as the US, so guests from the US will not need adaptors.
Costa Rica has two seasons: green and dry. The Retreat is situated in a very unique micro-climate with mild weather conditions. Their repeat guests tell them that all seasons vary and are unique and wonderful in their own way. Temperatures remain consistent throughout the year, around 76-88 F with some cool nights.
December through May is very warm and sunny with gorgeous kaleidoscope sunsets. February can bring breezes from the ocean. And the landscape may be a bit dryer after March, great for hiking. May through August has gorgeous sunny mornings with lots of natural activity from the birds and local creatures. The afternoon sprinkles or showers can last between ten minutes to two hours, with clear skies at night, perfect for sitting out by their repit to look at the stars. September – November are green and lush with sunny mornings and beautiful afternoon clouds that envelop the Mountain as they trickle in from the ocean, sometimes providing a white blanket that gives the heavenly feeling we want when relaxing and going Inward. 
Yoga wear, hiking shoes, comfortable and relaxed clothing, casual resort wear and bathing suits. The Retreat's boutique has sunscreen, bug repellent, a large selection of resort clothing, hats, jewelry, gifts, yoga wear and other fun items to take home.
Terms
Deposit Policy
By confirming the booking process, you authorize The Retreat Costa Rica to charge the full amount of the reservation on the credit card you have provided. Rates do not include applicable taxes (13%). The reservation will be confirmed after the credit card payment is proceeded and the guest will receive a confirmation by the Hotel that must be shown at time of check-in.
Cancellation Policy
Green Season (April 21st – November 30th): You may cancel your reservation for no charge up to 7 days before arrival. If, after that period, you cancel for any reason, attempt to modify this reservation, or do not arrive on your specified check-in date, your payment will be non-refundable.
High Season (January 4th – April 20th | December 1st – December 19th): You may cancel your reservation for no charge up to 14 days before arrival. If, after that period, you cancel for any reason, attempt to modify this reservation, or do not arrive on your specified check-in date, your payment will be non-refundable.
Holiday Season (December 20th –January 3rd): You may cancel your reservation for no charge up to 30 days before arrival. If, after that period, you cancel for any reason, attempt to modify this reservation, or do not arrive on your specified check-in date, your payment will be non-refundable. Early Cancellation Fee Any guest who changes their departure date prior to originally scheduled shall forfeit the full amount of their reservation.
Check-In / Check-Out
Check-in consists of filling out a simple form followed by a brief orientation. Check-in time is 3 pm and check-out time is 11 am. If your departing flight leaves early in the morning, please check out the day before and settle any costs you may have incurred during your stay. For payment of the balance due and extras incurred, The Retreat accepts cash, traveler's checks and all major credit cards.
Other Terms & Conditions
Adult-only property—minimum age 16 years old. Rates are subject to change. Property is completely non-smoking and pets are not allowed with exceptions from guide dogs. Self-parking and valet parking are available and free of charge. Taxes of approximately 13% are additional.