Costa Dulce
Bountiful Yoga Retreat in Natural Paradise

or talk to Vacayou travel concierge
Picture a landscape of lush jungle, volcanoes, lakes and distant islands dotting the horizon. Let the subtle sounds of the ocean transport you to a nurturing escape where holistic wellness is at the forefront of everyone's minds and living life one yoga pose at a time is the perfect pace. Practicing daily with the peaceful Pacific waves crashing in the background is the norm here at Costa Dulce. And during your stay, daily spa treatments are included, too.
From a guided nature hike to a horse-drawn tour of a colonial city, experience authentic Nicaragua with locals who are passionate about their home, their heritage and minimizing their footprint in this land that's so easy to love. Nourish yourself and find inner peace on your retreat in paradise.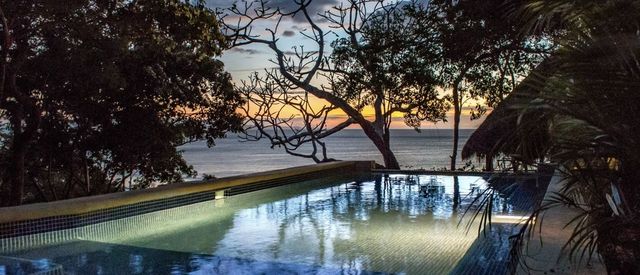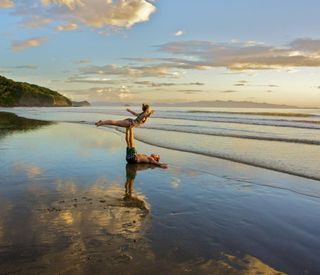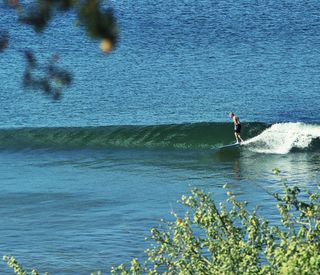 Experience
A week of rest and relaxation with a hint of daily adventure—that's what you can expect during your time at Costa Dulce. The team at Costa Dulce is committed to creating the most memorable and eco-friendly experience you could imagine. You'll feel right at home in this beautiful oasis surrounded by people who will treat you like family.
Practice yoga twice a day
Enjoy daily spa treatments
Take a guided hike through a nature reserve
Experience a Mesoamerican sweat lodge ceremony
Give surfing a try
Tour the Colonial City of Grenada
Watch for wildlife on an afternoon catamaran trip
Itinerary
Arrive in beautiful San Juan del Sur, Nicaragua and feel completely refreshed after a spa treatment of your choice.
Begin your first full day in Nicaragua with ocean-view yoga immersed in the Nicaraguan jungle. Have a bite to eat or head straight to the spa for another treatment of your choosing. Later on, enjoy more yoga in paradise.
Wake up at your leisure and enjoy another yoga class to start your day. Try a class you've never experienced before or a tried-and-true favorite. Whichever you choose, practicing in this serene natural setting is sure to be memorable. Next, take a nature hike through the forest reserve. Spot monkeys, sloths and all kinds of birds in their natural habitat along the way. Take a dip in a swimming hole under a waterfall. Just by visiting, you're actually contributing to offsetting carbon.

Return to the resort to unwind with another spa treatment of your choice, then end your day with more yoga in the great outdoors.
Today, you'll enjoy a blend go yoga, surf, spa and more yoga. Enjoy each of these joys at your own pace—by now, you'll be embracing the easygoing pace of this special place.
Today, take a horse-drawn tour of the Colonial City of Granada. Enjoy lunch at a Garden Café. Embrace a local tradition at Temazcal (a Mesoamerican sweat lodge). There will be singing, drumming, chanting in the steam room and then a refreshing dip in the pool or ice bath to cool down.
This is the day of your catamaran tour! Depart San Juan around noon and head for the white sandy beaches for relaxing, swimming and snorkeling. It's quite common to spot whales and dolphins along your journey. You'll be back at the resort for sunset.
This is the day of your departure. Enjoy yoga before you leave depending on your flight time. Your transportation to the airport will be arranged in advance.
Offers
Vacayou Exclusive
This package is exclusive to Vacayou. As a Vacayou guest, receive one (1) extra spa treatment per stay.
Unique to this Package
Local Guide service provided for off-property excursions + roundtrip airport transportation.
Rates displayed are per person based on double occupancy. Single occupancy is also available—please inquire. Preferred arrival is Saturday (although not required) as the retreat runs Saturday (arrival) to Saturday (departure).
Package Includes:
7-night stay in beachfront eco-lodge accommodations
4 meals per day
Daily yoga (two classes per day)
Daily spa treatment
All activities including surf, catamaran tour and Temazcal (Mesoamerican sweat lodge)
Transportation to and from airports
Costa Dulce
This renowned eco-lodge has the magic formula for a perfect Nicaragua holiday: surf, yoga, hiking, natural spa and the best local food.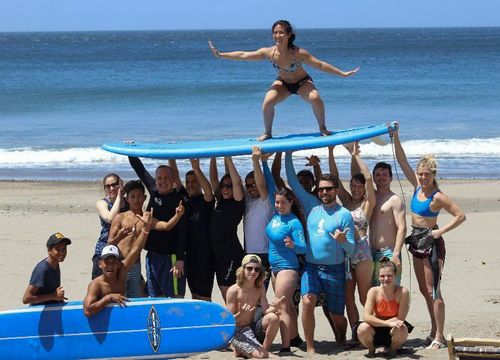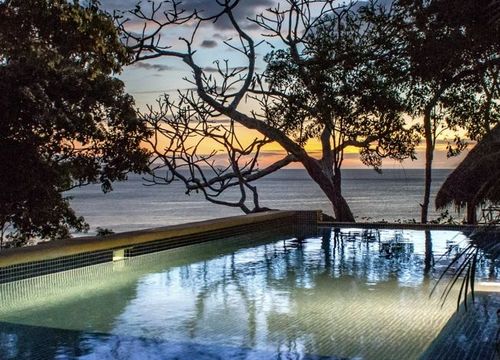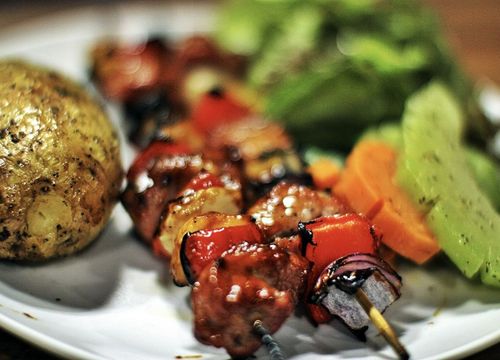 Accommodations
Costa Dulce grew very naturally and did so in the middle of nature. Each of the 12 beach bungalows and cabins has been designed with surrounding trees and plants taken into account and in some cases, the trees grow through the building. All have been built to take advantage of the local Papagayo winds to keep you cool without using too much electricity. The eco-lodge greywater is processed and used to water our garden and grow food for guests. Rustic luxury describes the bungalows and cabins the best. There are no televisions or air conditioning but stunning views, balconies with hammocks, big beds and warm water showers. In addition to the private bungalows and cabins, Costa Dulce consists of several inviting shared spaces. All accommodations are built around the central dining area, where something tasty is always being whipped up in the Dulce Cocina.
Features & Amenities
Organic cotton sheets with pillows and blankets
Organic artisan-made soap, shampoo and conditioner
Hot showers (some even outdoors!)
Ceiling fans
High-speed Wi-Fi
Laundry service available for an additional charge
FAQ
You will need a passport with 6 months validity. Visas are available upon arrival for $10.
Inquire within for current COVID-19 information and additional travel info.
The following items are recommended by Costa Dulce:
Natural sunscreen or sun protection
Natural bug repellent for the evenings
Refillable water bottle
Rain jacket only from May to November
Hiking shoes or sandals
Camera or smartphone
Flip flops and swimwear, of course
Small flashlight or headlamp with extra batteries or smartphone 
You can bring your own yoga mat, but we do provide high-quality mats, straps, blocks and other props
Personal pharmaceuticals: Any allergy or anti-itch cream if you wish and any prescription medication that you need
Health care items and/or feminine products
Earplugs (in case you have trouble adjusting to the sounds of the waves and monkeys)
Eyemask (if you are in a shared room)
Passport (you need a valid passport for at least 6 months before the expiration date to enter Nicaragua—no special visa is required)
You will likely find yourself in a happy place with little desire to go anywhere outside of our scheduled excursions. But if you want to travel further than your feet can take you, Costa Dulce offers transportation services to most locations throughout the country which can be easily arranged with reception, or for the more adventurous souls, the local bus is an option.
Alcohol is available for purchase onsite but is not included.
Terms
Deposit
A 25% deposit is required per guest upon booking. Package must be paid 7 days prior to arrival.
Cancellation
There are no refunds provided for cancellation. Instead, you will receive a transferable credit as indicated below.
Cancelations within 7 days of arrival forfeit 50% of payment, the other 50% is transferable credit for a future stay.
Cancelations more than 7 days of arrival receive 100% of the deposit as transferable credit.
Transferable Credits
Transferable credit can not be used as a deposit, the 25% deposit needs to be paid again to make a new reservation.
Transferable credit is appliable to any of the products or services at the full advertised price and can not be used for any special offers. 
The transferable credit has no expiration date. 
The transferable credit can be gifted to a friend or family member.
Blackout Dates
Christmas and New year's holidays, Easter week