About Costa Dulce
Costa Dulce is so much more than just a hotel on the beach. Located on Playa Escameca, the renowned eco-lodge straddles the jungles of Nicaragua and the deep blue of the Pacific Ocean. Whether on land or ocean, there are awesome things to do and the bungalow cabins are super sweet. Visit the Collado reserve on a jungle hike or on horseback. Go snorkeling, deep-sea fishing, boogie boarding, body surfing or just relax on a hammock with a book. The year-round yoga program is truly heart and mind-opening and features experienced teachers from all over the world with classes to fit every level. The yoga shalas have some of the most immersive and breathtaking views out there. The surf program is led by instructors who are really stoked to do what they love and get to pass that love on to you. Fall asleep to the sound of waves lapping on the beach. Rise with the sun and head straight to the water for an invigorating surfing session before breakfast. Connect to yourself and the beautiful people around you.
Costa Dulce is committed to a grass-roots approach to ecotourism and is engaged in local social responsibility and community projects to improve their surroundings. Some of the enriching experiences and initiatives include releasing baby sea turtles into the ocean and offsetting your air travel by donating half the value of your carbon dioxide emissions toward a local reforestation project.
What We Love
Steps away from your own secluded beach. Mind-blowing jungle and ocean views. Wildlife at your doorstep. A true oasis of peace. For a taste of the sweet coast (translated from Spanish into English), Costa Dulce has the magic formula for a perfect holiday: surf, yoga, hiking, stand-up paddling, turtle conservation and the best local food and natural spa in Nicaragua. The surf school is located at pristine Playa Escameca Grande. If you've never surfed, this is your chance—the waves are perfect for beginners. The private beach is equipped with hammocks, sun chairs and lots of shade. Down the south end of the beach, the Escameca Grande river flows into the ocean. This is a great place to go paddleboarding (SUP), spot local wildlife or enjoy a freshwater swim. Yoga is also an integral part of the Costa Dulce experience. Start your morning with a grounding yoga class and end your day at sunset with a deeply relaxing meditative practice. You'll be nourished with the best farm-to-table meals and pampered with daily spa and energy healing treatments. Combine an aware lifestyle with the time of your life.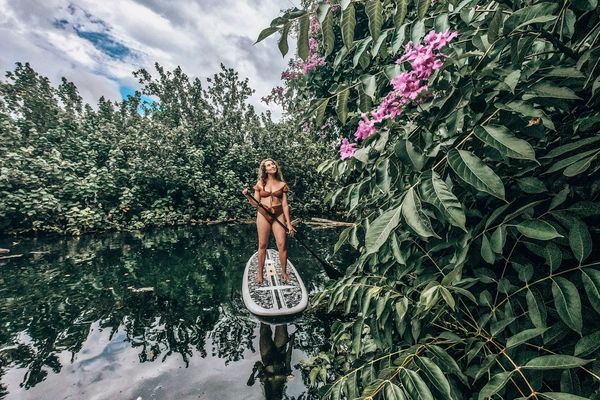 Spa
The Costa Dulce Spa is true wellness heaven, where the sound of the ocean soothes amidst beautiful natural scenery. Treat your body to a relaxing massage, nourish your face with a natural mask or energize your skin with the signature coffee and coconut oil scrub, two of Nicaragua's finest ingredients. The professional team of masseuses and beauty experts is ready to take care of your body, mind and soul. Pamper yourself with fresh local products, carefully selected to create a unique wellness experience. Check out the Fire & Ice spa package featuring a Temazcal ceremony in a Mesoamerican sweat lodge that is used for ritual purification.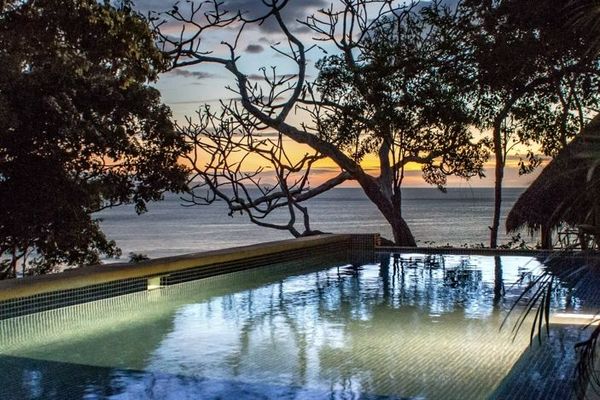 Activities
Yoga is a crucial element of life at Costa Dulce since it is the foundation of the holistic lifestyle that the eco-lodge embodies. Practice overlooking the Pacific and the mystical landscapes of Costa Rica while spotting some dolphins or whales. The surf program is led by instructors who are stoked to do what they love and pass that love on to you. Take daily lessons or rent boards to go out on your own on the secluded beach. For those who want to explore off-property, jump on horses and ride along the beach into the jungle. No experience needed and the local guides will take good care of you. Or get that adrenaline pumping and glide through the jungle on a zipline overlooking the ocean. The most precious activity is releasing baby turtles into the ocean (there's a sea turtle hatchery at the beach). It really is a special experience to see these little creatures crawling into the ocean at sunset.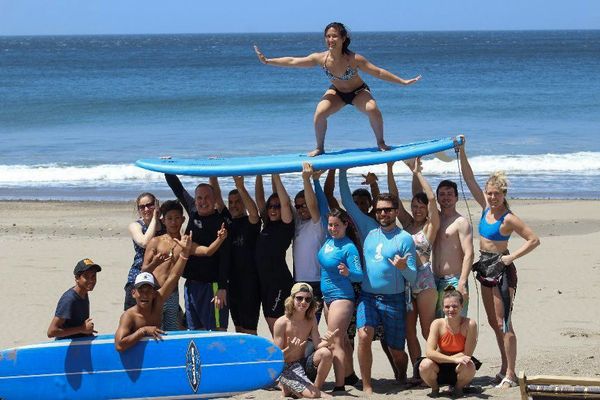 Culinary Highlights
The food at Costa Dulce is consistently a guest favorite, where most find the farm-to-table kitchen to be a highlight of their trip. La Dulce Cocina takes pride in serving you healthy and delicious local food, paying extra attention to selecting locally grown fresh ingredients so the menu changes with the seasons. Food is a pillar of well-being here. Good food not only means that it's deliciously kind to our taste buds, but also that it is good for our body, our planet and our communities. Costa Dulce's abundant food program is included in your stay. The program is designed for active lifestyles and includes all-day fruit, coffee, tea, as well as baked goods and desserts in addition to four meals. The chefs are happy to cater to special dietary needs including vegan, vegetarian, gluten-free and other food allergies.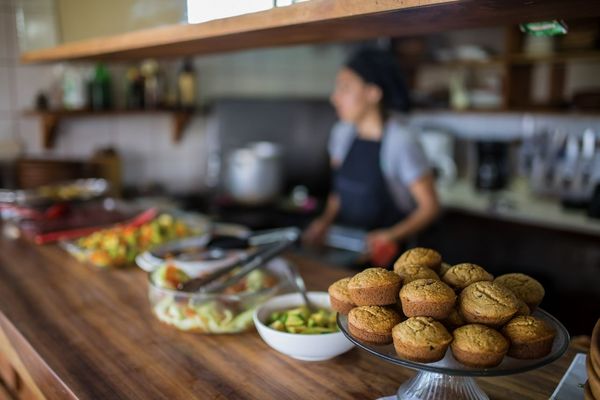 Costa Dulce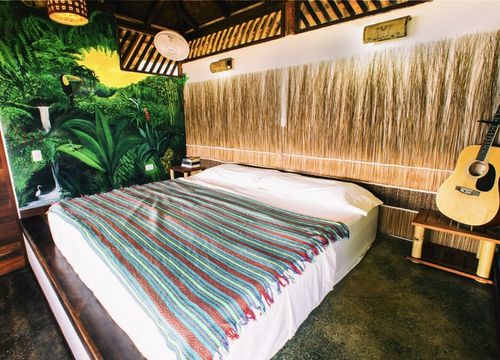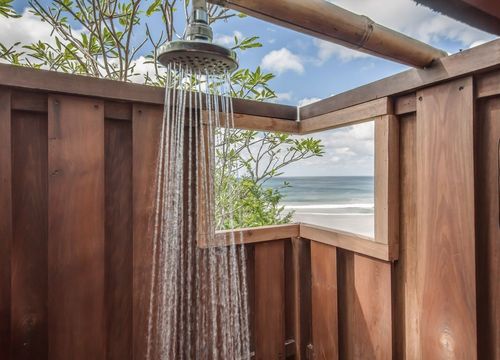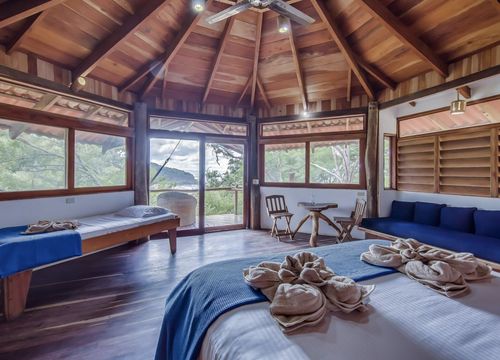 Accommodations
Costa Dulce grew very naturally and did so in the middle of nature. Each of the 12 beach bungalows and cabins has been designed with surrounding trees and plants taken into account and in some cases, the trees grow through the building. All have been built to take advantage of the local Papagayo winds to keep you cool without using too much electricity. The eco-lodge greywater is processed and used to water our garden and grow food for guests. Rustic luxury describes the bungalows and cabins the best. There are no televisions or air conditioning but stunning views, balconies with hammocks, big beds and warm water showers. In addition to the private bungalows and cabins, Costa Dulce consists of several inviting shared spaces. All accommodations are built around the central dining area, where something tasty is always being whipped up in the Dulce Cocina.
Features & Amenities
Organic cotton sheets with pillows and blankets
Organic artisan-made soap, shampoo and conditioner
Hot showers (some even outdoors!)
Ceiling fans
High-speed Wi-Fi
Laundry service available for an additional charge
Location
Costa Dulce Ecolodge is located in San Juan del Sur, Nicaragua.