Mountain Trek Fitness Retreat & Health Spa
Award-Winning All-Inclusive Health Retreat

Ainsworth, British Columbia

7 nights

from $6,100 Per Person
---
or talk to Vacayou travel concierge
Mountain Trek is so much more than just a destination—it's the most successful health and fitness program in North America. Imagine an all-inclusive luxury wellness retreat that not only takes care of your every need but also ensures you improve your health at the same time. At Mountain Trek's award-winning fitness retreat & health spa in the lush nature of Canada, it's easy to slow down, reverse the effects of aging and feel healthy again.
Mountain Trek Program
The Mountain Trek program has been designed, delivered and evolved over the past two decades to help guests reclaim their fitness and health. Featuring daily hikes through the stunning mountains of British Columbia, sunrise yoga, chef-prepared spa cuisine and time in Mountain Trek's state-of-the-art spa, guests will find themselves with increased energy and confidence, reduced stress, improved sleep and weight loss.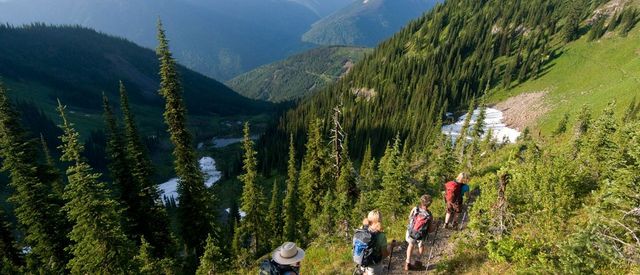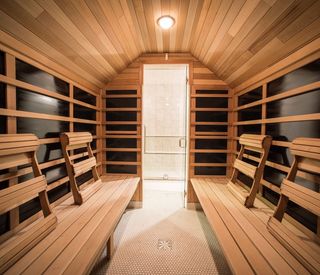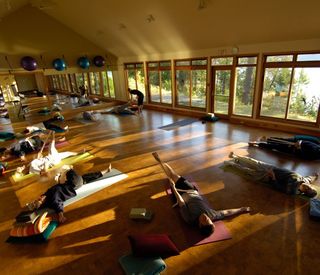 Experience
Spend a week (or two) at the award-winning Mountain Trek, a beautiful British Columbia lodge, and receive the individualized attention you deserve. Nestled in the pristine mountains, Mountain Trek allows you to retreat from your busy urban lifestyle and truly reconnect with yourself and with nature.
Enjoy an all-inclusive program that hosts a maximum of 16 guests which ensures you'll be well taken care of your entire stay by Mountain Trek's experienced, caring staff.
The Mountain Trek program is carefully designed by doctors and wellness experts to be the most transformative health experience in the world.
Relax and lower stress levels by spending time in the spa, immersing in nature, and limiting digital device use.
Detoxify your body by accelerating eliminatory systems and removing inflammatory foods such as sugar, alcohol, starch, and processed food.
Feel refreshed with Nordic hiking 3-4 hours daily and proper nutrition.
Offers
7-Night All-Inclusive Program
All-inclusive program runs from Saturday to Saturday. Taxes included. If nature beckons, you can also book a longer 14-night stay ($11590 per person). 
Package Includes:
7 nights accommodation
3 therapeutic massages (50-minutes each)*
Daily guided fitness hikes (multiple hiking groups to accommodate varying fitness levels)
Gentle release & mobility yoga in the mornings
Evening functional fitness classes
Organic, nutritionist-designed, chef-prepared cuisine tailored to your food preferences
State-of-the-art spa facilities including infrared sauna, steam room, outdoor Jacuzzi and hydro-therapy plunge pool
Industry-leading staff-to-guest ratio (maximum 16 guests per week)
Health and lifestyle workshops
Access to local hot springs
Transportation to and from local airports (Castlegar or Spokane)
*Extra massages and activities are available for an additional cost.
From
To
Package
Price
Book

From:

September 30 2023

To:

October 07 2023

Package:

7 nights

Price:

$6,100 Per Person

Book Now

From:

October 07 2023

To:

October 14 2023

Package:

7 nights

Price:

$6,100 Per Person

Book Now

From:

October 14 2023

To:

October 21 2023

Package:

7 nights

Price:

$6,100 Per Person

Book Now
Mountain Trek Fitness Retreat & Health Spa
Read more about Mountain Trek Fitness Retreat & Health Spa
Whether you're focused on reducing your stress, resetting your metabolism or changing your body composition, the all-inclusive Mountain Trek Fitness Retreat & Health Spa is the health reset you've been looking for.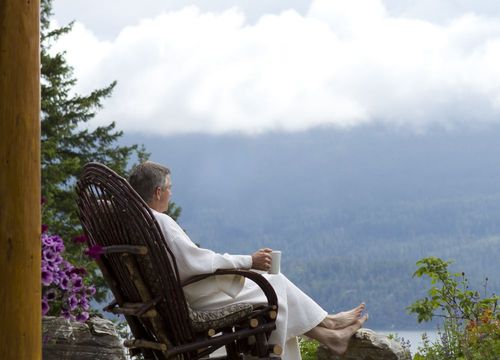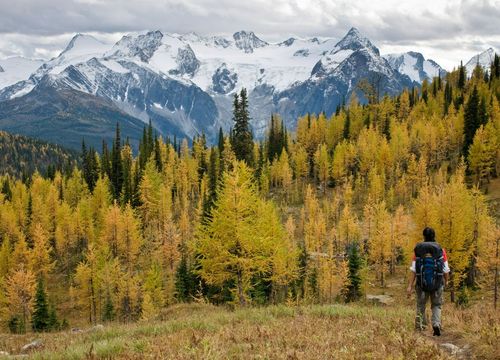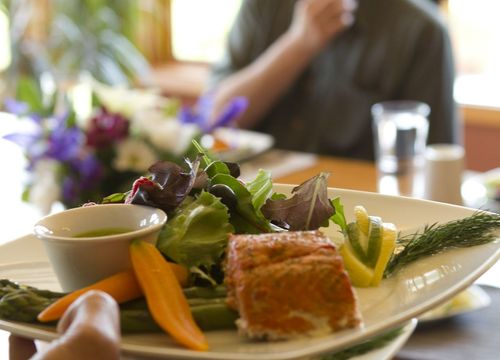 Accommodations
From the moment you step onto the property, you'll feel relaxed. Mountain Trek features amenities to help you reduce stress, detox, eat well and get fit again while you enjoy the surroundings of one of the most beautiful environments on Earth. The lodge boasts a vast yoga room and gym that look out over Kootenay Lake and the Purcell Mountains. The state-of-the-art spa has an infrared sauna, steam room, multiple private massage rooms, an outdoor jacuzzi and hydro-therapy plunge pool. Each bedroom has ensuite bathroom, bathrobe, organic and natural bath products, and luxury linens.
Features & Amenities
At Mountain Trek, slow down, unplug and reset your health with an extensive list of amenities. 
Large yoga room featuring a glass wall overlooking the lake and mountains
Outdoor spa area including hot tub and cold plunge pool
Indoor spa area including steam room, infrared sauna and massage rooms
Relaxing living room with wood-burning fireplace, comfortable couches and library
Gym featuring free weights
Rowing machines
Spinning bikes
Trreadmills
Ellipticals
Dining room featuring a custom-built hardwood table that seats 16 with views of the grounds, lake and mountains 
Private bedrooms with ensuite bathroom, bathrobe, organic and natural bath products, and luxury linens.
Daily housekeeping and laundry service
FAQ
The following will help you imagine one day at Mountain Trek, where they have worked relentlessly with doctors and wellness experts to design the most transformative health retreat in the world. From the moment you arrive, every detail is planned for and taken care of, allowing you to fully relax and immerse in the experience. Every day offers a new hiking location, health talk, exercise class, menu, personal/relaxation time, clean mountain air, and outstanding views:
Gentle Wake Up at 6:00 a.m.
If the songbirds don't wake you up first then Mountain Trek will gently tap on your door.
Break Your Fast at 6:15 a.m.
Nourish the body and 'break the fast' with a revitalizing tonic and protein shake in the dining room.
Sunrise Yoga at 6:30 a.m.
Greet the day with a gentle yoga stretch class while you watch the sun rise over the mountains.
Breakfast at 7:30 a.m.
Enjoy a nutritious & delicious breakfast in our scenic dining room overlooking Kootenay Lake and the Purcell Mountains.
Check-In at 8:00 a.m.
Review the upcoming day with the guides and learn about the exciting hiking destination and upcoming weather.
Depart for Hike at 8:30 a.m.
A variety of world-class Nordic Fitness Trekking trails awaits you after a short scenic drive in our four-wheel-drive vehicles.
Nordic Fitness Trekking with Mountain Trek Fitness and Health Spa. Each 3-4 hour fitness hike is unique, and Mountain Trek has picked the very best the area has to offer, taking full advantage of the local Provincial Parks and trails. Guests are divided into three to four fitness-based groups and led by experienced hiking guides trained in Wilderness First Aid. Lunch is eaten each day at a convenient spot along the trail – usually a scenic location such as a waterfall, alpine lake, meadow or glacier-fed river. In addition to being a highly rewarding health program, Mountain Trek is one of the most amazing hiking vacations in Canada – you will love these gorgeous hikes!
Picnic Lunch on Trail at 12:30 p.m.
The chefs prepare all your snacks and your delicious and hearty lunch – exactly what you're looking for in a fulfilling meal on the trail.
Return to Lodge at 3:30 p.m.
Take time to shower or enjoy a hot tub soak, relax and enjoy the accomplishment of your hike.
Lifestyle Talks at 4:00 p.m.
Mountain Trek's unique health talks will teach you things you never knew about fitness, nutrition, stress, sleep & detoxification
Enjoy Dinner at 5:15 p.m.
Mountain Trek's gourmet spa cuisine dinners are rich in color and variety. Prepare to enjoy fresh, tasty, organic and very satisfying dishes.
Fitness Class at 6:00 p.m.
Participate in a fun evening fitness class such as circuit training, spin class, strength training, cardio class and more.
Massage & Detox at  7:00PM+
Relax with a massage & detox treatment in the spa or sauna. At Mountain Trek's British Columbia location you can also visit the natural mineral hot springs, just 5 minutes away.
If you are new to this program, you'll have a meeting prior to your travel to learn more about the activities and fitness levels required. However, although there are minimum fitness requirements, most fitness levels and ages are accommodated.
Airfare or transportation costs (other than standard Castlegar or Spokane airport transfers)
Airport departure taxes
Baggage insurance
Any expenses related to delay
Early departure or cancellation of a trip whatsoever
Gratuities for staff: If you would care to leave a gratuity for staff, envelopes will be provided. Massage therapists are tipped on an individual basis.
Terms
Retreat is provided and operated by Mountain Trek Fitness Retreat & Health Spa. All prices quoted are per person. While vaccines are rolling out, the US-Canada border remains closed and all non-essential inter-provincial travel is inadvisable. Please ensure you purchase travel insurance when booking your stay. For US guests, book stays July 1 onward to provide ample time for the border to open.
Cancellation & Deposit
To provide more flexibility during this uncertain time, the cancellation policy has been amended. Typically your balance is due 30 days prior to arrival. However, for the duration of this season, this is changed to 14 days. A $1,000 USD non-refundable, but transferable, deposit will be collected at the time of booking.
Refunds or credits are not given for early departures from or delayed arrivals to a Program for any reason. Refunds or credits are not given for the inability to complete the Program. Refunds or credits are not given for prepaid activities booked in advance if they are available but not taken during the Program.
Program Pricing
Program prices are comprised of the following:
Accommodation ($100/day)
Meals ($100/day)
Provincial tax ($10/day)
Federal tax GST (approx. $33.95 per day)
Program and services (balance of total)
Waiver & Liability
In consideration of and as part payment for the right to participate in such retreats or activities and other health services arranged for by WWSG Travel, Inc. and Mountain Trek Fitness Retreat & Health Spa Ltd. and its agents and associates, you have and assume all risks. You waive, release, and forever discharge its officers, agents, employees, contractors, representatives, executors, and all others from any and all responsibilities or liability from injuries, damages, or death resulting from your participation in any activities or your use of equipment or machinery in the above-mentioned activities, and will hold them harmless from and defend them against any and all liability, action, suit, debts, demands, and claims of any sort and nature whatsoever which you now have or may hereafter arise out of or in connection with your trip or participation in any other activities arranged for you by WWSG Travel, Inc. and Mountain Trek Fitness Retreat & Health Spa Ltd. and its agents and associates. Booking this retreat means you accept these terms and you release any assumption of risk for yourself, and your heirs, assigns, administrators, executors, and all members of your family. You agree that as per Mountain Trek Fitness Retreat & Health Spa Ltd.'s insurance policy, any legal action taken against Mountain Trek Fitness Retreat & Health Spa Ltd. and its agents and associates must use a Canadian court.