Sold Out
Alaska Wildland Adventures
Alaska Coast to Denali Adventure

We're sorry, but this package is not currently available. Please see the Alaska Wildland Adventures page for other package offers.
or talk to Vacayou travel concierge
From Anchorage to Kenai Fjords up to Talkeetna then deep into Denali, Alaska Wildland Adventures has arranged a wilderness vacation adventure to remember. Embark on two marine wildlife and glacier cruises through Kenai. Spot sea lions, sea otters, whales and puffins in an ever-changing arctic landscape with so much natural beauty and so many outdoor activities to offer. Try sea kayaking among the glacier bergs and canoeing the lagoon for coastal sightings. This picturesque park has an adventurous flavor all its own.
And then there's Denali and its all-encompassing rugged beauty. One mostly gravel road cuts through over six million acres of spectacular scenery and you'll get to cruise it and watch the forest fall away as the alpine tundra takes over. Keep your eyes peeled for grizzly bears, moose, caribou, bald eagles and more along the way. Spend a day hiking into the remote Kantishna region to discover wilderness like you've never seen before. It's enchanting, peaceful, surreal—a wonderland where even silence has a sound, and it's calling all nature-loving explorers.
The Basics
Start and Finish: Anchorage, United States
Note from the experts: Arrive in Alaska at least one day before your trip begins and plan to spend the night in Anchorage.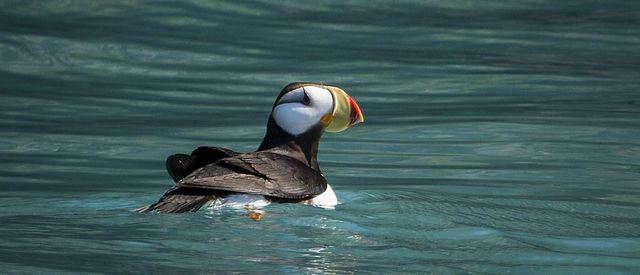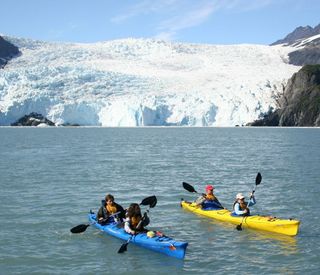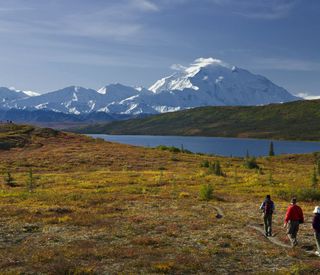 Experience
This week-long adventure offers an in-depth exploration of Denali and Kenai Fjords—two magical and uniquely distinct national parks.
By land, watch caribou, moose, Dall sheep, grizzly bears, bald eagles and more.
By sea, spot whales, Steller sea lions, sea otters, puffins and more.
Embark on an epic marine wildlife and glacier cruise through Kenai Fjords National Park.
Explore the backcountry of Denali National Park and even try flightseeing, if you'd like.
Enjoy a whole host of activities such as hiking, rafting, mountain biking, gold panning and stargazing.
Ride the historic Alaska Railroad back to your starting and departing city, Anchorage.
Itinerary
Meet your trip leader at 6:30 am then enjoy a scenic drive south along Turnagain Arm to Seward, a picturesque seacoast town situated at the head of Resurrection Bay. Embark on a marine wildlife and glacier cruise bound for Kenai Fjords National Park, home to an array of glaciers and marine wildlife such as whales, Steller sea lions, sea otters, puffins and more! 

Enjoy lunch in front of a tidewater glacier before arriving at Alaska Wildland Adventure's exclusive lodge destination: Kenai Fjords Glacier Lodge. Spend the night at Kenai Fjords Glacier Lodge.
Enjoy a full day of exploration at the lodge and choose from an array of activities to match your interest and energy level. Guided options include interpretive nature walks, sea kayaking amid glacial ice, canoeing in the lagoon and coastal explorations. Or relax at the lodge by the woodstove, peruse the natural history library or take a leisurely stroll along the beachfront. Spend the night at Kenai Fjords Glacier Lodge.
This morning allows for a final half-day activity at the Glacier Lodge before boarding the boat for the return wildlife cruise to Seward. Enjoy a fine dinner with your group and spend the evening relaxing at Seward Windsong Lodge this evening. Spend the night at Seward Windsong Lodge.
Begin the journey north through the scenic Chugach State Park to Talkeetna, gateway to the Alaska Range. Once there, you'll have the freedom to choose from several activities, including a guest favorite—flightseeing! Take to the skies on an optional flightseeing tour of Denali and its adjacent glacial canyons, or wander through "downtown" Talkeetna and learn about mountaineering and Talkeetna's history. Tonight, you have the flexibility to dine with the other members of your group or enjoy a great meal on your own. Spend the night in Talkeetna.
After breakfast, continue traveling north to Denali National Park and stop for lunch at the Denali Park entrance. After lunch, board the private bus and embark on a 5-6 hour Denali wildlife drive through the park, where you can watch for caribou, moose, Dall sheep, grizzly bears, resident and migratory birds and—if weather permits—gaze upon the splendor of Denali. Upon arrival to Denali Backcountry Lodge, enjoy dinner and settle into your accommodations. Spend the night at Denali Backcountry Lodge.
Enjoy a full day of exploration and hiking in the Kantishna region of Denali National Park. The activities available at Denali Backcountry Lodge include guided hiking, natural history programs, gold panning and mountain biking. Optional add-on flightseeing tours will also be offered (weather and space-dependent). Spend the night at Denali Backcountry Lodge.
After an early breakfast, embark on a return Denali scenic drive and watch for wildlife while heading for the entrance of the park. Bid farewell to Denali and board the historic Alaska Railroad for your comfortable return journey to Anchorage, arriving at approximately 8:30 pm.
Alaska Wildland Adventures
Read more about Alaska Wildland Adventures
Alaska and adventure go hand-in-hand. Snow-capped mountains, ice-age glaciers, white rapids, clear water streams, dense forests and wide-open tundra. Discover the allure of America's Last Frontier on a small-group, interactive experience with Alaska Wildland Adventures that blends the best of outdoor adventuring by day and the most comfortable lodge experience by night.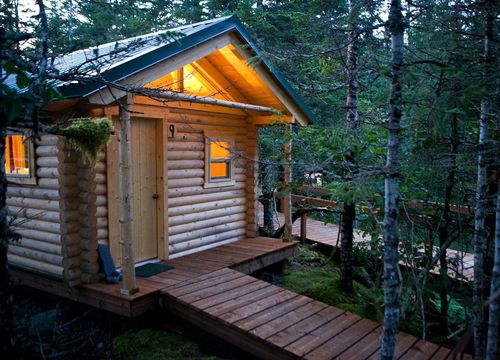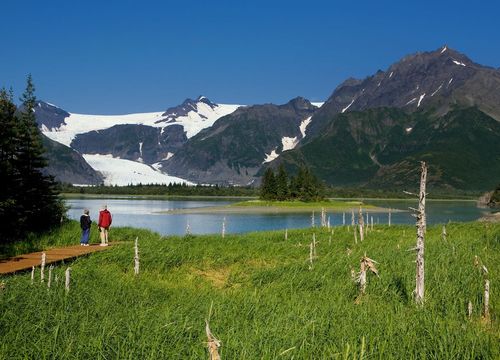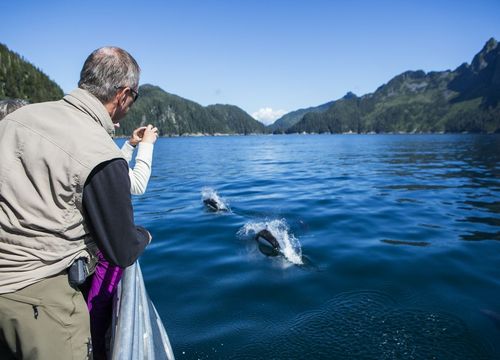 Accommodations
Stay at one, two or all three of the award-winning eco-lodges on the Kenai Peninsula: the Kenai Riverside Lodge located on the banks of the famous Kenai River, the remote Kenai Backcountry Lodge on glacial-carved Skilak Lake or the seacoast paradise Kenai Fjords Glacier Lodge. AWA's three amazing wilderness lodges feature the perfect balance of rustically modern and private cabins, delicious and locally-sourced food, immersive activities and locations that introduce you to the real, authentic Alaska.
Kenai Riverside Lodge
The original log lodge and cabins in Cooper Landing, surrounded by snow-capped mountains and located right on the banks of the upper Kenai River. Guest cabins are nestled into the trees surrounding the main lodge and have the rustic charm of historic pioneer cabins but with modern comforts like heat, lights, private bath, comfy beds and Adirondack chairs on the front porch. The cozy cabins accommodate up to four people. The newly expanded property features nine gorgeous acres of peaceful, wooded beauty on the banks of the Kenai River. Choose from a mix of charming lodging styles, the riverside cabins—which come standard with every stay—to one of the upscale guest suites and homes.
Spacious elevated deck with Adirondack chairs
Firepit
Wood-fired sauna 
Self-guided nature paths
Sand volleyball
Badminton
Horseshoe 
Canopy-covered ping-pong table
Kenai Backcountry Lodge
Originally built in the 1930s as a remote hunting lodge, the lodge is located on a glacier-carved lake accessible only by boat. The nine guest cabins in wooded settings are connected to the historic main lodge by gravel pathways and boardwalks. The newly renovated guest cabins each have a minimum of two comfy beds, a private bath and shower, a private porch and propane light and heat. Electrical outlets for recharging electronics are available in the main lodge and other public spaces on the property. 
Wood-fired sauna

Canopy-covered ping-pong table

Lakeside chairs and campfire area

Screened-in gazebo

CPAP machines supported in certain cabins
Kenai Fjords Glacier Lodge
The newest wilderness lodge, this seacoast paradise is surrounded by Kenai Fjords National Park and is the only lodge located within the park. A network of boardwalks connects the cabins to the main lodge which features a beautiful dining room and lounge area, as well as a staffed bar. Each guest cabin features cozy beds, on-demand heat and electricity, a private en-suite bathroom with amenities and a private porch with views of Pedersen Lagoon Wildlife Sanctuary.
Spacious elevated deck with rocking chairs

Wood-fired cedar sauna with Finnish stove and stone hearth

Walking trails

Rocky beach on Aialik Bay

Off the grid (no internet or cell service)
*Your trip may include a lodge not featured above, but rest assured that all overnight stays on your tour will feature rustically modern lodges and private cabins on par with the accommodations above. 
FAQ
Airfare or other transportation to/from Anchorage
Travel insurance (highly recommended)
Tips or gratuities
Any other services or add-ons not listed in the itinerary
Alaska Wildland Adventures wants you to have everything you need to be comfortable during your trip. Plan your travel wardrobe around informal and comfortable clothing; even at mealtimes, dress is casual.

The weather in Alaska is quite unpredictable so clothing that can be layered is ideal. Make sure you bring a high-quality rain suit so that even if it rains, you can stay comfortable outdoors and have an enjoyable experience. Items made of wool or synthetic fabric remain comfortable and warm even when wet. Cotton is not recommended for Alaska outdoor activities as the fabric does not easily dry and won't help keep you warm once wet.

The summer in Alaska is usually quite mild with temperatures in the fifties and sixties. An Alaska summer is likened to spring or fall in other parts of the country. The most reliable advice is to be prepared for any type of weather. They have found that when their gear and spirits are well suited, the weather is always perfect.
Terms
Trip operated by Alaska Wildland Adventures, which owns and operates the Kenai Backcountry Lodge, the Kenai Riverside Lodge, the Kenai Riverside Fishing Program, and the Kenai Fjords Glacier Lodge.
Payment Policies
All trip prices are based on double occupancy. Taxes and seasonal fuel surcharges, when applicable, are not included in the trip price and are subject to change prior to trip departure. We accept checks, MasterCard, Visa and Discover.
Payment Schedule: Amount Due per Person:
121+ days prior to departure: $1,000 or 50% of the trip total, whichever is less
120 to 61 days: 50% of total
Within 60 days: 100% of total
For Alaska Trip Add-Ons, additional deposits will apply in accordance with the specific Trip Add-On and operator. These deposit terms will be explained at the time of booking.
Reservations made within 60 days must be guaranteed with MasterCard, Visa or Discover. Late payments may result in releasing your reservation and rebooking will be subject to availability. Cancellation fees will apply.
Upon receipt of your initial deposit, we will send you written confirmation, trip planning materials and a travel insurance application. We recommend that you purchase travel insurance.
Cancellation Policy
Our policies go into effect at the time of book and upon receipt of the deposit. Written cancellations and changes must be received in our reservations office to be valid. Non-appearance for the program will result in no refund. We strongly recommend that you purchase travel insurance.
If the cancellation or change occurs:
121+ days prior to departure: The fee is $300 or 10% of the trip total, per person, whichever is less
120 to 91 days: The fee is $600 or 20% of the trip total, per person, whichever is less
90 to 46 days: 50% of total trip cost, per person
Within 45 days: 100% of total trip cost, per person
Refunds
No refunds will be made on individual features, transfers or sightseeing voluntarily omitted by the participant. No refunds for unused services will be issued. Our tours operate rain or shine. Refunds for canceled flights or any services reserved outside of Alaska Wildland Adventures will be made in accordance with the rules of the carrier.
Travel Protection
We recommend that you purchase a travel protection plan to help protect you and your travel investment against the unexpected. Travel protection plans can include coverage for Trip Cancellation, Trip Interruption, Emergency Medical and Emergency Evacuation/Repatriation, Trip Delay, Baggage Delay and more.
A Note About Occupancy
In addition to our standard double occupancy, we also offer solo supplement, triple and quad pricing options for our Alaska adventure vacations. Requested solo accommodations, when available, are subject to a solo supplement fee; however, for a solo traveler interested in sharing accommodations with another same-sex traveler, we will make every effort to pair you, and the solo supplement fee will be waived. Occasionally, pairing is not possible and a "forced solo" rate will apply during the Alaska vacation. If you are a solo traveler and you'd like to experience an Alaska vacation with Alaska Wildland Adventures, we will do all we can to have you join us!
A Note About Weather
Kenai Fjords Glacier Lodge is located in the pristine, remote Alaskan wilderness and is only accessible by boat. In rare circumstances, due to high winds, weather fronts or ocean conditions, we are unable to access the lodge at scheduled times. Alternative activities and accommodations have been planned for this uncommon occurrence and will be discussed with you when you check-in at our Seward office if necessary.