Alaska Wildland Adventures

Unpack Your Adventure
Snow-capped mountains, ice-age glaciers, white rapids, clear water streams, dense forests and wide-open tundra. Discover the allure of America's Last Frontier on a small-group, interactive experience that blends the best of outdoor adventuring by day and the most comfortable lodge experience by night. Paddle a sea kayak while surrounded by stunning glaciers. Search for marine wildlife on a small ship amid the backdrop of dramatic coastal fjords. Explore unrelenting backcountry terrain. Alaska's playground is waiting for you. So live out your secret wilderness fantasy with Alaska Wildland Adventures—where purple mountains majesty meets salmon-filled rivers, grazing grizzly bears and roaming caribou. 
Anchorage, Alaska

Lodge

Award-Winning
What We Love
Alaska and adventure go hand-in-hand. Whether it's hiking the hemlock forests and snow-capped peaks of Denali or paddling a kayak amid harbor seals and tidewater glaciers through the majestic coastal fjords of the Kenai Peninsula, you'll not only learn about the 49th state, you'll also be treated to authentic Alaskan hospitality. 
Not comfortable with the great outdoors? We have you covered. Build your perfect wilderness adventure from three Vacayou options that include:
Accommodation in an award-winning eco-lodge, complete with gourmet meals
Intimate small-group excursions
Epic marine wildlife and glacier cruise 
Backcountry exploration (and if you're game, even flightseeing)
All Alaska transportation including a ride on the historic Alaska Railroad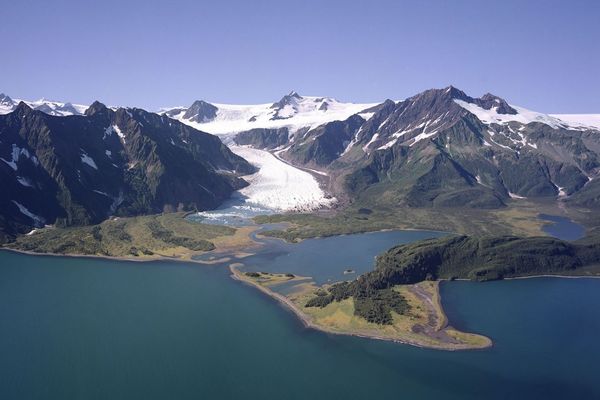 Highlights
With six national parks and forests in the Kenai and Denali regions, AWA excursions grant you access to some of Alaska's most stunning topography and geology, wildlife and wilderness without venturing too far from home base. Enjoy hiking and nature walks, rafting, cruising on a small ship spotting marine wildlife or exploring glaciers by boat or kayak. In the evening, join a fireside gathering, talk with a naturalist guide or chillax on your private cabin porch. If you're wondering about meals, they are actually one of the highlights of every guest's trip. From delicious Alaskan seafood with fresh garden salad to homemade bread and rolls to decadent desserts, you will be amazed at how innovative chefs can be in the wilderness.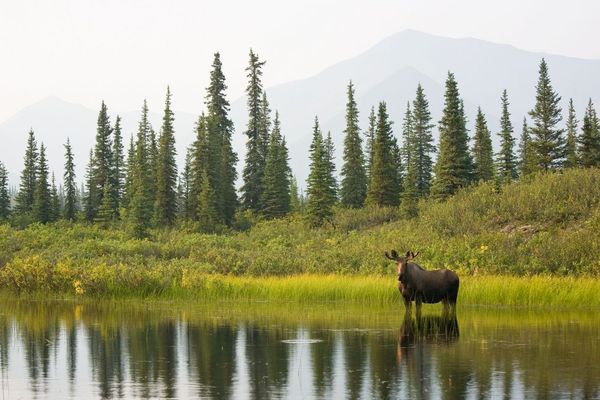 Activities
There are plenty of adventures waiting for you in Alaska with daily activities to meet your energy and interest level. Spend a day rafting the jade-green waters of the Kenai River spotting marine wildlife as you float through the Kenai National Wildlife Refuge. Take in the sights while grazing on a picnic lunch on the shore of a glacier-carved lake. And by roaming into prime wildlife habitats in the Denali and Kenai regions, you'll increase your chances of observing, hearing and photographing whales and otters, eagles, moose, grizzly and black bears, spawning salmon, caribou, as well as puffins, eagles and migratory birds.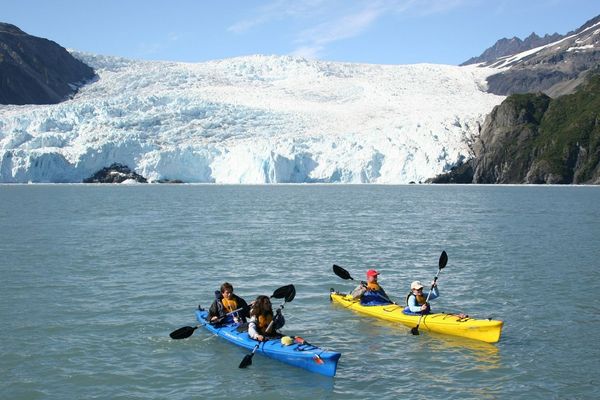 Day Trips
Interested in trying your hand at world-class fishing? Alaska is an angler's dream destination and a day of fishing can easily be added to your Alaska vacation. Fish for salmon or rainbow trout on a professionally guided Kenai River fishing trip. Excursions include top-of-the-line gear and tackle, the filleting of any fish that you hook, and a hearty lunch of freshly prepared sandwiches, baked goods, snacks and beverages. Whether you're an avid angler or first-time fisherman, AWA's experienced guides will put you on the fish!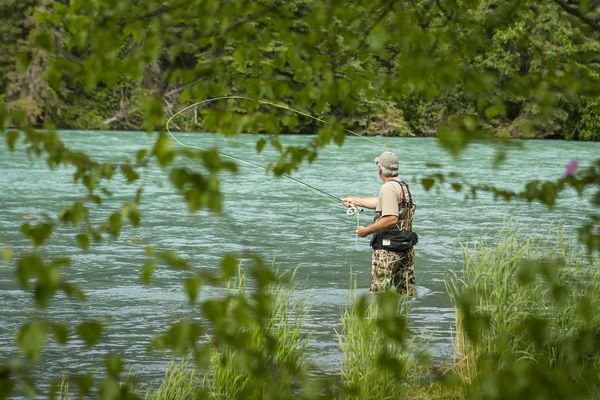 Alaska Wildland Adventures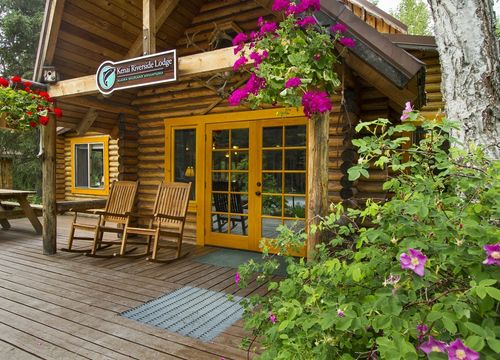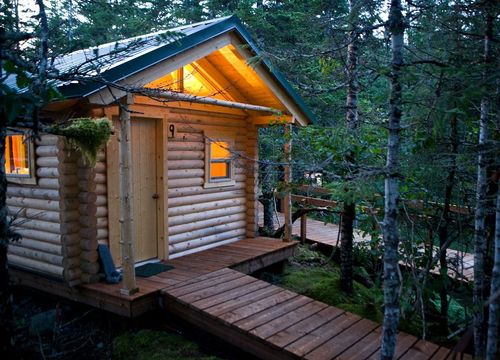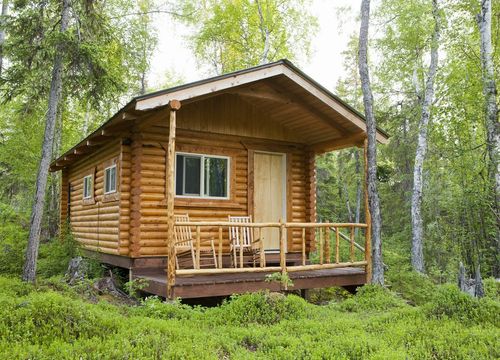 Accommodations
Stay at one, two or all three of the award-winning eco-lodges on the Kenai Peninsula: the Kenai Riverside Lodge located on the banks of the famous Kenai River, the remote Kenai Backcountry Lodge on glacial-carved Skilak Lake or the seacoast paradise Kenai Fjords Glacier Lodge. AWA's three amazing wilderness lodges feature the perfect balance of rustically modern and private cabins, delicious and locally-sourced food, immersive activities and locations that introduce you to the real, authentic Alaska.
Kenai Riverside Lodge
The original log lodge and cabins in Cooper Landing, surrounded by snow-capped mountains and located right on the banks of the upper Kenai River. Guest cabins are nestled into the trees surrounding the main lodge and have the rustic charm of historic pioneer cabins but with modern comforts like heat, lights, private bath, comfy beds and Adirondack chairs on the front porch. The cozy cabins accommodate up to four people. The newly expanded property features nine gorgeous acres of peaceful, wooded beauty on the banks of the Kenai River. Choose from a mix of charming lodging styles, the riverside cabins—which come standard with every stay—to one of the upscale guest suites and homes.
Spacious elevated deck with Adirondack chairs
Firepit
Wood-fired sauna 
Self-guided nature paths
Sand volleyball
Badminton
Horseshoe 
Canopy-covered ping-pong table
Kenai Backcountry Lodge
Originally built in the 1930s as a remote hunting lodge, the lodge is located on a glacier-carved lake accessible only by boat. The nine guest cabins in wooded settings are connected to the historic main lodge by gravel pathways and boardwalks. The newly renovated guest cabins each have a minimum of two comfy beds, a private bath and shower, a private porch and propane light and heat. Electrical outlets for recharging electronics are available in the main lodge and other public spaces on the property. 
Wood-fired sauna

Canopy-covered ping-pong table

Lakeside chairs and campfire area

Screened-in gazebo

CPAP machines supported in certain cabins
Kenai Fjords Glacier Lodge
The newest wilderness lodge, this seacoast paradise is surrounded by Kenai Fjords National Park and is the only lodge located within the park. A network of boardwalks connects the cabins to the main lodge which features a beautiful dining room and lounge area, as well as a staffed bar. Each guest cabin features cozy beds, on-demand heat and electricity, a private en-suite bathroom with amenities and a private porch with views of Pedersen Lagoon Wildlife Sanctuary.
Spacious elevated deck with rocking chairs

Wood-fired cedar sauna with Finnish stove and stone hearth

Walking trails

Rocky beach on Aialik Bay

Off the grid (no internet or cell service)
*Your trip may include a lodge not featured above, but rest assured that all overnight stays on your tour will feature rustically modern lodges and private cabins on par with the accommodations above. 
Location
Alaska Wildland Adventures is located in Anchorage, Alaska.