Sold Out
Stillpoint Lodge
Alaska Up Close: Luxury Wellness Adventure

We're sorry, but this package is not currently available. Please see the Stillpoint Lodge page for other package offers.
or talk to Vacayou travel concierge
The Kenai Peninsula, known as Alaska's playground, has bountiful opportunities for bear viewing, hiking, whale and bird watching, viewing glaciers, kayaking and world-class fishing. Stillpoint Lodge guests will relish in exhilarating, bucket-list experiences like witnessing playful sea otters up-close and personal while launching a kayak into the calm waters right from the lodge's dock. 
Follow personalized itineraries created by experienced, local guides as they lead you on "adrenaline-fueled conservation" adventures. There's something to suit the taste of everyone in your party, from the boldest adventurer to the lover of relaxation. Choice of excursions and exclusive activities is included for all guests of Stillpoint Lodge.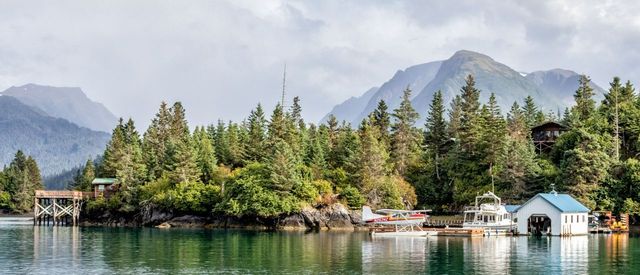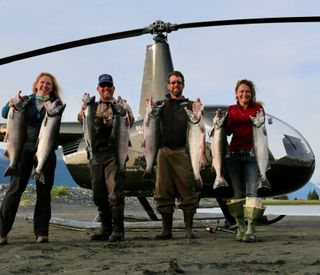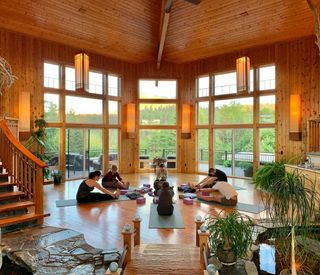 Experience
At the foot of Kachemak Bay State Park, Stillpoint Lodge delivers authentic adventure basecamp hospitality. The Kenai Peninsula, known as Alaska's playground, has bountiful opportunities for bear viewing, hiking, whale and bird watching, viewing glaciers, kayaking, world-class fishing, and more. Stillpoint Lodges features experienced, local guides who have branded their adventures "adrenaline-fueled conservation", and thrive in serving up personalized itineraries. Included activities:
Gull Island Cruise
Sea kayaking & paddleboarding
Local wildlife viewing with opportunities to see seals, otters, moose, bears, and more
Tidepooling at Halibut Cove
Bird watching at Kachemak Bay to see countless bird species such as bald eagles, puffins, and arctic terns.
Local hiking on the Native Trail which offers panoramic views of Hablibut cove and ends at a scenic beach
Whale watching
Stillpoint Lodge
Read more about Stillpoint Lodge
With all the luxuries and a hint of Zen, Stillpoint Lodge's breathtaking seaside location inspires exploration, sustainability, adventure and pure fun.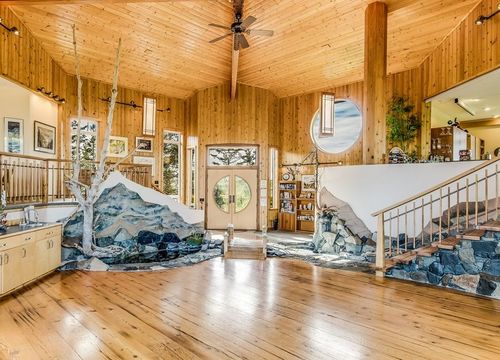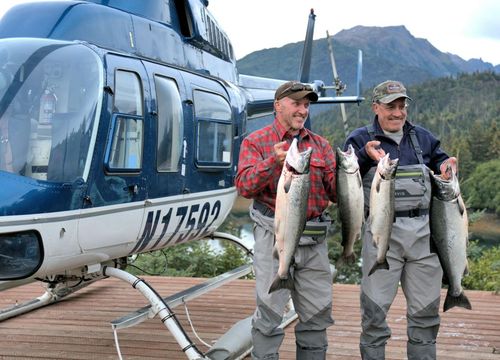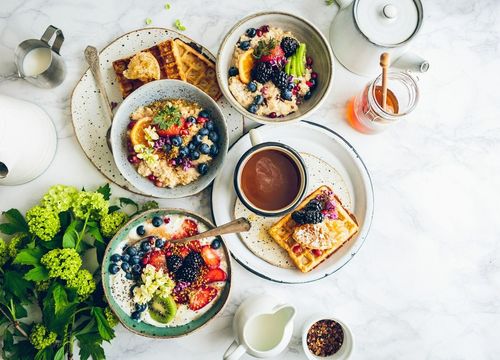 Accommodations
In an effort to embrace the breathtaking surroundings and preserve as many natural features of the land as possible, all cabins are accentuated by the rich aroma of evergreen spruce trees, shaded covers of birch and willow trees, and the beauty of alder, wildflowers, and berry bushes.
Surrounded by quiet wilderness, guests can enjoy the sensuous seclusion of their cabin decks, watching nature as it unfolds throughout the day. For the adventurer, this cabin is a place to relax after a day of exploring all that Alaska has to offer. 
From one-bedroom suite cabins to deluxe cabins, witness firsthand the mountainous views in the distance from the moment you open your windows. 
Private balcony
Coffee and tea maker
Seating area
Separate dining area
Separate living room
Sofa
Kitchenette with electric kettle
Features & Amenities
All guests at Stillpoint Lodge enjoy an all-inclusive experience that offers a variety of complimentary "Recreation & Restoration" activities, including:
One massage per person for those 12 and older
Guided local eco-tours such as bird watching, tide-pooling, garden and sustainability tour, berry picking, kids activities and more
Guided kayaking and paddleboarding from our dock, including a visit to the Halibut Cove Coffeehouse and Diana Tillon's
Cove Gallery
Complimentary use of adventure gear from our Gear Cave
Yoga, fitness and mindfulness classes
Personal trainer
Full access to resort amenities 
Hot tub
Sauna
Library and lounge
Labyrinth
Zen garden
Meditation cabin
Rowboats
Seacycle
Firepit
Lawn games, board games, corn hole, badminton and more
Gull Island Cruise
Sea kayaking and paddleboarding
Local wildlife viewing
Tidepooling
Kids program
Bird watching
Local hiking
Whale watching
Complimentary breakfast
Beaches nearby
Sun deck and terrace
Free parking
Free high-speed internet
Free airport transportation
FAQ
Scenic, round-trip boat transportation is arranged for you from Homer Harbor to Stillpoint Lodge in Halibut Cove. The voyage usually takes about 30-minutes and often includes stops for wildlife viewing along the way. Vehicle ground transfer from Homer Airport to Homer Harbor is provided if needed.
Chances are that you're familiar with Alaska's harsh winter weather, so you'll avoid visiting the state during that particular time of year. However, you might not realize that Alaska has more daylight than other states, which might be a bit jarring for outsiders. The further north you go when visiting the state, the more daylight you'll experience. Whether more daylight is a pro or a con is really up to you. But if you visit north of Fairbanks, you'll experience 24 hours of daylight per day. Obviously, this will change slightly from season to season, but if you have a hard time sleeping during the day, make sure to stay at a lodge that has blackout curtains!
One way or another, it's hard to miss interacting with animals during an Alaska vacation; and if you skipped the state's natural, wild beauty, you'd be missing out. Many people visit the state to go fishing, ahead of which you will want to make sure that you have the right licenses. You certainly won't want to miss out on hiking, where you may encounter moose, wolves, or even bears; though obviously, you won't want to get too close! The key to staying safe during these types of experiences is hiking with a well-trained guide. But if that sounds a bit too wild for you, there are plenty of other experiences you can try that are unique to Alaska. For example, you might want to follow in the footsteps of Alaskans before you and go dog-sledding!
Even during the summer, you may experience extreme weather when visiting Alaska, and storms can hit quickly and without much warning. It's best to bring layers on your Alaska vacation. That way, if there's a cold snap during your warm-weather vacation, you can layer up and stay warm. Bring wool socks, heavy gloves, and boots that are ready for snow and mud alike. This is key not only to comfort but safety as well.
Don't be intimidated if you're going on your first Alaska vacation. It will offer you once in a lifetime experiences; just be prepared for something different!
Terms
Terms & Conditions
Additional Rate Information
Rates are quoted in US dollars per night for two people, include tax and are subject to change. Single travelers are welcome at 150% of the adult rate. Cash tips are optional. 15–20% gratuity is greatly appreciated.
Offer applies to reservations for up to 5 guests. For reservations of 6 guests or more, and property buyouts, promotions are offered on a case-by-case basis.
Offer is subject to availability and does not apply to groups of 6 persons or more, or private group buyouts. Offer does not apply to VIP Suite category.
Service Fee:
Add a service fee of 10% for individual stays for lodging only
Add a service fee of 15% for groups of 6 or more guests for lodging only
Child Rates:
Ages 6 – 11 are calculated at 50% of the adult rate when sharing a cabin with at least one adult.
Minimum Nights Required: 
A two-night minimum is required from May 29, 2021 to September 10, 2021.
Deposit
A deposit of 50% of total reservation value upon booking. The remaining 50% of the reservation amount is due 90-days prior to arrival. If booking falls within the 90-day arrival window 100% payment is due upon booking.
Cancellations
Reservations are transferable and may be canceled within 10 days of booking for any reason. Should a booking be canceled by Stillpoint Lodge or the client at any time due to force majeure, 50% of the amount paid will be refunded and the remaining 50% can be applied to later dates in the same season or toward dates in the following season, minus a $200/per person administrative fee.
If canceled 120 days or more prior to arrival: After the deposit is received, 80% of the deposited amount will be refunded to client, and the remaining 20% can be applied to a booking later in the same season or dates in the following season, minus a $200/per person administrative fee.
If canceled between 91-119 days prior to arrival: The full 50% deposit is non-refundable. 20% of the deposit can be applied to a booking later in the same season or dates in the following season.
If canceled 90 days or less prior to arrival: 100% non-refundable full balance payment is contractually owed. No shows for any reason will result in no refund and cannot be rescheduled.
In all the above situations, you will have 12 months to reschedule a reservation to a date mutually agreed upon by all parties.
Trip Insurance:
Due to our short season of operation and advanced overhead costs, we must strictly adhere to our deposit and cancellation policy. We strongly recommend that all clients purchase a travel insurance policy designated as "Cancel for Any Reason" that covers reimbursement for pandemic-related travel disruptions.
Smoke-Free Policy:
Stillpoint Lodge is a smoke-free facility. Smokers are asked to please smoke only in the designated dock area and discretely dispose of all waste in a designated receptacle. Smoke odor or residue found inside any facility because of smoking inside or disposing of ashes or butts inside will result in the assessment of a cleaning fee.
Firearms Policy:
Firearms are discouraged and are not allowed inside any of the facilities. Guests are required to notify management if they plan to bring a firearm for any reason.