About Stillpoint Lodge
Located at the foot of Kachemak Bay State Park, Stillpoint Lodge delivers an authentic adventure basecamp hospitality. With all the luxuries of civilization and a hint of Zen, Stillpoint Lodge's breathtaking seaside location inspires meaningful exploration, sustainability, adventure and pure fun. Guests relish in exhilarating, bucket-list experiences like witnessing playful sea otters up-close and personal while launching a kayak into the calm waters right from the dock.
Encounter the diverse wildlife of Kachemak Bay, explore the quaint village of Halibut Cove, partake in Alaska's finest food, outdoor adventures and leisure activities, then return each evening for entertainment and rejuvenation in luxurious and inspiring facilities. Your adventure awaits at Stillpoint Lodge.
Halibut Cove, Alaska

Lodge
Spa
Stillpoint Lodge provides the perfect balance to your adventurous vacation with restorative therapies. Guests can participate in daily group yoga and meditation. Relax in the infrared sauna, take a steamy soak in the hot tub, and pamper yourself with a hot, high-pressure shower. Mindfully walk the path of the labyrinth and take some time to slow down and enjoy the tranquility. Wellness options also include massage, private yoga, fitness coaching, mindfulness meditation, forest bathing and journaling.
During your stay at Stillpoint Lodge, focus on your health and wellness with restorative therapies, massage, yoga, a hot tub and more. Enjoy a warm and soothing massage located in a relaxing environment in a massage cabin. Focus on fitness and your well-being with yoga classes meant to help you restore your balance. Then, elevate your stay at Stillpoint Lodge by reflecting on your experience. Spend hours at a poustinia, known as a simple space where one goes for contemplation, meditation and reflection. 
Your stay at Stillpoint Lodge is meant to be a transformational travel experience. Guests are encouraged to schedule an appointment with a caring wellness staff or transformational travel mentor to help plan your journey at Stillpoint Lodge with guided meditations in nature.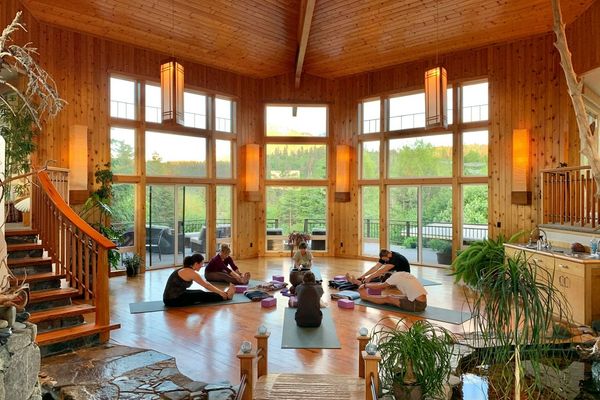 Activities
At Stillpoint Lodge, there is variety at your doorstep with a wealth of engaging adventure, leisure and wellness possibilities. There's something to suit the taste of everyone in your party, from the boldest adventurer to the lover of relaxation. A choice of excursions and exclusive activities are included for all guests of Stillpoint Lodge. 
Engage in the optional included activities suit a wide range of activity levels and interests, including Gull Island cruises, sea kayaking and paddleboarding, whale watching. Embrace nature during your time and go bird watching or hike locally around the area. For younger travelers, there is a kids program with various activities to enhance everyone's experience. 
Add-on à la carte excursions feature outbound guided adventures that showcase the surrounding area. Step outside this Alaskan luxury resort into the pristine, glorious wilderness of Alaska's Kachemak Bay for a wide range of tailor-made adventures like bear viewing, helicopter adventures, mountain hiking and more. For the fishing-lovers, make the most out of your stay with saltwater and freshwater fishing nearby.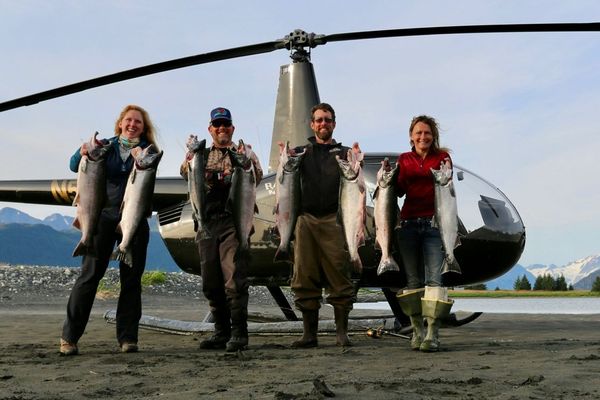 Culinary Highlights
Stillpoint's Executive Chef and culinary team prioritize sustainability by creating seasonal menus and sourcing local and regional ingredients at the height of freshness. Featuring contemporary-style cuisine from home-made snacks to decadent packed lunches to be enjoyed on adventure excursions, guests can enjoy a new menu daily. Enjoy local beers, craft cocktails and curated wines from their cellar, hand-selected by Stillpoint's Sommelier.
At Stillpoint Lodge, there is also a focus on serving local and organic food. Stillpoint works with local fishers, farmers and hunters to create menus using only wild-caught and sustainable ingredients. Each meal is customized to your liking and it is the utmost priority for guests to feel nourished and satisfied. 
During the warmer seasons, guests are encouraged to walk through the garden and enjoy a fresh snap pea or luscious summer strawberry. The garden focuses on an artistic layout of color, design and fresh food.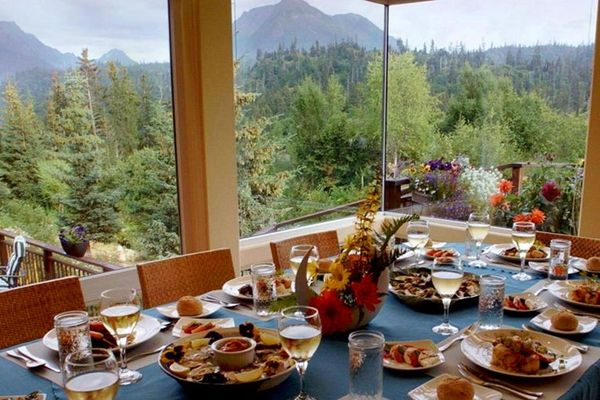 Stillpoint Lodge
All guests stay in private log cabins which were built with comfort in mind and enhanced with a tasteful feel of Alaska's rich culture.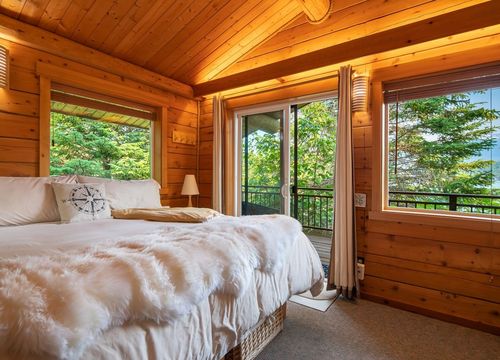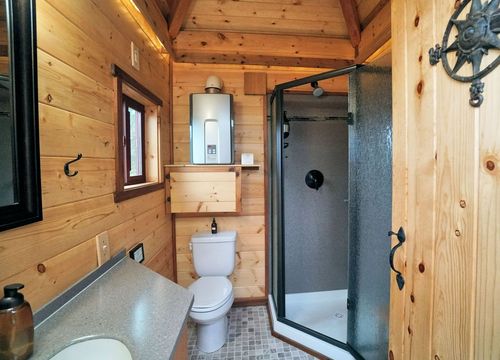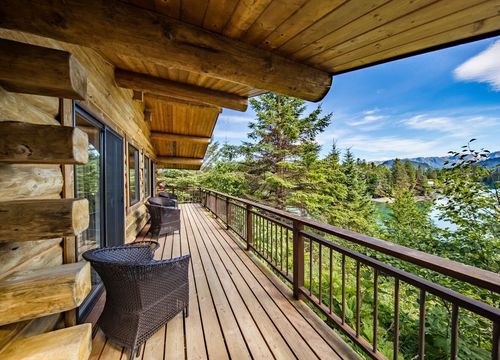 Accommodations
In an effort to embrace the breathtaking surroundings and preserve as many natural features of the land as possible, all cabins are accentuated by the rich aroma of evergreen spruce trees, shaded covers of birch and willow trees, and the beauty of alder, wildflowers, and berry bushes.
Surrounded by quiet wilderness, guests can enjoy the sensuous seclusion of their cabin decks, watching nature as it unfolds throughout the day. For the adventurer, this cabin is a place to relax after a day of exploring all that Alaska has to offer. 
From one-bedroom suite cabins to deluxe cabins, witness firsthand the mountainous views in the distance from the moment you open your windows. 
Private balcony
Coffee and tea maker
Seating area
Separate dining area
Separate living room
Sofa
Kitchenette with electric kettle
Features & Amenities
All guests at Stillpoint Lodge enjoy an all-inclusive experience that offers a variety of complimentary "Recreation & Restoration" activities, including:
One massage per person for those 12 and older
Guided local eco-tours such as bird watching, tide-pooling, garden and sustainability tour, berry picking, kids activities and more
Guided kayaking and paddleboarding from our dock, including a visit to the Halibut Cove Coffeehouse and Diana Tillon's
Cove Gallery
Complimentary use of adventure gear from our Gear Cave
Yoga, fitness and mindfulness classes
Personal trainer
Full access to resort amenities 
Hot tub
Sauna
Library and lounge
Labyrinth
Zen garden
Meditation cabin
Rowboats
Seacycle
Firepit
Lawn games, board games, corn hole, badminton and more
Gull Island Cruise
Sea kayaking and paddleboarding
Local wildlife viewing
Tidepooling
Kids program
Bird watching
Local hiking
Whale watching
Complimentary breakfast
Beaches nearby
Sun deck and terrace
Free parking
Free high-speed internet
Free airport transportation
Location
Stillpoint Lodge is located in Halibut Cove across the Kachemak Bay from Homer, Alaska.