Sold Out
Bodhi Surf & Yoga
Adult Surf & Yoga Camp

We're sorry, but this package is not currently available. Please see the Bodhi Surf & Yoga page for other package offers.
or talk to Vacayou travel concierge
Imagine the feeling of catching your first wave. You're riding high, fully engaged in the moment, you're back in touch with what makes you tick and rediscovering the power of your own potential. This is the essence of the Bodhi Surf + Yoga Camp experience where you'll swim out of your comfort zone and get reacquainted with your planet and your purpose.
Get your heart pumping on the water with five surf lessons. Let your mind unwind and your body realign on land with five outdoor yoga classes. For beginners and well-seasoned surfers alike, Bodhi welcomes you. Bring your group of four or more and they will close off the entire lodge just for you. If you're surfing solo or with less than four, find comfort in knowing that no more than 10 guests will be hosted at a time. That's how Bodhi strikes the perfect balance between creating a mini-community within each retreat and fostering more personalized experiences for each guest.
Expect to embrace life's simple pleasures here. Expect to challenge yourself. Expect to learn about the environment, the philosophies behind the activities you'll engage in and how they seamlessly translate into perspectives relevant to your own life. Experience something bigger than yourself within yourself in beautiful Bahia Ballena-Uvita, Costa Rica.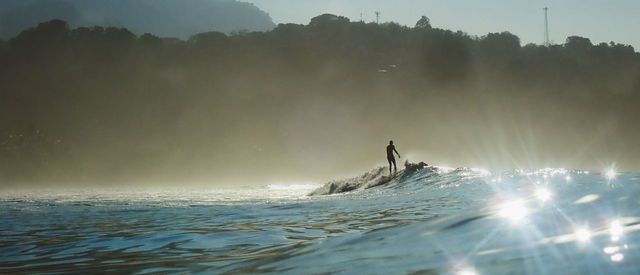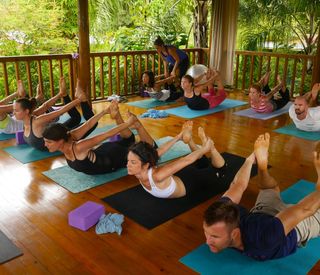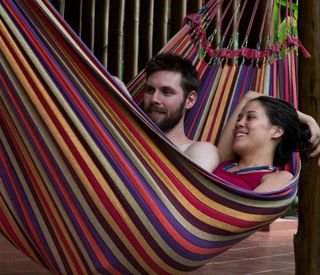 Experience
Your team at Bodhi truly considers it an honor to teach you. That's part of what makes their surf and yoga camp unlike any other. Discover a true connection to community and a deeper understanding of mind, body and nature in this treasure in paradise.
5 surf lessons inside a Marine Sanctuary plus 5 yoga classes on an outdoor yoga platform
Community walking culture tour
Personalized experiences are made possible by limiting camp capacity to 10 guests per week
Enjoy an outdoor massage and visit a local waterfall
Optional activities include hiking, horseback riding, zip-lining, canyoning, kayaking, snorkeling, diving, cultural tours and mountain biking
Come away with a fresh perspective on our beautiful world and your environmentally-conscious role in it.
Itinerary
Typically, guests arrive on Saturday before 2 pm at the Juan Santamaria International Airport (SJO) in San Jose, Costa Rica. At approximately 3 pm, a shuttle will pick you up at the San Jose airport near the Deli "La Malinche". You can grab a bite to eat at the restaurant prior to making the approximately four-hour trip to Bodhi Surf + Yoga. Upon arrival at the Bodhi Surf + Yoga lodge, staff will welcome you, show you around, and you will enjoy the first group dinner at a local restaurant! After that, it's an early night to bed for all to be ready for the first full day of the Bodhi Sessions Adult Surf + Yoga Camp.
Sundays typically start with an early breakfast of fresh fruit, coffee, and an array of other food groups. To beat the heat, we usually have our community walking tour first thing after breakfast. This activity is a great way for guests to learn about the local community from a trained local guide, see some of the local flora (and maybe even fauna) and to generally get a "lay of the land". After returning to home base, there is a little break before the first yoga class at the on-site Bodhi Shambala Yoga studio. Next up, a visit to the local supermarket to stock up on snacks and meal stuff for non-included meals. In the afternoon, the whole crew heads down to the beach for the first surf lesson of the week. Sunday night is free, so everyone typically does their own thing, whether heading to a local restaurant or making something simple to eat before relaxing in the hammock or playing some games before bed!
By Monday morning, guests have an idea of the rhythm of Bodhi Surf + Yoga, Bahia Ballena, and life in general in a quaint coastal Costa Rican community. After a morning yoga class to get limber for the day's activities, there is a leisurely and filling breakfast at the Bodhi Surf + Yoga lodge. Next up, guests head to a local waterfall to cool down from the mid-morning heat. Returning to the lodge after this refreshing outing, there is a period of chill time prior to the sunset surf session (lesson number two of five). Monday night is group dinner number two at Bodhi Surf + Yoga, full of laughter and reflections of the day, and maybe even a "High, Low, Ha!" prompt!
Tuesday is the full free day and there are so many activities to participate in and sights to see! For example, eating meals out at local favorite spots, going for a walk to the Whale Tail or a hike into the local mountains, or just chilling at the Bodhi Surf + Yoga lodge, chilling in the hammocks, in the pool, or on the day beds. Guests can also do one of the many half or full-day tours of the area: boat tours (whale watching, snorkeling or to a famous nearby national park), canyoning, ziplining, horseback riding and more.
By Wednesday, guests are likely to be so into the way of life in the tropics that they rise bright and early with the sun. Guests know the drill, yoga is up next, and it's a much-needed class after two days of activity! Next up: enjoying some local coffee or fruit juice, a delicious home-cooked breakfast, and conversation with fellow guests and staff. After breakfast, everyone heads out for the first morning surf lesson of the week. Post learning and shredding the waves, everyone heads back to the lodge for some chill time in the pool or hammocks. There are massages included that occur on the yoga platform right at the Bodhi Surf + Yoga lodge. Wednesday is a free night, so guests often opt to enjoy a meal out at one of the local nearby restaurants.
On Thursday, you're back at it with a delicious breakfast first thing, followed by a morning surf lesson. Guests may opt to spend more time at the beach, perhaps even enjoying the beautiful sunset from a comfy position on the sand. There is an evening yoga class, listen to the birds chirp as the sun goes down on another wonderful day. Thursday night is the last group dinner at the Bodhi Surf + Yoga lodge, and game night! On this last evening together, everyone reflects on some of the experiences you've had together and apart and shares some more laughs together.
On Friday morning, it's not unlikely to have a "dawn patrol" sunrise session where the aim is that on the fifth surf lesson, everything comes together. Following that, a light and delicious breakfast is in order. Next up, the final yoga class of the week where some of the themes of the week are tied together. After some packing and pool time, guests will attend the "Bodhi graduation". Finally, around 3:30 pm, you are picked up at the Bodhi Surf + Yoga lodge for your shuttle transfer to your hotel in San Jose where you will be spending your last night. A farewell, but not a goodbye. After all, you can always visit them again!
Guests typically fly back to their homes out of San Jose on this day.
Bodhi Surf & Yoga
Read more about Bodhi Surf & Yoga
Whether it's not checking your phone for a few days, the presence of awareness you find from your open-air yoga classes, the soul-deep connection you make with the ocean during your surfing sessions or the feel-good factor of community engagement—the experience at Bodhi Surf + Yoga has the potential to shake things up.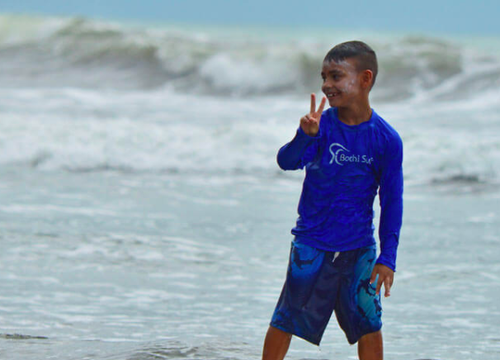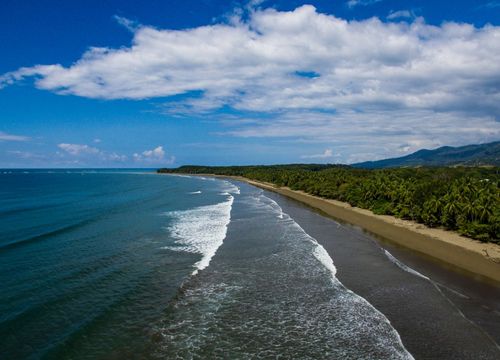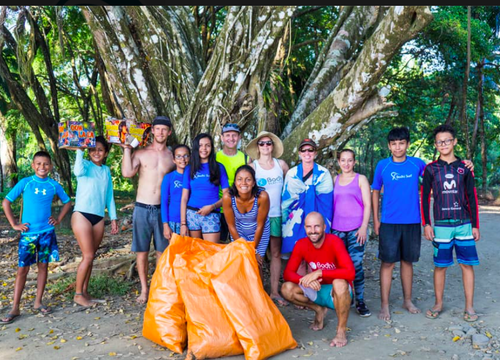 Accommodations
The Bodhi Surf & Yoga lodge is comprised of four lodging options, a common area and a yoga studio.
BUNGALOW GRATITUD
The largest of the four options, Gratitud can accommodate up to four adults and one child. The bungalow features a private bathroom and a well-equipped kitchenette.
BUNGALOW ESPIRITU
This bungalow is the perfect choice for a couple and features one queen bed, a kitchenette, a large private bathroom and a spacious balcony.
ROOM ARMONIA
This private hotel-style room is located on the second level of a two-story structure. The room features a full-sized bed that can accommodate two guests, a private bathroom and shared kitchen access on the ground floor. 
ROOM AMISTAD
This private hotel-style room is located on the second level of a two-story structure. The room features two single beds that can accommodate either one or two guests, a private bathroom and shared kitchen access on the ground floor.
COMMON AREA ALEGRIA
This social area comprises a kitchen and dining area and is located on the ground level of the two-story structure with Room Armonia and Room Amistad on the top level.
RANCHO SERENIDAD
This two-story open-air structure is home to the Bodhi Shambala Yoga Studio on the top level and a relaxing meditation/reading area on the ground level called Serenidad.
Features & Amenities
Wi-Fi
Swimming pool
Yoga studio
Secure parking
Hot water
Therapeutic mattresses
Kitchen or kitchenette for preparing your own meals
Common area (day beds, hammocks, chairs)
Awards & Accolades
Awards:
2020 - B Corp re-certification
2020 - Travelers Choice Award - Trip Advisor
2019 - Best for the World B Corp Honoree: Community
2018 - Best for the World B Corp Honoree: Community
2018 - Industry Innovator finalist at Hearts of Travel Awards
2017 - Best for the World B Corp Honoree: Community
2016 - B Corp Certified
2017 - Trip Advisor Certificate of Excellence
2016 - Trip Advisor Certificate of Excellence
2015 - World Responsible Tourism (short list)
2014 - World Responsible Tourism (short list)
2011 - Making a Difference Award, Sustainable Trip Org via Rainforest Alliance
Members:
1% for the Planet
B Corp
Transformational Travel Council
Center for Responsible Travel
FAQ
Airfare
Some meals
Travel insurance
Personal expenses
A few sturdy, comfortable bathing suits. For guys, you'll want to bring at least two pairs of board shorts, and note that some stretch is good. For the gals: there is a lot to be said about finding a good surf bathing suit.

Hat. The sun here is much stronger than in other parts of the world, and being diligent about wearing a hat while out in the sun will help to prevent sunburns, heatstroke and dehydration. If you are very concerned about burning, we strongly suggest a waterproof hat with a strap to wear while you surf.

Sunglasses. The sun and saltwater are very hard on the eyes, so bring your sunglasses! If your eyes are sensitive, polarized sunglasses are recommended for optimal protection. If you are worried about losing or damaging your sunglasses, it's a good idea to bring a less valuable pair for the beach and other activities.

Sandals. Flip flops or strap-on sandals are everyone's favorites for going to the beach. Sturdy, good quality sandals with a hard sole and straps that are sewn are recommended.
Shirts. Bring a variety of t-shirts and tank tops. Cotton or other natural fabrics such as linen are preferable. If you are visiting between June-November, you may want to bring a light sweatshirt or jacket as well, as it can cool off at night.

Shorts. Bring several pairs. Again, if you're coming between June-November, you may also want to bring light pants.

Waterproof sunscreen. While it is available to purchase down here, it is significantly more expensive and there is significantly less selection than in your home country. They recommend mineral sunscreen both for you and the planet's health.

Reusable water bottle. The water here is both potable and delicious! Your team at Bodhi Surf + Yoga cares greatly about the environment and thus tries to reduce plastic consumption. They hope you will join in this effort!

Some cash. Credit cards are widely accepted and there are several ATMs in town, but it's always good to have some cash on hand at the beginning of your trip.
Running or hiking shoes. There are many worthwhile places to see in the area which involve walking or hiking. Paths can be anywhere from perfect condition to mildly treacherous, therefore they highly recommend a closed-toe shoe with good grip.

Day backpack. Great for going to the beach, on hikes, walks or other tours.

Camera. It's a beautiful area. You'll probably want to brag about your trip when you go home. GoPros with durable casings and waterproof/break-proof cameras are recommended if you want action shots (Costa Rica seems to have a way of destroying cameras).

Personal rash guard. Bodhi Surf + Yoga has rash guards in a wide variety of sizes, but oftentimes people like to bring their own to ensure a good fit. Ladies with sensitive skin: knee rashes are quite common. If you're concerned, get some into rash guard pants or simply bring some tight yoga pants that cover the knees.

Natural insect repellent. Bugs aren't a huge problem here, but sometimes it's nice to have repellent if you're out during the evenings or early morning. Personal toiletries and medications. Again, most items can be found here but just in case, it's best to bring your own!

Earplugs and eye mask. These are suggested only if you have issues sleeping. As they are located within the community, there are certain sounds associated with that: birds, dogs, music, weed whackers, etc. Also, keep in mind that it gets light around 5 am.

Dressy outfit. There are several nice places to go out for dinner if you feel like treating yourself; there is no dress code here at the beach in Costa Rica, but you may feel like getting dressy at least once during your stay! Note: "dressy" in their beach town is actually pretty casual: sun-dresses for girls and short-sleeved button-up shirts and non-sport shorts for guys.

A few good books or magazines. The Bodhi Surf + Yoga lodge does not have any televisions on the premises, but there are plenty of comfy areas to lounge around and read! They have a small library here, but you may want to use this time to power through your personal reading list.

Games. They have several games at the Bodhi Surf + Yoga lodge (as well as painting and drawing supplies), but if you have personal faves, this is a good opportunity to get some quality game time in.
Terms
Deposit
A $500 USD reservation deposit for vacation packages is required per person. Once the deposit is received, your desired dates and accommodation preferences are booked. The deposit is credited to the total amount of your Bodhi Surf vacation package.
Payment Due Dates
Reservations are to be paid in full 30 days prior to the arrival date. Reservations made less than 30 days prior to arrival date must be paid in full immediately upon notification of availability, otherwise, you run the risk of losing your desired dates and accommodation preference.
Cancellation Policy
Reservations may be canceled and refunded based on the following:
There is no refund of deposit for cancellations made less than 60 days prior to date of arrival.
There is no refund of full payment or deposit for cancellations made less than 30 days prior to date of arrival.
Itinerary Changes
Itinerary changes are granted on a case-by-case basis and pending availability. Fees for itinerary changes are also handled on a case-by-case basis, the minimum fee for itinerary changes is $50 USD
Late Payments
There will be a $50 USD fee for all late payments.