About Fivelements Retreat
Fivelements Retreat Bali is everything you imagine an eco-conscious wellness sanctuary to be: a space of healing, detox, renewal and zen. Nestled in a tropical forest about 20-minutes from Ubud, Fivelements is an upscale boutique resort with nine villas alongside the banks of Bali's sacred Ayung River. The holistic program bridges the ancient wisdom of traditional healing cultures with innovative wellness services ensuring guests return home feeling rejuvenated, balanced and transformed. From the food to the treatments to the beautiful accommodations, everything about Fivelements embraces spiritual enlightenment and harmony with nature.
Bali, Indonesia

Retreat Center

Vacayou Top Pick
Spa
Bali has long been known as a unique place of mystical healing and transformation. And nothing spurs holistic wellness more than the Wellness Sanctuary at Fivelements, where a multi-faceted approach to a balanced life encourages guests to heal from the inside-out. The menu of treatments includes deep reflexology therapy, prana energy rituals and chakra balancing sessions performed by traditional Balinese healers to a comprehensive range of beauty rituals freshly prepared with all-natural and superfood ingredients.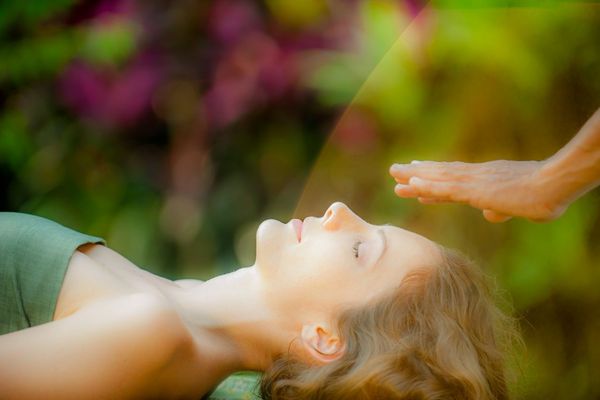 Activities
This boutique retreat is designed to tune into your emotional and spiritual levels while also challenging you to increase your fitness levels. Start your morning with a tranquil yoga and meditation practice followed by a workout at the state-of-the-art gym. After working up a sweat, wind your way around the stone pathways and gardens to the swimming pool. Guests can also rent bicycles, go river rafting or take an eco-tour to explore the rainforest and terraced rice paddies. Fivelements is only 20-minutes from Ubud and there's a shuttle service three times a day for those looking for more of a cultural experience.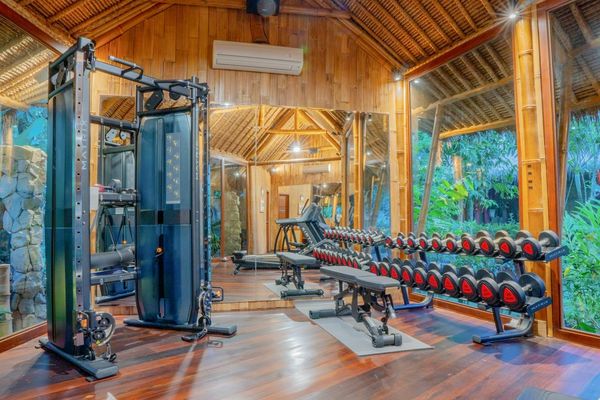 Culinary Highlights
The Sakti Dining Room is made of giant timber bamboo designed to resemble a banana leaf. With a lotus pond on one side and the Ayung River on the other, the multi-level restaurant boasts award-winning cuisine that boosts energy levels, mental clarity and positivity. Food is more than fuel here and the menu is aligned with a farm-to-table philosophy focused on plant-based gourmet dishes. The Signature Chef's Specialty Tasting Menus takes you on a gastronomic journey comprising three, five and seven-course options. And a selection of juices is available for guests who are cleansing and detoxing.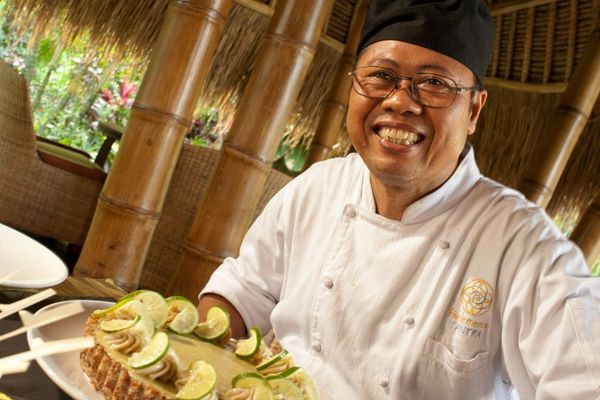 Fivelements Retreat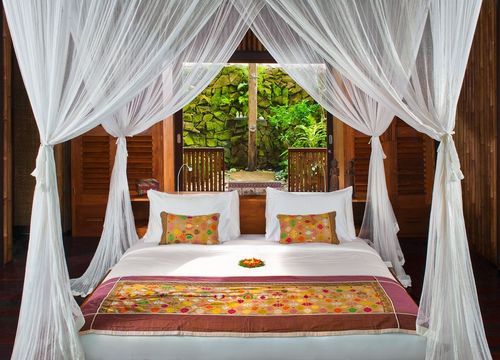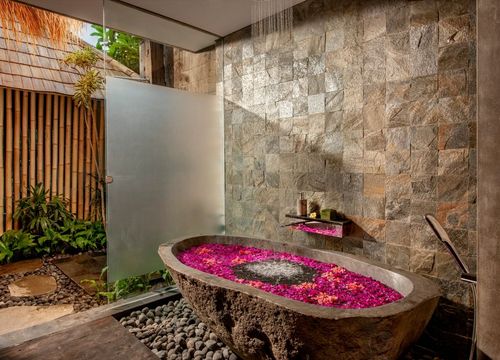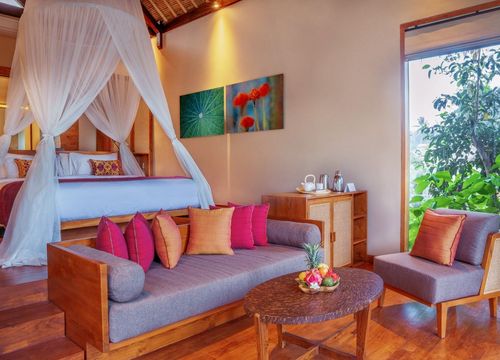 Accommodations
All nine guest suites are inspired by the beauty of Bali and designed in the shape of a sacred spiral, using bamboo and traditional high-thatched roofing with wooden floors and antique touches. The furnishings are locally crafted and include a writing table and teak-wood beds decorated with traditional hand-woven songket fabrics. The plush daybed sofa can be converted into an extra bed. Ensuite bathrooms include an outdoor shower, a to-die-for bathtub hewn from volcanic stone, double vanity and two spacious wardrobes. Each villa has a veranda that overlooks the Ayung River; some suites feature an infinity plunge pool. 
Features & Amenities
Sleeping suites embellished with traditional Balinese Songket textiles & antique touches
Bathtub
Location
Fivelements Retreat Bali is located near Ubud in Bali, Indonesia.