10-Day African Safari through Tarangire and Serengeti National Park

Moshi, Tanzania

9 nights

from $679 Per Night

Based on rate for one guest
---
or talk to Vacayou travel concierge
There's a pureness deep in the heart of Tanzania that awakens something deep within you. As far away as Africa might feel, being here almost feels like coming home. On the plains of the Serengeti, find yourself swept away by the scenery, the songs of the wild and the feeling of peace and pure elation. You breathe easier here. Your mind is clearer here. And out in this wide-open wilderness, you're more receptive to the life-changing moments that are destined to find you. Spot a lion climbing a tree, watch a fleet of flamingos gather along the shores of Lake Manyara, immerse yourself in local culture and all the while, you're in the best hands of all with your guides and newfound friends at Matriarch Hill Safari.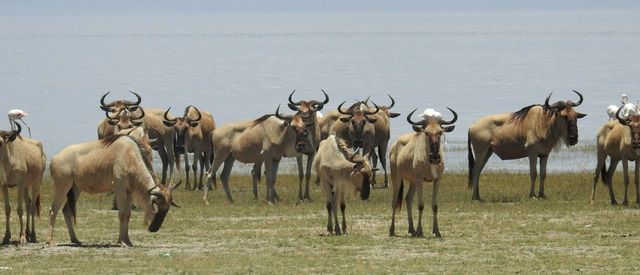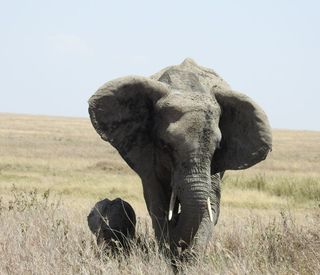 Experience
When you take a tour with Matriarch Hill Safari, you're not only embarking on the adventure of a lifetime, you're supporting the mission of a team of trailblazers dedicated to improving the lives of women in Tanzania and changing the face of wildlife tourism. 
Witness one of the most captivating wildlife spectacles on Earth: Africa's Great Migration where wildebeests and zebras cross the plains of the Serengeti
Explore three national parks, see lions, zebras, cheetahs, wildebeests and more in their natural habitat and lounge on the pristine shores of Zanzibar
Discover the magic of the magnificent baobab trees towering over the endless savanna
Embrace the wide-open wilderness of the Serengeti via custom 4X4 safari trucks
Experience Tanzania at its most authentic and most comfortable in the highest quality tented lodges
Small group tours allow for individualized attention and genuine cultural enrichment in local villages
Itinerary
Upon arriving at Kilimanjaro International Airport, you will be met by your guide and transferred to the Pink flamingo Boutique hotel. If you arrive early, optional activities can be arranged.
Today is your Materuni Waterfall & Mama Day! You'll depart your hotel around 9:00 am and head to Materuni Village where you'll meet and learn about the lives of the Chagga people. You'll also enjoy a coffee tour where you'll see how the locals grow and brew their own. After your tour, you'll head to Materuni Waterfalls, standing 150 meters high and nestled in the lush green forests on the foothills of Mt. Kilimanjaro. Lunch will be locally prepared and you'll spend the rest of the afternoon basking in the natural beauty of your surroundings. Afterward, you will be transferred back to your hotel in Moshi.
After breakfast, we depart for Tarangire National Park, known for its giant baobab trees, rolling savannah and acacia parkland. Arrive in time for a picnic lunch before embarking on an afternoon game drive where you will enjoy the dense concentrations of wildlife - wildebeest, zebra, eland, hartebeest, buffalo, Oryx, and over 350 species of birds. Overnight stay and dinner at the Tarangire safari lodge.
In the morning, drive to Lake Manyara National Park, which is located within the Great Rift Valley. Lake Manyara boasts a spectacular setting, famous for its tree-climbing lions and Sodaash Lake. The park also provides the perfect introduction to Tanzania's birdlife. The shores of the lake, encrusted with pink flamingo, attract more than 400 species of birds, many of them waterfowl or migrants. Overnight stay at Marera Valley.
Today you drive to one of the most famous game parks in Africa, the Serengeti! Known to host one of the most amazing wildlife spectacles on earth – the great migration of wildebeest and zebra – the Serengeti's vast plains are also home to a haven of other wildlife, including lions, cheetahs, leopards and many other predators. Overnight stay in Serengeti National Park at Hippo Trail.
In the morning, catch a glimpse of lions and other predators on the hunt during your first game drive. After brunch, your final game drive will lead you to the rim of the Ngorongoro Crater, one of Africa's seven natural wonders! Before dinner is served, enjoy spectacular views of the crater below. Overnight stay at Ngorongoro wildlife lodge.
Today you'll rise early in the morning to descend the 600m high walls to the floor of the crater and get up close with one of Africa's seven natural wonders! Listed as a UNESCO World Heritage Site, it is considered one of the most beautiful and unique places in Africa. Here you will find a haven of African wildlife and you might also be lucky enough to witness the endangered rhino. Overnight stay at Arusha Four points by Sheraton.
At the agreed time, you will be picked up and dropped off at the Kilimanjaro airport for your flight.
Offers
9-Night Safari with Waterfall Excursion
from
$679
Per Night

Based on rate for one guest
Rates displayed are per night for one guest in shared accommodations. All Safaris are hosted for private groups only and must be booked together. Solo Safari trips are available as well.
Package Includes:
All accommodations for 9 nights during safari and before safari in Moshi and Arusha
Transportation and game drive in modified 4WD Land Cruiser
Meals as per itinerary (lunchboxes) and mineral water
All services of a professional safari guide
Cultural tour of Chagga people & waterfall
All activities fees as indicated in the program
All wildlife reserve entry fees
All government fees includes VAT
Crater service fee
Airport pickup & drop-off
9-Night African Safari
from
$695
Per Night

Based on rate for one guest
Rates displayed are per night for one guest in shared accommodations. All Safaris are hosted for private groups only and must be booked together. Solo Safari trips are available as well.
Package Includes:
All accommodations for 9 nights during the Safari and before safari in Moshi
Full board during safari
Transportation and game drive in modified 4WD Land Cruiser
Services of a professional safari guide
All wildlife reserve entry fees
All activities fees as indicated in the program
Meals as per itinerary (lunchboxes) and mineral water
Airport pickup and drop-off
All government fees including VAT
Crater service fee
Local flight from Serengeti to Zanibar
FAQ
All items of a personal nature
Tips for safari guide
Travel insurance
Drinks and beverages in lodges and camps
All international flight and local flight
Extra binoculars
Camera
Sunglasses
Hat
Sunscreen
Mosquito repellent
Warm clothes for your early morning in Ngorongoro Crater
Cool comfortable clothes for day adventures
All visitors are required to have a visa except citizens of some Commonwealth countries and a few other nations. The cost of the entry visa varies depending on nationality. Visas can be obtained upon arrival at a cost of around $50 to $100 USD, or issued by your nearest Tanzanian High Commission before departure.
Shots are not required, but highly recommended. The cost is about $200 for yellow fever shots and $10 per pill for anti-malarial medication. These preventative measures are suggested to ensure that your travels are happy and healthy.
Tanzania is a politically stable region. The people are extremely friendly and will be very curious to find out all about you. Wild animals can be dangerous and you should not wander off on your own at any point, especially at night. However, most animals are rather frightened by humans and will flee instead of attacking unless cornered or provoked. Keep a sensible distance and treat them with respect. In addition, the animals are warded off by patrol guards, blinking lights and other deterrents that keep you safe.
Yes, you are in the wildness. However, Matriarch Hill Safari's accommodations are water-tight and are regularly checked for insects. Any issues that may arise will be swiftly taken care of by their guards and camp assistants.
Matriarch Hill Safari obtains water from national park certified locations and processes. They boil all drinking and cooking water for safe measure and provide bottled water free of charge to all guests.
The weather on safari is typically in the 80s and sunny during the day and in the 50s at night. It's a good idea to pack clothes for hot days and cool nights. Rest assured your sleeping quarters will be comfortable.
Your guide and tracker are central to the success of your safari. You'll have plenty of time to connect with them and by the end of your trip, they might just be your new best friends. With guides, it's customary to leave a tip upon your departure. What you choose to leave is totally up to you, but a general rule of thumb on safari is to tip your guide $10 and your tracker $5 per person per day. There is a lot that happens behind the scenes of your safari and it's important to consider and acknowledge all the wonderful people who look after the lodge. From housekeepers to waitstaff and chefs—they all deserve to be thanked appropriately! Most safari lodges and camps have a communal tip 'jar' and around $10 to $20 per day is considered a reasonable tip.
Terms
Deposit
A Deposit of 20% is required to officially book and confirm the rooms and acquire all proper safari permits. This deposit is non-refundable and non-transferable. Upon making an official reservation, you will be invoiced.
Cancelations
Notification of cancelation must be made in writing to Matriarch Hill Safari. At the time they receive the cancelation, all money will be refunded less the following cancelation charges, deducted from the total price:
91 days or more before departure: Cancelation fees equal the amount of your deposit
90 to 61 days before departure: 50% of the package price is non-refundable
60 to 46 days before departure: 65% of the package price is non-refundable
45 days or less before departure: 100% of the package price is non-refundable