Sold Out
Wonders of Egypt: An Unforgettable Journey

Egypt

8 nights
---
or talk to Vacayou travel concierge
The great pyramids of Giza, Aswan's Temple of Philae, the Valley of the Kings and Queen Hatshepsut's Deir el-Bahri are just a sampling of the extraordinary World Heritage monuments to Egypt's ancient royalty that you'll explore on this journey. From Cairo to Aswan and throughout your luxurious four-night Nile cruise, you'll be joined by a private expert Egyptologist, enlightening you about the mysteries of this ancient cradle of civilization. If you want to step into a part of the world where humanity was shaped, where the sense of awe washes over you day after day, then this unforgettable journey is made for you.  
The Basics
Start & Finish: Cairo, Egypt
Length of Tour: 8 nights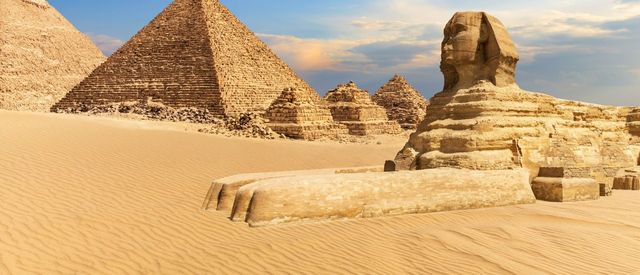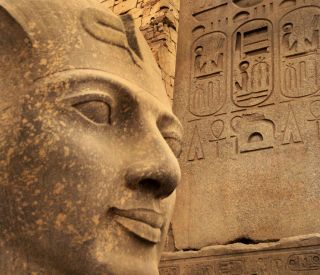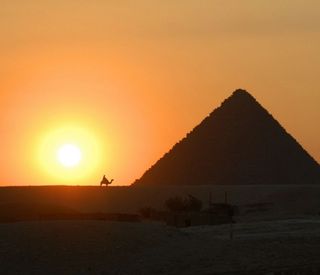 Experience
As one of the oldest countries in the world, when you go to Egypt, you'll want to experience its true treasures and its authentic nature. Ancient history and impressive architecture with so much soul and character await on this journey. With some of the most knowledgeable guides, you can truly savor the experience. 
Visit ancient and sacred places and temples where kings, queens, Gods and Goddesses used to live
Experience the Great Pyramids and Sphinx of Giza, one of the Seven Wonders of the Ancient World with your local Egyptologist
Explore the ancient capital of Memphis, home to the limestone colossus of Ramesses II is the dual temple of Kom Ombo, dedicated to both the falcon god Horus and the crocodile God Sobek
Experience the High Dam in Aswan and sail on a felucca to botanical gardens
Delight in gourmet dining and cruise in luxury on your four-night Nile Cruise
Itinerary
Today, you'll arrive in Cairo. Upon your arrival in Egypt's historic capital, you'll be welcomed and transferred to your ideally-situated Marriott Cairo Hotel and Omar Khayyam Casino. 
Today after breakfast, you'll meet your Egyptologist and depart for a day of exploration of the ancient capital of Memphis. Marvel at the giant Colossus of Ramses II and King Zoser's Step Pyramid. Explore the Great Pyramids of Giza, the only one of the Seven Wonders of the Ancient World still standing, and be awed by the enormity of the Great Sphinx. Step into the fragrant aromas of middle-eastern cuisine with dinner at a popular local restaurant. Then, a magical sound and light show awaits you at the Great Pyramids. Overnight at the Marriott Cairo Hotel and Omar Khayyam Casino. 
Today, you'll fly to Luxor and board the elegant River Tosca cruise. After lunch, you get to explore the fascinating Karnak Temple and its great Hypostyle Hall. Savor a leisurely afternoon as your ship travels north to Dendera. Overnight at the Nile River Tosca.
Accompanied by your private Egyptologist, you'll disembark daily to explore the Nile's numerous UNESCO World Heritage Sites. This morning is dedicated to exploring the wonderfully preserved complex of the Temple of Hathor, the ancient Goddess of maternal and family love. Return to your ship for lunch, then, cruise back to Luxor where you'll disembark to view its magnificent temple. 
Today's meaningful moment: Exploring the wonders of the Luxor Temple far from the crowds with a private tour.
Overnight at the River Costa. 
Venture into the Valley of the Kings, which contains 63 tombs, including that of King Tutankhamun. (King Tut's tomb comes at an additional cost.) Visit the mortuary temple of Queen Hatshepsut, Egypt's first female ruler. You can't miss the colossal remains of the two statues of Pharaoh Amenhotep III. Tonight, you'll put on your traditional Egyptian dress for a festive Galabeya party. Overnight at the River Tosca.
Continue your quest into the mysteries of the Egyptian pantheon as you disembark to visit the dual temple of Kom Ombo, dedicated to both the falcon God Horus and the crocodile God Sobek. Cruise to Aswan to visit the High Dam, an engineering marvel that created the second-largest artificial lake in the world. In the adjacent granite quarries, you'll view the ancient Unfinished Obelisk. Explore the Philae Temple, which was dismantled and rebuilt on higher ground. Cap the afternoon with a sail on a traditional felucca and admire beautiful, botanical gardens. Overnight at the River Tosca. 
Today, your time on the cruise comes to an end. Upon disembarking, you may opt for an excursion to Abu Simbel to view the monumental Temples of Ramses II and Queen Nefertari, carefully relocated and rebuilt when Aswan's High Dam was built. You will fly back to Cairo and settle into your hotel Marriott Cairo Hotel and Omar Khayyam Casino to spend the night. 
Back in Cairo, today you'll meet your Egyptologist for further exploration of the historical Cairo. You'll visit the Citadel complex which Salah El Din began building as a fortification against the Crusaders in 1176, and the 13th-century Sultan Hassan Mosque. Afterward, peruse the ancient exhibits of the Egyptian Museum, including the famous collection of King Tutankhamun. Continue to the National Museum of Egypt Civilization to the famous mummy collection. Tonight, you'll enjoy a farewell dinner at your hotel. Overnight at the Marriott Cairo Hotel and Omar Khayyam Casino. 
Your transfer will take you to the airport today, in time for your departing flight. Say goodbye to stunning Egypt and make sure to savor those memories as you return home or move to your next destination. 
FAQ
Not included in the package:
International air
Items of a personal nature
Laundry
Items not included in the daily itinerary
We are passionate and knowledgeable experts who have lived and traveled extensively throughout Africa. We have a total of 300+ years combined experience. With the largest tourism infrastructure in southern Africa, we have earned an enviable position of influence and negotiating power. We use this influence to personalize a life-changing journey that offers great value while doing good for wildlife and local communities.
Generally, the safari programs are not physically demanding. Walking safaris can require more levels of fitness, but usually they are not strenuous. Participation in these activities is at your discretion.
We cater to all families. It is best to talk to our safari specialist to advise the best destination based on age, family travel style and any other requirements.
City hotels and many lodges and camps have Wi-Fi, however, some areas in the bush are more remote and have less access to the internet. Depending on your needs to connect or disconnect, we can tailor the right experience for you.
If you choose to purchase African Travel's own Travel Protection plan, you will have the flexibility to cancel your trip for ANY reason, up to 24 hours before departure. Depending on the plan you select, you will be eligible for either a Future Travel Certificate or a mix of 60% cash back insurance benefit with a 10% Future Travel Certificate. Both plans include additional coverage for COVID-19.
Terms
Deposit
A non-refundable deposit of $458 is due at the time of booking to confirm the program. The final payment is due 100 days prior to departure. Once final payment is received, the program is non-refundable.
Cancellation Policy
20% of total tour cost is forfeited for cancellation made 66 days or more before departure.**
100% of total tour cost is forfeited for cancellations made 65 or fewer days before departure.
**Cancellation charges for Safari Vacation Packages may vary by program.
**Plus applicable third-party charges.
In some instances, lost and/or unused airline tickets are not refundable or replaceable. African Travel reserves the sole right to not accept a reservation or to cancel a reservation and impose cancellation charges if any payment is not received within the above specified periods. African Travel will not be responsible for lost land and air reservations.
Package Price and Availability
Package prices are valid throughout 2022 on new bookings only and subject to availability at the time of booking.
Changing a Reservation
If you want to change your reservation, you can choose new dates and/or a new destination prior to final payment without penalties.
Accommodation
When services and accommodations described cannot be supplied or the itinerary is changed due to delays or other causes of any kind or nature beyond African Travel's control, African Travel may seek to supply comparable services, accommodations and itineraries. There shall be no refund in these circumstances. African Travel reserves the right to make changes to the itinerary and/or cancel any tour and shall have no liability whatsoever from or relating to such adjustments or cancellations. African Travel shall not be responsible for loss or damage to luggage, before, during or after the tour.
Baggage Restrictions
On Fixed Wing Safaris, you are permitted one soft-sided bag, weighing no more than the limit stated in your tour documents. The weight limit will be set at 44 lbs (20 kg) or less and may be as low as 25 lbs (11,45 kg), depending on aircraft type and destination. Guests are responsible to arrange and pay to store excess baggage. Luggage and personal effects are at the owner's risk throughout travel. African Travel is not responsible if the luggage is not permitted to be carried.
Travel Protection 
Proof of Travel Protection Plan is mandatory and required at the time of final payment. Travel documents will not be released without this information. African Travel requires all travelers purchase travel insurance to obtain coverage that includes reimbursement for cancellation, interruption, trip and baggage delays and more.
Safety 
The client must ensure you and those under your care are medically and physically able to travel. African Travel may impose safety requirements. We may exclude from participating in travel or from any activity, an individual whose participation poses a direct threat to health or safety that cannot be eliminated by a reasonable modification of our policies, practices or procedures or by the provision of auxiliary aids and services. A decision to exclude an individual will be our assessment. The probability that potential injury will occur and whether reasonable modifications of policies, practices or procedures will lower the risk. African Travel does not provide personal devices (such as wheelchairs, hearing aids or prescription eyeglasses) or services of a personal nature (such as eating, dressing or toileting). A client who requires services of a personal nature (eating, dressing or toileting, as examples) should bring a companion to provide the assistance and understand that other clients and staff will not be available for such purpose.
We do not employ or provide medical personnel. Any needed medical attention must be sought at a local facility, if available, at client's expense. African Travel is not responsible or liable for loss or cost incurred due to unavailability of medical services, inability to obtain or delay in obtaining medical services if available, medical services obtained, or level of care or services received. You must bring an adequate supply of your medication, if any, for the duration of The Tour. Medical services abroad are not the same as you may be accustomed to. African Travel is not responsible for the lack of, or the provision of medical services.
Some guided tours can include rough terrain, walking over unpaved or uneven pavement, steps, locations that may not be easily accessible or accessible by wheelchair, bumps, and other challenging conditions.
For various parts of the travel, arrangements are made with carriers, hotels and other independent suppliers. They are independent entities that African Travel does not control. We cannot ensure its ability access or accommodations outside the United States. Smoking is generally not permitted on our tours except for approved smoking areas. Smoking is never allowed on coaches, vans, or safari vehicles. African Travel has the right, in its sole discretion, to terminate your tour if your behavior or actions are so disruptive or negatively impacting the tour. If this happens, you are responsible for your travel costs home and no refund shall be given.
Additional Risks 
Additional risks and dangers may arise including, but not limited to, hazards of traveling in undeveloped areas, hazards of travel by boat, train, automobile, aircraft and other means of conveyance, forces of nature, political unrest, other unrest, terrorism, hazardous local customs and practices, differing levels of sanitation, differing standards of safety, risks associated with water, food, plants, insects and animal, accident or illness in areas lacking means of rapid evacuation or medical facilities, terrorist acts, force majeure and acts of national and local governments and unrest and acts of others against governments. These risks are not an exhaustive list but are examples of many kinds of risks. You are voluntarily participating in these activities with the knowledge that there are significant dangers involved, and you hereby agree to accept any and all risks. As lawful consideration for the agreement with African Travel to participate in such tours and activities you agree you will not make a claim against African Travel or its personnel or sue for bodily injury, emotional trauma, death, property loss or damage or other loss, cost or expense, however, caused, as a result of or related to your contracting for, traveling to or from, or in any and every other way participating in the tour. You release African Travel and its personnel from any and all claims, known or unknown, arising from contracting for, traveling to or from, and in any and every way participating in a tour. This release of liability and assumption of risk agreement is entered into on behalf of you and all members of your family and party, also including minors accompanying you. This agreement also binds your heirs, legal representatives and assigns.
Force Majeure
Force Majeure Event means any event or circumstance beyond the control of African Travel, including but not limited to: (a) an act of god (such as earthquake, flood, fire, explosion, landslide, lightning, the action of the elements, the force of nature, washout, typhoon, hurricane, cyclone, tsunami, storm or storm warning or natural disaster); (b) industrial disputes, work ban or other labor dispute or difficulty; (c) acts of terrorism, political unrest, war or threat of war, riots or civil strife; (d) failure or delays to scheduled transportation and the closure of airports or ports; (e) pandemic, epidemic or health risk; (f) governmental and administrative actions (including the closure of borders and travel warnings and restrictions).