Sold Out
Wine & Culture Getaway for Two in Slovenia and Croatia

Slovenia & Croatia

8 nights
---
or talk to Vacayou travel concierge
From Slovenia to Croatia, spend 9-days filled with wine, food, nature, sightseeing and unique activities. Hunt truffles, learn new art techniques, visit the best wineries, stop for a picnic in the vineyards and simply enjoy being in the moment. If you love the outdoors, want to have a vacation that is active yet relaxing, and love culture and history, this getaway hosted by Roundabout Travel does not disappoint. So pack your appetite—and embark on this unforgettable wine- and culture-infused journey.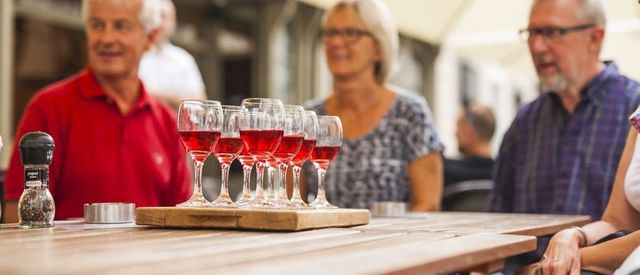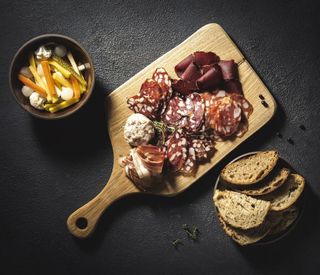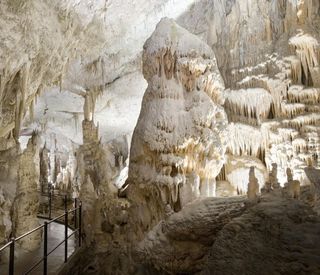 Experience
Explore the best of two beautiful European countries — Slovenia and Croatia. This 9-day wine- and culture-infused getaway takes you along gorgeous coastlines and breathtaking scenery into historic old towns and top-rated vineyards.
Discover the Goriška Brda wine region, also known as "Tuscany of Slovenia"
Tour Vipava Valley—Slovenia's beautiful hidden treasure
Uncover the secrets of Bled and admire the iconic fairytale castle
Stroll the vibrant capital Ljubljana and enjoy a bee experience
Combine wine with nature, art and food
Discover caves and waterfalls 
Visit palaces and go on sightseeing tours
Indulge in spa treatments and melt your stress away
Itinerary
Today, early afternoon, your private transfer will pick you up at the airport in Venice and take you to Goriška Brda in Slovenia. Around 2:30 pm, wine tasting in a premium boutique winery awaits you to begin your day. 
Goriška Brda — where the soft Northern Mediterranean blends with the Southern Alps, a place where the soil is rich with salts and minerals. The Goriška Brda region is noted for white wines: Mediterranean exotic, mineral, full-bodied and fresh at the same time and is one of the world's best wine-growing terroirs. It is home not only to wine, but the area also produces delicious cherries, persimmons, figs and probably the spiciest olive oil you have ever tasted. Goriška Brda is predominantly the region of the delicious Rebula white wine (ribolla gialla), and rich Bordeaux-like blends. You'll have time to enjoy free time for lunch or for independent explorations of the area.
In the evening, around 7 pm, you'll check into the charming boutique hotel and also a bed & breakfast Gredič.
Gredič is a boutique hotel combining rich history and modern influences empowered by its young team. This hidden treasure of Goriška Brda is characterized by the highest levels of service and its spectacular location, where you will find relaxation and privacy in a unique setting.
*Airport transfer time is flexible and adjustable to your flight schedule.
After checking out from the hotel, you'll begin your trip to Vipava Valley. The Vipava Valley is a friendly wine country where winemakers are always happy to see you, presenting a taste of their excellent wine to you in person. It is also known for its crisp and aromatic fresh white wines and for progressive and bold winemakers. 
To create a special experience you'll have a picnic lunch in the vineyard, surrounded by the scenic splendor and breathtaking views of hills covered in vineyards and olive groves. Among the rows, you'll be able to immerse yourself in the flavor and smell of the hills and add an incredible sensory and culinary experience with lunch in the vineyard accompanied by wine.
Afternoon & evening schedule:
2 pm Check-in to Zlata ladjica Boutique Hotel
If you're from Ljubljana, you know Zlata ladjica. It's that notable old house by the river in the most beautiful part of the old town. Over the course of more than four centuries, it has been a lively venue for the city's goings-on. Under its roof, it has hosted and accommodated goldsmiths, shoemakers, merchants, a famous inn and more. Recently renovated, Zlata ladjica has been transformed into a charming boutique hotel. Ideally located, it spoils guests with all of the modern comforts they could desire. One of only a few free-standing buildings in the old town of Ljubljana, it offers stunning views that tell stories of the city and its people in its own, unique way. A journey through Ljubljana begins at Zlata ladjica.
5 pm Optional relaxation at the hotel 
Disconnect from the world through a holistic experience in the Zlata ladjica wellness area. The hotel's wellness and spa offer guests an oasis of peace and relaxation with a spa team that will tend to your needs and help you melt away any tension in the body. 
*Treatments need to be chosen in advance and are adjustable to your wishes.
Overnight at Zlata ladjica Boutique Hotel
This morning, a private car will take you to the fantastic area of Bled where you'll discover Slovenia's most spectacular sites. The famous city is known for its iconic lake and a magnificent Alpine resort, as well as being the only true island in Slovenia, located below the Julian Alps. For centuries it has been the symbol of natural beauty and home to fairy tales.
Ascend the old 12th-century castle perched on top of a steep cliff with spectacular views of the lake and the surrounding peaks. Enjoy unique natural sceneries, and learn about local crafts & traditions of one of Europe's most picturesque alpine regions. The castle is also home to cultural events, important protocol meetings, and a museum of manual printing and a wine cellar.
Continue your day with a boat ride with 'Pletna' – a traditional boat made by locals and among the must-do things when visiting Bled. Standing paddlers will take you to the island with 99 stone steps on the way to the Assumption of Mary church and the fortune bell.
After a local lunch with traditional local delights and tasting famous Bled's cream cake, you'll make a stop in Skofja Loka—one of the oldest Slovenian towns— and have a walk around this medieval town rich in history and culture. Transfer back to Ljubljana late in the afternoon.
Afternoon & evening schedule:
1 pm 5-star Bee Experience 
Experience something unique this afternoon. First, you will be dressed in a beekeeping suit and together with the beekeeper, you will take a closer look at the bee family  (queen, drone, and worker bees). Then follows the verification of how much water is in honey. You will use the beekeeping device — a refractometer. You will try to overcome the fear of bees so you will soak your finger in honeycomb with honey, where there are approximately 2,000 bees on the frame.
After all that hard work, you will need a little rest. In the relaxation bee house, you will be given an API relaxation, where we have two beds placed next to the hives. Through the window, you can observe how the bees work. On the hives at both beds, there are two openings that we open and you can breathe air from the hive. After a half-hour relaxation, it is time to taste the bee products (honey, pollen, honey liqueur, homemade gingerbread, propolis, traditional cake Potica, etc…).
There's also a nice surprise at the end!
5 pm Ljubljana On A Plate
This Ljubljana Traditional food walk will take you through the old Ljubljana town. You'll learn about the city, stories of the people, architecture, history of the Slovene nation and, of course, local and national gastronomy. During this food tour, nine traditional dishes from a variety of different cuisines from all parts and circles of the society of Slovenia and four sorts of wine will be tasted. You'll also familiarize yourself with the historical Ljubljana center and the history of Slovenes. At the end of the tour, your stomach will be full, your thirst quenched and you will know more about the history of Slovenia than some of the citizens! 
Overnight at the Zlata ladjica Boutique Hotel
Today it's time to discover the Postojna Cave and the Predjama Castle. Discover the magnificent 15-mile (24 km) halls and chambers of the mystic underground of the Postojna Cave — the most prominent karst cave in the world which was first described in the 17th century. Learn about the most famous cave-dwelling creature - the "human fish" or olm and explore beautiful underground passages and galleries with spectacular drop stones, pillars, limestone curtains and other natural stone forms.
Afternoon & evening schedule:
1 pm Olive oil tasting and vintage gourmet tour with old-timer cars
This Vintage Gourmet Tour is an educational journey through the tracks of old autochthonous varieties of olives, which grow on the most beautiful viewing points of the Slovenian coast and the Istrian countryside. The tour starts at an agreed location where you will be picked up with an old-timer car! 
At the sightseeing point in the middle of the path, you'll make a stop and enjoy a glass of house sparkling wine while chatting away with your companions. You'll then continue your journey to the Lisjak olive oil estate, where you'll learn the art of true olive oil tasting. You'll be served typical and traditional Istrian cold-cuts, soup-Bobiči and Istrian fusi (pasta) with truffles. 
6 pm Check-in to Hotel Piran
Featuring 4-star accommodations, Hotel Piran is located in Piran, 328 feet (100 m) from Tartini Square and 656 feet (200 m) from St. George's Parish Church. Boasting a 24-hour front desk, this property also has a restaurant and a terrace and some rooms have a patio with a sea view. At the hotel, each room includes a wardrobe, a flat-screen TV and a private bathroom. Free Wi-Fi is available to all guests, while some rooms will provide you with a balcony.
*A continental or Italian breakfast is available every morning at the property.
A small town in the hinterlands of Croatia with only around 6,000 inhabitants, Buzet is the ex-seat of Venetian military rule in Istria with a parochial church built on the rock, a gourmet paradise and the capital of truffles. Discover unspoiled nature close to the Mirna River Valley, go off the beaten path, and experience local charm and hospitality.
Stop by to taste some homemade delicacies and participate in a unique truffle hunt adventure. The specific truffle scent comes from damp soil, mostly in oak woods, and is impossible to discern by human senses, but a trained dog's sense of smell will feel it and find the truffle.
By rapidly moving its paws, the dog points to the area where it has found a truffle, showing its owner the spot where this underground treasure can be unearthed. Any time of day or night is suitable for truffle hunting. One can never know when truffles will release their magical scent, which makes truffle hunting always unique and adventurous
Afternoon & evening schedule
2 pm Check into the San Canzian Village & Hotel
Welcome to the premium experience of the Istrian countryside! San Canzian Village & Hotel has an authentic Istrian heritage and rural architecture, where the traditional meets the modern, giving you the unique experience of the Istrian countryside. Enjoy the ultimate Istrian luxury at San Canzian, a place that feels like a dream home!
4 pm Optional: Evening Relaxation at San Canzian
In a quiet corner of San Canzian Hotel, there is a Finnish sauna, ideal for feeling regenerated. Next to the sauna is a wellness zone with a large Jacuzzi and relaxation area, as well as a massage and treatment room. On the way to the rest area, a hot and cold foot bath will boost your circulation and refresh you after the sauna. You can request the range of treatments they offer at the reception or through their spa menu.
* Treatments need to be chosen in advance and are adjustable to your wishes.
Today you'll visit the city Rovinj, or the "Croatian Venice". Rovinj is the most popular coastal tourist resort of the Istrian peninsula, an active fishing port and a must-see town in Croatia. Originally, the peninsula on which the city lies was an island that was separated from the mainland by a channel. Also often referred to as "Small Dubrovnik," it is the 2nd most photographed city in Croatia and the perfect setting to enjoy local specialties in one of the charming local restaurants placed in the old town. Feel the enchantment with its narrow medieval streets and small squares, still untouched by modern urbanism. The town of Rovinj is the right destination if you are seeking a long-forgotten atmosphere of times gone by.
Afternoon & evening schedule
12 pm Istrian cooking class

Participate in a unique cooking class where you will be cooking under a traditional clay/iron baking bell (the topic of the cooking class might change, but it will be something traditional and local). Cripnja and peka are some of the most brilliant inventions for preparing food, dating back to ancient times. They are both bell-shaped but cripnja is made of clay, thus very similar to Moroccan tagine, while peka is made of cast iron. Both are perfect tools for open-fire cooking. Cover them with hot coals and you get a superb and very versatile oven capable of baking bread, lamb, kid, veal, octopus, squids, chicken, vegetables, big fish.
In this class, depending on the ingredients, you will choose either peka or cripnja and learn how to prepare meat or seafood. This class is often combined with simple pasta-making while waiting for the cripnja/peka to be done (usually at least 2h). 
Overnight at the San Canzian Village & Hotel
After breakfast, you'll say goodbye to Opatija and visit a unique natural wonderland — Plitvice Lakes National Park, where you will enjoy the breathtaking scenery of the 16-terraced lakes and spectacular waterfalls. The unity and harmony of the 16 lakes here and their rare natural and cultural value is not only famous throughout Croatia but also worldwide; earning this remarkable national park a coveted place on UNESCO's list of World Heritage sites.
First, you'll stop in Rastoke for a nice walk and lunch, visiting the watermill village situated where the blue-green water of river Slunjcica flows into the Korana river.  Arriving at Plitvice, you'll walk through these ancient woodlands with a path taking you across Gornja Jezera (Upper Lakes) — a system of 12 lakes separated by travertine barriers. Wherever you are in Plitvice, it is easy to see why its travertine marble formations are such an extraordinary natural phenomenon.
Optional activities and/or entrance fees:
Plitvice National park: 11 - 40 euro/person (depending on the season)
Rastoke: approx. 4 euro/person
7 pm Check into the Ethno Houses Plitvice lakes hotel
Located in the heart of Plitvička Jezera National Park, close to the highest waterfall, Ethno Houses Plitvice Lakes Hotel features air-conditioned rooms in an authentic wooden ambiance. Traditionally decorated rooms, inspired by the modern luxury and beauty of Plitvice Lakes provide an unforgettable experience to all guests. Each room and apartment is made in harmony with untouched nature where the irreplaceable beauty of wood and the texture of traditional stone create harmony at first sight. Unobtrusive luxury and interior design, executed with modern solutions, blend seamlessly into the ambiance of the Ethno Houses hotel.
Today, you'll begin by discovering the Diocletian Palace and hidden corners of the Split old town, combined with wine and olive oil tasting.
Embark on a journey through ancient history, starting with the story of Roman emperor Diocletian who was born in a nearby important Illyrian center and the capital of the Roman province of Dalmatia Salona. With a professional local tour guide, you'll continue sightseeing the 1700-year-old Diocletian palace, imagining what the life of Diocletian was like, within the walls of the palace.
During the tour, you'll walk through the central hall of the ancient cellars which is today full of life and an ideal place to buy valuable souvenirs. You'll also make a stop at the Cathedral of St Duje — one of the most beautiful cultural wonders on the Adriatic coast. You'll then continue to the impressive Peristyle square in the center of the palace, Roman temples (today Christian ones), the famous Golden Gate and the big statue of Grgur Ninski.
On this walking tour, you'll get close to Split and the city's history in a different way, with wine and olive oil tasting making it all more delicious. Your tasting will include three top Dalmatian wines that found their perfect pair in three extra virgin olive oils - pairing oil and wine with salt flower, homemade aged sourdough, homemade bread from our oven, cow and mixed cheese, anchovies on cottage cheese with honey, jam from dried figs and tapenade.
Optional activities and/or entrance fees:
Diocletian's Palace: from 5.50 euro/person (depending on season)
6 pm Art and wine (shared)
Prepare for a painting party that requires no prior painting experience. Enjoy a nice, stress-free night where your inner child is capable of being set free! You'll be provided with all supplies and materials for you and enjoy fine local wine while you paint. The guidance of the artists will lead you to a creative step-by-step masterpiece of your own! For those who prefer non-alcoholic drinks, there are soft drinks available.
Overnight at the Briig Boutique Hotel
The Briig Boutique Hotel with its authentic vibe of the unique Dalmatian heritage and culture, where traditional meets modern, giving you the opportunity to experience Split and Croatia in a completely different way.
Today, a private transfer will take you back to the airport. Safe travels and hope to see you again on another adventure!
FAQ
Not included in the package:
Drinks based on consumption and additional meals
Additional tours and entrance fees
Personal expenses & gratuities
Terms
This tour is hosted by Roundabout Travel.
Deposit Policy
A deposit of 30% is required to confirm your reservation and the remaining amount is to be paid 30 days prior to your arrival.
Cancellation Policy
The client is entitled to cancel or change the agreed travel arrangement directly with the operator where the booking was made. Please note there is an administration fee of 25€ (EUR) for any amendment of the confirmed travel arrangement.
Cancellation policy for Roundabout Travel private multi-day package tours:
59-45 days before departure, cancelation fee is 15% of the total price
44-30 days before departure, cancelation fee is 30% of the total price
30-15 days before departure, cancelation fee is 50% of the total price
14-8 days before departure, cancelation fee is 75% of the total price
7-0 days before departure, cancelation fee is 100% of the total price
For no-shows, the cancellation fee is 100% of total price.