Sold Out
Wild Atlantic Way Tour: Hikes Through Southwest Ireland

Ireland

4 nights
---
or talk to Vacayou travel concierge
Designed for those who love hiking and have an appreciation for the outdoors, this tour rewards you with awe-inspiring scenery and a deep sense of inner well-being. Immerse yourself in the Wild Atlantic Way's mountains and forest trails with this tour from Beyond the Glass. Revel in wild beauty with an unforgettable experience that includes five guided hikes in off-the-beaten-track locations and vast land and sea views from the top of Ireland's highest mountain, Carrauntoohil, which stands at 3,412 ft (1,040 m). 
The Basics
Start: Cork 
Finish: Cork
Minimum Age: 16 years
Group Size: Maximum 12 persons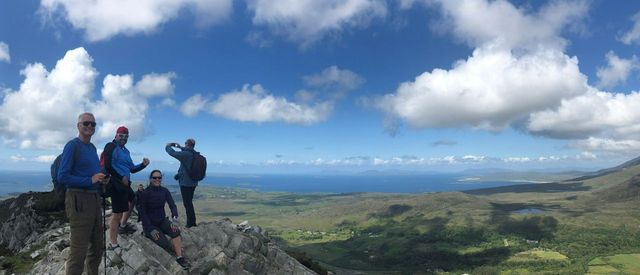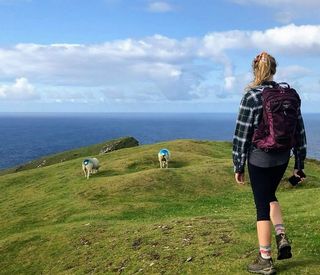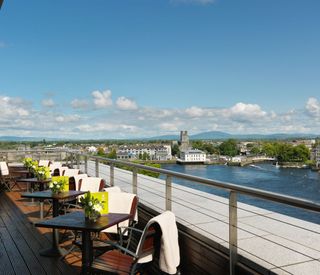 Experience
Designed for those who enjoy hiking and wish to be active while on vacation, this Beyond the Glass hiking tour is the ultimate hiking experience. Hike to the top of Ireland's highest mountain, see some of the most picturesque scenery and wake up to the sweet surroundings of the Emerald Isle. 
Breathe in the fresh air in stunning locations on this hiking adventure
Relax as the tour travels along breathtakingly beautiful drives with expert onboard commentary
Rest assured you're in good hands hands with local knowledgeable guides who are passionate about Ireland
Escape the crowds with hikes in off-the-beaten-track locations
Visit multiple historical and cultural sights and look beyond the stunning horizon 
FAQ
All Beyond the Glass Tours depart from Cork City. Your travel requirements throughout the tour are included. On day 1 of the tour, you will join the tour group, at a central Cork City location, at 8 am. The planned tour departure time is 8:30 am. The tour ends at the same Central Cork City location.
When you have booked the tour we will email you the exact detail of the meeting point and tour itinerary.
Getting to and from the start/endpoint is the individual responsibility of everyone on the tour
Cork is connected by plane, train and bus.
You can fly to Cork from London, Europe and the U.S.
There is regular train service to Cork from many of the major Irish cities
There is regular bus service between Cork and Ireland's major airports and cities
Each tour is limited to a maximum of 8 participants due to Covid-19 restrictions. 
 
As well as your normal traveling attire the following essential gear will be required:
Walking boots
Comfortable trainers/runners
Comfortable and breathable outdoor clothing, including shorts, swimwear, trekking trousers, fleece and hat
Gaiters & walking poles (personal choice but recommended)
Cycling shorts
Good quality waterproof jacket and trousers (preferably breathable)
Daypack/rucksack, water bottle
Sunscreen and insect repellent
Medication—ensure that you inform your guide of any medical conditions or special dietary requirements. If you have any special dietary requirements, please let us know so we can make every effort to accommodate you.
While there are no restrictions on the size or the number of bags, we ask you please consider what you pack. Bring the essentials and enough for you to enjoy the trip but do not overpack. As a guide, we recommend you keep your baggage to one standard size suitcase and one carry-on suitcase.
If you enjoy spending time in the outdoors and you maintain a reasonable level of fitness, then a Beyond the Glass Tour is for you. The daily activities on each of our tours require a reasonable level of fitness. The typical activity is a three hours hike on uneven ground or three-hour cycling on a country road.
Yes, you do need travel insurance. Beyond the Glass strongly recommends that you purchase comprehensive travel insurance cover for cancellation, medical expenses, personal accident, personal luggage, money and public liability before you travel. We reserve the right to refuse admission to a passenger unless the client has arranged appropriate insurance. Beyond the Glass accepts no responsibility for loss or personal damage to personal belongings or liability for personal injury/death.
No, but the tours are recommended for people who are 16 years or older. 
Terms
Deposit
Deposit of approximately $645 per person; or you can pay in full at time of booking.
Cancellation Policy 
If you give over 60 days' notice of cancellation you will be refunded 85% of the tour price. For cancellation between 31 and 59 days, you will be refunded 60% of the total amount. For cancellations less than 30 days before the tour start date, the full amount will be charged with no refund. You are allowed to postpone the tour without additional charge with a 30 days' notice; this is dependent on availability. For tours postponed between 30 and 7 days, there is approximately a $60 charge.
*Special consideration will be given to cancellations due to Covid-19 or for other public health reasons. These will be dealt with on a case-by-case basis.
Personal Data Policy
We collect Personal Data such as email addresses, telephone numbers and names. Such information is only collected from you if you voluntarily submit it to us. This information is to keep you informed of the upcoming Beyond the Glass Adventure Tours. As with most websites, we gather Non-Personal Data statistical and other analytical information collected on an aggregate basis of all visitors to our website. This Non-Personal Data comprises information that cannot be used to identify or contact you, such as demographic information regarding, for example, user IP addresses where they have been clipped or anonymized, browser types and other anonymous statistical data involving the use of our website.