Sold Out
5-Night Walk Denali National Park Adventure Tour

Anchorage, Alaska, USA

5 nights
---
or talk to Vacayou travel concierge
Go where the caribou roam, where bald eagles soar and where the Great Land of extraordinary contrasts captivates you from stream to summit. This Walk Denali National Park tour powered by Intrepid creates an experience unlike any other. It's a place to reflect, feel inspired and exhilarated, and discover the Alaska you've always imagined. Silence has a sound in this natural wonderland and it's calling you to explore it on your own two feet.
Set out on a 6-day hiking tour from Alaska's biggest city, Anchorage, to the diverse terrain and rich ecosystem just teeming with life in Denali. Marvel at ice formed thousands of years ago as you hike the mighty Matanuska—Alaska's largest road-access glacier. Traverse the alpine tundra of the Talkeetna Mountains—and maybe even spot some wildlife along the way. From rivers and forests to the limitless landscape where the tallest mountain on the continent reaches high into the sky, Denali's raw backcountry beauty makes you feel like you're a million miles away in the most refreshing way.
The Basics
Start and Finish: Anchorage, Alaska
Age: Minimum 15
Minimum Group Size: Minimum 1, Maximum 12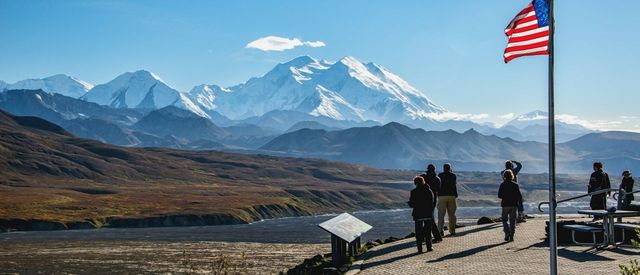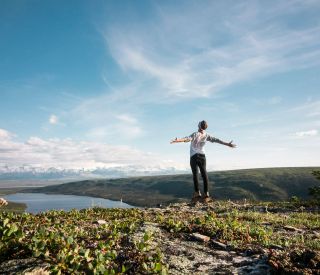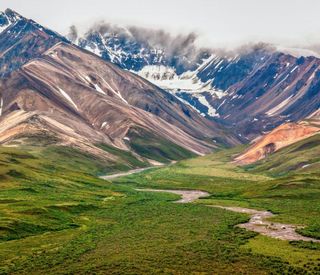 Experience
Fall in love with the untamed beauty of Alaska on a 6-day walking tour that loops you inland from coastal Anchorage to spectacular Denali National Park.
Experience the rugged beauty of Denali National Park, home to the tallest peak in North America and some of the most scenic photo ops you'll find anywhere.
Walk atop the ice of the largest car-accessible glacier in Alaska, the Matanuska, on an educational tour led by a local glacier expert—all technical gear provided.
Tackle an out-and-back scenic hike into the Alaskan wilderness along the Curry Ridge Trail and keep your eyes peeled for a diverse array of wildlife living among the tundra.
Spend a day exploring the wilds of Alaska at your own pace, with a self-guided hike along a well-marked and well-monitored trail from the Eielson Visitor Center.
Enjoy a free night in Anchorage, where you can discover cultural sites like the Alaska Native Heritage Center, dine on some of the best pizza in the USA (really!) or take a sunset stroll along the city's coastal trail.
Itinerary
Welcome to Alaska! You'll meet your leader at 10 am at the Voyager Inn Hotel in Anchorage for a welcome meeting before embarking on a scenic drive along the Glenn Highway towards the town of Palmer, a trip that's packed with gorgeous mountain vistas and plenty of time for photo ops. You'll eventually reach the famed Matanuska Glacier, Alaska's largest road-access glacier. It's a jaw-dropping 27 miles long and 4 miles wide and has some of the most accessible walking areas of any glacier in the state. Don your ice cleats and helmet (included) and begin exploring the glacier on foot with the help of an Alaskan guide and glacier expert. Marvel at ice that formed thousands of years ago, high in the Chugach Mountains as you walk for about 2 hours, covering 3 miles. Amazingly, every day is unique at Matanuska, due to the dynamic nature of the glacier. Similarly, your tour will be customized to suit your group's interests. Afterward, enjoy lunch at a local eatery with stunning views of the glacier and surrounding scenery, before heading to Palmer for the night.
Accommodation
Included Activities
Matanuska Glacier guided walking tour
Meals Included
Special Information
Please come with sturdy shoes, layered non-cotton clothing and light hat and gloves. Sunglasses are a must as well. This trip starts on Day 1 at 10 am in Anchorage and travels to the Matanuska Glacier immediately after the welcome meeting. If you are at risk of being late, please consider arriving a day earlier and staying in Anchorage before your tour begins.
Today you explore the wild beauty of Hatcher Pass for a hike among the alpine tundra of the Talkeetna Mountains. While Hatcher Pass used to be one of Alaska's best-kept secrets, it's become fairly popular in recent years. Luckily, you'll have your expert leader with you, who will know which trails to take to avoid the crowds! After your hike, sit back, relax and take in the scenery outside your window as you drive onwards to Denali National Park. Enjoy sweeping landscape views of mountains, rivers and forests – and maybe even spot some Alaskan wildlife.
Accommodation
Included Activities
Talkeetna Mountains guided hike
Meals Included
Special Information
Today's hike is approximately 5 miles (8 km), with moderate elevation gain.
It's another scenic day today in the Great Land, with a moderate-level hike and stunning views through the front country of Denali National Park. Curry Ridge is a 6.5-mile out-and-back scenic hike into the rolling tundra of the Alaskan wilderness. On a clear day, you can expect spectacular views of the surrounding mountain range and the towering Denali Mountain (formerly known as Mt McKinley), the highest peak in North America.
Accommodation
Included Activities
Curry Ridge out-and-back scenic hike
Meals Included
Special Information
Today's out-and-back hike is 6.5 miles (10.5 km), gaining 2417 ft (737 m) in elevation.
Today is truly an adventure! You'll embark on the Eielson transit bus to reach the Eielson Visitor Center. The ride is approximately 4 hours, but with plenty of stops and opportunities to stretch your legs and explore along the way. There are many hiking opportunities available from the visitor center – and they're all entirely up to you! You're free to head off on your own unguided adventure taking the trail of your choice. Ask your guide for recommendations or get inspiration from one of the rangers. After your hike, catch the bus back to your accommodation and keep your eyes peeled for wildlife along the way!
Accommodation
Included Activities
Eielson Bus ticket & Visitor Center
Self-guided walk out of Eielson Visitor Center
Meals Included
Special Information
Today you will be hiking without a guide, but all necessary information is available from the Eielson Visitor Center. The hiking trails you will be choosing from are constantly monitored by park rangers. Roundtrip to Eielson Visitor Center takes about 8 hours.
Head back to Anchorage with a stop at the iconic Denali Viewpoint (depending on conditions) for one last look at the highest point in North America. You'll also stop for a walk into the Alaskan woods to take in the picturesque Thunderbird Falls at the end of the trail. Then load back into the tour van and make your final stretch to Anchorage. Your leader will drop you off at your hotel for your last night and you may want to gather the group for a goodbye dinner. For good food and great views, 49th State Brewing Co. is an excellent option, or you could go for pizza at Alaska's most famous restaurant, the chilled-out Moose's Tooth Pub and Pizzeria. If you'd like to get in more walking time, the Tony Knowles Coastal Trail is a perfect sunset activity and is easily accessible from downtown.
Accommodation
Included Activities
Meals Included
Your tour ends after breakfast and you're free to depart at your leisure or stay and explore more of Anchorage on your own.
Meals Included
FAQ
Airfare
Airport transfers, taxes and excess baggage charges
Travel insurance (mandatory and must be taken out at the time of booking)
Optional activities and all personal expenses
This is a walking trip. Please carefully read the description of all walks. A good level of fitness is desirable to fully enjoy all included hikes. Be sure to bring appropriate gear: good walking boots, rain gear and warm clothing.
This trip starts on Day 1 at 10 am in Anchorage and travels to Seward after the welcome meeting. If you are at risk of being late, please consider arriving a day earlier and staying in Anchorage before the tour begins.
Just as a heads up before you book: this trip is new to their range this year. And while they have thoroughly researched every detail of the logistics, new destinations can sometimes present some unexpected surprises. More often than not, it'll be a great surprise. But every now and again there might be a hiccup. Intrepid likes to think that's what puts the 'adventure' in 'adventure travel'.
These are not point-to-point walking trips, therefore one can opt out from any walk if you wish to. Walks are not technical, anyone with a fair level of fitness is able to complete them.
The walking on this trip is over easy to moderate terrain and distances covered can vary from 5 to 20 km (please check day descriptions for details). Some of the walks are circular but some can be out-and-back walks. Be prepared for daily ascents and descents, sometimes with short, steep sections. Terrain can be rocky with loose gravel, or with roots, which may become slippery when wet. This tour is ideal for nature lovers and the guides set an even pace, providing time to take photos and to appreciate the beautiful surroundings.
All travelers need to be in good physical health in order to participate fully on this trip. When selecting your trip please make sure you have read through the itinerary carefully and assess your ability to manage and enjoy this style of travel. Please note that if in the opinion of their group leader or local guide, any traveler is unable to complete the itinerary without undue risk to themselves and/or the rest of the group, Intrepid reserves the right to exclude them from all or part of a trip without refund.

You should consult your doctor for up-to-date medical travel information or for any necessary vaccinations before departure. We recommend that you carry a first aid kit as well as any personal medical requirements as they may not easily be obtained while traveling.
Please check entry requirements for the destinations you are traveling to carefully to know whether you require a negative COVID-19 test before traveling. If you are unwell prior to traveling, please stay at home and contact us to make alternative arrangements. At the group meeting, you will be asked to complete a self-screening health form and report any COVID-19 symptoms as well as any close contact with someone who has suspected or confirmed COVID-19. If you are displaying any symptoms or have any health concerns at this time, the advice of local health authorities will be followed to determine whether medical assistance, isolation or further action is required. They ask all travelers to continue to monitor their health throughout their travels and report any relevant symptoms to their tour leader.
If you're happy with the service you receive, providing a tip—though not compulsory—is appropriate. While it may not be customary to you, it's of great significance to the people who will take care of you during your travels, inspires excellent service and is an entrenched feature of the tourism industry across many Intrepid destinations. Please note we recommend that any tips are given directly to the intended recipient by a member of your group as their group leaders are prohibited from collecting cash for tips.
The following amounts are based on local considerations and feedback from past travelers:
Restaurants: They suggest 18% to 22% of your bill.
Bars: Recommended US$1 for each drink ordered to ensure you are served again.
Local guides: Throughout your trip, you may at times have a local guide in addition to your leader. We suggest US$5-20 per day for local guides. Ask your leader for suggestions as to what is appropriate for a given activity.
Your Group Leader: You should also consider tipping your leader for outstanding service throughout your trip. Your leader works long and hard for you. He or she may well become your friend during the trip but they do need to pay their bills. If the leader's performance meets or exceeds your expectation they will gladly accept a tip from you. The amount is entirely a personal preference; however, you should plan to tip your leader US$7-10 per person per day.
While traveling with Intrepid, you'll experience the vast array of wonderful food available in the world. Your group leader will be able to suggest restaurants to try during your trip. To give you the maximum flexibility in deciding where, what and with whom to eat, generally not all meals are included in the trip price. This also gives you more budgeting flexibility. As a rule, their groups tend to eat together to enable you to taste a larger variety of dishes and enjoy each other's company.
Your group leader will endeavor to cater to specific dietary requirements where possible, and vegetarianism and gluten intolerance will be catered to in most instances. There may be some meals and activities that are fixed in advance and therefore cannot be modified to suit dietary requirements. Please notify your group leader of any dietary requirements in your group meeting at the start of the trip.
For those who suffer from particular food allergies, your group leader will endeavor to disclose to their fullest knowledge the main ingredients in dishes being consumed. It is, however, your personal responsibility to ensure that you do not ingest any foods to which you are allergic.
Your leader will provide basic information about the sights and cities you'll be visiting but please note that their leaders are not 'tour guides' in the traditional sense. They are adventure travel specialists and are there to organize your trip, arrange activities and help with questions or problems you may have while on your tour. Your leader will provide you with all the important information you need to embark on your own explorations.
They are also responsible for driving the van and navigating across the country. The allowable driving times for drivers are strictly controlled in North America. This ensures their drivers are well-rested and are not over-tired from too many hours on the roads.
While your group will have a minivan for all included activities on the trip, please note that the services of the van and the driver may not be available for your use during free time, or after you have arrived for the day. If you need a special trip into town you may need to arrange transport or a taxi.
They endeavor to provide the services of an experienced leader however, situations may arise where your leader is new to a particular region or training other group leaders.
It's strictly forbidden for non-qualified rangers to present any information about some National Parks in North America, therefore they adopt a system (as requested by the park rangers) where their leader will encourage travelers to visit the information centers in the National Parks for details about the site. 
All group trips are accompanied by one of their group leaders. The aim of the group leader is to take the hassle out of your travels and to help you have the best trip possible. Intrepid endeavors to provide the services of an experienced leader however, due to the seasonality of travel, rare situations may arise where your leader is new to a particular region or training other group leaders.
Your leader will provide information on the places you are traveling through, offer suggestions for things to do and see, recommend great local eating venues and introduce you to their local friends. While not being guides in the traditional sense, you can expect them to have a broad general knowledge of the places visited on the trip, including historical, cultural, religious and social aspects. At Intrepid, they aim to support local guides who have specialized knowledge of the regions you'll visit. If you were interested in delving deeper into the local culture at a specific site or location, then your leader can recommend a local guide service in most of the main destinations of your trip.
LUGGAGE RESTRICTIONS
All luggage is carried in trailers or inside the vehicle so please don't bring more than one medium-sized bag, backpack or suitcase (44 lb or 20 kg maximum) per person. Your suitcase/rucksack may get some rough handling, so make sure it's a tough one. A small daypack and camera may also be carried inside the vehicle.
As well as your underwear, toothbrush and other items you always need to pack for travel, below are some items that you specifically need for this trip.
MAIN LUGGAGE
You need to bring your main piece of luggage as well as a small to medium backpack for day activities (5-6.5 gallons or 20-25 liters). One with a waist strap would be most comfortable for all included walks as you're not expected to carry your luggage during any of the walks. Only a day pack (highly recommended to bring one!) with essentials.
ESSENTIALS
Day pack: for carrying essentials during activities
Trekking clothing: A mixture covering lightweight clothing and some warm layers is recommended. Your activities will take place in the mountains where weather may change quickly. Lightweight, comfortable, and quick-drying clothes for the activities are best. Laundry facilities may not be available on a daily basis, so make sure you have a few cycles of clothes.
Light jacket, fleece and base layers
Wind and waterproof jacket
Hiking boots with good grip, ankle support and waterproof membrane that are comfortable to walk for an entire day
Water bottle: you will need water during activities and it's best to avoid buying unnecessary plastic.
Sun protection: sunscreen, sunglasses
Toiletries
RECOMMENDED
Personal medical kit. A larger kit will be on hand with your leader, but we recommend you carry items such as mild pain killers, antihistamine tablets and any personal medication you may need
Walking poles for longer walks and uneven terrain
Torch/flashlight/headtorch
Camera with spare batteries/power bank: You will have access to power to recharge your electrical items daily
Travel eco-friendly wipes/hand sanitizer
OPTIONAL
Ear plugs & eye mask
Swimwear
A good book, a journal and music player
VALUABLES
Please try to avoid bringing unnecessary valuables. It's also recommended to bring a copy of all important documents e.g. air tickets, passport, vaccination certificate, etc. and keep the copies separate from the originals. While not valid, a photocopy makes it very much easier to obtain replacements if necessary.
If you need some further tips for packing, you can always check out our ultimate packing list.
WATER BOTTLE
Please bring your own water bottle to refill along the way. The sale of bottled water contributes to an enormous environmental problem around the world. In addition to the water in bottles, the production of a 1-liter plastic bottle takes 2 liters of water and 200ml of oil. A large proportion end up in limited landfills or discarded in waterways and natural environments.
Terms
This trip is provided by Intrepid Travel. Minimum age requirement is 15 years old. Maximum 12 people allowed on the trip in total. 
Terms
Where activities are considered medium or high risk, we work with operators whose safety and credentials we have sighted and assessed. Although it is possible that you may find the same activity cheaper with another operator on the ground, we cannot vouch for the safety or quality of that operator. Medium and high-risk activities not listed above have not been assessed by us and as such our staff and leaders are unable to assist you with organizing these activities. Activities that contravene our Responsible Travel policies are also not listed. Please remember that the decision to partake in any activity not listed is at your own discretion and risk.
Deposit
Lock in your trip with a deposit and then pay the rest in installments whenever you like, with no interest or fees. Just make sure you've paid in full by 21 days before your trip is scheduled to depart. If you cancel your trip up to 21 days before departure, you can transfer your deposit to another available trip or hold your deposit on file indefinitely.
Insurance
Travel insurance is compulsory on all our trips for those traveling internationally. We require that at a minimum you are covered for medical expenses including emergency repatriation. If you are traveling within your home country or region please confirm before travel that you are entitled to access the public medical system easily should an accident occur. We strongly recommend all travelers have a policy that also covers personal liability, cancellation, curtailment and loss of luggage or personal effects. For international trips, you will not be permitted to join the group until evidence of travel insurance and the insurance company's 24-hour emergency contact number has been sighted by your leader. If you have credit card insurance your group leader will require details of the participating insurer/underwriter, the level of coverage, policy number, and emergency contact number rather than the bank's name and your credit card details. Please contact your bank for these details prior to arriving in-country.
Itinerary Changes
Our itineraries are updated regularly throughout the year based on customer feedback and to reflect the current situation in each destination. The information included in this Essential Trip Information may therefore differ from when you first booked your trip. It is important that you review this information prior to travel so that you have the latest updates. Due to weather, local conditions, transport schedules, public holidays, or other factors, further changes may be necessary to your itinerary once in-country. The order and timing of included activities in each location may also vary seasonally to ensure our travelers have the best experience. Your tour leader will keep you up to date with any such changes once on tour.
Optional Activities
A selection of optional activities that have been popular with past travelers is listed in the day-to-day itinerary. This isn't an exhaustive list and should be used as a guide only for some of what might be available. Prices are approximate, are for entrance only, and don't include transport to and from the sites or local guides unless indicated. All activities are subject to availability, and maybe on a join-in basis. It may not be possible to do all the activities listed in the time available at each destination, so some pre-planning for what you are most interested in is advised. When it's recommended that travelers pre-book these activities, look for a note in the Special Information section of the day-to-day itinerary. For most, they can either be organized independently on the day or let your leader know you are interested in the Group Meeting and they can assist.
Authority on Tour
Trips are run by a group leader. The decision of the group leader is final on all matters likely to affect the safety or well-being of any traveler or staff member participating in the trip. If you fail to comply with a decision made by a group leader or interfere with the well-being or mobility of the group, the group leader may direct you to leave the trip immediately, with no right of refund.  We may also elect not to carry you on any future trips booked. You must at all times comply with the laws, customs, foreign exchange and drug regulations of all countries visited
Health
All travelers need to be in good physical health in order to participate fully on this trip. When selecting your trip please make sure you have read through the itinerary carefully and assess your ability to manage and enjoy our style of travel. Please note that if in the opinion of our group leader or local guide any traveler is unable to complete the itinerary without undue risk to themselves and/or the rest of the group, we reserve the right to exclude them from all or part of a trip without refund. You should consult your doctor for up-to-date medical travel information or for any necessary vaccinations before departure. We recommend that you carry a first aid kit as well as any personal medical requirements as they may not easily be obtained while traveling.
Any form of violence (verbal or physical) or sexual harassment, either between customers or involving our leaders, partners or local people, will not be tolerated. Use or possession of illegal drugs will not be tolerated. If you choose to consume alcohol while traveling, drink responsibly and abide by the local laws regarding alcohol consumption.