Ultimate Fitness Bootcamp in Mallorca

Picture your confidence and physical fitness at an all-time high. Imagine crossing paths with like-minded people sharing a similar journey to yours. Now, envision all of that happening in oceanfront paradise. Get in the best shape of your life with group fitness training sessions twice a day.
Find your center with a week's worth of sunrise yoga overlooking the bay. Discover your favorite new hobby with unlimited stand-up paddleboard sessions. Your healthiest, happiest self is waiting to be reinvented with Ultimate Fitness Bootcamps International in Mallorca, Spain.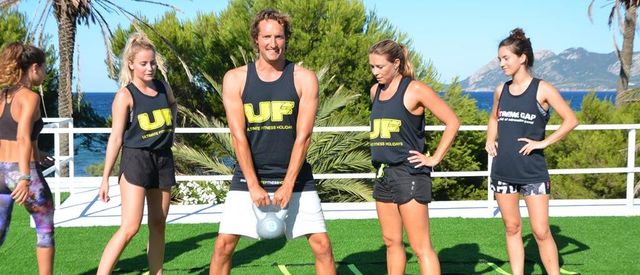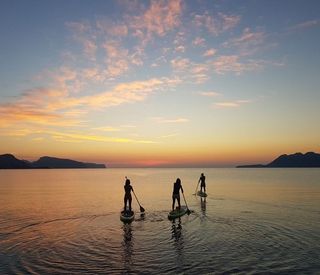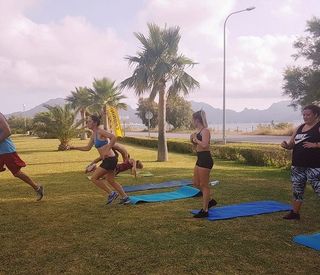 Experience
The Bootcamp is not just training—it's a Holiday too! Mallorca is an amazing island and the location is superb bordering a world heritage site. Right by the beach, with easy access to historic towns of Alcudia and Pollenca.
A new lease of life improved fitness and new friends in a Mallorcan paradise
Mixed impact classes give you a total body transformation rapidly (HIIT & Crossfit Style)
Motivation guaranteed—train with fun, like-minded people and professional trainers
Gorgeous Beach house stay right by the beach or a Luxurious Resort with Spa.
Unlimited SUP access and sunrise yoga sessions
Dedicated trainers will deliver you the body you deserve
Low-cost flights to Majorca, with its stunning beaches, make this an attractive fitness break!
Itinerary
Arriving in Palma de Mallorca the transfer to the local town of Alcudia, the location of the Spain Fitness Bootcamp takes approximately one hour on the A32 bus service (direct from the airport). If you arrive between 12 noon and 5 pm, a member of their friendly team will be waiting to meet you off the bus on arrival in Alcudia and transfer you to your accommodation. You can arrive at any time on Sunday and check in after 3 pm.
If your bus arrives later, you can grab a taxi. This will be about 6 Eur and takes about 5 min.
After checking in, you are free to chill at the villa, hit the beach, or do some stand-up paddle. A group orientation and introduction session are on Monday at lunchtime. But on Sunday evening you will get to know everyone as we will make reservations at a nice nearby restaurant for the whole group.
7:45 - 8:30 AM: Sunrise Yoga Session
As with all days (Monday to Friday), you will start off with an early morning sunrise yoga session to stretch your muscles and ease you into training at 7:45 am. Sessions take place on the roof terrace overlooking the ocean, National Park and Sierra Tramontana mountain range.
8:30 AM: Healthy Snack
Time for a healthy snack consisting of fresh fruit and water. A full breakfast is served after the 9 – 10 am training session.
9:00 - 10:00 AM: High-Intensity Training Fitness Sessions
You're about to experience cardio conditioning that will completely transform your body. It's a challenge, but their amazing instructor can modify the toughest moves to help you push yourself at any level.
The sessions may take place in the national park, around the beach house, on the beach or in a number of different training areas. These training sessions will increase your fitness levels very quickly.
10:00 - 11:00 AM: Breakfast
Then time for a healthy breakfast consisting of fruit, yogurt, cereal, toast and eggs. Breakfast is served in the relaxing garden of the Beach House.
11:00 - 12:00 AM: Stand Up Paddle 
Depending on the water conditions you'll have a daily stand-up paddle session. The Bay of Pollenca has crystal calm flat water in the morning and is the perfect place to do some stand-up paddling due to it being relatively shallow and exceptionally beautiful. Stand-up paddling is very good for your core strength and stability. Sessions done right would be better than doing countless crunches and it's a lot more enjoyable! On Mondays, they include a lesson, the rest of the week you can just get a board and get out on the water at any time!
2:00 - 2:45 PM: Buffet Lunch
Buffet style healthy lunch served on the roof terrace or in the garden.
2:45 - 4:00 PM: Free Beach Time or Kite Surfing 
Time to enjoy some much-needed R&R. Hit the beautiful beaches of Port De Pollenca. The nice sandy beaches are close by (5 minutes) and you will have your own bike to get you there.
If you have booked the optional learn to kitesurf course, your training time will happen between 1:30 and 4 pm. This is the optimal time to enjoy the thermal wind which pretty much guarantees your ability to learn to kitesurf right in front of the villa.
4:00 - 6:00 PM: Optional Jog or Bike Circuits
You have time to do a jog or bike circuit. You will be provided with a bicycle and a route. Note this is an unguided activity.
6:00 - 7:00 PM: Beach Training, High-Intensity training or Volleyball sessions
At 6 PM they do another group training session, which is another High-Intensity Training style session, they do this 2 times a week on Tuesday and Thursday. One time a week we lay on a beach volleyball training session or other beach training sessions which is a fun effective way of getting the blood pumping. Let's hope you don't get too competitive! On Monday and Friday afternoons you have the opportunity to do a nature trek, this lasts approximately 2 ½ hours taking you through a beautiful valley, down to a secluded beach.
7:00 PM: Back To The Beach House
At approximately 7 PM, it's time to head back to the accommodation for showers, prior to heading out with the rest of the group for dinner in the local town.
Runs more or less on the same schedule. There are, however, some minor changes throughout the week.
Early risers are able to enjoy a beautiful sunrise SUP session, or perhaps you may prefer to sleep in—either way, it's excursion day! There is a range of options for excursions depending on the preference of the group. Some of these excursions are free and others incur a local charge.
Some of the excursion options include:
Speed boat hire: (Minimum for persons 100 EUR per person) includes captain, fuel and boat hire 4 hours)
Formentor Beach we catch a glass-bottom boat across to one of the most beautiful beaches. The journey takes 25 minutes from Puerto Pollensa to Formentor the views of the bay along the way are impressive. You can get a closer look at the lighthouse at Cap de Formentor and La Fortaleza. It is an open ticket, so you can choose the timetable you prefer to come back, so the choice of options is flexible and you are not in a rush.
Formentor look-out. Head up to a beautiful world heritage site with dramatic clifftop views.
Water Park Excursion (entrance fee not included)
Pirate Boat Experience: five hours exploring the bay's, beaches and cliffs of Majorca, on a pirate cruiser, includes snorkeling equipment and lunch. 
*Please note meals (Breakfast, Lunch and Dinner) are not included on weekends.
Sunday is a rest day. If you are checking out, you will have to depart from your room by 10 am, but you are welcome to chill by the villa if you have a later flight. Say goodbye to your new friends and hello to maintaining a new healthier better you!
Offers
7-Night
from
$279
Per Night

Based on rate for one guest
Rates displayed are per night for one guest in a single room. Double room and shared room options available for a lower cost. Additional weeks available and will decrease the cost per night. Stay up to eight weeks straight for the ultimate in reaching your fitness goals.
Package Includes:
Accommodations for 7 nights in a Beach House shared room
Pre-departure information
Access to online buddy system, meet others online before traveling
Pick up in Alcudia from bus station
Unlimited Access to the open-air rooftop area
Introduction orientation session
All group fitness training sessions 2x per day
Beach Volleyball
Accommodation in a boutique fitness Beach house right by the sea
5 x Breakfasts (Monday to Friday)
5 x Lunch (Monday to Friday)
5 x Sunrise Yoga sessions overlooking the ocean a week
Unlimited SUP sessions
Bicycle Rental
Excursions to beaches*
Beautiful nature trek
Brand new abs upon departure!
FAQ
Flights
Evening Meals
Meals at weekends
Transfers to and from Alcudia from the airport (there is a direct bus service)
Taxi back to the airport
Extra personal training sessions
Optional excursions
Optional water and drinks pack
Mallorca Tourist Tax (€4.00 a day local payment)
Get fit with the full support of our personal trainers, meet other like-minded people and explore the dreamy locations with new friends. Their trips can genuinely change your outlook both physically and mentally. 

Also, all bookings come with a date change guarantee so you can book with confidence should you not be able to travel.
Most people who attend the camp, are independent travelers and arrive at the camp on their own. If you are concerned about traveling solo, don't be. There is such a social atmosphere at the camp, and it is a really supportive environment where everyone gets to know each other very quickly. Serious physical exercise in a group can be quite a bonding experience we assure you! So really it does not take long for people to get to know one another.
The camp is located in the Bay of Pollenca right by the beach.
You can add on water and also a drinks package to your booking. They are committed to keeping their impact of the environment low so they have introduced a high-quality mineralized, UV-treated filtered water station, allowing you to refill your reusable bottles without the need for excessive plastic consumption. Their water is regularly tested to ensure it remains high quality. Price 10 Eur per stay.

Also, you can include unlimited tea, coffee, juices and coconut water and one protein shake per day (non-vegan) subject to availability. 

Price: 25 Eur per week (Less than 3.60 per day)

Included drinks may vary depending on bootcamp location.
You will need to fly to Palma de Mallorca Airport. Then you can catch a direct bus service to Alcudia—The A32
Can Picafort – Platja Muro/Alcúdia – Aeroport service. It takes approximately one hour. They will then pick you up at the bus station.
Return airport transfer can be arranged with the villa management. This costs 80 Eur per person in a car or you can get a taxi to Alcudia Bus station a short distance upon check out.
Please bring suitable training gear such as training attire: a couple of pairs of shorts, sports bras for women and training tops. They advise bringing a towel as well to take to the gym and a beach towel.
Plenty. Beaches, beach clubs, amazing viewpoints and look-outs. There is a range of tours you can do, from boat trips to cycling tours.
Terms
This trip is run or contracted by Ultimate Fitness Bootcamps International (Ultimate Fitness or UF). When you submit an Ultimate Fitness booking form you are agreeing to a contract with Ultimate Fitness to arrange your Bootcamp membership abroad. After filling in your booking form you will be asked to pay a joining fee (hereby referred to as a join deposit or deposit) of €200. The balance is paid typically 4 weeks prior to departure, or within 3 days if you are arriving within 12 weeks. The deposit will enable us to hold your membership at the camp. The joining fee deposit is non-refundable in the event of cancellation or non-payment of full balance or non-attendance. The balance of your booking must be paid no later than 4 weeks prior to your departure date, or on booking if you apply within 4 weeks of your departure date. You must make payments by their due date. If we do not receive payments as and when they are due we do have the right to consider this a cancellation on your part and retain all monies paid, or due at that time. 
Insurance: It is a condition of booking that every passenger must have travel insurance in force for the entire duration of the trip. You must ensure that the cover provided by your insurance is adequate and appropriate for your placements and personal needs and that it also covers the cost of repatriation, including air evacuation costs, should such a situation necessitate it. You must provide details of your insurance policy (policy number, insurer and emergency assistance telephone numbers) prior to your departure. It is your responsibility to ensure that you are adequately insured, as we will not check your policy. If you join the programme without adequate insurance you may not be allowed to continue on the programme with no right of refund. Neither Ultimate Fitness nor Vacayou accepts responsibility for the loss of, or damage to, personal property or valuables. Insurance to cover the loss of baggage and valuables is also highly recommended.
Cancelling and Changes to Bookings
If Ultimate Fitness Cancels: If UF cancels your program for whatever reason excluding force majeure (force majeure also includes coronavirus Covid 19), they will offer you a full refund including refunding your deposit. 
UF cancellations due to coronavirus: If UF is forced to cancel the Bootcamp start date due to the coronavirus, refunds will not be given. However, your deposit or any monies paid will be held as a credit and put towards an alternative suitable date. They may also offer you a change of programme or location which you can use the money as a credit for.
If you cancel: If for whatever reason you need to cancel your booking either prior or during the program then cancellation charges are payable. Unfortunately, these are unavoidable as at the point of confirmation Ultimate Fitness is contractually bound to our suppliers just as you are to us. In fairness to all customers who are faced with this situation, they are unable to bend the rules or take on any special cases. However in certain extreme cases, they may be able to freeze your bookings or move them within a limited timeframe if appropriate to do so, so please contact us with your own individual circumstances. UF is the sole adjudicator of what is deemed extreme.
How much you need to pay by when and how much is due if you cancel:
Time of the booking cancellation: 121 days or more before the start date or departure date (whichever is the earlier) Fees due: deposits or EUR200 whichever is greater.
Time of the booking cancellation: 90 days or less before the start date or departure date (whichever is earlier) Fees due: Full payment of fee at the time of booking.
Please note as stated above any bookings that fall under 90 days or less before the start date or departure date are 100% non-refundable. This is not negotiable. Should for whatever reason you not complete some of the aspects of the package including but not limited to accommodation, activities, courses, transfers and meals there will not be any refund provided.
Please note: If you do not pay the full balance by the due date your booking will be cancelled and you will forfeit your deposit. This enables us to open up the spot to other travellers who want a space on the programme.
Flexible Packages
At the time of booking, you can opt to be on a flexible package for a cost of €89. If you have a Flex package your dates are changeable with the following terms:
Book with a low lifetime deposit of 150 EUR. You can pay in instalments per month (minimum amount of 50 EUR via credit card or debit card online) until the balance is paid off up to 4 weeks before departure. or pay the balance in one go at least 4 weeks before.
Date changes are allowed free of charge up to two weeks before departure if there are travel restrictions.
If your flight is cancelled or does not run or travel conditions make it impossible to arrive in-country due to Covid 19 your booking can be moved to a different date without charge.
If you display symptoms of Covid 19 prior to arrival your departure date can be changed without charge.
All payments are non-refundable, but valid for life should you choose to delay your departure.
Installation payments are valid the life so if you don't plan on travelling for many months or even years, not a problem you won't lose your money.