Sold Out
Transformational Hiking & Wellness Retreat in Greece

Kardamili, Greece

6 nights
---
or talk to Vacayou travel concierge
Let your body lead the way to a happier and healthier you. This comprehensive and transformational hiking and wellness retreat is for those who seek an experiential way to leave the weight of the daily routine behind and spend valuable "me-time" in pristine mountain nature while enjoying the sights and sounds of the sea. Join EZ Greece on their 7-day The Root retreat that focuses on total self-transformation via three key elements: balanced purposeful nutrition, detox massages and stress management. The essential core of the program is the daily uphill trek through stunning and clearly marked mountain trails. Your wellness is supplemented with two daily yoga sessions, a massage, body empowerment and evening talks. It all starts with the decision to connect deeper to yourself and your environment.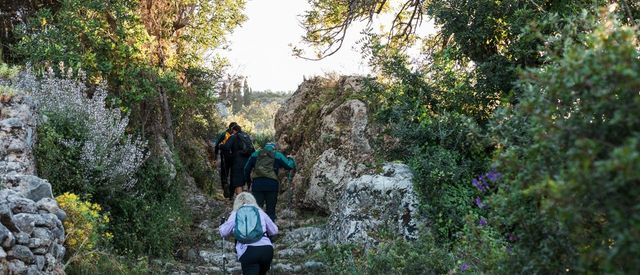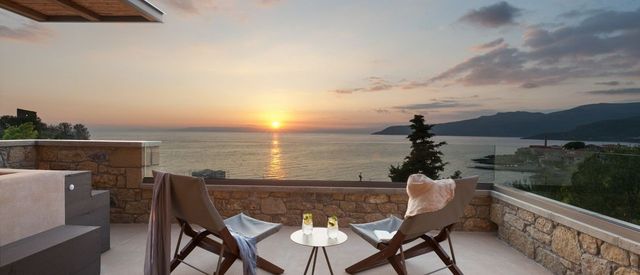 Experience
This hiking and fitness retreat has the potential to be life-changing and reveal what you are capable of—pushing yourself beyond your perceived limits just outside the idyllic village of Kardamili.
Stay at a luxury boutique hotel with swimming pool and surrounded by endless olive groves, amazing beaches, stone houses and picturesque scenery
Enjoy privacy and nature in an intimate setting with retreat guests who share your health and fitness interests
Experience the historic coastal village of Messinian Mani, Kardamyli, southeast of Kalamata
Discover one of Peloponnese's well-kept secrets with are beauty and rich history and tradition
Dine on delicious food prepared by your own gourmet chef with locally inspired recipes using the freshest of ingredients packed with nutritional value
Itinerary
Tentative daily schedule:
5:30 am - Soothing wake-up to the sounds of nature
6:00 - 7:00 am - Morning yoga stretch and light meditation on the seafront terrace
7:00 - 7:20 am - Breakfast with a view
7:20 - 7:55 am - Gear inspection, feet care, preparation
8:00 am - 12:30 pm - Hiking activity on the slopes of Mt. Taygetos, through the countryside of Mani & ocean coastline (varies daily). Snack along the route.
12:30 - 1:30 pm - Back to the retreat center. to freshen up
2:00 -2:30 pm - Lunch
3:00 - 6:00 pm - Soothing massages
3:00 - 6:00 pm - Low& High impact strength conditioning and body toning and pilates
6:00 -7:00 pm - Restorative yoga and meditation
7:00 - 7:45 pm - Organic gourmet vegetarian dinner in the retreat center dining area
8:00 pm - Free time—enjoy relaxing views of the ocean and the nearby village with a warm cup of tea, read on the terrace or just chat with fellow guests
9:00 pm - Kalinihta! (Good night!)
FAQ
Upon arrival, you'll do a "test" hike to check your hiking capacity and receive useful tips for the days to follow. All hikes are different, starting right outside of the hotel with a constant, smooth uphill direction. There is no specific pace to follow, and each person can take their own time to reach the finishing point. The return to the hotel is by minivans.
The approximate daily hiking time is 3.5-5 hours. There are at least three mountain guides along the route, following you discretely, making sure that the trails are well marked, and ready to help if needed. Every guest is equipped with a high-capacity radio transmitter, enough water and nutritional snacks.
There are several brief stops along the routes for water refills and snacks.
Example routes:
Vertical -Prastio -Saidona -Ai Giorgis
Diapori -Viros -Sotira –Ayios Petros -Hotel Faraggi
Vertical -Prastio –Kastania
Diapori -A. Sofia -Kalyves -Pedino -Tseria -Hotel Faragi
Diapori -A. Sofia -Hotel Faragi –Tseria
Diapori -Exochori -Kitriniaris –Vaidenitsa
Diapori -Elies –Prosilio
You will have one 55-minute massage daily. Restorative, deep tissue and Ayuverdic sessions will be offered according to your preference.
There are two daily yoga sessions. One to start your day and one just prior to dinner. Each one serves a different purpose. The morning session will help you start your day in a calm way and the evening session will help ease your body and mind after a challenging day. Different yoga types are offered.
Every day, between 3 and 6 pm, there will be a variety of fitness sessions to choose from such as stretching, Pilates, high and low impact training, empowerment programs and more. The fitness sessions are between 20 and 55 minutes long. These will help your body recover from the challenging hikes and gain back its energy and flexibility.
We have our own gourmet chef, Emilios, who will be preparing locally inspired recipes using the freshest of ingredients packed with nutritional value. The emphasis is on vegetarian/ vegan menus. At The Root, guests enjoy seasonal menus centered around healthy, delicious and inspired dishes. Our culinary approach is to use only organic garden fresh, high-quality ingredients, infusing them with natural flavors. All fruits and vegetables are sourced from small local organic producers.
We can't hike if we suffer from blisters or swollen feet. Therefore, each morning, the retreat expert associates will inspect your feet and take care of them with healing lotion, special tapes and bandages—making sure you are good to go for hours in the wilderness.
Yes, there is Wi-Fi in your room. However, we ask you to minimize the use of technology during the hikes and in all public spaces. For planning purposes, we suggest you make any necessary calls in the privacy of your room.
There is no need for enhanced training in order to join the retreat, however, to optimize your results we ask that you build up your cardiovascular capabilities in the meantime. The hikes are beautiful yet some are more challenging than others. In addition, you should reduce or abstain from caffeine/alcohol intake two weeks prior to the program for better results.
These are the necessary items you'll need: 
1 pair of trail-running shoes with an aggressive sole. Buy these in time and break them in, wear them a few times before our trip—a sturdy sole is very important as all trails are rocky
1 Camel pack with bladder - at least 50 lb (1.5l, ideally 67lb (2l)
1 Walking/trekking stick (preferably telescopic)
3 Long-sleeved, light-colored, quick-dry shirt
1 Swimsuit
1 Buff (neck protection)
3 Hiking socks (smart wool or similar)
1 Sunhat
2 Long pants
1 Warm fleece jacket
1 Pair of sandals for walking around the property
1 Lightweight rain jacket
3 T-shirts (dry-fit)
1-2 Yoga attire
Good to have with you:
Sunscreen
Sunglasses
Shorts
Sweat clothes/comfortable clothes
Sleeping attire
* The agency can assist you in specialized shops where you can buy your equipment. The list is available upon request
Terms
Deposit Policy
A 30% deposit of the total amount is required upon booking confirmation and the remaining 70% is to be paid 45 days prior to the retreat date and arrival in Greece. 
Cancellation Policy
50% of the total cost of the deposit if cancelation is received 45 days prior to departure covering mainly the non-refundable services.
50% of the full amount of the trip if cancellation is received between 44-30 days prior to departure.
100% of the full amount if cancellation is received 29 days prior to departure.
Coffee and Alcohol 
No caffeine or alcohol will be served or found anywhere in the retreat center to avoid stimulants. It is also prohibited for you to bring any of your own.