Sold Out
Taste of Croatia—Wine, Gastronomy & Culture for Two

Dubrovnik, Croatia

5 nights
---
or talk to Vacayou travel concierge
What's the secret to Croatia's gastronomy? It's time to discover the diversity of Dalmatia's Mediterranean-based cuisine with wine and cheese tastings, local delicacies, sunset hikes and picnics, and so much more. Grab your plus one and embark on a journey where your taste buds come alive. Enjoy panoramic views, secret islands, vintage cars, a cooking class, a spa hotel—all in an intimate setting hosted by Roundabout Travel. This 6-day retreat is for foodies and wine enthusiasts who like an active, yet relaxed vacation complete with history and culture. Ready to explore the Pearl of the Adriatic?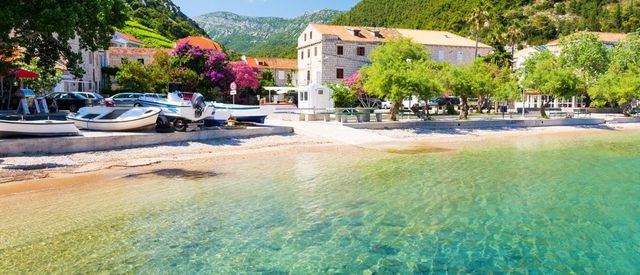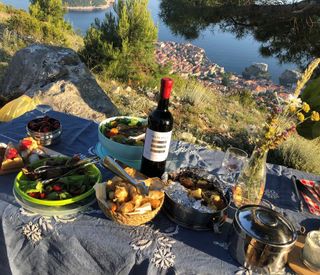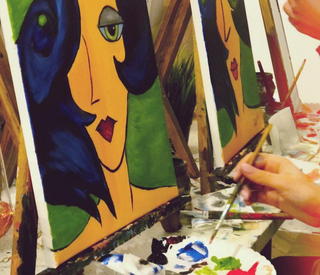 Experience
Experience the best that Croatia has to offer on this 6-day tour that tickles your taste buds and takes you on a memorable journey along the coastline of this Adriatic paradise. 
Enjoy daily food and wine tours through Dubrovnik and Split 
Discover local delicacies such as oysters
Swim, snorkel, hike and enjoy spectacular views
Visit islands with culinary secrets and treats 
Walk through history with a guide and learn about Croatia's interesting culture
Enjoy cooking traditional dishes
Itinerary
Welcome
1:30 pm An arranged transfer will be waiting for you to take you from the Dubrovnik Airport to the Bellevue Hotel (pickup time is flexible and adjustable to your flight schedule).
Set on a spectacular cliff above Miramare Bay, the Bellevue Hotel offers splendid sea views from all rooms. The hotel offers an indoor pool with a superb sea view and a luxurious spa area. Enjoy a wine bar offering a rich selection of more than 180 domestic and international wines, a beach restaurant and Dalmatian seafood delicacies and international dishes. 
Afternoon schedule
4:00 pm A special eat & walk tour through Dubrovnik Old Town awaits where you get to taste local flavors. 
During the tour, you will taste and learn about the centuries-old delicacies of Croatia and Dubrovnik. The tour covers all the Old Town main sights and some of the finest local restaurants: St. Blaise Church, Stradun, green market, Jesuit Square, the Old Port and the Streets of Karmen—all the historical spots where you will taste local food specialties.
5:00 pm Sunset hike and picnic with the view
Your guide will be waiting at the agreed location where you will pick up picnic backpacks full of local, home-produced goods and chilled beverages, and of course a blanket for a comfortable picnic. Arrive at the top, to a table of gourmet specialties, wine tasting and lots of laughs…oh and a sunset view of Dubrovnik that will knock your socks off. Expect some great chats around the picnic table!
*Cable car from Mt. back to Dubrovnik Old Town: approx $13 / person
Today, you'll explore nature, tradition and culture in a different and fun way! You'll take a road trip to Koanvle Valley in a vintage car (with an open roof)!
You'll be picked up at your hotel in the afternoon to begin your experience of stunning views over the whole Konavle region and the Adriatic sea.
Your first stop is an old water mill for producing flour near river Ljuta followed by local wineries where you have the opportunity to try some of the local sorts of wine and drive through vineyards. At the end of this memorable experience, of driving an open-roof Renault 4, you'll arrive at the old olive oil mill where you'll have a traditional regional lunch/dinner served with fun live music. 
You will continue to the world-renown silk production in the Konavle region which has been renowned for centuries for its production of silk thread.
Lunch is included with presentation and traditionally prepared food and local sweets tasting.
Optional
Evening Relaxation in the spa at Hotel Bellevue. 
The highlight is the light-filled indoor freshwater heated pool with spectacular views through its high glass wall over the cobalt-blue sea. You can also look forward to a Jacuzzi whirlpool, a peaceful relaxation zone, plus an immaculate mosaic-style steam room and Finnish sauna. Choose from an irresistible menu of holistic spa treatments that marry the best of Eastern and Western philosophy, including mind-calming massages, first-class facials, body rituals, scrubs and blissful baths.
Please choose treatments in advance and are adjustable to your wishes.
Today, you'll visit the incredible Pelješac peninsula, well-known for its vines growing on the steep slopes. Some of the vineyards are so steep that grape-pickers have to harness themselves with ropes! You'll stop by one of the local wineries for a wine tasting together with some local cheese and enjoy a lovely walk around the vineyard and winemaker's property.
Afternoon/ evening schedule
4:00 pm Unique Ston with famous oysters
Ston is one of the hidden gems in Europe and is mainly known for its very well-preserved town walls, salt works and its oysters.
The walls make up the longest defensive structure in Europe and the second-largest in the world, sometimes referred to as the 'European Walls of China." At Mali Ston Bay, you will find the oyster beds that produce what is commonly referred to as some of the most delicious oysters in the world!
Lunch is included with oyster tasting and wine tasting.
7:00 pm Check-in Briig Boutique Hotel
With its authentic vibe of the unique Dalmatian heritage and culture, where the traditional meets the modern, Briig boutique hotel gives you the opportunity to experience Split and Croatia in a completely different way. Enjoy an authentic experience with custom architecture and art-influenced design, along with highly personalized service. Savor locally inspired food and drinks and enjoy it within the hotel's distinctive architecture and exceptional seaside position.
After a relaxing morning, your journey through ancient history starts with the story of Roman emperor Diocletian who was born in a nearby important Illyrian center and the capital of the Roman province of Dalmatia Salona. It's a day filled with both history and gastronomy.
Your local guide will take you through the 1700-year-old city center and all its historical highlights. Enjoy a food adventure at the Green Market where local farmers sell their products and where you'll taste local products. You'll continue your walk over Split promenade with a sweet break in one of Split's oldest bakeries and continue to a fish marketplace where local fisherman sell their freshly caught fish. Afterward, it is time to taste some domestic sweets and digestive liquor in the old town.
Your gastro experience will finish with a cooking class with a local professional chef and a lunch that is yours to enjoy! This experience will give you an insight into why the Mediterranean diet is under UNESCO's protection.
The start time is flexible and adjustable to your wishes.
*Diocletian's Palace: from $5.50 /person (depending on season)
Evening schedule
6:00 pm Art and Wine
Enjoy a painting party that requires no prior painting experience with a pleasant and stress-free evening to set your creative inner child free! You'll be guided by artists through a creative step-by-step process to create your own masterpiece (or kind of). Enjoy a glass of wine as you paint and let your natural expression lead the way. Non-alcoholic beverages are available. 
*Possible to do the workshop somewhere outside. 
Swap bustling Split for the open waters of Adriatic. To see the Croatian coast from the deck of a speedboat is both luxurious and relaxing, as water splashes against the hull, and you take in the views of islands in the distance. On today's tour,  you will see the most beautiful and popular beaches and hidden jams, amazing and unique architecture, hidden caves and spots that you have never even heard of, and swim and snorkel at the places where the sea is crystal clear, with more than 50 shades of blue. 
You'll go to an extraordinary tasting location, set in a cave on the southern shores of Hvar, accessible only by speedboat. Wine tasting in the underwater cellar is for sure one of the true authentic hidden gems of the island. This is followed by a visit to one of the hidden konobas (tavern-style restaurants) with local products, family-owned businesses, traditional dishes and incredible locations.
Wine tasting in an underwater cellar with some local cold cuts is included. You can also enjoy lunch in an authentic traditional island tavern, as well as tasting in the vineyards, for an additional cost. 
Optional afternoon: Feel the Power of the Sea at Spalato
The steam bath at SPALATO spa provides long-lasting relaxation, strengthening your immune system and promoting detoxification of your lymphatic system. It is recommended to follow your bath with a visit to the Finnish sauna which will re-stimulate your circulation. Cool off in the plunge pool and then relax in one of the whirlpools. Or if you prefer, you can make the most of our quiet resting zones for an even deeper sense of relaxation. If the weather permits you can also recline on the spacious terrace. Drift into a gentle slumber as you're caressed by the soft Adriatic breeze.
Recommended treatment: Power of the Sea
The treatment starts with an Aquatic Scrub and the invigorating benefits of the Adriatic. This blue lagoon scrub pairs the unique exfoliating power of marine salt with nourishing oils, resulting in a refined skin texture with a velvety feel. This is followed by a lagoon water bath, de-stressing full body massage with Silky Smooth body wrap and finishing off with a ritual application of secret golden oil which will give your skin a lustrous glow.
The wealth of natural minerals used in this treatment promotes and maintains the skin's vital functions, leaving the skin purified, soft and delicately perfumed. The signature treatment is a blissfully balancing experience that will restore the positive energies of both body and mind.
Today, a private transfer will take you back to the airport. Safe travels and hope to see you again on another adventure!
Terms
This tour is hosted by Roundabout Travel.
Deposit Policy
A deposit of 30% is required to confirm your reservation and the remaining amount is to be paid 30 days prior to your arrival.
Cancellation Policy
The client is entitled to cancel or change the agreed travel arrangement directly with the operator where the booking was made. Please note there is an administration fee of 25€ (EUR) for any amendment of the confirmed travel arrangement.
Cancellation policy for Roundabout Travel private multi-day package tours:
59-45 days before departure, cancelation fee is 15% of the total price
44-30 days before departure, cancelation fee is 30% of the total price
30-15 days before departure, cancelation fee is 50% of the total price
14-8 days before departure, cancelation fee is 75% of the total price
7-0 days before departure, cancelation fee is 100% of the total price
For no-shows, the cancellation fee is 100% of total price.