Sold Out
Spirit Horse Encounter & Overnight Tipi Adventure

Ontario, Canada

1 night
---
or talk to Vacayou travel concierge
Meet a spirit horse on this immersive and authentic experience in Southwest Ontario hosted by Landsby. The Ojibway spirit horse is thought to be the only existing breed of horse created by indigenous people in Canada. During this two-day adventure, visitors will experience firsthand the horse's majestic beauty and healing capabilities. Gather around a fire to hear stories passed down by generations of First Nations People about their connection to these spiritual animals. The sound of traditional drums and fiddles will stay with you long after you've gone home. Spend an unforgettable night under the stars in a traditional tipi on the stable grounds and continue your experience the following day with a family pass to Point Pelee National Park, the southernmost point of the Canadian mainland.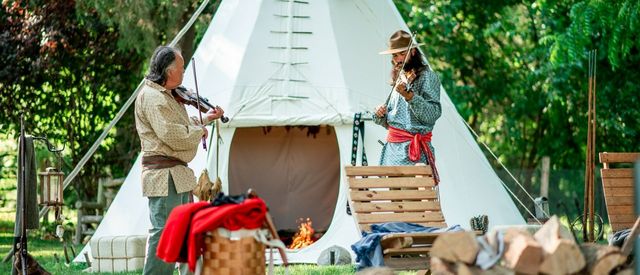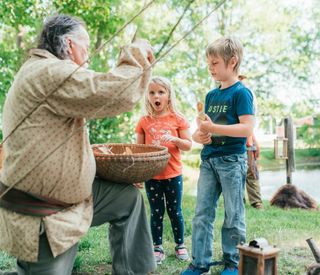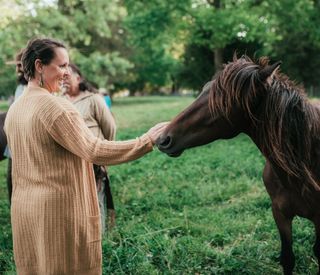 Experience
Spend an unforgettable two days learning about Canada's First Nations People, the rare and endangered Ojibway spirit horse and take in nature like never before at the southernmost point of the Canadian mainland.
Walk among the spirit horses and experience their incredible spiritual power and make your own connection
Listen to oral stores passed down by generations of First Nations People
Gather around the fire at the traditional tipi encampment and sleep under the stars
Immerse yourself in indigenous drumming and songs that will bring you closer to understanding our relationship with Mother Earth
Embark on an eco-adventure at Point Pelee National Park, a tiny sanctuary supporting a mosaic of habitats from jungle-like forest to lush wetlands to open savannah
Itinerary
Awaken your spirit at the stables where you experience firsthand the Ojibway spirit horse's majestic beauty and healing capabilities. The experience begins with a welcoming encampment fire, the sounds of the Métis fiddle and stories passed down by generations of First Nations People and their connection to these spiritual animals. After a traditional home-cooked meal over the fire (can be added for an additional cost), spend an unforgettable overnight under the stars in a traditional tipi with the spirit horses only meters away.
After breakfast just outside your tipi (can be added for an additional cost), drive an hour to Point Pelee National Park where you will experience nature like never before. In winter, wander the trails in solitude and catch the natural ice formations. In summer, bask on sandy beaches. Other options include biking, paddling or hiking the park.
FAQ
Not Included
Airfare or transportation
Alcoholic beverages
Travel insurance (highly recommended)
Anything of a personal nature or that is not mentioned in inclusions
Traditional themed dinner and breakfast
Tipi bedding (you are welcome to bring your own sleeping bag or camping gear for the tipi)
Optional Extras
Traditional themed dinner and breakfast: $40 + tax per person
Bedding for tipi: $28 + tax per person
Medicine walk with an interpretive guide in the Carolinian woods with fora and fauna: $36 + tax per person (min. 2 people)
Spirit horse walk on trails in the woods: $51 + tax per pony
Second night in the tipi: $99 + tax based on 2 people
Additional adult (after 4): $59 + tax per adult
Additional child is (after 4): $40 + tax per child
*Prices may fluctuate
Terms
Deposits
More than 45 days from departure, deposits of $395 for multi-day tours unless otherwise noted; full payment at the time of booking for transfers & day tours.
Final Payment
Payment in full is required at the time of booking for reservations made less than 45 days before departure.
Cancellations & Change Fees 
For individual reservations, the following cancellation fees apply per person (unless otherwise noted):
45 days or more to the departure date, we provide a full refund minus a $59 transaction fee
44 days to 21 days prior to departure date 50% of the total price
20 days to, including on and after departure date, 100% of the total price
Cancellation fees may also apply to any additional services, including accommodations and optional excursions, reserved prior to, during, and after the tour. The cancellation policy for each tour may vary due to more flexible COVID-19 terms. Please verify with a Landsby travel advisor if you have any questions.
Changes or Cancellations to Tours
Landsby reserves the right to cancel or re-schedule any tour departure in accordance with operating requirements or circumstances beyond its control. Landsby will try to re-book the same or similar tour. Landsby cannot assume responsibility for any additional costs or any fees relating to the issuance and/or cancellation of air tickets or other travel arrangements not made through Landsby.
Refunds
Please note that any request for a refund is subject to the terms and conditions of the brochure; no refund can be made for unused services, unused transportation where group activity tickets are involved, or for voluntary modifications made by the tour participant.
Participation
For the benefit of everyone on your vacation, Landsby reserves the right to accept or reject any person as a tour participant and to remove from the tour any participant whose conduct is deemed incompatible with the interests of the other participants.
Special Assistance or Special Needs
We ask you to outline any disability or special needs requiring attention to Landsby at the time the reservation is made. Landsby will make reasonable attempts to accommodate the special needs of disabled travelers, but is not responsible in the event it is unable to do so, nor is it responsible for any denial of services by carriers, hotels, restaurants, or other independent suppliers. Most transportation services, including the touring motorcoach, are not equipped with wheelchair ramps. We regret that we cannot guarantee individual assistance to a tour participant for walking, dining, getting on and off motor coaches and other vehicles, or other personal needs. A qualified and physically able companion must accompany travelers who require such assistance and must assume full responsibility for the handicapped participant's well-being. Motorized scooters are unsuitable for touring vacations in Europe.
Smoking Policy
Smoking is not allowed on transportation that is exclusively provided by Landsby.
Passports & Visas
All passengers require a valid passport. Certain countries require that the passport be valid for 6 months beyond the date of return. It is the passengers' responsibility to obtain all visas and entry documents, and for meeting all health advisories and any documents required by laws, regulations, orders, and/or requirements of the countries to be visited. Your Travel Advisor can advise you of the necessary documents required. 
Accommodations & Services 
The Operators shall be responsible to the passenger for supplying the services and accommodations outlined in this brochure, except where such services cannot be fulfilled or the itinerary is changed due to delays or other causes beyond the control of the Operators. In most circumstances, the Operators will do their best to provide comparable services, accommodation, and itineraries. No refunds will be given in this scenario.
Baggage Allowance
One suitcase per person is allowed on our tours. Due to limited coach capacity, this single bag should weight should not exceed 50 lbs (23kg). Airline baggage allowance may vary by carrier. We regret we are unable to accept a second suitcase, or any luggage exceeding these limits. Air carriers may also impose fees if the size or weight limits on checked or carry-on luggage are exceeded. Carry-on bags should not exceed airline restrictions. For safety reasons, wheeled carry-on bags are not suitable as hand luggage on motorcoaches. No responsibility is accepted for loss of or damage to baggage or any of the tour participant's belongings. Baggage insurance is recommended.
Responsibility
Landsby and its employees and agents only act as representatives of the passengers and accept no responsibility for the passengers or for the quality of services provided in hotels, by airlines, trains, buses, or any other vehicle used in connection with the trip. This also applies to delays, luggage loss or damage, or accidents incurred by passengers resulting from the use of these means of transportation, whatever the cause. If for the comfort or well-being of passengers or for any other reason, it becomes necessary or advisable to change itinerary or arrangements, these changes will be made without any compensation due.
Landsby shall not be liable for failure in any of its obligations including any loss or damage resulting from any delay, cancellation, adverse weather conditions, loss of personal belongings, illness, bodily injury, accident, death, deterioration of Services, inconvenience, loss of enjoyment, disappointment or frustration, either mental or physical due to any Acts of God, force majeure or third party wrongdoing.
All bookings made with any provider of transport, facilities, meals, other goods or of any services, are subject to the terms and conditions imposed by them in relation to matters not covered by our agreement. This includes any of the above-mentioned Operators in the Landsby group of companies.
It is your responsibility to comply with the terms, conditions, or requirements of any service provider, or any country or governmental authorities, or to bear any costs or losses incurred as a consequence of you not complying with them.
Every effort is made to ensure product accuracy, however, Landsby cannot be held responsible for printing or typographical errors, or errors arising from unforeseen circumstances.
Itinerary Variations
Landsby constantly strives to improve its itineraries. If such improvements can be made, or unforeseen circumstances beyond our control make changes necessary, we reserve the right to vary itineraries and to substitute hotels. At certain peak periods, duplicate departures may operate, and sometimes in reverse order, in which case hotels may change from those stated on the itinerary pages.