Sold Out
Spa & Wellness Retreat for Two in Slovenia

Slovenian Alps

8 nights
---
or talk to Vacayou travel concierge
This getaway for two through the Slovenian Alps not only takes you into some of the most beautiful wilderness of Europe but also nurtures your body and soul. This 9-day wellness retreat is an opportunity to slow down, de-stress and feel the therapeutic effects of nature. Each day brings a new experience whether it's hiking, outdoor spa-ing, salt pans, healing therapies, waterfalls, culture or history. If you are someone who loves to explore as well as take care of your well-being, this Roundabout Travel retreat in Slovenia is for you.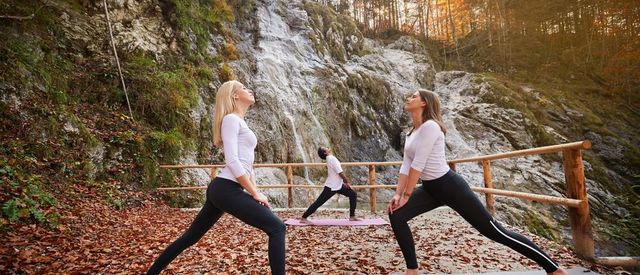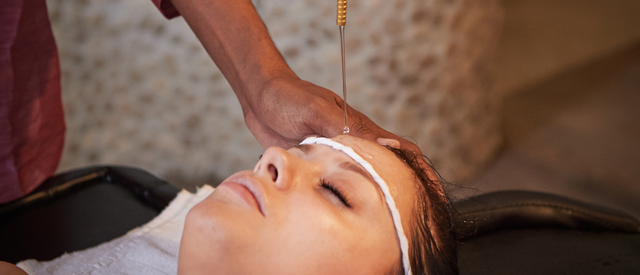 Experience
Nature, waterfalls, glamping, castles, yoga, history and culture. This 9-day spa and wellness retreat invites you to leave all stress behind and experience the healing power of the Slovenian Alps. 
Yoga and meditation with panoramic views of the Slovenian Alps
Visit one of the most scenic trails in Slovenia on a guided hike and discover Slovenia's second-highest waterfall 
Take a digital detox day among centuries-old forests and streams with saunas and spa treatments
Visit museums, ancient castles, coastal towns and villages, and experience idyllic Slovenia
Enjoy wine tasting, traditional food, a Micheline-star experience, and overnight at the most charming and luxurious hotels
Nurture and recharge with the award-winning Forest Selfness Slovenian wellness experience 
Learn ancient traditions and enjoy an outdoor spa experience with a mud wrap and anti-stress massage 
Itinerary
Welcome to Ljubljana! After being picked up at the airport, your private transfer will take you to one of the most beautiful Alpine glacial valleys in Europe. Here, you'll discover hidden corners of unspoiled nature and the most scenic trails in Slovenia in the Logar Valley Landscape Park where nature and tradition walk hand in hand.
Besides the special relaxing activities that you will experience in the next few days, you will have time to admire the sights, among others, the source of the Savinja River, mighty boulders, small museums dedicated to logging and charcoal production, a hunting tower, the rock formation Igla, a giant juniper tree and the main "star" of Logar Valley—the second highest waterfall in Slovenia—90-meter Rinka waterfall with your private driver-guide.
Afternoon schedule
5 pm Detoxifying herbal steam bath and Full body massage (plus optional Barefoot walk along sensory paths)
Take a walk along special sensory paths barefoot to experience nature with all your senses and offer your mind complete relaxation. Indulge yourself in a full-body massage that completely relaxes the body by supporting blood circulation and stimulating the nerves. The Ayurvedic procedure involves applying oil over the entire body and a massage using a certain amount of pressure in specific directions. Massage is combined with a steam bath from local wild herbs which starts a process of detoxifying the body through a natural process of sweating through the skin.
*start time is flexible.
7 pm check-in at Plesnik Hotel
Plesnik Hotel is an alpine boutique hotel in the heart of the regional park—an oasis of tranquility, a place to rest, a hotel for pampered guests. Time to enjoy a little paradise in the heart of the Kamnik-Savinja Alps!
This morning, a beautiful yoga and meditation experience awaits. You'll enjoy a guided morning meditation combined with a yoga session in the Alpine Eco Wellness which is part of the hotel. The panoramic views of the Slovenian Alps will leave you feeling powerful, energized and ready for the day.
*exact start time will be confirmed later.
Afternoon schedule 
12 pm Rinka waterfall, Sočava trail & sightseeing around the valley
Enjoy one of the most scenic trails in Slovenia surrounded by pristine nature and discover the main "star" of Logar Valley and the second-highest waterfall in Slovenia — the 295-feet (90-meter) Rinka waterfall. Your guide will suggest a stop at one of the local tourist farms for some traditional lunch and local delights (žlinkrofi, lamb. sour milk, buckwheat, žganci, homemade cheeses, trout, etc.).
3 pm Free afternoon and time for a peaceful walk around nature with a picnic and an optional fly fishing experience
This afternoon, you'll enjoy time to explore on your own with your loved one. We recommend the picnic in nature experience and can make sure a picnic basket will be ready for you. For those seeking another adventure, but in a peaceful environment far away from the crowds, we can arrange for a local fisherman to take you on real fly fishing. 
Overnight at Hotel Plesnik. 
In the morning, you'll check out of your hotel and around 10 am, a digital detox with complete relaxation in the embrace of unspoiled nature awaits. 
It's time to leave your phone behind and move away from all digital devices for one day. This is something we rarely do and it's the perfect opportunity to return to enjoying nature and time without electronics. Begin by feeling the natural energy paired with the power of centuries-old forests and clear streams, all of which will have a beneficial effect on your well-being. 
Afterward, take a long walk and after check-in, visit the vila's private spa for the complete relaxation of your body and soul. Enjoy a Finnish or infrared sauna while admiring the views of the forest next to the Vila. Centuries ago, the locals discovered four energy points with a soothing and therapeutic effect in the villa's backyard. Slow down and harmonize your rhythm with your inner balance. 
In the evening
For the perfect end of the day, treat yourself to a romantic evening hike in the heart of the mountains. Find and identify the stars in the night sky, watch the serene valley and enjoy an unforgettable surprise!
Overnight at the Boutique Hotel Vila PLaninka.
The Boutique Hotel Vila PLaninka is situated in the picturesque village of Jezersko in Slovenia and is inspired by nature. It has a healthy balance between modernity, luxury, and tradition. The place boasts a special kind of energy. The luxuriously furnished rooms feature no electronic devices or connections that could disturb the guests' natural state of the mind. Your guest room is a pleasant oasis of peace, calm, rest and relaxation.
Today, you'll begin your day by enjoying the tranquil settings of Jezersko. Your guide can take you around (optional) to discover the hidden corners, traditional farms, Planšarsko jezero (lake), vast meadows and pastures.
Afterward, you can either decide to enjoy the rest of the day on your own or discover Slovenia's most spectacular sites — the famous Bled with its iconic lake and the only island in Slovenia. Enjoy unique natural scenes and learn about local crafts & traditions of one of Europe's most picturesque alpine regions.
Recommended activities 
From Jezersko to the Alpine region below the Julian Alps, you will reach Bled, the magnificent Alpine resort with the only true island in Slovenia. For centuries it has been the symbol of natural beauty and home to fairy tales. Ascend the old 12th-century castle, perched on top of a steep cliff with spectacular views of the lake, the island and the surrounding peaks. The castle is not only home to fairy tale weddings, cultural events and important protocol meetings, but also a museum of manual printing as well as a wine cellar.
A boat ride with 'Pletna' — a traditional boat made by locals, is among the must-do things when visiting Bled. Not only due of the authentic boat experience but it's also a true journey back in time. Standing paddlers will take you to the island with 99 stone steps on the way to the Assumption of Mary church and the fortune bell. Make sure not to skip tasting Bled cream cake which is the notorious local dessert, famous all around Slovenia.
Duration: 9 hours
Optional in the evening
Musician playing just for you on a Pletna boat sailing toward the iconic Bled island.
Have dinner in the Villa's restaurant with the pure indulgence of amazing cuisine made of local ingredients. Taste delicious food paired with premium Slovenian wine and enjoy a Michelin-awarded restaurant. The chef believes in constant inspiration, so spontaneous menus are often created during a morning visit to the local sellers and a stroll through the woods. Simple but sophisticated!
*Dinner start time can be flexible.
Overnight at Vila Planinka.
After checking out around 8.30 am, your private transfer will take you from Jezersko to Cerkno. 
Upon arrival, you'll get to experience the award-winning Forest Selfness experience with relaxation under the treetops. Expect deep calmness washing over you as you go on a guided hike on an easy hiking trail. You'll stop at different theme-based areas and experience and learn about the healing effects of nature. Embrace relaxation while being guided by experts through meditation, personal and spiritual growth practices, and reflexology, as well as enjoying Cerkno culinary delights. Look forward to efficient stress management, guided sound therapy, delicious culinary delight and much more! 
Afternoon schedule
4 pm Check-in at Theodosius Forest Glamping Village
Hidden in a centennial pine forest overlooking the majestic Vipava Valley awaits authentic nature mixed with modern comfort. It's the perfect opportunity to recharge as you spend the night in a luxurious cabin in the woods. Some cabins offer a sauna and an outdoor hot tub, which you can request (subject to availability). End your evening by tantalizing your taste buds in the Theodosius restaurant before falling asleep to nature's healing energies outside.
After a relaxing morning, it's time to discover one of the most prominent wine regions in Slovenia with more wine cellars than family houses located in the Slovenian Littoral, close to the Italian border. Vipava Valley is known for its crisp and aromatic fresh white wines and progressive and bold winemakers. The picturesque green valley with breath-taking nature is dotted with stone-built villages located on the hilltops, where narrow streets and squares are often swept by the violent "burja" wind. It's a place of true hospitality, warmth and local charm.
You'll make a stop in Vipavski Kriz — a beautiful small village with houses, clustered inside a defence wall around a castle from the late 15th century where time literally stands still. Then, you'll continue to the Štanjel village and walk around its narrow stone streets and alleys. Enjoy panoramic views of the nearby villages, and view the landscape from the hilltop, the lookout tower or the magical Ferarri Garden. 
During the day, you'll also visit the Vipava Valley for wine tasting. The valley is a friendly wine country where winemakers are always welcoming, presenting a taste of their excellent wine in person. You'll also make a stop in one of the local wineries to taste some premium wines combined with local cold cuts.
Evening optional
In the evening, at around 6 pm, you can enjoy dinner at the Michelin-star restaurant Gostilna Pri Lojzetu, Dvorec Zemono in the Zemono Manor House with unique culinary delights. Here, the ingredients and their freshness are chosen according to season and the purity of the flavors. Preparation techniques in the kitchen range from entirely simple to traditional. Yet they all have something in common. None of them alter the original flavors. Meet Chef Tomaž Kavčič, who proudly shows off his love for Vipava Valley — on a plate. 
Note: Preliminary reservations are required. Availability upon request only.
After check-out, you'll journey to the city of Piran on the Slovenian coast. On the way, you'll pass the coastal towns of Koper, Izola and Portoroz. Get lost in its medieval narrow streets, galleries, hidden corners, and houses, and enjoy some free time over an exquisite seafood meal in one of the many local restaurants or cafés.
The city is known as one of the oldest towns in Slovenia, mentioned for the first time in the 8th century. Throughout the centuries, many different cultures have passed dominion over this part of Slovenia and left their footprints visible in the architecture and way of life. Piran is known for its unmistakable appearance of a peninsula-situated and fortified town with a charismatic St. George cathedral sitting above it. 
Optional supplements/entrance fees:
The Walls of Piran: 2 € / person
The Piran bell tower: 2 € / person
Afternoon & evening schedule 
2 pm From Piran to the Secovlje Salt pans with an optional boat ride to Secovlje, and a relaxing time at the special outdoor spa located at the salt pans
Your next stop is Sečovlje. Here, breathtaking scenery meets a beautiful landscape of the unique Natural Reserve, as well as the biggest wetland on the Slovenian coastline not. Immerse yourself into history and get to know the traditional method of salt harvesting at the salt pans where salt is still produced in the same traditional way as 700 years ago. 
After a nice walk around the natural park, peek into the salt-pan museum to get the answers to learn about how much salt can be harvested per day and about the equipment and accessories used in the process. Then, it's time for relaxation at the unique outdoor spa center located right in the heart of the saltpans. You can enjoy a unique wellness salt-pan mud wrap, an anti-stress massage and admire the sunset from the swimming pool. 
Optional: You can continue from Piran to the salt pans by boat (shared or private)
7 pm check-in at Villa Majda
Tonight you'll check into a rustic Istrian villa with an outdoor swimming pool and green garden offering rest, privacy and relaxation far away from the crowds. It is an intimate setting with 5 superior and 1 deluxe double room. Enjoy a delicious breakfast prepared from local ingredients of the highest quality as well as a great dinner (optional) served inside in a beautiful dining hall or on a spacious terrace by the swimming pool. 
Today you can choose between truffle hunting, enjoying an Istrian cooking class or hiking/cycling along the paths of Dragonja River.
Activities to choose from: 
A relaxing walk or cycling along the paths of Dragonja river, half-day or full-day trip
Truffle hunting with cooking, tasting, half-day or full-day trip
Istrian cooking class, half-day activity
 Overnight at Villa Majda.
At 9 am, you'll check out from your hotel and your transfer will take you to the airport with an optional sightseeing stop at the fascinating Postojna Cave.
Optional activity
Postojna Cave
Discover the magnificent 14,9 miles (24 km) halls and chambers of the mystic underground of the Postojna Cave. It is the most prominent karst cave in the world and was first ready for exploration in the 17th century. Learn about the most famous cave-dwelling creature — the "human fish" or olm and explore beautiful underground passages and galleries with spectacular drop stones, pillars, limestone curtains, and other natural stone forms while riding in a special electrical train and walking through the cave.

*sightseeing schedule depends on the chosen dates
FAQ
Not included in the package and optional activities:
Barefoot walk along sensory paths (on request)
Picnic basket at Hotel Pleasnik (on request)
Fly-fishing experience (on request)
Excursion to the unspoiled paradise of Jezersko (on request)
Dinner in the Villa's restaurant—pure indulgance in amazing cuisine made of local ingredients (on request)
Dinner in Michelin-star restaurant - Restaurant Gostilna Pri Lojzetu, Dvorec Zemono (on request)
Half-day excursion to the famous Lake Bled (on request)
Truffle hunting experience (on request)
Istrian cooking class (on request)
Hiking/cycling along the paths of Dragonja River (on request)
Postojna cave (on request)
Drinks based on consumption and additional meals
Additional tours and entrance fees
Personal expenses & gratuities
Terms
This tour is hosted by Roundabout Travel.
Deposit Policy
A deposit of 30% is required to confirm your reservation and the remaining amount is to be paid 30 days prior to your arrival.
Cancellation Policy
The client is entitled to cancel or change the agreed travel arrangement directly with the operator where the booking was made. Please note there is an administration fee of 25€ (EUR) for any amendment of the confirmed travel arrangement.
Cancellation policy for Roundabout Travel private multi-day package tours:
59-45 days before departure, cancelation fee is 15% of the total price
44-30 days before departure, cancelation fee is 30% of the total price
30-15 days before departure, cancelation fee is 50% of the total price
14-8 days before departure, cancelation fee is 75% of the total price
7-0 days before departure, cancelation fee is 100% of the total price
For no-shows, the cancellation fee is 100% of total price.