3-Day Solo Transformational Retreat in Joshua Tree

Welcome to the ultimate self-care journey. Interested in 1:1 lessons to learn how to self-heal? Lose weight? Meditate? Practice yoga? All while escaping from the stress of daily life? Then this is YOUR tailor-made retreat! This 3-day solo transformational micro-retreat in Joshua Tree helps you rediscover your true self and stand on a stronger foundation on both a personal and professional level. Located in the beautiful high desert, the healing sanctuaries at Camp Vortex have been intentionally curated for energy healing. This supportive space gives you the confidence to remove any blocks holding you back from happiness.
About Your Host
Ramsay Mead's life's journey has been about healing from chronic disease and helping others to heal along their own personal paths. Formally trained in Qigong, Chinese boxing, Tai chi, bodywork and yoga therapy, Ramsay has been working in the the field of healing and energy medicine for more than 30 years. She leads master level instruction in movement therapy, clinical detoxification and nutritional balancing. Ramsay has chosen the beautiful high desert of Joshua Tree to blend her passion for nature and healing.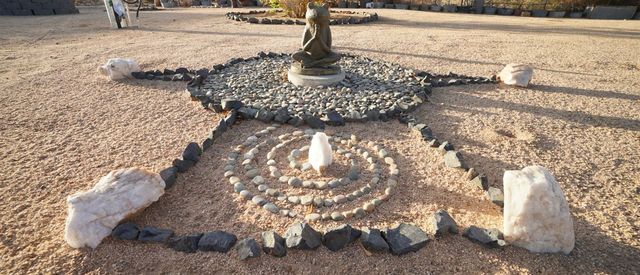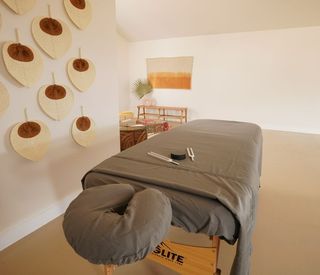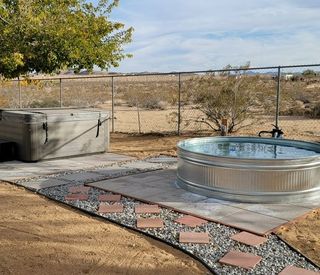 Experience
Embark on a transformational journey complete with delicious foods, wellness workshops to connect and heal, massage, meditation and yoga. Camp Vortex  is the ideal place to unplug, slow down and get back in touch with nature.
Be more relaxed and refreshed than you've ever been
Become stronger mentally and find inner peace
Rediscover yourself after feeling disconnected for too long
Itinerary
✦ Noon Check-in
✦ 12:30 Lunch
✦ 2:00 Hike (desert location)
✦ 3:30 Bodywork massage (studio)
✦ 4:30 Movement Qigong/yoga and sound meditation
✦ 5:45 Sauna, ice bath and Jacuzzi (ranch)
✦ 7:00 Dinner
✦ 8:30 Fire circle, stargazing and coaching
✦ 9:30 Bodywork/stretching (studio)
✦ 6:30 Sunrise Qigong (desert location)
✦ 8.30 Morning juice/coffee
✦ 9.30 Bodywork and sound meditation (studio)
✦ 10:30 Sauna, ice bath and breathwork (ranch)
✦ 11:15 Lunch
✦ 1:00 Hike (Joshua Tree National Park)
✦ 3:30 Lunch
✦ 5:15 Sunset Qigong
✦ 6:30 Bodywork/massage or sauna, ice bath and breathwork (ranch)
✦ 7:30 Dinner
✦ 9:00 Fire circle, stargazing and coaching
✦ 6:30 Sunrise Qigong
✦ 7.30 Morning juice/coffee
✦ 8.30 Bodywork massage (studio)
✦ 9:30 Sauna, ice bath and breathwork (ranch)
✦ 11:00 Brunch and closure ceremony
✦ 12:00 Check-out and blessings
Offers
3-Day Solo Transformational Retreat
Package price displayed is per person based on a private room. Additional night accommodations are available. Please consult our travel concierge.
Package Includes:
2 nights accommodation is a private room with ensuite bathroom + shower*
All clean organic meals and beverages
2 body treatment sessions
2 guided nature movement sessions such as Qigong or yoga
1 guided meditation sound bath
1:1 coaching session
Access to ice bath, Jacuzzi, sauna and hiking trails
Plenty of downtime to unplug
* When you are seeking relaxation and renewal often the best way is to retreat to your own space. The guest rooms come with robes, slippers, a hairdryer and luxurious bath amenities.
FAQ
✦ ROOMS: 5 BEDS: 6 BATHROOMS: 3 SHOWERS: 4
✦ INDOOR & OUTDOOR AMENITIES
✦ 5 ACRES OF LAND AND UNOBSTRUCTED VIEWS
✦ HOT TUB & ICE BATH & NIR SAUNA
✦ HAMMOCK CIRCLE
✦ ZEN CIRCLES
✦ FULLY AIR-CONDITIONED YOGA & MEDITATION STUDIO
✦ COVERED EVENT SPACE
✦ LOUNGE AND DINING FURNITURE
✦ FIREPIT
✦ FULL KITCHEN STOCKED FOR HOSTING
✦ BEAUTIFUL DINING TABLE FOR 12
✦ KITCHEN BAR & COUNTER
✦ LIVING ROOM WITH OPEN FLOOR PLAN
✦ FIREPLACE
✦ A LOCATION TO ENVY
✦ MINUTES WALK FROM VAST OPEN PARKLANDS TO EXPLORE
✦ MINUTES FROM THE INTEGRATRON
✦ 20 MINUTES FROM PIONEERTOWN
Terms
Deposit Policy
A 50% deposit of the entire stay is required at time of booking to reserve your spot.
Cancellation Policy
100% deposit refund for cancellation 30+ days before retreat start date
50% deposit refund for cancellation 15-29 days before retreat start date
0% deposit refund for cancellation 0-14 days before retreat start date