Callaway Resort & Gardens
Bubbles & Berries: Romantic Getaway Package for Two in Pine Mountain

Pine Mountain, Georgia, USA

2 nights

from $370 Per Night

Based on rate for two guests
---
or talk to Vacayou travel concierge
How would you like to step into a romantic scene of a movie? And how long ago was it that you and your partner truly got to enjoy each other and indulge in real romance? If you haven't been on a date night in a while then this exclusive Vacayou getaway will surprise you in many ways. 
Sleep in and wake up relaxed in a super comfortable bed in your award-winning accommodation. Get intimate after an adrenaline-filled forest ziplining experience. Have picnic in the beautiful gardens, bike through flowers and woods, bathe in the lake, and experience mother nature giving you two some of her best gifts. No matter what type of couple you are, there is something here for everyone to enjoy. You will be welcomed with sweet bubbles & berries, go on picnics, experience being on a love boat together and so much more. You have access to relaxation, spa, delicious food, and adventure. 
With 2500 acres of woodland, gardens, wildlife, lakes, blossoming flowers, butterflies and nightly romantic walks, this is an experience for all the lovebirds who want to get a little closer. It's time to enjoy your partner to the fullest with everything you might need for your best romantic scene yet. In the midst of Pine Mountain, there is a romantic place like few others. With this romantic getaway package at Callaway Resorts & Gardens, you get romance the way you want it.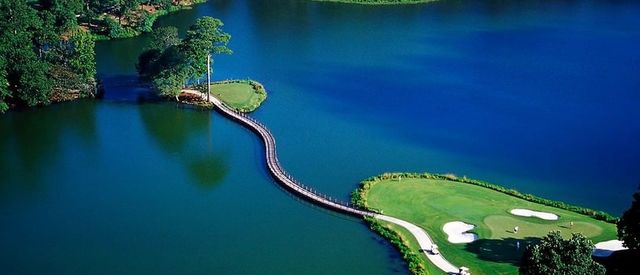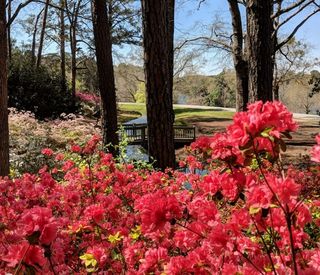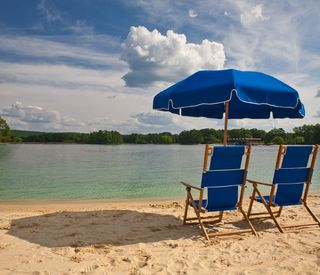 Experience
Imagine 2500 acres of beautiful gardens with rare flowers, inviting lakes, a majestic forest, and an abundance of hiking trails.  And that is just a portion of what you will experience during this getaway at Callaway Resorts & Gardens in Georgia. This romantic getaway for two, located in Pine Mountain, will leave you speechless ore than a few times . That is, when you and your loved one aren't kissing on your romantic dates. There is more than enough for any couple to get intimate, have fun and get closer on this getaway!
Some of the incredible experiences in this romantic getaway package at Callaway Gardens include:
Exploration of the award-winning garden areas and woodlands
Romantic picnics by the lakes, in the gardens and on the beach
Option to engage in activities such as kayaking, romantic boat rides and exploring the Callaway Discovery Center
Opportunity to visit the Cecil B. Day Butterfly Centre with more than 1000 butterflies
An abundance of hiking and biking trails through the blooming azaleas, forests, gardens and with spectacular views
Treetop adventures and ziplining above the lake in the forest 
Offers
2-Night Romantic Getaway
from
$370
Per Night

Based on rate for two guests
Vacayou Exclusive
This experience is only available on Vacayou and includes treats to make your stay romantic.
Unique to this Package
A free upgrade to a Lake Side Room for Vacayou guests ($30 value). Plus 20% off Spa Services Sunday through Thursday for Vacayou guests.
The package price displayed is per night for two people. In beautiful Pine Mountain, Georgia, you and your loved one get to enjoy daily and nightly romance.
Package Includes:
2 nights in an Award-Winning Lodge & Spa accommodation for two with amazing Lake,- or Woodland view.
$100 Daily Credit for Dining and Recreation (Non- Cumulative, Spa Excluded)*
Welcome Bubbles & Berries delivered to your room the day of arrival
Admission to Callaway Gardens and its attractions each day of stay and day of departure
Dinner for two at The Piedmont Dining Room 
A night out at Cason's Tap Room (Friday & Saturday Nights experience Cason's Live)
Access to Georgia's largest white-sand beach - Robin Lake Beach
A romantic picnic in the historical Overlook Garden
Swimming and relaxation at the Cabana Pool & Bar area
Access to fun activities, such as kayaking on a love boat, exploring the amazing gardens on a bike, Treetop Ziplining, tennis, the Birds of Prey Show and Garden hikes
*Enjoy the Daily Credits toward a bike ride & romantic picnic lunch, dinner for two in the Piedmont dining room or refreshing drinks at the Cabana Pool Bar. Fun activities include kayaking, hiking or biking, treetop ziplining, tennis instruction, golf and much more.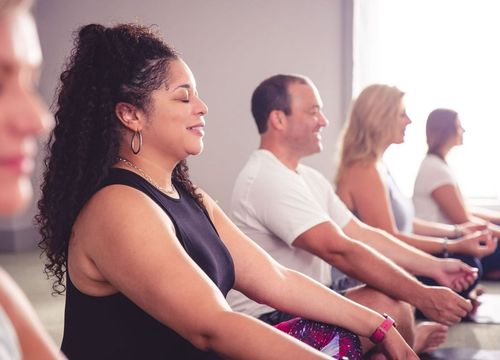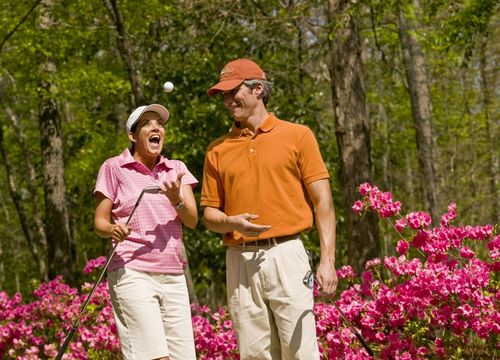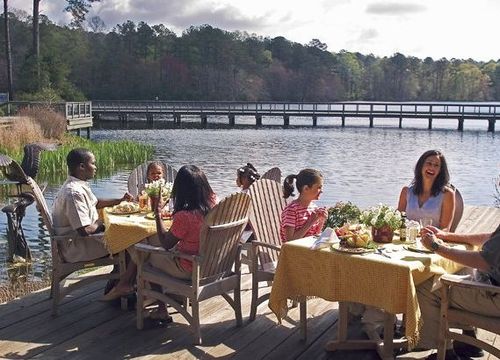 Accommodations
The Lodge offers 150 well-appointed guest rooms and suites with balconies overlooking lovely woodland, garden and lake views. Guests feel right at home with airy interiors, modern decor, cozy furnishings and rich touches.
Features & Amenities
1 King or 2 Queen beds
Wi-Fi
Swimming pool
Spa and fitness center
In-room coffee maker
In-room refrigerator
Iron & ironing board
Hairdryer
FAQ
Deposit Policy
Callaway Gardens requires a first night's deposit charged to a valid credit card at time of confirmation. Deposit policy may vary during Special Events.
Debit Card Policy 
Callaway Gardens gladly accepts your use of a debit or credit card for transactions. If a debit or credit card is used, your account will be debited at the time of transaction. This also is referred to as a "hold."  For lodging expenses, your account will be debited at check-in for the projected total amount of room and tax, plus approximately $50.00 for incidentals. If you check out earlier than expected, or should you pay your charges by other means, the unused amount will be released from your card. Card companies also may put a hold on restaurant transactions to cover gratuity. These funds will not be available for use from your bank account.  Depending on the card processor and your bank's procedures, it could take up to 10 days for the unused amount to be credited back to your account.  Callaway Gardens cannot be responsible for any returned check fee, or other fees, associated with your bank account.
Cancellation and No Show Policy 
Standard guest reservations may be changed 72 hours (3) days prior to arrival to include a change in length of stay or cancellation.  After this time, reservation changes or failure to arrive (no show) will result in the forfeiture of your deposit. This policy may vary during Special Event Dates, including Fantasy In Lights. Memorial Day Weekend (Friday to Sunday), July 4th, Labor Day Weekend (Friday to Sunday) and Thanksgiving (Wednesday to Sunday), all reservations may be changed 7 days prior to arrival to include a change in length of stay or cancellation. Please review your confirmation carefully.   Reservations made within a Group room block may be changed 7 days prior to arrival to include a change in length of stay or cancellation.  Refer to your Group's organizer for more information.
Check-In & Check-Out Policy
Guest check-in begins at 4 p.m. The minimum age to check-in is 18. To ensure all guests receive a great experience, please check‑out at the front desk by 11 a.m. Guests checking out after 11 a.m. will be subject to the following charges: 11 a.m. to 1 p.m. One‑half of Daily Rate; 1 p.m. to End of Day Full Day Rate.
Early Departure
Please confirm your departure date. An early departure fee of one night's room and tax applies if you depart prior to this date.
Resort Services Charge
A $25 Resort Services Charge (RSC) will apply per unit, per night. The RSC includes one $10 recreation voucher per stay, two bottles of Callaway Blue® water and enhanced wireless internet access.  Guests also have access to lodging-specific pools. Between November 1 and March 1, guests staying in a cottage or villa receive a complimentary first bundle of firewood. Self-parking is complimentary for all guests.
State Hotel-Motel Fee
Beginning July 1, 2015, all hotel and motel owners in the State of Georgia are required to charge and collect a $5.00 per night fee from guests staying at their establishment. During its 2015-2016 Regular Session, the Georgia General Assembly passed House Bill 170 (Rule 650-13-2-.01). This law requires the collection of a "State Hotel-Motel Fee"(the "Fee") on all hotel and motel room rentals.  The fee is collected by the property and passed on to the State of Georgia.  The establishment does not retain or keep the fee.  This fee is charged for each night the guest stays, and is to be collected at the time the customer pays for their stay.  Reservations and room rates quoted prior to July 1, 2015, may not have reflected the $5.00 fee in the total price. The State of Georgia's Department of Revenue instructed hotel and motel owners that they are required to collect the State Hotel-Motel Fee even if it was not quoted in the original reservation. This fee will only be waived if the visit is paid in full prior to July 1, 2015.
Pet Policy Note:
A limited number of Cottages are available for guests bringing pets weighing less than 70 pounds. A non-refundable fee of $200 applies at the time of confirmation. Other than the above-mentioned rooms, pets are not allowed inside any Callaway Gardens building, near the Bird of Prey Shows or within the Robin Lake Beach area or any other recreational facilities. Pets must be on a leash at all times and are the responsibility of the owner. Any pet that shows aggression to other pets or people will be subject to revocation of all privileges at Callaway Gardens. Pets are not permitted in the Villas or the Lodge & Spa. All service animals are excluded from the Pet Policy.
Please note: If unapproved pets are found in the Cottages, Villas, or Lodge & Spa, the guest will be assessed a $300 cleaning fee.
Callaway Gardens Visitation Policies
Callaway Gardens' goal is to ensure every guest has a safe and enjoyable experience. Please assist us by following these simple guidelines:
In case of emergency, call Security at 706.663.5070.
The Speed Limit within the Gardens is 20 miles per hour. Please adhere to posted signs at all times.
Motorcycles, scooters, hover boards and Segways are not allowed in the Gardens. Motorcycles are permitted to visit the facilities outside of the Gardens gates, such as the Inn, Cottages, Villas and conference center. Motorcycle riders can rent transportation carts and/or bicycles to enjoy the Gardens. Power-driven mobility devices for guests with disabilities are permitted.
Pets are not allowed inside any Callaway Gardens building except for a limited number of pet-designated guest rooms in the Mountain Creek Inn. Pets are allowed in outdoor areas except within Robin Lake Circle, which includes the Robin Lake Beach and picnic areas, and the Discovery Amphitheater. Service animals are permitted.  Pets must be on a leash at all times and are the responsibility of the owner.  During the Hot Air Balloon Festival, pets are not allowed on the balloon field or in the hot air balloons.  Please see "Overnight Policies" below regarding pets in lodging facilities.
Privately owned golf carts, side by sides, or any other ATV are not authorized on Callaway Resort & Gardens Property with the exception of permitted Callaway Residents.
Ride bicycles on designated paths. Georgia law requires children younger than 16 to wear a helmet when biking.
The Discovery Bicycle Trail is designed for bicycles. Walkers and joggers please use caution.
Callaway Cruiser golf carts should stay on roadways within the Gardens. For safety reasons, Callaway Cruisers are not permitted on bicycle trails, walking paths, or U.S. and state highways. Carts rented to play golf should stay on designated golf course cart paths. Golf carts are not permitted to leave Callaway Gardens property.
Please dispose of litter properly.
Refrain from bringing alcoholic beverages into Callaway Gardens.
Callaway Gardens facilities are smoke-free.
Grilling and picnicking is permitted in the Pine Needle Point picnic area on the west side of Robin Lake Beach. Tables at the Beach Pavilion and Beach Bar are reserved for dining customers.
Be considerate of other guests with your entertainment.
To fish, check at Callaway Outdoors (lower level of The Gardens Restaurant) or the Boathouse for designated fishing areas. No bank fishing permitted.
Refrain from soliciting at Callaway Gardens.
Wildlife lives throughout the Gardens. Please only watch; don't feed the animals, unless using food – such as fish food – provided by Callaway Gardens.
Due to proximity to Harris County Airport, Drones are not allowed on property at Callaway Resort & Gardens.  All Professional photography, photo and video shoots must receive advance permission.  Non-compliance will result in removal from the property.  Please reach out to

This email address is being protected from spambots. You need JavaScript enabled to view it.

in advance of visit for details.
Callaway Gardens reserves the right to not allow the carry of handguns or other weapons on the hotel/resort premises.
Callaway Gardens prohibits the use of fireworks, sparklers, etc. by its guests.
There are several options to view the Gardens without walking. On a first-come, first-served basis, a limited number of wheelchairs are available for use at the Cecil B. Day Butterfly Center and Virginia Hand Callaway Discovery Center.
Capacity Closure: To ensure guest safety and enjoyment, if necessary, Callaway Gardens may find it necessary to limit gate access through a phased closure.  When gate access must be limited, priority access "may" be provided to the following groups:  Callaway Resort & Gardens Overnight Guest, Callaway Connection Members, Annual Members, and Day Guests re-entering the Gardens with proof of same-day paid gate admission.
Proper Attire:  Proper swimwear attire is required at Robin Lake Beach and Resort Swimming Pools. Men must wear bathing suit shorts on Aqua Island. No denim, khakis, street or cut off shorts allowed on water slides as well as shorts with metal rivets, buckles, buttons or belts. No oversized or sagging pants that prevent coverage of undergarments. Women must wear either a one-piece suit or a two-piece suit (top & bottom). No bikini thongs or revealing swimwear allowed. Any guest wearing offensive clothing, such as clothing with profanity, unacceptable pictures or symbols will be asked to leave. Management reserves the right to determine the acceptability of proper attire.
Metal detectors are allowed on the Beach with the following rules applied: The metal detecting cannot interfere with the enjoyment of other Callaway guests. Cannot use metal detectors on special event days. Must fill in all holes dug. Must turn in all items found to Callaway Safety. **We reserve the right to disallow metal detecting at anytime.
PLEASE NOTE: By your admission to Callaway Gardens, you grant Callaway Gardens the right to film/videotape/photograph you on Callaway Gardens property for marketing, advertising or broadcasting purposes without payment or consideration thereof.
Harris County Airport – private business and recreational aircraft. Transportation is available for overnight guests arriving at the Harris County Airport. The rate is $20 one-way/$40 round-trip and covers up to 4 people. A minimum of 48 hours advance notice is required. Please inquire. Atlanta's Hartsfield-Jackson International or Airport Columbus Metropolitan Airport
The property Shuttle only provides transportation within the grounds of Callaway Resort & Gardens. You can call ahead for shuttle service by dialing x123 during your stay or by contacting the front desk.
No. Callaway Resorts & Gardens is family-friendly and welcomes both the little ones and big ones. However, this specific package is a romantic getaway for two and only for adults.