Relax & Wellness Retreat in Costa del Sol

Welcome to the luxurious Las Dunas Hotel Health & Spa by the beach and an experience that takes you away from stress and into a happier and more playful state. With a huge focus on wellness, Costa del Sol has become the perfect place to relax, take care of your mind and body, have fun and revel in delicious food and pleasure. The Relax & Wellness package will help you discover a healthier lifestyle and reconnect and recharge your physical and emotional energy. With the help of medical and nutritional experts and therapists, this wellness experience takes you beyond just relaxation and pampering (although there is plenty of this, too!) and gives you a high boost of well-being. It's an opportunity to reset and optimize your health by getting rid of stress, fatigue, lack of motivation and so much more.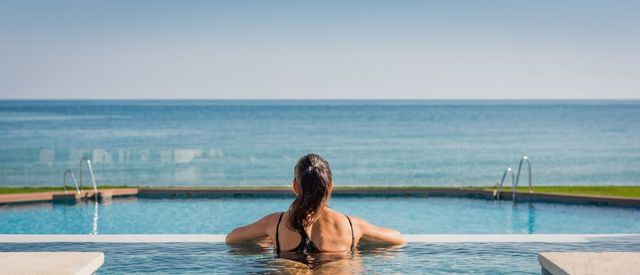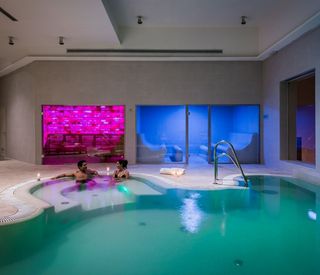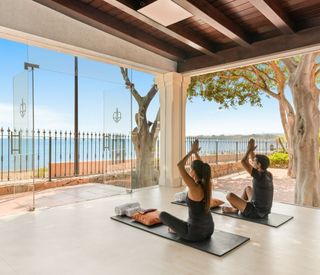 Experience
Step into five-star luxury, relaxation, rejuvenation and health in a destination that has 325 sunny days per year. Reconnect with yourself and recharge as wellness professionals help you alleviate stress and improve your emotional, physical and mental health. With thorough medical analysis and spa treatments, cooking classes, yoga and a peaceful environment, you will receive all the right tools to feel and be your best self. 
Stay in and experience one of the most beautiful places in the south of Spain
Enjoy luxury treatments and services right by the beach with all the best wellness facilities
Reduce stress, enhance sleep quality, get rid of fatigue and improve your mood
Learn to cook nutritious food for your specific body and needs
Enjoy an expansive subterranean spa with hydrotherapy pool, Turkish bath, Finnish sauna, ice cave, tepidarium and halotherapy room
Offers
7-Night Relax & Wellness Retreat
The price displayed is per person for the entire stay and is based on double occupancy. 
Package Includes:
7 nights accommodation in Deluxe y Acceso Spa room
Healthy full board: five meals a day in form of a closed menu, adjusted to allergies, intolerances and with the option of containing hypo calories
Two medical check-ups: evaluation and results.
Blood test: to define specific hormonal and inflammatory parameters to seek for stress altered factors
DEXA body composition analysis: non-invasive reference technique due to its precision in determining how our body is composed (fat, lean mass, bone
density), basal calories burnt, fat distribution, and diagnosis of sarcopenia (muscle loss)
Consultation with our graduated nutritionist-dietitian 
Natural dietary supplements
Two sessions of motivational-mindfulness coaching
2 Relaxing massages
1 Mediterranean treatment: peeling and body wrap
1 Flotarium session
1 Relaxing body wrap
1 Hot stone massage
1 Craniofacial massage and feet reflexology
Access to the Health & Spa Center, (sauna, Roman bath, hydrotherapy pool, foot bath, thermal showers, cold pool, ice fountain, jet loungers)
1 group daily activity: yoga, Pilates, stretching
Introduction class to the gym: Get the best out of our high-quality Technogym machines
Cooking workshop: Increase your culinary skills and learn chef secrets to make your preparations healthier
Nutrition talk: basic and specific principles to obtain professional criteria to apply to your food decisions
Terms
Reservations & Cancellations
Please be informed that in case of having booked any of the available programs or offers, the hotel will require a non-refundable advance payment of 1,500€ per person. This payment can be made by bank transfer or charged to the credit card provided in the reservation confirmation process. Should you prefer to make a deposit on a different credit card the hotel will require you to fill in a credit card authorization form signed by the credit cardholder. If your reservation has been made only on an accommodation basis or accommodation and boarding, the total amount will be paid upon arrival at the hotel.
Reservations can be cancelled or amended in writing according to the following terms and conditions:
From 21 to 7 days prior to arrival = 50% penalty fee of the total cost
Less than 7 days prior to arrival = 100% penalty fee of the total cost
Las Dunas Hotel Health & Spa reserves the right to charge 100% of your total reservation within the last 7 days prior to your arrival or throughout your stay. Any additional charges will be paid on the day of departure.
No reimbursement will be made in case some of the scheduled treatments or meals are not consumed or used during your stay.
Arrival/departure
Guests do not have the right to the use of a specific room number, but to a room in the category booked. The booked room will be available from 3 pm on the day of arrival. On the day of departure, the room must be vacated by noon, otherwise, this day will be charged additionally. The reservation department should be contacted for extensions to a guest stay beyond the reserved and confirmed duration as well as for all other changes to the booked stay. This is usually subject to a change of room. Guests admitted to the health center for the first time are requested to present a valid passport/ID on arrival.
Valuables/liability
Las Dunas Hotel Health & Spa is not responsible for the objects deposited in the room safe nor in the room. The Hotel only takes responsibility for items deposited in the hotel safe at the main reception with a limit of 3,000€. Guests use the Las Dunas Hotel Health & Spa parking garage and parking spaces at their own risk.
Center/Hotel rules
The minimum age for treatment atLas Dunas Hotel Health & Spa is 18 years.
A strict ban on smoking and on the consumption of alcohol is enforced atLas Dunas Hotel Health & Spa, both through­out the health center premises as well as in guests rooms.
Please do not wear sports clothes or a bathrobe in the salon or dining room. You are requested to wear European swimwear (bikini, swimsuit, bathing trunks) in the swimming pool area.
The outdoor pool is available at the times according to the season. The use of the outdoor pool apart from this timetable is done on the own responsibility of the guest.
Pets are not allowed.
Las Dunas Hotel Health & Spa is situated on sloping terrain and is therefore only suitable to a limited extent for guests who have mobility problems or are reliant on a wheelchair.
Compliance with the regulations set out in the health center rules is of vital importance for the success of your treatment atLas Dunas Hotel Health & Spa. This also applies to the instructions given by medical staff, nursing staff and other senior personnel.
In case of repeated non-compliance with these rules or instructions, the health center & hotel management reserve the right to discontinue treatment. The costs must be paid by the guest/patient.