Chatham, Massachusetts

2 nights

from $261 Per Night

Based on rate for two guests
---
or talk to Vacayou travel concierge
Watch the fishing boats float by, hear the subtle call of the gulls in the distance and find yourself in a fresh frame of mind after a few nights on the Cape at Chatham Bars Inn. Whether you're looking for a quick, restorative escape or planning to work remotely in an exceptional environment, a lasting recharge is within reach where sea views meet upscale New England charm.
Unwind in a private cabana or with a soothing spa treatment, energize with fitness classes or personalized training sessions—beachfront yoga flow does wonders for the mind, body and soul. And most delicious of all, savor every fresh-caught flavor the Inn has to offer at a number of on-property restaurants. Take your pick from the seasonal menus inspired by local heritage and natural surroundings. They call it "coastally-inspired" cuisine and each farm-to-table, pier-to-plate creation is served with a side of spectacular harbor views.
From premier dining experiences to elegant accommodations, indulge in a taste of classic New England luxury.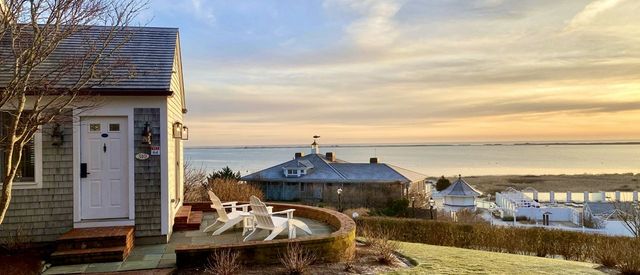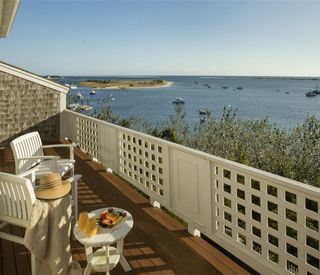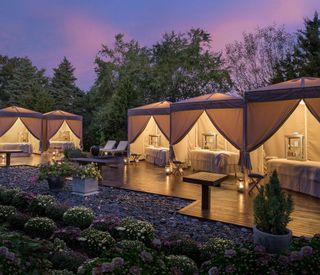 Experience
For decades, Chatham Bars Inn has been enchanting guests with its quintessentially Cape Cod accommodations, sweeping ocean views and all-around first-rate experiences. From deeply relaxing spa treatments to dynamic aerobics activities, it's clear why this destination is so well-known for luxury R&R.
Elegant accommodations in a luxurious, ocean-front resort.
Farm-to-table and pier-to-plate classic American cuisine.
Wellness and fitness programs include individualized yoga and personal training sessions.
Soothing spa treatments are available for an additional cost.
Offers
2-Night Recharge
from
$261
Per Night

Based on rate for two guests
Package Includes:
2-night stay in deluxe accommodations with complimentary room upgrade based on availability
Welcome amenity including a selection of seasonal fruit and local cheeses
$50 resort credit (total, per stay)
Healthy snacks prepared by chefs are delivered to your room the afternoon of your arrival and the first morning of your stay
Terms
Spa treatments and additional wellness and fitness services can be reserved through the Spa. Advance reservations are required. Blackout dates apply. 
Resort Fees
A resort fee of 5% of rate (plus tax) will be charged to include the following:
Parking
Complimentary transportation in the town of Chatham
High-speed internet service
Complimentary newspapers and Free Press Application (provides access to 100 worldwide newspapers)
Rollaway beds, cribs and pack and plays
Local and long-distance calls (within USA)
Guest rooms complete with Nespresso machines and pods
Coffee in South Lounge 5-11 am
Early riser coffee and muffins 5-7 am in South Lounge
In addition in the summer season:
North beach island shuttle via Bar Tender our 29' custom launch (beginning May 1st and running daily)
Complimentary bike rentals to access Cape Cod Rail Trail (first come, first serve)
Pool and beach amenities, sunscreen, best-selling books and refreshments throughout the day
Morning exercise programs (yoga, cross-fit, beach boot camp, North Beach power walks)
Complimentary evening Bon Fires near beach for enjoyment
Complimentary lawn activities: Horseshoes, Bocce Ball, Croquet, Volleyball
Complimentary Children/Teen programs throughout the summer (Dive in movies/beach parties, etc.) There are also programs for teens that do have a charge
Interactive learning sessions at the Chatham Bars Inn Farm.
Deposit & Cancellation Policies
June 13, 2021 – September 6, 2021
A one-night deposit is required at the time of booking. 60 days prior to arrival 50% of the room balance is charged. 30 days prior to arrival 100% of the remaining room balance is charged.
Cancellations received up to 60 days or more prior to arrival will result in a $50 cancellation fee. Cancellations received 59 days or less prior to arrival will result in full deposit forfeiture.
January 1, 2021 – June 12, 2021 and September 7, 2021 – December 29, 2021
A one-night deposit is required at the time of booking. 7 days prior to arrival 100% of the remaining room balance is charged.
Cancellations received up to two days prior to arrival will result in a $25 cancellation fee. Cancellation received less than 48 hours prior to arrival will result in full payment forfeiture.
Pet Policy
We welcome one dog under 75 pounds per room and prefer them to be at least one year old. There are designated areas on the property where your dog is welcome (these areas do not include restaurants, pools or the beach). Pet fees vary seasonally. Rate: $100 fee and $40/night in summer (Mid June through Labor Day), $40/night remainder of the year (no initial fee of $100).