Sold Out
Platinum Safari Experience in Botswana

Botswana, Africa

10 nights
---
or talk to Vacayou travel concierge
For those seeking a private paradise, Botswana sets the gold standard for intimate, sustainable lodging and is at the forefront of bold new safari experiences. Hosted by the award-winning African Travel, discover a front-row seat to nature's theater at luxury-tented camps that draw on decades of safari heritage. This Platinum Botswana Safari package features a range of activities including quad biking, bushman walks, traditional game drives and meerkat encounters. For real adventure in unreal style, this ultra-lux African safari delivers attention to detail, privacy, style and sustainability.
The Basics
Start & Finish: Johannesburg, South Africa
Length of Tour: 10 nights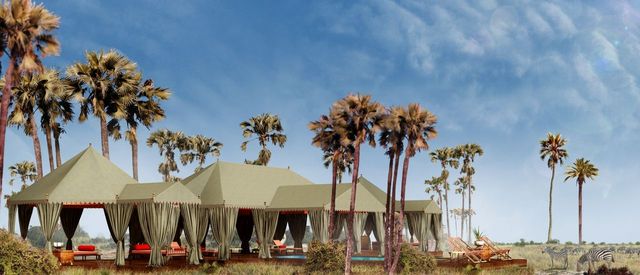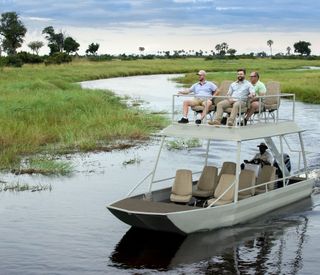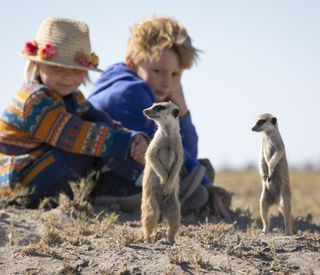 Experience
This luxurious safari adventure in Botswana, Africa, brings you a unique experience. The Platinum safari package lets you explore one of Botswana's most prolific wildlife areas. Home to leopards, lions, cheetahs, elephants, buffalo, red lechwe, zebras and giraffes, it is also a refuge for some of the more uncommon species such as the African wild dog, roan and sable.
Experience interaction with the pixie-faced meerkats as they emerge from their burrows
Visit the Natural History Museum, with one of the most comprehensive collections of ancient artifacts in Botswana
Recharge at the new Xigera Safari Lodge while enjoying bespoke experiences that thrill and educate
Meet the Kalahari bushman on a nature walk at Jack's Camp
Enjoy dinner in the middle of nowhere with a 360-degree view of the stars 
Go on morning and evening safari drives in search of local wildlife
Experience land and water safaris at your own pace at Xigera Safari Lodge
Glide in a glass-bottomed mokoro at Xigera
Enjoy adventure activities with quad bikes over the white sand pans at Makgadikgadi Pans
Enjoy a floating brunch while watching hippos and elephants in the water
Delight in the Magic of the Makgadikgadi while learning about one of the largest animal migration routes, finding a treasure trove of ancient artifacts and taking a fascinating walk with the Zu/'hoansi Bushmen
Itinerary
With a warm welcome upon your arrival in Johannesburg, South Africa's "City of Gold," you will be transferred to the enchanting Saxon Hotel. A perfect blend of rich cultural history and contemporary five-star service, the Saxon is situated on ten acres of magnificent indigenous gardens, providing a private and peaceful retreat like no other.
Overnight: The Saxon
Take flight to the remote Makgadikgadi Pans. The otherworldly vistas, unique desert wildlife and old-world glamour of Jack's Camp deliver an experience that is unlike any other on the continent. Keep your eyes peeled for brown hyena, oryx, Kalahari lion and, after dark, aardvark, porcupine, honey badger and bat-eared fox.
Overnight: Jack's Camp
As the sun rises, watch the pixie-faced meerkats emerge from their burrows and take a walk with the Kalahari bushmen. The camp has one of the most comprehensive collections of ancient artifacts in Botswana, collected and curated by the Bousfield family over decades. After dinner, head out into the middle of nowhere for a 360-degree view of the stars.
Overnight: Jack's Camp
The Makgadikgadi is like nowhere on earth, a place of wonderful, unpredictable spectacles. During the dry season, a shimmering whiteness envelops the scorched landscape, like a mirage floating over the crusted salt. This is the time of year for whizzing across the pans on the back of a quad bike, sleeping under the stars and enjoying the pans in their most iconic state. When the rains start to fall, the pans are transformed into a layer of emerald-green grass that stretches out in every direction. Pink clouds of flamingo and flocks of migratory birds arrive to nest.
Overnight: Jack's Camp
Fly to Zarafa, Botswana's first Relais & Chateaux property and a National Geographic Unique Lodges of the World. Located on the private 130,000 hectares Selinda Reserve, the area is one of Botswana's most prolific wildlife areas boasting staggering wildlife populations year-round. Home to leopard, lion, cheetah, elephant, buffalo, red lechwe, zebra and giraffe, it is also a refuge for some of the more uncommon species such as African wild dog, roan and sable.
Overnight: Zarafa Camp
Each tent includes a pair of Swarovski HD binoculars and a professional Canon camera body and lens kit for complimentary use. Explore the nearby forests and grasslands, surrounding the Zibadianja Lagoon. Guided walks and game drives regularly reveal elephants, buffalo, zebra and giraffes. Will you find the elusive leopard, regal cheetah or the endangered African wild dog? After a busy day on safari be lulled to sleep by the sounds of Africa.
Overnight: Zarafa Camp
Water levels permitting, Zarafa's special pontoon boat is an utterly unique experience, complete with couches, a dining area and bar. Enjoy a floating brunch or sundowners while watching hippos and elephants in the water. It is also an exceptional platform for birding.
Overnight: Zarafa Camp
Get ready for some incredible aerial views as you fly off to Xigera Safari Lodge. Surrounded by deep channels and lush vegetation this remote area epitomizes the Okavango Delta with palm-filled islands, riverine forests and expansive floodplains. Each year floodwaters flow from Angola to create this spectacular wetland habitat and Xigera is dedicated to guarding this precious jewel.
Overnight: Xigera Safari Lodge
The Okavango Delta is one of Africa's most incredible ecosystems, a wetlands paradise where the ebb and flow of the seasons paints an ever-changing vista. At Xigera, your safari experience is entirely flexible, take a walk on the wild side, enjoy high tea in the bush, glide through the waterways in a glass-bottomed boat, or stop for a "feet-in-the-water" sundowner.
Overnight: Xigera Safari Lodge
Your private and highly qualified guide will be your chaperone and expert on your expeditions into the Okavango Delta. Each safari experience is an opportunity to explore a wonderland teeming with creatures from the crocodiles who glide stealthily among the lilies to the agile monkeys in their own palm tree playground. Looking for a complete immersive nature experience? Why not opt for a night in the seclusion of a sculptural treehouse? Rising almost 32 feet above the floodplain, the Baobab Tree House offers expansive 360-degree views from each of its three levels.
Overnight: Xigera Safari Lodge
Enjoy one last magical morning before you bid farewell to one of Africa's finest jewels, the Okavango Delta.
FAQ
Not included in the package:
International air
Items of a personal nature
Laundry
Items not included in the daily itinerary
We are passionate and knowledgeable experts who have lived and traveled extensively throughout Africa. We have a total of 300+ years combined experience. With the largest tourism infrastructure in southern Africa, we have earned an enviable position of influence and negotiating power. We use this influence to personalize a life-changing journey that offers great value while doing good for wildlife and local communities.
Generally, the safari programs are not physically demanding. Walking safaris can require more levels of fitness, but usually they are not strenuous. Participation in these activities is at your discretion.
We cater to all families. It is best to talk to our safari specialist to advise the best destination based on age, family travel style and any other requirements.
U.S. and Canadian citizens do not need a visa for this trip to Botswana except if you have a temporary passport which means you would need a visa. Your passport must be valid for at least 6 months after arrival. 
City hotels and many lodges and camps have Wi-Fi, however, some areas in the bush are more remote and have less access to the internet. Depending on your needs to connect or disconnect, we can tailor the right experience for you.
If you choose to purchase African Travel's own Travel Protection plan, you will have the flexibility to cancel your trip for ANY reason, up to 24 hours before departure. Depending on the plan you select, you will be eligible for either a Future Travel Certificate or a mix of 60% cash back insurance benefit with a 10% Future Travel Certificate. Both plans include additional coverage for COVID-19.
When you travel with us, you can rest assured your health and well-being are top priority. African Travel is endorsed by the World Tourism & Travel Council (WTTC), each of our safaris is locally hosted by guides who will ensure that all protocols are adhered to and who will provide support and guidance to our guests.
Africa is a year-round destination, and the best time depends on your travel preference.
While the dry season is one of the best times to get your fill of Mother Nature, that also differs by destination and depends on your interests.  Again, Africa is a year-round destination, so you can't go wrong. For instance, the Green Season is a wonderful time of year that buzzes with new life and is a great time to avoid the crowds of the high season while saving money. Also, not all the animals are migratory so you will see wildlife and spend more time with your guide viewing them.
Terms
Deposit
A non-refundable deposit of $458 is due at the time of booking to confirm the program. The final payment is due 100 days prior to departure. Once final payment is received, the program is non-refundable.
Cancellation Policy
20% of total tour cost is forfeited for cancellation made 66 days or more before departure.**
100% of total tour cost is forfeited for cancellations made 65 or fewer days before departure.
**Cancellation charges for Safari Vacation Packages may vary by program.
**Plus applicable third-party charges.
In some instances, lost and/or unused airline tickets are not refundable or replaceable. African Travel reserves the sole right to not accept a reservation or to cancel a reservation and impose cancellation charges if any payment is not received within the above specified periods. African Travel will not be responsible for lost land and air reservations.
Package Price and Availability
Package prices are valid throughout 2022 on new bookings only and subject to availability at the time of booking.
Changing a Reservation
If you want to change your reservation, you can choose new dates and/or a new destination prior to final payment without penalties.
Accommodation
When services and accommodations described cannot be supplied or the itinerary is changed due to delays or other causes of any kind or nature beyond African Travel's control, African Travel may seek to supply comparable services, accommodations and itineraries. There shall be no refund in these circumstances. African Travel reserves the right to make changes to the itinerary and/or cancel any tour and shall have no liability whatsoever from or relating to such adjustments or cancellations. African Travel shall not be responsible for loss or damage to luggage, before, during or after the tour.
Baggage Restrictions
On Fixed Wing Safaris, you are permitted one soft-sided bag, weighing no more than the limit stated in your tour documents. The weight limit will be set at 44 lbs (20 kg) or less and may be as low as 25 lbs (11,45 kg), depending on aircraft type and destination. Guests are responsible to arrange and pay to store excess baggage. Luggage and personal effects are at the owner's risk throughout travel. African Travel is not responsible if the luggage is not permitted to be carried.
Travel Protection 
Proof of Travel Protection Plan is mandatory and required at the time of final payment. Travel documents will not be released without this information. African Travel requires all travelers purchase travel insurance to obtain coverage that includes reimbursement for cancellation, interruption, trip and baggage delays and more.
Safety 
The client must ensure you and those under your care are medically and physically able to travel. African Travel may impose safety requirements. We may exclude from participating in travel or from any activity, an individual whose participation poses a direct threat to health or safety that cannot be eliminated by a reasonable modification of our policies, practices or procedures or by the provision of auxiliary aids and services. A decision to exclude an individual will be our assessment. The probability that potential injury will occur and whether reasonable modifications of policies, practices or procedures will lower the risk. African Travel does not provide personal devices (such as wheelchairs, hearing aids or prescription eyeglasses) or services of a personal nature (such as eating, dressing or toileting). A client who requires services of a personal nature (eating, dressing or toileting, as examples) should bring a companion to provide the assistance and understand that other clients and staff will not be available for such purpose.
We do not employ or provide medical personnel. Any needed medical attention must be sought at a local facility, if available, at client's expense. African Travel is not responsible or liable for loss or cost incurred due to unavailability of medical services, inability to obtain or delay in obtaining medical services if available, medical services obtained, or level of care or services received. You must bring an adequate supply of your medication, if any, for the duration of The Tour. Medical services abroad are not the same as you may be accustomed to. African Travel is not responsible for the lack of, or the provision of medical services.
Some guided tours can include rough terrain, walking over unpaved or uneven pavement, steps, locations that may not be easily accessible or accessible by wheelchair, bumps, and other challenging conditions.
For various parts of the travel, arrangements are made with carriers, hotels and other independent suppliers. They are independent entities that African Travel does not control. We cannot ensure its ability access or accommodations outside the United States. Smoking is generally not permitted on our tours except for approved smoking areas. Smoking is never allowed on coaches, vans, or safari vehicles. African Travel has the right, in its sole discretion, to terminate your tour if your behavior or actions are so disruptive or negatively impacting the tour. If this happens, you are responsible for your travel costs home and no refund shall be given.
Additional Risks 
Additional risks and dangers may arise including, but not limited to, hazards of traveling in undeveloped areas, hazards of travel by boat, train, automobile, aircraft and other means of conveyance, forces of nature, political unrest, other unrest, terrorism, hazardous local customs and practices, differing levels of sanitation, differing standards of safety, risks associated with water, food, plants, insects and animal, accident or illness in areas lacking means of rapid evacuation or medical facilities, terrorist acts, force majeure and acts of national and local governments and unrest and acts of others against governments. These risks are not an exhaustive list but are examples of many kinds of risks. You are voluntarily participating in these activities with the knowledge that there are significant dangers involved, and you hereby agree to accept any and all risks. As lawful consideration for the agreement with African Travel to participate in such tours and activities you agree you will not make a claim against African Travel or its personnel or sue for bodily injury, emotional trauma, death, property loss or damage or other loss, cost or expense, however, caused, as a result of or related to your contracting for, traveling to or from, or in any and every other way participating in the tour. You release African Travel and its personnel from any and all claims, known or unknown, arising from contracting for, traveling to or from, and in any and every way participating in a tour. This release of liability and assumption of risk agreement is entered into on behalf of you and all members of your family and party, also including minors accompanying you. This agreement also binds your heirs, legal representatives and assigns.
Force Majeure
Force Majeure Event means any event or circumstance beyond the control of African Travel, including but not limited to: (a) an act of god (such as earthquake, flood, fire, explosion, landslide, lightning, the action of the elements, the force of nature, washout, typhoon, hurricane, cyclone, tsunami, storm or storm warning or natural disaster); (b) industrial disputes, work ban or other labor dispute or difficulty; (c) acts of terrorism, political unrest, war or threat of war, riots or civil strife; (d) failure or delays to scheduled transportation and the closure of airports or ports; (e) pandemic, epidemic or health risk; (f) governmental and administrative actions (including the closure of borders and travel warnings and restrictions).