Peruvian Cooking and Trekking Adventure

Lima & Cusco, Peru

8 nights

from $456 Per Night

Based on rate for one guest
---
or talk to Vacayou travel concierge
Experience and learn to create the artistic cuisine of an ancient culture that's been blending techniques and ingredients from around the world for centuries. Learn the foundation of authentic Peruvian cooking through hands-on lessons with some of the greatest chefs in the region. Get ready for a culinary adventure that's filled with all-new flavors, sights, scents and sounds. Your taste buds will be delighted by the Peruvian cuisine with notes of Spanish and Chinese influence.
Venture to the archeological marvels that are the hallmark of this enchanting nation—you won't believe your eyes. Discover one of the New World's Seven Wonders: Machu Picchu, and get there by walking the same path once used by the Incas. A millenary culture, extraordinary cuisine, majestic landscapes and friendly people are the framework of one of South America's most-loved destinations.
The Basics:
Available Year Round
Start and Finish: Lima, Peru
Group size: Minimum 2, Maximum 12
Option: Customized itineraries available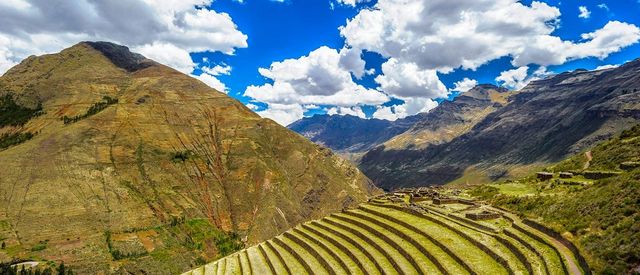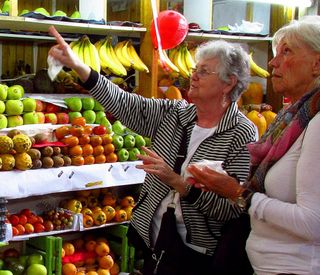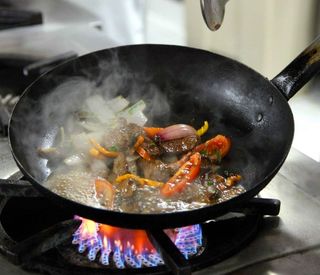 Experience
Peruvian cuisine is considered to be one of the top five best in the world and through Active Gourmet Holidays' specially curated itinerary, you'll get to discover why. This vacation is the perfect blend of cultural immersion, exotic cooking (and tasting) and adventurous explorations to some of the most remarkable ancient sites known to man.
Hand-on cooking classes and dining experiences in award-winning Peruvian restaurants
Hike to the remarkable ruins of Machu Picchu and Wiñay Wayna
Guided tours through the cities of Lima and Cusco
Nightly 4-star accommodations 
Itinerary
Upon your arrival, a representative will meet you at Lima airport and take you to your hotel for some well-deserved rest.  
This is going to be an experience you will not soon forget—get ready! Welcome!
After breakfast at your hotel in Lima, a representative will meet you at your hotel and escort you to your market visit and tasting. The local market visit is a great way to experience a little bit of the Peruvian culture and daily life. Here you can find and taste the best variety of vegetables and fruits in the country, including exotic products from the Andes and the jungle.
After the market visit, you will be brought to La Red restaurant, a traditional "cevicheria" owned by Peruvian Chef José del Castillo, who also owns Isolina Tabern in the heart of Barranco district, a criollo food restaurant in the 12th position of the 2019 Latin America's 50 Best Restaurant by San Pellegrino and Acqua Panna. Here you will have your hands-on Ceviche class—a beautiful journey into this famous Peruvian dish. You will also have the chance to try it during your lunch there. After lunch, you will have the afternoon free to rest before your special Nikkei dinner at Maido Restaurant, the best restaurant in Latin America as per the 2019 Latin America's 50 Best Restaurant by San Pellegrino and Acqua Panna or Hanzo with chef Hajime Kasuga, Experience in Japanese, Mediterranean and Peruvian cuisine. At the end of the dinner, you will be taken back to your hotel for the night.
After breakfast at your hotel, you will be picked up for your Introduction to the Peruvian Cuisine Class at one of the best "huarique" restaurants in town: Kañete, operated by Chef Israel Laura. He will teach you the quintessential basics of Peruvian Cuisine. You will learn how to prepare Peru's staple dishes, and afterwards, you will enjoy a full tasting of these traditional Peruvian dishes.
After lunch, you will be picked up at the restaurant and taken on your city tour of Lima. Sites to be visited: Main Square, the Cathedral, the Government Palace, the City Hall, the San Francisco Monastery (including catacombs), old streets with colonial houses, and a great driving tour through the beautiful districts of San Isidro and Miraflores. 
Once you conclude your walking city tour, you will then head out to see Lima's famous and Guinness World Record-winning water park, where you will have the chance to have an interactive experience with great waterfalls and a great show of lights and music. This will be a fun and exciting experience. At the end of the visit, you will be taken back to your hotel. You're free to dine on your own tonight.
After breakfast at your hotel in Lima, you will be met by a representative and taken directly to the airport, in order to catch your short, one-hour flight to the capital city of the Incas: Cusco. You will be met upon arrival by one of their representatives and transferred to the Sacred Valley. During the trip, you will stop in Awanakancha Llama Farm, where you can meet native weavers and see South American camelid species, including llamas, alpacas, guanacos and vicuñas. You will then reach your hotel in the Sacred Valley where you spend the night.
In the evening, a representative will meet you at your hotel and provide you with a briefing on your upcoming Inca Trail Express.
After breakfast at your hotel in the Sacred Valley you will head to Maras for a quick tour of this colonial city. Then, your guides will take you by bus to the top of the salt mines where you will enjoy beautiful scenery.
After the visit, you will continue to Urubamba for your Cusquenian Cooking Class, where you will learn about regional ingredients and you will have the opportunity to enjoy a delicious meal. After lunch, you will be transferred back to your hotel in the Sacred Valley, where you'll spend the night. 
After breakfast at your hotel, you will be picked up and transferred to Ollanta Train Station to take the train to km 104. At this point, you'll start the trek for approximately 3 hours, up to the well-preserved remains of Wiñay Wayna (2900 mts/9,514 ft). Here, you will have some free time for exploring the ruins with their houses, terraces, towers and local museum.
After this visit, you'll begin the final leg of the trek to the lost city of Machu Picchu. You will hike to Inti Punku (Sun Gate), where you'll take in an awesome panoramic view of Machu Picchu citadel. The final descent is a quick 30 minutes through the Inti Punku gateway to the citadel. After a quick initial visit, you will be transported by bus back to your hotel in Aguas Calientes, where you will enjoy dinner before ending the day and having a well-deserved rest.
After an early breakfast at your Aguas Calientes hotel, you'll catch the bus for the short ride to Machu Picchu citadel. You'll enter the ruins for a breathtaking view and a full tour of the city. Enjoy lunch on your own at the end of the visit.
In the afternoon, you'll say farewell to Machu Picchu as you take the bus down to Aguas Calientes, and ultimately back on the train to Ollantaytambo. Once you arrive in Ollantaytambo, you will be picked up and taken to your Cusco hotel to get ready to enjoy your tasting menu at Map Café, located in the Museo de Arte Precolombino (Museum of Pre-Inca Art). Specializing in Novoandino cuisine and presenting the use of native ingredients and rescued recipes with innovative dishes, this 7-course, tasting-menu dinner will introduce your palate to tastes rarely experienced before. At the end of the dinner, you will be taken back to your hotel in Cusco for the night.
After breakfast, you will set out on a city tour of Cusco, the former capital of the once vast Incan Empire. You'll walk Cusco's impressive Plaza de Armas and visit both the Spanish cathedral and Inca temple of the sun, Qoricancha. Next, you'll set out to visit the ruins above the city that were considered an essential part of the ancient capital. You'll start from Sacsayhuaman, where Inti Raymi the Festival of the Sun, is held during the Summer Solstice, Tambomachay, the Temple of the Sacred Waters and Q´enqo. At the end of the tour, you will be transferred to the restaurant to enjoy a delicious Peruvian-Chinese fusion lunch at Kion Restaurant. After lunch, you will be brought to your hotel to pack. You will then be transferred to Cusco Airport for your flight back to Lima. You will stay at the airport Costa del Sol Hotel for day-use before heading back home.  
Active Gourmet Holidays is sure you will never forget all the tastes and art of the culinary adventure you have just experienced. 
*The content or order of the itinerary may change depending on dates, availability of services or activities, local festivals/holidays, weather constraints, etc. Menus are samples and may vary according to the season.
Offers
8-Night Peruvian Cooking & Trekking Adventure
from
$456
Per Night

Based on rate for one guest
Available year-round based on availability (excluding Christmas to New Year's). The package price displayed is per night for two guests. Rates for solo travelers available for a single supplement of $675. Pricing may vary depending on market fluctuation, seasonal activities/festivals, availabilities of hotel and other services. Restaurants may vary.
Package Includes:
Accommodations for 8 nights in 4-star, superior rooms (includes 4 hotels + day use at another hotel near Lima airport where guests can overnight if the flight is in the early morning on the next day)
Daily breakfast buffet 
All private tours as described in the itinerary with English speaking guides
Private transfers from/to airports 
Train tickets (train is Vistadome) 
3 hands-on cooking classes including lunches of the class 
3 gourmet meals (2 tasting dinners and 1 lunch) 
Booklet from the cooking classes, apron, and daily gourmet gifts
FAQ
Airfare (international and domestic)
Personal expenses
Optional tour suggestions not outlined in itinerary
Phone calls or faxes
Laundry services
Passport or visa fees
Tips or gratuities
Travel Insurance (highly recommended)
If you crave the extraordinary, Active Gourmet Holidays is the perfect place to discover your next adventure. They offer expertly organized active & cooking school vacations. They provide unforgettable getaways that nourish the senses, refuel the body and replenish the spirit.

Active Gourmet Holidays has been in business since 2002 and is a proud member of the Better Business Bureau Online Reliability Program (A+ Rating), IACP, Slow Food and ICTA.
Active Gourmet Holidays offers much more than conventional vacations—rather, they provide unforgettable getaways that nourish the senses, refuel the body and replenish the spirit. Whether it be learning to master local dishes from a renowned chef in the heart of Provence, biking amidst the spectacular red poppy fields of Chianti, or tasting fine Tuscan wines from the Brunello region, Active Gourmet Holidays offers the perfect culinary tours.
Please fly into Jorge Chávez International Airport in Lima, Peru—airport code LIM.
Pack lightly! To avoid overpacking, check to see if the accommodation has a hairdryer, iron, shampoo, soap, etc. Limit the number of shoes to decrease weight and space. Always bring comfortable, "already-broken in" footwear. High heels are not recommended as they will certainly get stuck in the cobblestones in the small villages.
Check the weather forecast prior to leaving. Bring a light jacket and a small umbrella. Bring sunscreen, a sunhat and insect repellent.
Terms
Tour provided by Active Gourmet Holidays, LLC and may be operated by another company. Tour will run with even just one booking of two people and is limited to a maximum of 12 participants—but please inquire about larger groups.
Deposit
After availability is confirmed, a 30% non-refundable per person deposit and the completed and submitted registration form will secure your reservation. Final payment is due 75 days before arrival. Travel insurance is highly recommended.
Booking Payments & Fees
There is an additional $50 per person booking fee which is non-refundable in the event of traveler or operator cancellation. Booking fees are waived for repeat Active Gourmet Holidays clients. Prices reflect a 3.75% discount for payments made via money order or check. Payments using credit cards are not entitled to the money order or check discount so a 3.75% fee will be added.
In the event of a cancellation by a traveler or operator, this fee is non-refundable. Active Gourmet Holidays reserves the right to re-calculate pricing and/or final payments due to exchange rates and fluctuations in the market between time of initial inquiry/deposit and time of balance due date. A $25 fee will be charged for all returned checks. If paying by a wire/bank transfer, the traveler is responsible for all source bank fees, intermediary bank and wiring fees.
Tour Cancellation Policy
Active Gourmet Holidays reserves the right to cancel a course, in which case liability will be limited to refunding all monies paid. Booking fees and payment method fees are non-refundable.
For cancellations received more than 60 days prior to departure the penalty is 30% of the total amount. 
For cancellations received 60 to 30 days prior to departure the penalty is 50% of the total amount
For cancellations received 29 days prior to departure the penalty is 100% of the total amount
Once the week has commenced there will be no refunds on unused portions. 
Cancellations due to medical reasons can be covered by travel insurance. The cancellation policy is strictly enforced. We, therefore, highly recommend our clients take out CFAR (Cancel for Any Reason) travel insurance to cover any cancellation.
Refund Policy
In case a participant chooses not to utilize any aspect(s) of the program, he or she is not entitled to any refund, therefore. In the event some aspect of the program becomes unavailable through no fault of Active Gourmet Holidays, the participant agrees its only recourse is to obtain a refund directly from the tour operator/hotel.  
Program Itineraries
Program itineraries may vary from time to time due to the season and seasonal ingredients, schedules of local activities/festivals or local conditions. Operators reserve the right to modify the menus/schedule when necessary. Operators and Active Gourmet Holidays are not responsible for any modifications in the itinerary.
Photo & Video Rights Usage
Participant grants the right to Active Gourmet Holidays to use photographs, film, video, images, text, testimonials or other likenesses of participant for its own commercial use without compensation to the participant.