7-Day Mount Kilimanjaro Climb

Imagine standing atop the 19,341-foot, snow-capped summit of Mount Kilimanjaro. You're high above the clouds watching a spectacular sunrise paint a rainbow of color across the horizon. Your hiking boots have several days worth of mud and miles on them. Your legs have a heartbeat and you've never felt more moved by anything you've ever achieved. If the "hard" is what you climb for and the thought of earning your views feels the most rewarding, this is the bucket-list, mountain-climbing excursion for you. The secret to successful acclimatization is climbing high by day and sleeping low at night. And that's just what the Machame route up Africa's tallest mountain does for you on your ascent—other than offering breathtaking forest, plateau and alpine desert views. Climb from camp to camp on a life-changing, 7-day expedition with Matriarch Hill Safari.
The Basics
Start and Finish: Moshi, Tanzania
Route: Machame Route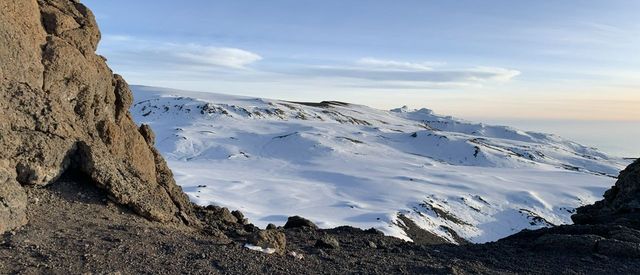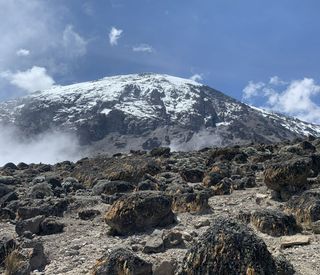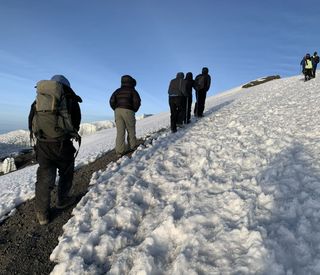 Experience
When you choose to climb with Matriarch Hill Safari, you're not only embarking on the adventure of a lifetime, you're supporting the mission of a team of trailblazers dedicated to improving the lives of women in Tanzania and changing the face of African tourism.  
Embark on your quest up Mount Kilimanjaro via the challenging yet incredibly scenic Machame route
Climb to the otherworldly Lava Tower that sits at over 15,000 feet above sea level
Hike through dense forests and across the rocky terrain of the Great Barranco Wall 
Feel an immense sense of self-pride as you reach the magnificent summit of Uhuru Peak
Proudly add your name to the record of those who have ascended and descended before you
All meals, drinking and washing water, tent accommodations and supplemental oxygen will be prepared for you by your guides and porters
Itinerary
Overview: Machame Gate (1,800 m / 5,905 ft) + Machame camp (3000 m / 9,842 ft)
Hiking time: 7 hours
Distance: About 18 km / 11.2 miles
Habitat: Montane forest

Your day starts early with a briefing, followed by breakfast and a 45-minute drive from Moshi (910m) to the Machame village (1800m). The guides and porters prepare and pack supplies and your equipment in the village. You will receive a lunch pack and you can also buy mineral water in the village. Depending on the condition of the road, it is possible to drive from the village to the Machame gate, but if not, the muddy 3 km walk will take about 1 hour to complete.
After registering at the gate office, you start your ascent and enter the rainforest almost immediately. There is a strong possibility of rain in the forest, which will transform the trail into a very soggy, muddy and slippery experience. You will have a welcome lunch stop about halfway and will reach the Machame camping area in the late afternoon. Your porters (arriving at the campsite long before you) will have pitched your tent. In the evening the porters will boil your drinking water and heat washing water for you. The cook will prepare dinner before you retire to your tent for the night. Night temperatures can already drop to freezing point at this campsite.
Overview: Machame Gate (1,800 m / 5,905 ft) to Shira camp (3,840 m / 12,598 ft)
Hiking time: 6 hours
Distance: About 9 km / 5.6 miles
Habitat: Moorland

You'll rise early at Machame camp and after breakfast, you'll climb an hour or so to the top of the forest and then for two hours at a gentler gradient through the moorland zone. After a short lunch and rest, you will continue up a rocky ridge onto the Shira plateau. By now, you will be able to see in an easterly direction, the Western Breach with its stunning glaciers. You are now due west of Kibo and after a short hike, you will reach the Shira campsite at 3,840 meters. The porters will boil drinking and washing water, before serving dinner. The night at this exposed camp will even be colder than the previous night, with temperatures dropping well below freezing.
Overview: Shira (3,840 m / 12,598 ft) to Lava Tower (4,630 m / 15,190 ft) then Barranco Camp (3,950 m / 12,959 ft)
Hiking time: 7 hours
Distance: About 15 km / 9.3 miles
Habitat: Semi-desert

The route now turns east into a semi-desert and rocky landscape surrounding Lava Tower, where you reach an altitude of 4,630 meters after about a 5-hour walk. Lunch is served in a designated area before ascending the rocky scree path to Lava Tower. This is definitely the toughest day so far. It is normally around this point, where for the first time, some climbers will start to feel symptoms of breathlessness, irritability and headaches. After lunch, you descend again by almost 680 meters to the Barranco camping area and after reaching the high altitude of 4,600 meters at Lava Tower, the true acclimatization benefit of this day becomes clear. This descent to Barranco camp takes about 2 hours and offers great opportunities to take some beautiful photographs of the Western Breach and Breach Wall. The camp is situated in a valley below the Breach and Great Barranco Wall, which should provide you with a memorable sunset while you wait for the preparation of your dinner.
Overview: Barranco Camp (3,950 m / 12,959 ft) to Karanga camp (4,600 m / 15,091 ft)
Hiking time: 7 hours
Distance: About 13 km / 8 miles
Habitat: Alpine desert
After spending a night at the Great Barranco Wall (a very imposing sight at first), you make your way up this awesome looking obstacle, which in the end normally turns out to be easier than what you anticipated. Topping out just below the Heim Glacier, you now appreciate just how beautiful Kilimanjaro really is.
Day 5 Overview: Karanga camp (4,600 m / 15,091 ft) to Barafu camp (4,600 m / 15,091 ft)
Hiking time: 7 hours
Distance: About 13 km / 8 miles
Habitat: Alpine desert

The route then heads down through the Karanga Valley over intervening ridges and valleys and then joins up with the Mweka route. This is the preferred route down from the summit. Turn left up the ridge and after another hour or so, you reach Barafu Hut.

SUMMIT ATTEMPT
Day 6 Overview: Barafu camp (4,600 m / 15,091 ft) to Uhuru Peak (5,895 m / 19,340 ft) then to Mweka (3,100 m / 10,170 ft)
Hiking time: 8 hours to reach Uhuru Peak + 7-8 hours to descend to Mweka
Distance: About 7 km ascent + 23 km descent
Habitat: Stone scree and ice-capped summit

You will rise around 23h30, and after some tea and biscuits you shuffle off into the night. You will head in a northwesterly direction and ascend through heavy scree towards Stella Point on the crater rim. This 6-hour walk to Stella point is for many climbers, mentally and physically the most challenging on the route. At Stella Point (5,685 m / 18,651 ft) you will stop for a short rest and will be rewarded with the most magnificent sunrise you are ever likely to see (weather permitting). From Stella Point, you will normally encounter snow all the way on your 2-hour ascent to Uhuru Peak. The time you will spend at the summit will depend on the weather conditions.

You will not stop here for too long, as it will be extremely difficult to start again due to cold and fatigue. Enjoy your accomplishment and a day to remember for the rest of your life. The walk back to Barafu from the summit takes about 3 hours. Here, you will have a well-earned but short rest and collect the rest of your gear, before heading down to Mweka hut (3,100 m / 10,170 ft). The route is not difficult and will take you down the rock and scree path into the moorland and eventually into the forest. The camp is situated in the upper forest and mist or rain can be expected in the late afternoon. Dinner and washing water will be prepared.
Overview: Mweka camp (3,100 m / 10,170 ft) to Mweka Gate (1,980 m / 6,496 ft) then to Moshi
Hiking time: 4 hours
Distance: About 13 km / 8 miles
Habitat: Forest

After an early and well-deserved breakfast, it is a short 3-hour scenic hike back to the park gate. At Mweka Gate, you sign your name and details in a register. This is also where successful climbers receive their summit certificates. Those climbers who reached Stella Point (5,685 m / 18,651 ft) are issued with green certificates and those who reached Uhuru Peak (5,895 m / 19,340 ft) receive gold certificates.
From Mweka Gate, you will continue down into Mweka village, normally a muddy 3 km (1 hour) hike. In Mweka village, you will be served a delicious hot lunch. Finally, you'll be driven back to Moshi for a long overdue hot shower, dinner and celebrations at Pink Flamingo boutique hotel.
Offers
7-Day Mount Kilimanjaro Climb
from
$357
Per Night

Based on rate for one guest
Rates displayed are per night for one guest in shared accommodations. All Safaris are hosted for private groups only and must be booked together. Solo Safari trips are available as well.
Package Includes:
All accommodations and facilities before, during and after the climb
Oxygen cylinder and pulse oximeter
Three meals a day (breakfast, lunch and dinner) while on the mountain
Drinking water
All park fees
Fair and ethical salaries for the team: guide, assistant guide, cook and porters (in accordance with KPAP guidelines)
Airport pick up and drop off
FAQ
Alcoholic and soft drinks
All personal mountain climbing gear and equipment
Flights & traveler insurance
Tips for the team (guide, assistant guide, cook and porters)
All visitors are required to have a visa except citizens of some Commonwealth countries and a few other nations. The cost of the entry visa varies depending on nationality. Visas can be obtained upon arrival at a cost of around $50 to $100 USD, or issued by your nearest Tanzanian High Commission before departure.
Shots are not required, but highly recommended. The cost is about $200 for yellow fever shots and $10 per pill for anti-malarial medication. These preventative measures are suggested to ensure that your travels are happy and healthy.
Matriarch Hill Safari obtains water from national park certified locations and processes. They boil all drinking and cooking water for safe measure and provide bottled water free of charge to all guests.
Your guide and tracker are central to the success of your safari. You'll have plenty of time to connect with them and by the end of your trip, they might just be your new best friends. With guides, it's customary to leave a tip upon your departure. What you choose to leave is totally up to you, but a general rule of thumb on safari is to tip your guide $10 and your tracker $5 per person per day. There is a lot that happens behind the scenes of your safari and it's important to consider and acknowledge all the wonderful people who look after the lodge. From housekeepers to waitstaff and chefs—they all deserve to be thanked appropriately! Most safari lodges and camps have a communal tip 'jar' and around $10 to $20 per day is considered a reasonable tip.
Terms
Deposit
A Deposit of 20% is required to officially book and confirm the rooms and acquire all proper safari permits. This deposit is non-refundable and non-transferable. Upon making an official reservation, you will be invoiced.
Cancelations
Notification of cancelation must be made in writing to Matriarch Hill Safari. At the time they receive the cancelation, all money will be refunded less the following cancelation charges, deducted from the total price:
91 days or more before departure: Cancelation fees equal the amount of your deposit
90 to 61 days before departure: 50% of the package price is non-refundable
60 to 46 days before departure: 65% of the package price is non-refundable
45 days or less before departure: 100% of the package price is non-refundable