The Ranch at Rock Creek
Montana Romance Retreat

or talk to Vacayou travel concierge
Picture yourself in the heart of Big Sky Country. You're with your person, surrounded by snow-capped peaks and towering pine trees, yet you're way out in the great wide open and your world has never felt quite so free. Could there be a more dreamy setting? Imagine traversing the trails together and experiencing new things like fly fishing and cross-country bike riding… what could be more enriching for you and your relationship?
The Ranch at Rock Creek is a 5-star property that brings you all that and a whole lot more. Find yourself on Top of the World here—truly—it's the name of a breathtaking destination you'll hike to during your stay. You won't find yourself reaching for your phone on the ranch—except for snapping photos, that is. Instead, you'll be reaching for your next delightful bite from the chef's farm-to-table tasting menu and sips of your new favorite regional wines.
Soak up every moment of your side-by-side spa treatments. Become enchanted by the uniqueness, the luxury and the beautiful blend of the Ranch's rustic elements and elegant finishes. From the crystal chandeliers to the clawfoot tubs and the mountains to the meadows, there's magic in the air at Rock Creek and a scene set for romance.
Experience
Itinerary
A ranch Ambassador will assist in designing a bespoke itinerary before your arrival.
 
6:00PM
Happy Hour on the Porch
Accommodation

7:30PM
Homestead Supper Club
Granite Lodge

9:30PM
Evening Entertainment
Silver Dollar Saloon
Coffee & pastries delivered to your accommodation.

7:30AM
Breakfast
Buckle Barn

9:30AM
Walk & Wade Fishing
Rock Creek

12:30PM
Lunch
Buckle Barn

3:00PM
Cross-Country Bike Ride

4:30PM
Regional Wine Tasting
Aspen Deck

7:30PM
Chef's Tasting Menu
Granite Lodge
Coffee & pastries delivered to your accommodation.

7:30AM
Breakfast
Buckle Barn

9:00AM
Trail Ride

12:30PM
Breakfast
Buckle Barn

2:00PM
Sporting Clays

4:00PM
Granite Spa Retreat
Granite Spa

6:30PM
Happy Hour on the Porch
Accommodation

7:30PM
Montana Craft Beer Dinner
Granite Lodge
Coffee & pastries delivered to your accommodation.

7:00AM
Breakfast
Buckle Barn

9:00AM
Hike to Top of the World

12:30PM
Lunch
Buckle Barn

2:00PM
Meditation Session with Refreshments
Or
Private Half-Day Fly Fishing with Packed Lunch
Rock Creek

6:00PM
Happy Hour on the Porch
Accommodation

7:00PM
Ranch Dinner
Granite Lodge
Coffee & pastries delivered to your accommodation.

7:30AM
Breakfast
Buckle Barn

11:00AM
Check Out
Depending on departure time, guests may have the option to enjoy a morning activity.
Offers
Vacayou Exclusive
One TRRC Branded Hydro Flask Per Guest + $100 Spa Credit per person (over the age of 16)
Note: Romance is not required. Friends and family are welcome to book this special offer and its inclusions. Rates are per person based on double occupancy, plus 20% Ranch Fee.
Package Includes:
Four (4) nights stay in deluxe accommodations 
A half-day, privately guided fly fishing with lunch on the go, or a private couple's meditation class including refreshment
Couples spa experience: Choose either 1 Alpine Refresh treatment per person with Champagne or 1 (60-minute) massage per person
During a late-afternoon private tasting, discover how the culinary team pairs favorite Northwest wines and spirits with farm and ranch-to-table delicacies and designs inventive seasonal cocktails celebrating the bounty of the American West
Standard Rock Creek Inclusions:
Luxury accommodations
All meals
Premium wine, beer, spirits and other beverages
Selection of gear and on-ranch activities
Round-trip transportation facilitated to and from Missoula and Butte airports upon request
The Ranch at Rock Creek
Read more about The Ranch at Rock Creek
Montana is made for horses and The Ranch at Rock Creek is made for you to play cowboy or cowgirl! Your Great American West vacation awaits.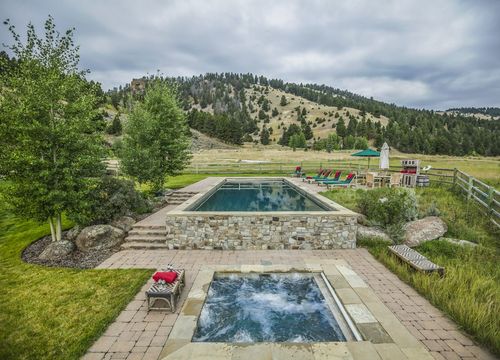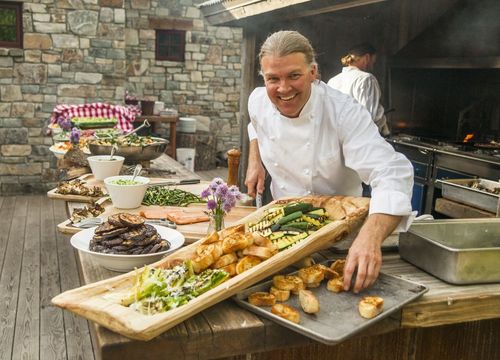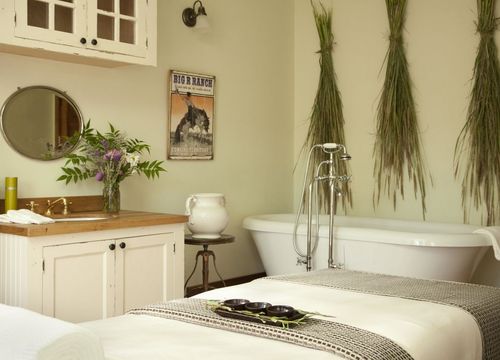 Accommodations
The 29 one-of-a-kind accommodations, which can host up to 75 guests, are thoughtfully woven into the vast ranchland. Ranging in size from one-bedroom suites to five-bedroom homes, The Ranch offers four distinct styles of lodging: Granite Lodge suites, a converted Historic Barn, Log Cabin luxury homes and Canvas Cabins for glamping.
Granite Lodge
Appointed with custom-made furniture, woven textiles, frontier antiques and lavish linens, the nine rooms at Granite Lodge find design inspiration in iconic western themes. No two rooms are alike, although most upper-level rooms offer views of the Rock Creek valley. Some rooms may be combined to form a two-bedroom family suite that includes twin beds and pull-outs.
Historic Barn
Dating back to 1882, the barn was lovingly restored and converted into three luxury accommodations—Stables, Loft and Wrangler. Each of the three rooms can be booked separately, or reserved together as a three-bedroom family suite. 
Log Cabin Homes
Ranging from two-story log homes to a cozy single-bed romantic cabin, the eight rustically luxurious log cabins are your private home on the range. Every home includes ensuite bedrooms, so couples and friends can enjoy private space within the accommodation.
Canvas Cabins
For some, the definitive experience at The Ranch is to glamp it up in one of ten signature luxury canvas cabins. Each hybrid structure is furnished in rustic camp-style but features private baths, comfortable beds and luxurious bedding, and the murmur of the river running just outside your front door.
Features & Amenities
Daily housekeeping services (turndown service can be requested)
Hand sanitizer and disinfecting products for guest use
Custom duvet covers
Frette pillows and duvets
Cuddledown linens
Bathrobe and slippers
Luxury bathroom amenities and bathroom kit
Landline phones for all calls
Wi-Fi
Television (excluding Canvas Cabins)
Air conditioning (excluding Canvas Cabins)
Hairdryer
In-room safe
Laundry facility access
Ironing board and iron
On-Ranch Activities
Twice-daily on-Ranch guided adventures are included with your package. Additional self-guided on-Ranch activities are available at your leisure. Contact your Vacayou Travel Concierge for details on the incredible list of activities below.
Fly fishing
Hiking
Horseback riding
Silver Dollar Saloon
Frontier skills
Mountain biking
Sapphire mining
Archery
Ride along with a rancher
Wildlife viewing
Disc golf
Respite on Rock Creek
Master naturalist class
Buckle barn lawn
Photography workshop and scavenger hunt
Geocaching and five peaks challenge
Art in nature
Pistol range
Trap & skeet
Yoga + meditation
Rifle range
Fat tire biking
Ranch rodeo
Sporting clays
Ropes course
Off-ranch excursions (additional cost)
Fitness center
Pool and hot tub