Modified Detox Retreat in Koh Samui

New to detox? Absolute Sanctuary's Modified Detox retreat is specially designed for beginners or for those not too comfortable with the intensity of daily colon hydrotherapy sessions and a full fasting program. The resort's world-class detox center, proven protocols and expert therapists ensure toxins are effectively removed in a safe and supportive environment. The physical benefits are many including a stronger immune system and weight management. But how can detoxification benefit you mentally? Well, for one, you will be able to enjoy improved focus and thinking. You can also implement yoga and meditation into your detoxification program to "clear your mind of toxins." And while you are not obliged to switch off your phone and ignore your emails, it's certainly not encouraged.You can enjoy a digital detox as well for the duration of your stay. Absolute Sanctuary is a haven best enjoyed by being present in the moment. But don't worry, if you think you'll find yourself feeling bored, then access to the swimming pool and spa facilities might just be enough to keep you motivated.
Absolute Sanctuary
Known as the island of healing and said to hold unique spiritual energy, Koh Samui is the perfect space to deepen your holistic wellness experience. With the energy of the island and the energy that has been brought here by its people, it has become a special place to heal and restore. And Absolute Sanctuary is one of the best wellness resorts in Asia so there is no doubt that this experience is something special.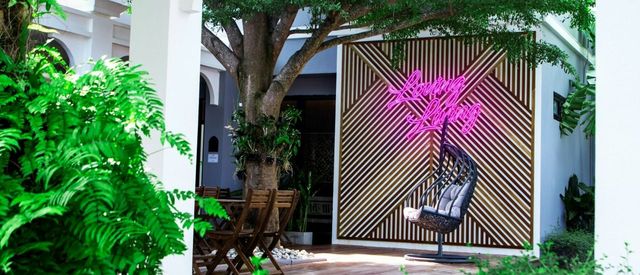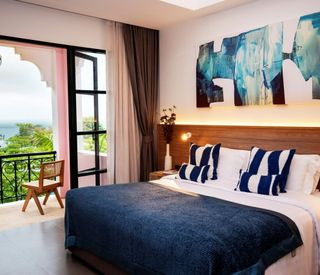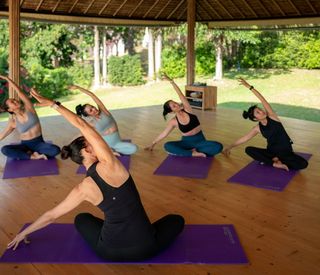 Experience
The Modified Detox Retreat at Absolute Sanctuary has a gentler touch that is designed not to overwhelm you or your body. You will receive professional analyses and consultations with daily wellness practices and a deep cleanse of your body and organs. Your days will be filled with nutritious food, holistic wellness, fitness activities, relaxing and rejuvenating full-body spa treatments—not to mention luxury. 
Award-winning hotel and the only wellness fitness resort in Asia
Curated wellness program with the main goal to transform your life
Guidance from the top wellness and healing professionals in Asia
Collaboration with ABSOLUTE YOU—the largest health & lifestyle brand in Thailand
Profound and personalized detox that restores and rejuvenates your cells
Daily yoga and meditation to develop and integrate a new lifestyle
Offers
8-Night Modified Detox Wellness Retreat
The price displayed is per person and based on single occupancy for the entire stay. Taxes and services are extra. Double occupancy and other room types are available. Please ask our concierge for pricing. 
Package Includes:
8 nights accommodation in Sanctuary Superior guest room
All-inclusive meals and non-alcoholic beverages
Initial in-depth Detox Consultation with Bio Impedance Analysis
Unlimited group yoga & meditation sessions
Arrival day welcome dinner
4 Colon Hydrotherapy sessions
1 Inner Reset Detox ritual (90 min)
1 Core Release massage (45 min)
2 Choice of Inner Reset Detox massage or Deep Calm massage (45 min)
3 Inner Reset Foot Soak sessions (30 min)
2 Absolute Thai Stretch massages (60 min)
1 Mood-Boosting Facial treatment (45 min)
1 Absolute Foot Sanctuary (60 min)
3 FAR infrared sauna (30 min)
1 herbal heat steam (30 min)
2 detox drinks per day
2 Good Green Stuff shots per day
2 detox meals per day
2 liver flush drinks (1 before & 1 after the program)
1 coconut juice per day
1 group Pilates reformer/core suspend class
Unlimited broth soups per day
Unlimited access to group fitness classes
Final detox consultation with take-home guidelines
Access to pool, steam room & fitness studio 
Roundtrip airport transfers
10% discount on all spa & detox a la carte treatments
Terms
Deposit and payment policy
Unless prior arrangements have been made in writing with Absolute Sanctuary Koh Samui, Absolute Sanctuary requires FULL PRE-PAYMENT at least 7 days prior to arrival during high season, 14 days prior during high season and 30 days prior during peak season. Accommodations not guaranteed by full pre-payment may be subject to cancelation by Absolute Sanctuary Koh Samui. 
During periods of high occupancy, Absolute Sanctuary reserves the right to request a deposit equivalent to a minimum one night contract rate or up to 50% of total contract rate of each accommodation reserved.
Cancellation and refund policy
Cancellation and reduction in the number of accommodations during Low/High Season (1st May – 31st Jul / 1st Oct – 26 Dec/ 8th Jan – 30th Apr / 1st Aug – 30th Sep): More than 30 days prior to arrival: 100% refund, 15-30 days prior to arrival: 80% refund, 8-14 days prior to arrival: 50% refund, 0-7 days prior to arrival or no show: No refund
Cancellation and reduction in the number of accommodations during Peak Season (27th Dec – 7th Jan): More than 45 days prior to arrival: 100% refund 30-45 days prior to arrival: 80% refund 15-30 days prior to arrival: 50% refund 0-14 days prior to arrival or no show: no refund. 
The resort does not offer refunds for any program or treatment not taken for any reason. Exceptions will be considered on a case-by-case basis due to medical reasons. The resort does not allow any exchanges of treatments unless due to medical reasons and on an exception basis subject to the discretion of management.
Non-arrival and no-show policy
In the event of guest non-arrival, Absolute Sanctuary will charge a fee equal to the full length of stay (initial booking) at contracted rates—inclusive of taxes and service charges.
Important program notes
Please note that the resort does not accept people who suffer from any chronic diseases/conditions, who are pregnant or suffer from addictions for its Detox programs. Please let us know if you fall into either category so that we can recommend you alternatives. Should you have a medical condition and are unsure if your condition is chronic or contraindicated for a Detox program please contact us about it. The resort reserves the right to refuse anyone on its Detox programs without refund should you be unsuitable for the program for medical reasons.
The resort will pre-book your treatments/appointments for you. Should you need to rearrange your schedule, please contact wellness reception upon arrival.
 Age requirement policy
The minimum age requirement for Detox programs/treatments is 18. The minimum age requirement for yoga classes is 13. The minimum age requirement for Spa Programs/Pilates Reformer/Be Fit, Weight Management, Anti Stress & Ultimate Fitness is 16. 
Absolute Sanctuary is not recommended for children and therefore does not accept children below the age of 12.
 Alcohol policy
In keeping up with our wellness concept, the resort has a no-alcohol policy on its premises.
 Arrival and departure procedure
Check-in time is 2 pm and check-out time is noon. Absolute Sanctuary will do its best to have the room available for early arrival when notified. Late check-out or day use is available at an extra charge of 50% of the contracted rate for each room category occupied until 6 pm. A full night contract rate will apply for use of the room after 6 pm.
Early departure policy
There will be no refunds given for guests OR agents if the guest wishes to check out before their scheduled departure date.