Sold Out
Las Islas Colombia: Nature & Wellness Retreat

Barú - Cartagena de Indias - Colombia

2 nights
---
or talk to Vacayou travel concierge
Private, luxurious, environmentally conscious and a mix between traditional and modern—welcome to a tropical wellness paradise in Colombia. Hotel Las Islas in Barú Cartagena brings focus onto holistic healing while surprising you with some of the most modern technologies. Have you ever relaxed in a private tree-top bungalow with Jacuzzi or a sea-level bungalow with private pool? Or how about a bioluminescent plankton night tour while bathing in the sparkling Caribbean Sea?
With a beachfront spa, massages, holistic wellness, yoga classes, Qi Gong, astro tours, snorkeling and special treatments such as neurostimulation, this short retreat brings more than enough well-being and adventure to all souls who need rest and rejuvenation.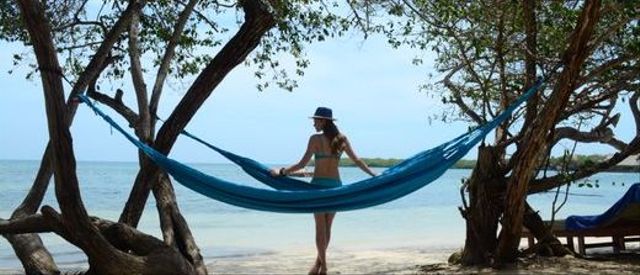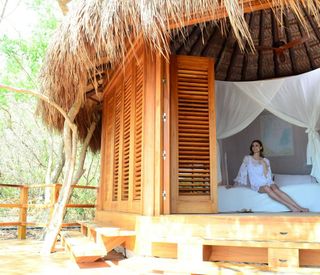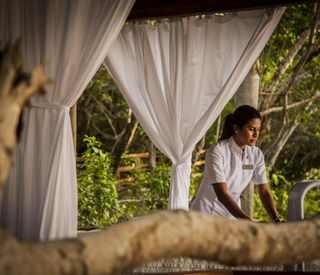 Experience
A short trip by boat or helicopter from Cartagena, Hotel Las Islas combines relaxation, nature, gastronomy and entertainment to achieve an unconventional vacation, perfect to share with your loved one. 
Access to the hotel's private island—Isleta
Beach, nature, spa, eco-sustainable activities, relaxation and comfort 
Relaxation at the Niña Daniela Spa where you can try a Turkish bath or thalassotherapy-focused treatment
Transfers to and from Cartagena de Indias
Modern treatments for rejuvenation and healing, such as neurostimulation
Private spa beach for adults only 
Fun adventures to add to your stay such as the bioluminescence plankton night tour and snorkeling
FAQ
All the rates offered by Hotel Las Islas include accommodation and breakfast buffet at Tía Coco Restaurant. The following activities or services are complimentary and subject to availability and/or weather conditions:
Bioluminescent plankton night tour
Short astronomical tour
Cooking or cocktail class
Transfer to hotel's private island "Isleta"
Digital mapping
Snorkel, kayak, and paddleboard kit
* Other services or activities not mentioned above will be additionally charged to the room account. Bungalows' availability must be verified.
Early check-in or late check-out are complimentary, subject to hotel availability. It is recommended to book one night prior to check-in or after check-out. Check-in is at 3:00 pm and check-out is at 12:00 pm.


Breakfast is included during all stays at the Hotel Las Islas, however, the property offers half and full boards for additional cost:
Half board:$ 185,000 COP per person + VAT or approximately 66 USD + VAT. Each meal includes appetizer, main course, dessert and a non-alcoholic beverage.
Full board: $ 370,000 COP per person + VAT (132 USD) Each meal includes appetizer, main course, dessert and a non-alcoholic beverage.
Hotel Las Islas is pet-friendly. A plate, bed and food will be provided during the stay for an additional cost. If you want to bring your pet, mention this before booking.
All property amenities are accessible. Two sea view bungalows are available for people with reduced mobility, equipped with ramps and without stairs. The hotel also provides a special wheelchair to access the beach. For information about accessibility to different activities, please consult us before booking. 
Yes, the 2-night Nature & Wellness Retreat is for adults only. 
Terms
Rates and fees
Rates do not include 19% VAT which will be added to the booking price.  An additional insurance fee of $9,000 COP/approximately $3 USD per night, per person will also be added. 
Payment and cancellation
Depending on the season, all reservations are guaranteed by credit card or 100% payment of the accommodation. Reservations must be canceled at least 72 hours in advance to avoid a penalty charge. After this period a penalty of the first night will be charged. For reservations during the high season, the full amount will be charged if cancellation is made less than 72 hours prior to the reservation date of the stay. Rates during any season are 100% modifiable without penalty charges within the same season and the same year. Reservation cancellations and modifications will be received only by email to avoid incurring No Show penalties: 100% of the rate granted on the first night of reservation, for low season; during high season, 100% of the stay will be charged.
Rates are refundable, in case of flight cancellation, restrictions that prevent the provision of the service in the hotel or force majeure by sending proof by the guest and during the health emergency by COVID-19. Payment terms are extended upon request and according to hotel availability if required by the client. The hotel does not handle blockages, only reservation confirmation with the payment deadline.
Rooms at Isleta are sold as a whole when there are no groups or events in session at the island. In case of not having groups or events confirmed 15 days prior to the travel date, Isleta rooms are able to book. This rate does not include island privatization.
Rooms 
Rooms will not be assigned previously, that to clarify that no room number will be confirmed to the guest/s before arrival. The hotel offers the best room available that meets all quality and service standards of The Leading Hotels of The World. Transportation to the hotel may vary depending on guests' needs. Transfers by boat, car or helicopter are available, previous reservation and confirmation.
Rates for single or double accommodation in bungalows
Children under 12 years old are allowed to stay with their parents in Grand Sea level and Grand Familiar bungalows, preferably. If these rooms are not available, Sea-level bungalows may be booked for families with children instead. Toddlers (0-2 years old) may stay in the same room as their parents and will be accommodated in cribs at no additional cost. Guests are considered adults from 12 years and must book an additional bungalow.
Grand Familiar bungalow with private pool: offers two floors and up to 4 adults (or 2 adults and 2 children) can be accommodated in two separate rooms.
Connecting bungalows: #21 and #22 are available for double accommodation each (king or twin), one of them is a bungalow with a pool and the other one is a bungalow with Jacuzzi.
Grand Treetop bungalow: accommodation in treetop bungalows up to four adults in two separate rooms sharing jacuzzi. Two bathrooms, one in each room.
Grand sea-level bungalow with private pool: offers accommodation in a ground bungalow up to 4 adults (or 2 adults and 2 children) in two separate rooms sharing a private pool. Two bathrooms, one in each room.
Blackout dates
April 8 - 18, June 17 - July 5, October 7 - 17, December 16 - January 16, 2023