Sold Out
Cycle the Italian and Swiss Lake District

What better way to explore the beauty of Northern Italy and Switzerland's lake district than by bike? This specially tailored self-guided cycling tour operated by Italyscape combines culture, cuisine and countryside as you cycle from stunning lake to stunning lake. Off the bike, your days are filled with visits to medieval towns, charming villages and historical landmarks. Stay in welcoming boutique hotels and taste local cheese, Italian wine, Swiss chocolate and Italian gelato. Discover the best of Northern Italy and Switzerland at your own pace. 
The Basics
Start and Finish: Milan, Italy
Minimum Age: 15 years
Tour Type: Self-guided
Tour Length: 10 nights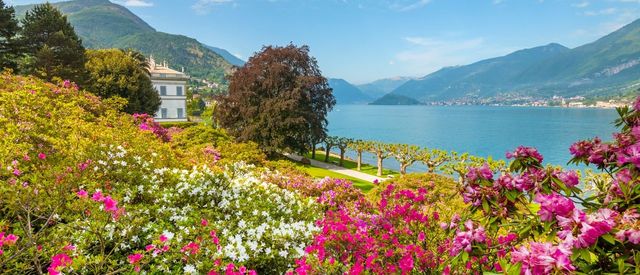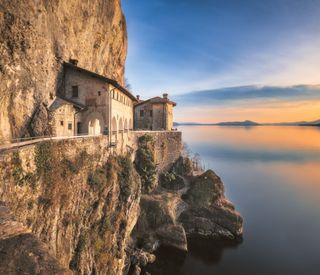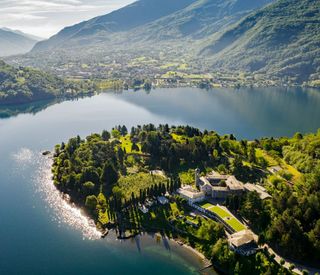 Experience
This self-guided cycling tour takes you around breathtaking beautiful lakes and into some of the most charming and idyllic towns and villages in Northern Italy and Switzerland. 
Enjoy a relaxed cycling itinerary complete with delicious food and Italian and Swiss hospitality
Indulge in Italian and Swiss culture with visits to architectural treasures and landmarks
Sample the best of Italian and Swiss food including wine, grappa, cheese, gelato and chocolate tastings
Visit the ornate gardens of Villa del Balbianello where international movies have been filmed
Explore the glittering dark blue lake waters of lakes Orta, Maggiore, Lugano and Como
*A member of the Italyscape ground team will be available to help you with 24/7 support while on the road as well as assist you with anything else that arises including restaurant reservations and additional experiences and excursions.
Itinerary
Upon arrival at Milan's Malpensa Airport (MPX) you are met for a private transfer to your hotel on Lake Orta's charming shore. The balance of the day is free to relax and explore the village or San Giulio Island.
Overnight: Hotel San Rocco, Orta San Giulio
This morning ride around Lake Orta through charming villages like Legro, the painted hamlet, tiny fascinating churches such as San Filiberto in Pella and striking views of the lake, the island and Mount Rosa. Cap off the day climbing the Sacro Monte di Orta, a UNESCO world heritage site, dedicated to the memory of Saint Francis.
Overnight: Hotel San Rocco, Orta San Giulio
Distance: 28 miles
Altitude gain: 2,165 feet
Altitude loss: 2,165 feet
On your way to Lake Maggiore, ride along Lake Orta through Lagoni di Mercurago Natural Park, home to swamps, pastures, horse stables and archaeological sites. Continue to the medieval town of Angera where you end your day with a grappa tasting at a historical distillery. In Ranco, there will be ample opportunity to swim and relax on the beach.
Overnight: Hotel il Sole di Ranco, Ranco
Distance: 35 miles
Altitude gain: 1,970 feet
Altitude loss: 2,300 ft
Explore the majestic Rocca d'Angera, which proudly dominates the southern shores of Lake Maggiore. Cycle along the shores of Lake Maggiore and make your way to the Hermitage of Santa Caterina del Sasso, directly overlooking the water. Take some time to visit this beautiful abbey and then stop at a traditional locanda (cozy restaurant) to enjoy a tasting platter of cheese, cold cuts and honey. Continue through the picturesque village of Lavenoto Luino. Weather permitting, there will be time to explore the local beaches.
Overnight: Camin Hotel Colmegna, Luino
Distance: 29 miles
Altitude gain: 1,150 feet
Altitude loss: 1,150 feet
Enjoy a day of leisure to explore the lake on your own! Stroll around the charming village of Luino, relax at the hotel's private beach or take the ferry to the Borromeo Islands and discover the majesty of Isola Madre, Isola Superiore (also known as fishermen island) and the amazing palace and botanical gardens of Isola Bella.
Overnight: Camin Hotel Colmegna, Luino
Distance: None
Start your day with a scenic ride across the Swiss border. Stop in Lugano on the shores of iconic Lake Lugano. Take some time to stroll and explore the city with a local guide. After lunch, get enjoy a delicious chocolate tasting at the historical Caffé Vanini, located in a picturesque square in the city center. The day ends in the charming town of Lenno on the shores of Lake Como.
Overnight: Albergo Lenno, Lenno
Distance: 41 miles
Altitude gain: 1,150 feet
Altitude loss: 1, 020 feet
Cross the lake by ferry and head to charming Bellagio. Enjoy a cappuccino before exploring the botanical gardens of Villa Melzi. Continue south along Lake Como and stop at a local restaurant for lunch before riding into Como. In Como, discover the city's main sights such as the remarkable Renaissance Cathedral, with a local guide, before returning to Lenno by ferry.
Overnight: Albergo Lenno, Lenno
Distance: 21 miles
Altitude gain: 1,020 feet
Altitude loss: 1, 020 feet
Head to the beautiful Villa del Balbianello, which is walking distance from your hotel. Built for a prominent Italian family during the 19th century, the villa has been recently chosen as the setting for international movies such as 007: Casino Royale and Star Wars. After lunch, enjoy a relaxing break at a traditional gelateria where you can learn the secrets of real Italian gelato. Take the ferry boat back to Lenno.
Overnight: Albergo Lenno, Lenno
Distance: 18 miles
Altitude gain: 885 feet
Altitude loss: 885 feet
Ride around the northern short of Lake Como to Colico. En route, stop at a local wine cellar to sample some of the excellent wines of the region and enjoy a light lunch with local products. Once at Colico, visit the 12th century Cistercian Santa Maria di Piona Abbey, a masterpiece of Lombard architecture. After the visit, return to Lenno by ferry. 
Overnight: Albergo Lenno, Lenno
Distance 36 miles
Altitude gain: 1,800 feet
Altitude loss: 1,800 feet
Private transfer to Milan Malpensa Airport (MXP) for your return flight.
FAQ
The package does not include:
Meals, drinks and everything else not mentioned under inclusions
Tips for local guides, hotel staff, waiters, servers and local drivers for all included excursions, activities and meals
Concierge
One Italyscape team member will be available prior, during and before each specific trip.
Restaurant reservation center
Your designated Italyscape concierge can suggest restaurants, make all restaurant reservations and book the best tables.
Emergency 24/7 hotline
There is a traveler dedicated phone line available 24/7 that can be used at any time for any kind of support during the trip. 
Flexible plan
On request, you may be able to add extra experiences and excursions even during the trip. Your concierge is also able to change excursions in real-time in case there is a need.
Extras
Water is provided at all times during the transfers and all hotels include porterage service. 
Terms
Payments
No deposit
Balance 100% 30 days prior to arrival
Cancellations
50% fee from 29 to 15 days prior to arrival
75% fee from 14 to 8 days prior to arrival
100% fee from 7 days prior to arrival