Immunity & Resilience Retreat in Koh Samui

Koh Samui, Thailand

7, 9, 14, 21 nights

Contact us for prices
---
or talk to Vacayou travel concierge
Koh Samui has long been favored by Buddhist monks as a sanctuary for meditation and spiritual retreat. The island, they say, has a special energy that enriches and enlightens their spiritual path and helps them connect more profoundly with the universal energies. 
The tradition of these monks continues at Kamalaya Koh Samui, an award-winning wellness sanctuary and holistic spa resort where spiritual and sacred energy fuses with the physical beauty of the land. At the heart of the resort is a cave once used by monks as a place of meditation and spiritual retreat. The Monk's Cave is always open and guests are welcome to enter this sacred space for quiet contemplation and meditation.
Immunity & Resilience Program
Times of challenge are often powerful catalysts for growth. Over seven, nine, fourteen or twenty-one nights, your Immunity & Resilience retreat provides truly holistic support to empower you with not only robust physical health but also the resilience of heart and mind. Identify areas of biochemical imbalance or nutritional deficiency and receive personalized support to boost your immune system with herbal supplements, nutritional guidance and Traditional Chinese Medicine. Experience Bioresonance therapy, mindfulness training and personal meditation to elevate your overall well-being and develop the tools needed to rise to every challenge with confidence and adaptability.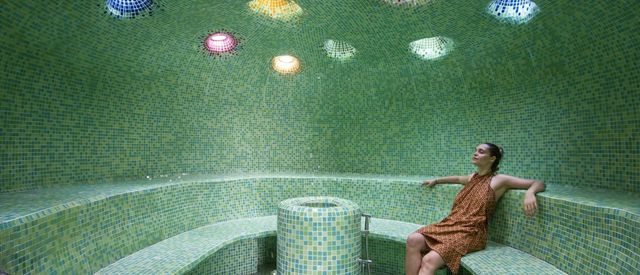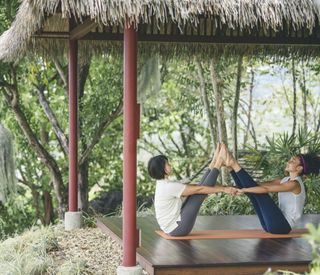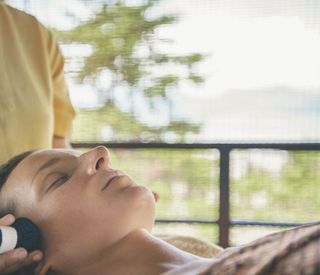 Experience
If you want to strengthen your mind and body through a holistic approach to your overall health, this is the retreat for you. You will leave Kamalaya happy, healthy and rejuvenated. 
Discover the benefits of modern and ancient practices to promote better immune health
Wellness evaluation and consultations, Bioimpedance analysis and nutritional guidance
Breathe into exhilarating massages, treatments and wraps that cleanse and rebalance
Enjoy full access to fitness facilities, holistic fitness activities, swimming and plunge pools
Accommodation in the Hillside rooms with views of either the lush tropical garden or turquoise sea
FAQ
After you return home from Kamalaya, there may be times when you feel you would benefit from additional support to help you stay on track with your personal health goals. This might be to overcome a particular obstacle, reaffirm the intentions you have already made or find renewed inspiration to discover your true potential in life.
Kamalaya offers guests "post-stay support" with direct access to their expert team of life enhancement mentors, naturopaths and nutritionists. These private one-to-one sessions can be tailored to focus on specific requirements or can be more explorative in nature depending on your personal needs.
Post-stay support consultations are conducted via Skype or telephone and are subject to availability 7 days a week from 9:00 am to 5:00 pm (Bangkok/Koh Samui time).
Thailand's borders are open for fully vaccinated travelers from 63 approved destinations via the Test & GO program. This means that guests can travel directly to Koh Samui from these countries and come to Kamalaya from day one without the need to quarantine.
For non-vaccinated travelers, a 10-days quarantine in an Alternative State Quarantine (ASQ) hotel is a must. Anyone can travel into Thailand with a 30–60-day tourist visa (and a flexible option to extend it further without having to leave Thailand) upon presenting a negative RT-PCR test certificate.
The facilities and services at Kamalaya are designed for adults who seek the time, place and expertise to improve their well-being. Kamalaya is not recommended for children and there are no child concessions available and no special facilities or services offered. However, Kamalaya intends to provide the possibility for parents who would like to do a wellness program and bring their child. Therefore the following policy applies, subject to availability:
For every room booked there must be one adult with a pre-booked wellness program for the duration of their stay.
Maximum 1 child sharing room with their parents is permitted.
Children below the age of 16 may not participate in any wellness activities or treatments and are not allowed into the wellness center or its facilities; this includes the fitness center and lap pool
Children are not allowed to use the leisure swimming pool (located at Amrita Café) between midday and 4 pm.
Children aged 8 to 16 are required to book an extra bed at an additional cost.
Children below the age of 8 can stay free of charge on the sofa bed of a villa when sharing with parents.
Children below the age of 6 may share a bed with parents free of charge and are entitled to 50% discount on all meal rates; children will be served half portions from the regular menus. Children aged 6 and over will pay full meal rates.
Baby cots for children below the age of 2 are free of charge (upon availability).
Children are only permitted to stay in the stand-alone villa accommodation categories (including pool and beachfront villas).
Terms
We strongly advise that all guests take out adequate travel insurance in case of unavoidable emergencies that may result in the cancellation of their stay at Kamalaya.
Deposit
A deposit of 100% of the full stay amount will be charged to the credit card upon booking.
Cancellation Policy
Modify/cancel free of charge up to 24 hours before arrival. Policy applies to accommodation and wellness program/s booked. You can now postpone or cancel your stay at Kamalaya free of charge. Choose to postpone your visit and carry forward any bonus nights to your new booking (subject to availability). Please note that rates may be higher during a newly requested period of stay. This temporary relaxation to our standard cancellation policy is valid for stays from now until December 21, 2021. Further terms and conditions apply.
Standard Cancellation Policy (valid for stays from December 22, 2021)
Cancellation charges apply to both wellness programs and accommodation bookings
Any cancellation within 7 days of arrival will be charged at 100% of the full booking
Any cancellation within 21 days of arrival will be charged at 50% of the full booking
Dec 22 – Jan 10 each year: 50% of full booking charged if canceled within 45 days
Non-arrival & early check-out policy
In the event of guest non-arrival or early check-out, Kamalaya Koh Samui will charge 100% of the total booking fee (including accommodation and wellness programs) for the full length of stay and as per the most up-to-date booking confirmation.
Rates & Availability
All quoted rates are converted from Thai Baht to USD and include 10% service charge and 7% VAT. Quotes may fluctuate based on exchange rate.
Minimum stay 3 nights throughout the year excluding peak season; minimum stay 7 nights during peak season from December 22 to January 10.
Check-in time 2:00 pm; Check-out time 12:00 pm
Rates, service charges and taxes are subject to change without prior notice
Wellness Package Terms and Conditions
Please note that Kamalaya's wellness programs have been designed to help you reach your health goals in the most effective way. Any changes made to your program may compromise the efficacy of the program and the overall result.
After check-in, guests wishing to change or eliminate specific treatments in confirmed packages may do so subject to the availability of the therapy they wish to substitute.
All Kamalaya wellness packages carry a built-in 20% discount on wellness and food and beverage services. Therefore cancellation of any packaged therapies will be credited at 80% of the normal retail price.
Treatments selected in substitution will be charged at a full retail rate against which any credits can be applied.
Credits against cancelled treatments may only be used toward the purchase of treatments offered on the Wellness Sanctuary & Holistic Spa treatment menu. These credits may not be used toward sessions with visiting practitioners, food and beverage, accommodation, purchases in the resort's retail shop or any incidental costs such as laundry services, etc. 
In the case of a contra-indication whereby Kamalaya's health practitioners advise against a certain treatment included in the wellness package, a credit of 80% will apply.
Any cancelled treatments that are later re-instated into the package will be charged at 100%.
Any unused credit from cancelling package treatments is non-refundable and non-transferable if left unused by the end of the stay.