Sold Out
8-Day Hydra Writer's Retreat with Phil Cousineau

Hydra, Greece

7 nights
---
or talk to Vacayou travel concierge
Socrates believed, "Wisdom begins in wonder." Discover just how true that is on a weeklong writer's retreat on the enchanting Greek island of Hydra. Combining the spirit of a workshop with the contemplativeness of finding your own voice, best-selling author and documentary filmmaker Phil Cousineau invites you to immerse yourself in the art of storytelling with Sacred Earth Journeys.
Each day begins with a reading from Greek literature, followed by a writing session and a mix of creative writing games, visualization exercises, experimenting with story structure, interview techniques, dialogue practices, writing outdoors and evening sessions to encourage revision. Add color to your work with inspiring excursions and hone your craft with one-on-one consultations. This is a retreat to gather and grow with kindred spirits in Mediterranean paradise.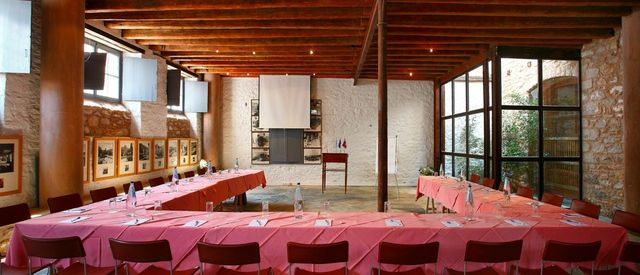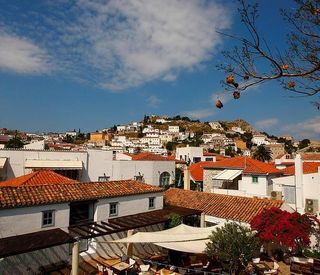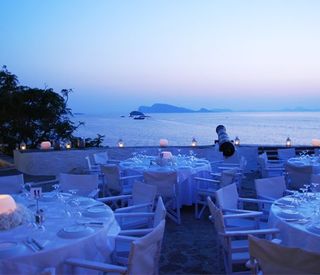 Experience
Tap into newfound inspiration and turn up the volume on your natural writing voice on this highly motivating and engaging writer's retreat. With tools and expertise at your fingertips and an archipelago of inspiration stretching as far as your senses can feel, this is the time and the place to dive deep and release your work into the world.
Travel, workshops, and daily opportunities for one-on-one consultations with your instructor, Phil Cousineau
Quality time for your own writing with an emphasis on developing your current manuscript and moving it toward publication
Profoundly supportive workshop, a "no critiquing" retreat, meaning that class time will not be used for criticizing students' work
Local excursions to inspirational sites 
Guided walking tour of Hydra Port
Visit Tetsis Museum
Visit the Lazaros Koundouriotis Mansion, a branch of the National Historical Museum
Itinerary
Friday, May 6th
"There are only two colors, blue and white, and the white is whitewashed every day, down to the cobblestones in the street. The houses are even more cubistically arranged than at Poros. Aesthetically it is perfect, the very epitome of that flawless anarchy which supersedes, because it includes and goes beyond, all the formal arrangements of the imagination." ~ Henry Miller
You will be transferred from Athens center to Piraeus Pier for your onward journey to Hydra. At Piraeus, you will board their "flying dolphin" (hydrofoil) to Hydra (the journey takes approx. 2 hours). 

After checking into their charming hotel and taking a little time to refresh after travels, the group will meet for a guided walking tour of "Hydra port," the main town on the island. This picture-perfect town set against a backdrop of deep blue sea has houses with terracotta roofs leading up from the crescent-shaped harbor. No motor vehicles other than garbage trucks are legally allowed on this small, tranquil island, making it a walker's—and writer's—ideal retreat! 

This evening, you will enjoy a Welcome Dinner together at one of the island's oldest tavernas, the beautiful, family-run Xeri Elia, formerly known as the Douskos Taverna, made world-famous by being Leonard Cohen's favorite meeting place when he lived here. Here, you can relish a traditional Greek meal as you get to know your fellow travelers.
(Overnight on Hydra at the Bratsera Hotel or similar.)
Saturday, May 7th
Enjoy a full Greek breakfast buffet at the Bratsera, followed by the first session of your writing classes in the intimate Virani Suite, our theme being: "The Secret Strength of Storytelling: from Homer to Nikos Kazantzakis – and You." This morning, you will begin with the inspiration stage of the writing journey, which includes an exercise in bibliomancy (divination through books) with the goal of writing the first draft of an original story or essay. 

Follow the class with a light lunch. Enjoy an early afternoon revision session in the poolside garden, in the spirit of Justice Brandeis who said, "There is no great writing, only great rewriting." In the late afternoon, the instructor will be available for the first of his one-on-one consultations. 

Free evening on Hydra. Optional group meeting to discuss your manuscripts at the popular local taverna, The Pirate Bar, a short walk from your hotel, along the harbor.
Breakfast is included today.
(Overnight on Hydra at the Bratsera Hotel or similar.)
Sunday, May 8th
Enjoy a full Greek breakfast at Bratsera, followed by a writing class in the Virani Suite with Phil Cousineau on the role of time and space in the life of a writer. Following the discussion, you will employ an innovative "Reverie" writing exercise that helps explore the French philosopher Gaston Bachelard's notion that, "We have not fully experienced something until we have dreamed it." These exercises will provide you with a lifelong practice of turning your experiences of sacred time into stories and essays. 

The group will then enjoy a light lunch together at the hotel before a brief visit to the Historical Archives Museum, founded in 1918 and housed in an elegant stone mansion overlooking the port. The fascinating collection will provide you with a contemporary example of how museums (House of the Muses) have served as sacred spaces and writing prompts for millennia. Afterward, the group will gather in one of the many tavernas on the harbor to write about a single object that seized your imagination in the museum in a way that will amplify whatever writing project you are engaged in. 

Free evening. Phil will be available for one-on-one consultations. 
Breakfast and lunch are included today.
(Overnight on Hydra at the Bratsera Hotel or similar.)
Monday, May 9th
After breakfast, you will have a brief gathering to discuss the labyrinth stage of every creative person's journey.

Afterward, you will visit the Tetsis museum. In 2007, the Athens Academy member, painter Panagiotis Tetsis (1925 – 2016) donated his grandparents' home on Hydra Island to the Historical and Ethnological Society of Greece, in order for it to become, after his passing, a museum housing his works and studio.

Later, you will return to Hydra port for a well-earned "ouzo and meze" lunch at one of the picturesque seaside taverns (included in tour price) and then enjoy a free afternoon for relaxation or writing. 

Phil will be available for pre-arranged private consultations all afternoon at one of the harbourside tavernas. A free evening to enjoy the fabulous seafood and harbor lights of Hydra.
Breakfast and lunch are included today.
(Overnight on Hydra at the Bratsera Hotel or similar.)
Tuesday, May 10th
This morning, you will enjoy breakfast at the hotel followed by your on-site writing class on the exciting theme of inspiration and guidance in the writer's life. Your session will focus on a "portrait writing" exercise designed to evoke a lifelong writing practice for you based on conjuring up a memory of the mentor or muse who first recognized the creative spark in you.

After a light lunch together at the hotel, Phil will be available for pre-arranged private consultations all afternoon at the harbourside Pirate Bar.
Breakfast and lunch are included today.
(Overnight on Hydra at the Bratsera Hotel or similar.)
Wednesday, May 11th
After breakfast, your writing class will explore two vitally important aspects of the writer's journey. First, how do you develop a discipline of focus in this modern world with its unrelenting distractions? Second, how can you be sure you are doing what the poet Gary Snyder calls "the real work," the work you are meant to do? There are so many ways to waste time and energy, so many false starts and fool's errands as writers. To help you develop a discipline that combines deep attention with a commitment to courageous writing, the goal of this class will be to write an autobiographical piece that will help you develop what is real in your work.

Light lunch at the hotel followed by an easy walk from the harbor to the village of Kamini, where you will dine with the locals at Pirofani, an intimate courtyard restaurant. There, you will have dinner and discuss your day's writing. 

The remainder of the evening will be at your leisure.
Breakfast and lunch are included today.
(Overnight on Hydra at the Bratsera Hotel or similar.)
Thursday, May 12th
After breakfast at the hotel, you will meet for your final writing class with Phil in which you will review the work you created over the course of your week together in the spirit of the ancient Greek notion of  "Bringing Back the Boon." This strong mythic metaphor can provide you with an image of the gift of wisdom that you have gleaned from your various writing projects. It is also designed to help you visualize who you are writing for and what kind of impact your writing will have on your readers. Finally, you will discuss the changes that are revolutionizing the publishing industry, and the myriad choices you now have for releasing your work into the world. 
Follow the class with a light lunch, then, this afternoon you will gather on the grounds of the Bratsera Hotel for final revisions of the six pieces of original writing you have created over the course of your work on Hydra. You'll have the opportunity to read and discuss any portion of your new or revised work to your writer's group.
Tonight, you will gather together for your special Farewell Dinner at Techne, the award-winning cliffside restaurant a short walk from the harbor. 
Breakfast and dinner are included today.
(Overnight on Hydra at the Bratsera Hotel or similar.)
Friday, May 13th
You will gather for your final breakfast at the hotel this morning before check out. After, you will make your way to Piraeus pier for connections to either a hotel in Athens or the airport. Breakfast is included today.
FAQ
Airfare to and from Athens, Greece 
Pre-trip hotel in Athens (if flight does not arrive Athens Airport by 6am on Day 1)
Cancellation & Medical Insurance (ask us for a quote)
Meals and drinks not specified
Any tips
Cost to obtain valid passport
Any items of a personal nature such as laundry, drinks and telephone calls
Any item that is not specifically detailed on our website or in the final retreat itinerary
Phil Cousineau is a writer, teacher, editor, independent scholar, documentary filmmaker, travel leader and storyteller. His life-long fascination with art, literature, and history of culture has taken him on many journeys around the world. He lectures frequently on a wide range of topics from mythology, film and writing to beauty, creativity, travel and sports. He has published over 30 non-fiction books and has more than 20 scriptwriting credits to his name. Currently, he is the host of the much-acclaimed "inner travel" television series, Global Spirit, on Link TV.

Phil's books include his international bestseller, The Art of Pilgrimage: The Seeker's Guide to Making Travel Sacred, which has been translated into ten languages; The Book of Roads: Stories from Michigan; the recently released The Meaning of Tea; Stoking the Creative Fires: Nine Ways to Rekindle Passion and Imagination; The Olympic Odyssey, which was selected by the US Olympic Committee as a gift to the athletes at the 2004 Athens, Greece Olympics; Soul: An Archaeology: Readings from Socrates to Ray Charles; The Soul of the World: A Modern Book of Hours; and The Hero's Journey: Joseph Campbell on His Life and Work. Cousineau also worked with the drummer John Densmore on his bestselling autobiography, Riders on the Storm: My Life with Jim Morrison and the Doors. Cousineau is also a contributor to more than 50 other books. 
Phil's screenwriting credits in documentary films, which have won more than 25 international awards, include: A Seat at the Table; Ecological Design: Inventing the Future; Wayfinders: A Pacific Odyssey; Humble Serpent: The Life of Reuben Snake; Wiping the Tears of Seven Generations; Eritrea: March to Freedom; The Presence of the Goddess; The Hero's Journey: The World of Joseph Campbell; and the 1991 Academy Award-nominated Forever Activists: Stories from the Abraham Lincoln Brigade. His most recent work was story consultant and on-camera interviewee for Stealing Home: Tiger Stadium, Detroit's Field of Dream, which was nominated for an Emmy Award in 2016. An expert on mythology and film and the "hero journey" structure of screenplays, Cousineau also consults on many types of films and projects, including at Warner Brothers, Twentieth-Century Fox studios, and Pixar Studios.
Cousineau has been the keynote speaker at major conferences as diverse as the Ansel Adams Centennial Celebration in Yosemite National Park, The European Unitarian Universalist's Fall Retreat in the Netherlands, and the Red Bull Conference on Creativity in 2015. He has been invited to lecture at distinguished venues including the University of California, Berkeley, UCLA, Stanford University, Pacifica Graduate Institute, the C.G. Jung Institute of Chicago, the Swedenbourg Library, Syracuse University, Bard College, and the University of Tennessee. He recently gave a prestigious TEDx talk about mentorship and creativity called "The Passionate Life." 

He has collaborated and appeared with many of the great thinkers and philosophers of our time including mentors, Joseph Campbell and Huston Smith, John O'Donohue, Karen Armstrong, Robert Thurman, Robert A. Johnson, James Hillman, Brian Swimme, Robert Bly, Brother David Steindl Rast, Marija Gimbutas, Angeles Arrien, Baseball Hall of Fame announcer Ernie Harwell, and many others. He enjoys collaborating with musicians and artists such as John Densmore, drummer for The Doors, Mickey Hart and Jerry Garcia of the Grateful Dead, cellist David Darling, songwriter R.B. Morris, Cliff Aerie and Chris Bakriges of the Oikos Ensemble, movie producer Jeff "The Dude" Dowd, and painter Gregg Chadwick. For the Global Spirit series he interviewed Carlos Santana and his wife Cindy Blackman Santana.
Travel with like-minded people and forge lifelong friendships
Escape from daily stresses, restore balance and rejuvenate the body, mind and spirit
Learn about ancient cultures and traditions and explore their significant sites
Travel safely with the comfort of a small group and an experienced, passionate tour leader
Enjoy daily discussions, contemplations and life-changing conversations
Develop more understanding and compassion for yourself and others
Enjoy an itinerary that is extensively researched and infused with personal contacts and resources
Connect with ancient spiritual energies and power places at carefully chosen sacred sites
Strengthen your connection to the rest of the world and deepen your knowledge of other traditions
Terms
Tour operated by Sacred Earth Journeys. Sacred Earth Journeys is a registered & licensed Travel Agent in British Columbia (B.C. Reg 28465). All participants on our trips are covered by the terms of the British Columbia Travel Agents Act.
Deposit
A deposit of $500 per person is required if booking more than 70 days before your departure date. Payment is due immediately in full within 70 days of departure. If you pay a deposit, the remainder is due 70 days before you depart. If the balance is not paid in full by the due date, we will regard the booking as canceled. Payments made less than 30 days before departure must be made with a certified cheque, money order, or credit card. All payments are non-refundable and we strongly suggest you purchase Cancellation Insurance to protect your investment.
Minimum Number of People
The advertised cost for each tour is based on an established minimum level of participation. Should the group for any tour fall below this number, each traveler may be assessed a surcharge dependent upon the number of persons traveling (usually between USD $100 and USD $300 per person). Sacred Earth Journeys will make every effort to keep the surcharge as small as possible. If assessed a surcharge, you will be notified of the amount at least two weeks before the departure date. Payment is due upon notification. Instead, in the event that there are not the minimum number of participants,  Sacred Earth Journeys reserves the right to either add a 10% small group surcharge or cancel the tour. In either case, you will be notified as soon as possible. In the event of a tour cancellation, you will receive a full refund or you may transfer to another trip.
Single Supplement
A single supplement is available for an additional cost ($980 USD per person for Greece; $850 per person for Mexico). The single supplement is for those who would like to secure a private room throughout the tour, at the indicated additional price. If you are not traveling with anyone you know and would like to share a room, please indicate your preference for a roommate above. We will be happy to work to find you a suitable roommate.
Insurance
We strongly recommend purchasing Travel Insurance (Cancellation and Medical Insurance) to protect against cancellation fees and additional travel expenses that may incur before, after, or during the trip. All payments are non-refundable and we strongly suggest you purchase Cancellation Insurance to protect your investment.
Tour Costs
Tour costs and what they include are listed on the itinerary for each tour. Unless indicated otherwise on the tour itinerary, the tour fee includes accommodations in double occupancy, meals as indicated (any foods or beverages not included in the program and purchased by you will be at additional cost. Tour price includes only foods and beverages that are provided to the entire group), all transportation during the tour, sightseeing as specified in the itinerary, entrance fees for parks and other areas, and services of a tour leader. The tour operator reserves the right to substitute hotels of similar category. Tour costs are based on group rates and no refunds will be given for unutilized services. Items not included in costs: visa and passport charges, departure taxes, gratuities (some tours require gratuities be pre-paid), extra meals not included in the itinerary, items of a personal nature (i.e. laundry, drinks, telephone calls, personal clothing), emergency evacuation, personal travel insurance, any item that is not specified as being included.
Passport
A valid passport must be held by each passenger traveling internationally. Some countries require that your passport is valid for 6 months from your return date. Visas are required for entry into some countries. Please check with your local Embassy or Consulate of the country being visited, to learn about Visa requirements for your Nationality. Obtaining Visas is at the passenger's own expense.