Sold Out
Hike Alaska's Kenai Peninsula

Anchorage, Alaska, USA

6 nights
---
Where a green valley floor rises to meet glacial blue ice and jagged mountain peaks cradle pristine alpine lakes, a world of breathtaking scenery awaits. America's northernmost state so naturally evokes the feeling of being a million miles away yet closer than ever to the land around you. It's captivating, it's awe-inspiring and it's yours to explore on a 7-day walking tour powered by Intrepid. Discover the best of Alaska's Kenai Peninsula by way of the world-famous Harding Icefield Trail, the scenic drive along Turnagain Arm, the coastal hikes through Kenai Fjords National Park and many others. From frozen fields to lush wildlands, this is the Alaskan adventure of a lifetime.
The Basics
Start and Finish: Anchorage, United States
Minimum Age: 15
Group Size: Minimum 1, Maximum 16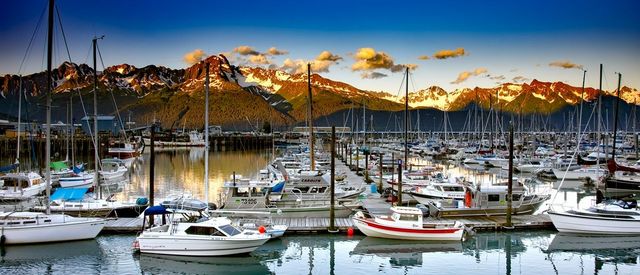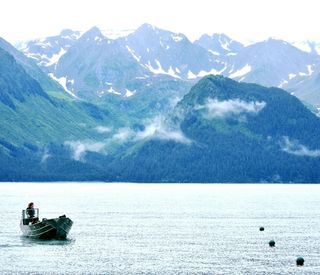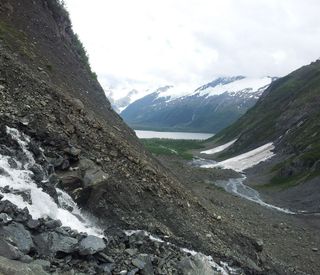 Experience
Take in the very best sights Alaska's Kenai Peninsula has to offer on this 7-day walking tour with Intrepid. From unbounded natural beauty to charming coastal towns and getting to try delicious local cuisine, you're getting a taste of it all on this exciting excursion.
Enjoy some of Alaska's most scenic and iconic hikes, with views of Prince William Sound, snow-capped mountains and glaciers as you explore the Kenai Peninsula and Kenai Fjords National Park.
Let an expert guide take you on all included treks, with local knowledge and years of experience that will give you real insight into Alaskan life and nature.
Walk on the expansive Harding Icefield, one of 4 major icecaps in the US and believed to be a remnant of the Pleistocene ice masses that once covered half of Alaska.
Spend a free day exploring the small city of Homer at your own pace, with options for halibut fishing, bear viewing or just relaxing in this place that's famously known as "the end of the road."
Hike up the Flattop Mountain in Chugach National Park for the best views of Anchorage on one side, and breathtaking views of mountaintops and deep valleys on the other.
Itinerary
Welcome to Anchorage and the start of your incredible Kenai Fjords National Park adventure! You'll meet your guide at The Voyager Inn hotel in Anchorage at 10 am. From there, embark on the stunning drive to your first hike at Portage Pass. This out-and-back hike boasts one heck of a scenic-packed-punch, with views of Prince William Sound, snow-capped mountains and alpine lakes. For the grand finale, get up close and personal with a glacier atop the iceberg-dotted Portage Lake. After your hike, sit back, relax and enjoy the beautiful drive as your local leader takes the wheel to reach Kenai Fjords National Park. Tonight, you're free to explore the fishing town of Seward on your own. Maybe stroll along the beach, shop at a few local stores or grab dinner at a local eatery.
Accommodation
Included Activities
Meals Included
There are no meals included on this day.
Special Information
Please note your welcome meeting takes place at 10 am today. The drive to Seward follows right after the meeting, so it is crucial you are there on time. If you are worried about an early start, they recommend spending a night before your tour begins in Anchorage. If so, we'll be happy to organize additional accommodation (subject to availability). Today's hike is 4.2 miles (6.8 km) roundtrip with a total of 1433 ft (437 m) in elevation gain.
Eat a hearty breakfast this morning because today is a full-day hike along one of Alaska's most iconic and heart-pumping trails. Meet your guide at your hotel for the short drive to the trailhead. The hike begins with a mellow warm-up as you walk along the valley floor, but then quickly gains elevation and the reward is worth every step. The Harding Icefield Trail is world-famous and for good reason. As you make your way through the forest, you'll catch peeks of the valley until, before you know it, you emerge above the tree line for spectacular panoramic views. All that hard work will be celebrated with the breathtaking sight of Exit Glacier and the Harding Icefield – the perfect all-Alaskan scene. After your hike, head back to Seward, where you can relax for the evening and review your epic photos from the day.
Accommodation
Included Activities
Harding Icefield full-day guided hike
Meals Included
Special Information
This out-and-back hike is 8.2 miles (13.2 km) roundtrip, with a grand total of 3812 ft (1162 m) in elevation gain.
Start off today with a half-day beach hike along a coastal trail that weaves through the mossy forests before breaking out onto the beaches of Kenai Fjords National Park. There are excellent beachcombing opportunities here, and you may even spot both land and marine wildlife. In the afternoon, you're free to join a variety of optional activities. Maybe explore the fascinating Alaska Sealife Center, take a helicopter to a glacier for a dog sledding tour, or hop on board a scenic cruise through the waters along the Kenai Peninsula. Or, you may choose to simply enjoy the afternoon relaxing in Seward.
Accommodation
Included Activities
Caines Head and Tonsina Point coastal hikes
Meals Included
Special Information
This coastal out-and-back hike is 4.1 miles (6.6 km) roundtrip and gains 770 ft (235 m) in elevation.
Enjoy a scenic drive to the town of Homer, famed for being the halibut capital of the world and nicknamed "the end of the road" because it marks the very end of the US highway system, where land meets sea. While Homer may be surrounded by ocean and wilderness, it's also an artsy town that's home to several museums, art galleries and fine dining options. There will be stops along the drive to stretch your legs and take in the sights.
Accommodation
Meals Included
Today you have the full, free day to enjoy beautiful Homer. You may want to walk the beach of the famous Homer Spit that juts out into Kachemak Bay, a unique geographical feature shaped by tidal swells, glaciers and earthquakes. Or you may choose to browse the local shops, explore the harbor or enjoy some local cuisine such as reindeer, caribou, king crab and, of course, halibut. If you're feeling adventurous, book a bear viewing flight (your own expense) that includes a scenic flight, professional bear guide and digital photos. Or, go fishing for some of that delicious Homer halibut! Book a half-day fishing charter (your own expense) that includes all your gear, and you get to keep whatever you catch.
Accommodation
Meals Included
Special Information
The bear viewing flight is 5-7 hours total trip time, including approximately 3 hours with the bears and 1.5 to 3 hours of scenic flight time. Trip time and time with bears is dependent on weather. Half-day fishing charters depart at either 7 am or 12 pm.
For your final day, journey back to Anchorage, with many scenic stops along the beautiful Turnagain Arm, one of the most stunning drives in the USA. Cap off your adventure with Anchorage's most famous day hike, as you explore Flattop Mountain in Chugach State Park. Flattop is famous for its distinguished shape, well-maintained trails and sweeping mountain and city views. From one direction you can look out over the city of Anchorage and take in distant views of the Tordrillo, Talkeetna, Kenai and Alaska mountain ranges. From the other direction, catch dramatic mountain views, from snow-capped peaks to deep mountain valleys. After your hike, overnight in Anchorage, where you may want to gather the group for a farewell dinner.
Accommodation
Included Activities
Chugach State Flattop Mountain hike
Meals Included
Special Information
Today's round-trip hike is 3.3 miles (5.3 km) with a 1430 ft (436 m) elevation gain—perfect for a half-day finale adventure!
Your trip ends after breakfast and you are free to leave Anchorage at your leisure. Or, you may choose to continue exploring Alaska by adding on our Denali National Park itinerary.
Meals Included
FAQ
Airfare
Airport transfers, taxes and excess baggage charges
Travel insurance (mandatory and must be taken out at the time of booking)
Optional activities and all personal expenses
This is a walking trip. Please carefully read the description of all walks. A good level of fitness is desirable to fully enjoy all included hikes. Be sure to bring appropriate gear: good walking boots, rain gear and warm clothing.
This trip starts on Day 1 at 10 am in Anchorage and travels to Seward after the welcome meeting. If you are at risk of being late, please consider arriving a day earlier and staying in Anchorage before the tour begins.
Just as a heads up before you book: this trip is new to their range this year. And while they have thoroughly researched every detail of the logistics, new destinations can sometimes present some unexpected surprises. More often than not, it'll be a great surprise. But every now and again there might be a hiccup. Intrepid likes to think that's what puts the 'adventure' in 'adventure travel'.
These are not point-to-point walking trips, therefore one can opt out from any walk if you wish to. Walks are not technical, anyone with a fair level of fitness is able to complete them.
The walking on this trip is over easy to moderate terrain and distances covered can vary from 5 to 20 km (please check day descriptions for details). Some of the walks are circular but some can be out-and-back walks. Be prepared for daily ascents and descents, sometimes with short, steep sections. Terrain can be rocky with loose gravel, or with roots, which may become slippery when wet. This tour is ideal for nature lovers and the guides set an even pace, providing time to take photos and to appreciate the beautiful surroundings.
All travelers need to be in good physical health in order to participate fully on this trip. When selecting your trip please make sure you have read through the itinerary carefully and assess your ability to manage and enjoy this style of travel. Please note that if in the opinion of their group leader or local guide, any traveler is unable to complete the itinerary without undue risk to themselves and/or the rest of the group, Intrepid reserves the right to exclude them from all or part of a trip without refund.

You should consult your doctor for up-to-date medical travel information or for any necessary vaccinations before departure. We recommend that you carry a first aid kit as well as any personal medical requirements as they may not easily be obtained while traveling.
Please check entry requirements for the destinations you are traveling to carefully to know whether you require a negative COVID-19 test before traveling. If you are unwell prior to traveling, please stay at home and contact us to make alternative arrangements. At the group meeting, you will be asked to complete a self-screening health form and report any COVID-19 symptoms as well as any close contact with someone who has suspected or confirmed COVID-19. If you are displaying any symptoms or have any health concerns at this time, the advice of local health authorities will be followed to determine whether medical assistance, isolation or further action is required. They ask all travelers to continue to monitor their health throughout their travels and report any relevant symptoms to their tour leader.
If you're happy with the service you receive, providing a tip—though not compulsory—is appropriate. While it may not be customary to you, it's of great significance to the people who will take care of you during your travels, inspires excellent service and is an entrenched feature of the tourism industry across many Intrepid destinations. Please note we recommend that any tips are given directly to the intended recipient by a member of your group as their group leaders are prohibited from collecting cash for tips.
The following amounts are based on local considerations and feedback from past travelers:
Restaurants: They suggest 18% to 22% of your bill.
Bars: Recommended US$1 for each drink ordered to ensure you are served again.
Local guides: Throughout your trip, you may at times have a local guide in addition to your leader. We suggest US$5-20 per day for local guides. Ask your leader for suggestions as to what is appropriate for a given activity.
Your Group Leader: You should also consider tipping your leader for outstanding service throughout your trip. Your leader works long and hard for you. He or she may well become your friend during the trip but they do need to pay their bills. If the leader's performance meets or exceeds your expectation they will gladly accept a tip from you. The amount is entirely a personal preference; however, you should plan to tip your leader US$7-10 per person per day.
While traveling with Intrepid, you'll experience the vast array of wonderful food available in the world. Your group leader will be able to suggest restaurants to try during your trip. To give you the maximum flexibility in deciding where, what and with whom to eat, generally not all meals are included in the trip price. This also gives you more budgeting flexibility. As a rule, their groups tend to eat together to enable you to taste a larger variety of dishes and enjoy each other's company.
Your group leader will endeavor to cater to specific dietary requirements where possible, and vegetarianism and gluten intolerance will be catered to in most instances. There may be some meals and activities that are fixed in advance and therefore cannot be modified to suit dietary requirements. Please notify your group leader of any dietary requirements in your group meeting at the start of the trip.
For those who suffer from particular food allergies, your group leader will endeavor to disclose to their fullest knowledge the main ingredients in dishes being consumed. It is, however, your personal responsibility to ensure that you do not ingest any foods to which you are allergic.
Your leader will provide basic information about the sights and cities you'll be visiting but please note that their leaders are not 'tour guides' in the traditional sense. They are adventure travel specialists and are there to organize your trip, arrange activities and help with questions or problems you may have while on your tour. Your leader will provide you with all the important information you need to embark on your own explorations.
They are also responsible for driving the van and navigating across the country. The allowable driving times for drivers are strictly controlled in North America. This ensures their drivers are well-rested and are not over-tired from too many hours on the roads.
While your group will have a minivan for all included activities on the trip, please note that the services of the van and the driver may not be available for your use during free time, or after you have arrived for the day. If you need a special trip into town you may need to arrange transport or a taxi.
They endeavor to provide the services of an experienced leader however, situations may arise where your leader is new to a particular region or training other group leaders.
It's strictly forbidden for non-qualified rangers to present any information about some National Parks in North America, therefore they adopt a system (as requested by the park rangers) where their leader will encourage travelers to visit the information centers in the National Parks for details about the site. 
All group trips are accompanied by one of their group leaders. The aim of the group leader is to take the hassle out of your travels and to help you have the best trip possible. Intrepid endeavors to provide the services of an experienced leader however, due to the seasonality of travel, rare situations may arise where your leader is new to a particular region or training other group leaders.
Your leader will provide information on the places you are traveling through, offer suggestions for things to do and see, recommend great local eating venues and introduce you to their local friends. While not being guides in the traditional sense, you can expect them to have a broad general knowledge of the places visited on the trip, including historical, cultural, religious and social aspects. At Intrepid, they aim to support local guides who have specialized knowledge of the regions you'll visit. If you were interested in delving deeper into the local culture at a specific site or location, then your leader can recommend a local guide service in most of the main destinations of your trip.
LUGGAGE RESTRICTIONS
All luggage is carried in trailers or inside the vehicle so please don't bring more than one medium-sized bag, backpack or suitcase (44 lb or 20 kg maximum) per person. Your suitcase/rucksack may get some rough handling, so make sure it's a tough one. A small daypack and camera may also be carried inside the vehicle.
As well as your underwear, toothbrush and other items you always need to pack for travel, below are some items that you specifically need for this trip.
MAIN LUGGAGE
You need to bring your main piece of luggage as well as a small to medium backpack for day activities (5-6.5 gallons or 20-25 liters). One with a waist strap would be most comfortable for all included walks as you're not expected to carry your luggage during any of the walks. Only a day pack (highly recommended to bring one!) with essentials.
ESSENTIALS
Day pack: for carrying essentials during activities
Trekking clothing: A mixture covering lightweight clothing and some warm layers is recommended. Your activities will take place in the mountains where weather may change quickly. Lightweight, comfortable, and quick-drying clothes for the activities are best. Laundry facilities may not be available on a daily basis, so make sure you have a few cycles of clothes.
Light jacket, fleece and base layers
Wind and waterproof jacket
Hiking boots with good grip, ankle support and waterproof membrane that are comfortable to walk for an entire day
Water bottle: you will need water during activities and it's best to avoid buying unnecessary plastic.
Sun protection: sunscreen, sunglasses
Toiletries
RECOMMENDED
Personal medical kit. A larger kit will be on hand with your leader, but we recommend you carry items such as mild pain killers, antihistamine tablets and any personal medication you may need
Walking poles for longer walks and uneven terrain
Torch/flashlight/headtorch
Camera with spare batteries/power bank: You will have access to power to recharge your electrical items daily
Travel eco-friendly wipes/hand sanitizer
OPTIONAL
Ear plugs & eye mask
Swimwear
A good book, a journal and music player
VALUABLES
Please try to avoid bringing unnecessary valuables. It's also recommended to bring a copy of all important documents e.g. air tickets, passport, vaccination certificate, etc. and keep the copies separate from the originals. While not valid, a photocopy makes it very much easier to obtain replacements if necessary.
If you need some further tips for packing, you can always check out our ultimate packing list.
WATER BOTTLE
Please bring your own water bottle to refill along the way. The sale of bottled water contributes to an enormous environmental problem around the world. In addition to the water in bottles, the production of a 1-liter plastic bottle takes 2 liters of water and 200ml of oil. A large proportion end up in limited landfills or discarded in waterways and natural environments.
Terms
This trip is provided by Intrepid Travel. Minimum age requirement is 15 years old. Maximum 12 people allowed on the trip in total.
Deposit
Lock in your trip with a deposit and then pay the rest in installments whenever you like, with no interest or fees. Just make sure you've paid in full by 21 days before your trip is scheduled to depart. If you cancel your trip up to 21 days before departure, you can transfer your deposit to another available trip or hold your deposit on file indefinitely.
Itinerary Changes
Our itineraries are updated regularly throughout the year based on customer feedback and to reflect the current situation in each destination. The information included in this Essential Trip Information may therefore differ from when you first booked your trip. It is important that you review this information prior to travel so that you have the latest updates. Due to weather, local conditions, transport schedules, public holidays, or other factors, further changes may be necessary to your itinerary once in-country. The order and timing of included activities in each location may also vary seasonally to ensure our travelers have the best experience. Your tour leader will keep you up to date with any such changes once on tour.
Insurance
Travel insurance is compulsory on all our trips for those traveling internationally. We require that at a minimum you are covered for medical expenses including emergency repatriation. If you are traveling within your home country or region please confirm before travel that you are entitled to access the public medical system easily should an accident occur. We strongly recommend all travelers have a policy that also covers personal liability, cancellation, curtailment and loss of luggage or personal effects. For international trips, you will not be permitted to join the group until evidence of travel insurance and the insurance company's 24-hour emergency contact number has been sighted by your leader. If you have credit card insurance your group leader will require details of the participating insurer/underwriter, the level of coverage, policy number, and emergency contact number rather than the bank's name and your credit card details. Please contact your bank for these details prior to arriving in-country.
Authority on Tour
Trips are run by a group leader. The decision of the group leader is final on all matters likely to affect the safety or well-being of any traveler or staff member participating in the trip. If you fail to comply with a decision made by a group leader, or interfere with the well-being or mobility of the group, the group leader may direct you to leave the trip immediately, with no right of refund.  We may also elect not to carry you on any future trips booked. You must at all times comply with the laws, customs, foreign exchange and drug regulations of all countries visited
Health
All travelers need to be in good physical health in order to participate fully on this trip. When selecting your trip please make sure you have read through the itinerary carefully and assess your ability to manage and enjoy our style of travel. Please note that if in the opinion of our group leader or local guide any traveler is unable to complete the itinerary without undue risk to themselves and/or the rest of the group, we reserve the right to exclude them from all or part of a trip without refund. You should consult your doctor for up-to-date medical travel information or for any necessary vaccinations before departure. We recommend that you carry a first aid kit as well as any personal medical requirements as they may not easily be obtained while traveling.
Any form of violence (verbal or physical) or sexual harassment, either between customers or involving our leaders, partners or local people, will not be tolerated. Use or possession of illegal drugs will not be tolerated. If you choose to consume alcohol while traveling, drink responsibly and abide by the local laws regarding alcohol consumption. 
Single Supplement
A single supplement is available if you'd prefer not to share a room on this trip. The single supplement applies to all nights on your trip and is subject to availability.