Sold Out

Ireland 

8 nights
---
or talk to Vacayou travel concierge
Drink a pint and listen to traditional music in a local pub, visit the sites along the Ring of Kerry, walk some of the Wild Atlantic Way to the Cliffs of Moher, and explore the cities of Dublin and Belfast on this Ireland expedition. We're all a little bit Irish come March 17, but if you're in the market for something more meaningful than a pint of green beer, hop aboard this delightful nine-day adventure to the Emerald Isle. Cliffs of Moher, Ring of Kerry, traditional music in a local pub... seriously, it doesn't get much more quintessentially Irish than this. We mix the essential sites and time in the villages to really round out the experience. Even if Ireland isn't the Old Country for you, this trip will make you feel as though you're back home.
Basics
Duration: 9 days
Start/Finish: Dublin to Belfast
Rating: Light walking and hiking suitable for most fitness levels—nothing too challenging
Travel Style: Classic
Group Size: Max 16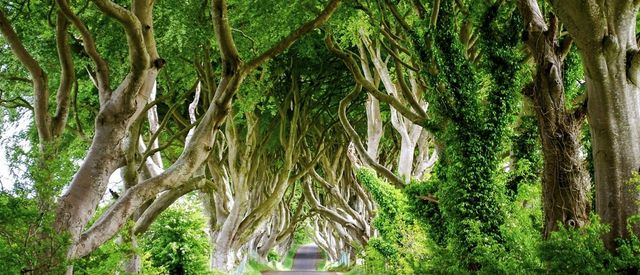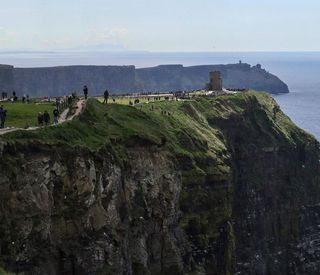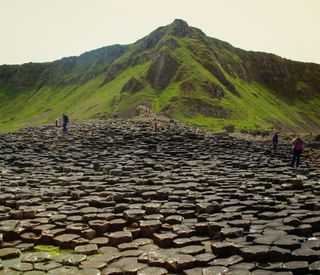 Experience
A land of rolling emerald plains dotted with castles and ringed by rocky mountains, Ireland looks like something out of a fairytale. But believe us—it is very, very real. The true magic of this place presents itself in the lived-in details: the characteristic taste of a pint of dark stout poured by a wizened bartender in a small-town pub; the crisp, clean air that fills your lungs as you wander a Stone Age cemetery; the spongy feel of the impossibly lush turf beneath your boots as you hike into the hills. Ireland is where fiction becomes fact and myth is more real than anything you've lived before.
Drink a pint and listen to traditional music in a local pub
Visit the sites along the Ring of Kerry
Walk some of the Wild Atlantic Way to the Cliffs of Moher
Explore the cities of Dublin and Belfast
Itinerary
We recommend arriving a day or two early to fully explore this lively city. There are no planned activities until an evening welcome meeting.
Take a free day to roam the cobblestone streets of this historic city. Walk along the riverside, or marvel at the city's medieval castles and cathedrals. Don't tire yourself out too much—you'll want to get out later tonight and experience the nightlife that the Temple Bar area is known for.
Continue to Killarney with free time to enjoy the town or explore the nearby national park.
Enjoy a day trip to experience some sights along the famous Ring of Kerry. Return to Killarney for another night in town.
Travel to Ireland's west coast to Galway. Set off on a guided walking tour before enjoying a free afternoon to explore the city's colorful streets and bohemian atmosphere.
Travel to the breathtaking Cliffs of Moher. Hike the picturesque countryside along the cliffs. Gaze out at the splendor before returning to Galway for the evening. Opt for a night out at the local pub. Spend a few hours following the Wild Atlantic Way from Doolin to the Cliffs of Moher. Soak in the views as you hike the trail. Opt for a picnic along the way.
Travel along the coast toward Northern Ireland. Stop for lunch in the historic city of Derry, then visit the mysterious Dark Hedges. End the day in Belfast.
Stop at the Giant's Causeway and marvel at the natural phenomenon of its volcanic columns. Continue on to Bushmills Distillery for a guided tour of the oldest working distillery in Ireland. Return to Belfast.
Depart at any time. If you wish to extend your stay in Belfast, consider booking post-tour accommodation with us. Please speak to a G Adventures representative about booking accommodations in Belfast after your tour ends.
FAQ
Not Included:
Airfare or other transportation to/from Ireland

Meals not listed

Travel insurance (mandatory)

Vaccinations or COVID-19 tests

Alcoholic beverages
All travelers must have received a full COVID-19 vaccination with the final dose given at least 14 days before the start of the tour.
Please note that due to space restrictions aboard our transportation, there is a limit of one main piece of luggage per person. We recommend bringing an additional daypack for essentials and everyday items.
Allow USD$305-$400 for additional meals.
If you're traveling solo and would prefer to have your own private room throughout your trip, you may do so for an additional $999 and up.
This is considered a Small Group Tour. The exact number is based on bookings, but there is a maximum of 16 with most groups averaging 12 people.
All travelers must be at least 12 years old. All travelers under age 18 must be accompanied by an adult.
While conventions can vary from country to country, tipping is customary in Europe. A general rule is 10% of the bill for wait staff, and a smaller amount (€1 or €2) for other service providers.
Tipping is an expected - though not compulsory - component of your tour program, and an expression of satisfaction with the persons who have assisted you on your tour. Although it may not be customary to you, it is of considerable significance to the people who will take care of you during your travels. There are several times during the trip when there is an opportunity to tip the local guides. You may do this individually, or your CEO will offer to collect the money and tip as a group. Recommendations for tipping local guides would range from €3-5 per day, depending on the quality and length of the service; ask your CEO for specific recommendations based on the circumstances and culture.
At the end of each trip, if you felt your CEO did an outstanding job, tipping is expected and appreciated. The precise amount is a personal preference, however, €30-€40 per person, per week can be used as a guideline.
The CEO will be the group manager and leader. As the group coordinator and manager, the aim of the CEO is to take the hassle out of your travels and to help you have the best trip possible. While not being guides in the traditional sense, you can expect them to have a broad general knowledge of the countries visited on the trip, including historical, cultural, religious and social aspects. They will also offer suggestions for things to do and to see, recommend great local eating venues and introduce you to our local friends.
Local guides may also be used where more specific knowledge will add to the enjoyment of the places visited.
Terms
This trip is organized and operated by G Adventures. 
Deposit & Cancellation Policy 
The typical deposit is $350 and is non-refundable, however if you do decide to cancel that trip the deposit will be carried forward for use on a future G Adventures booking. Total balance is due 60 days before your travel date. If you're booking a trip within 60 days, then the full non-refundable amount is due immediately. Cancellation fees, if any, will be determined with reference to the date on which notice of cancellation is received.
Occasionally itineraries change with improvements that stem from past travelers, comments and research. Sometimes it can be a small change like adding an extra meal along the itinerary. Sometimes the change may result in us altering the tour for the coming year. Ultimately, the goal is to provide you with the most rewarding experience. There is a certain amount of flexibility built into the itinerary and on occasion, it may be necessary, or desirable to make alterations. The itinerary is brief, as we never know exactly where our journey will take us. Due to the style of travel and the regions visited, travel can be unpredictable. This document is a general guide to the tour and region and any mention of specific destinations or wildlife is by no means a guarantee that they will be visited or encountered.
Miscellaneous Terms
Please note that due to space restrictions aboard our transportation, there is a limit to one main piece of luggage per person. We recommend bringing an additional daypack for essentials and everyday items.
On this trip you can expect to stay in small family-run hotels or pensions (with the exception of the start and finish hotels, which are often larger city hotels), which will vary a little in standard and facilities: some may not have elevators, air-conditioning or English-speaking staff, but most importantly all are locally-run, with some traditional character, and in excellent central locations to give you maximum time for exploring the sights. You can expect to find clean, safe, simple accommodation in convenient locations. Note that most accommodation in Europe does not have air conditioning units in rooms. Air conditioning is not routinely installed in European homes and workplaces. However, nearly all hotels will provide a standing or desk fan for your room on hot nights. If you do not already have one in your room, please ask your CEO to organize one for you with reception.
Illegal drugs will not be tolerated on any trips. Possessing or using drugs not only contravenes the laws of the land but also puts the rest of the group at risk. Smoking marijuana and opium is a part of local culture in some parts of the world but is not acceptable. CEOs have the right to expel any member of the group if drugs are found in their possession or if they utilize the services of paid sex workers, in any capacity.
Travel insurance is compulsory. When traveling on a group trip, you will not be permitted to join the group until evidence of travel insurance has been sighted by your leader, who will take note of your insurance details. When selecting a travel insurance policy we require that at a minimum you are covered for medical expenses including emergency evacuation and repatriation. A minimum coverage of USD200,000 is required.
You must be 18 to travel unaccompanied on a G Adventures tour. For minors traveling with a guardian over 21 years old, the minimum age is 12.