Gokyo Valley Trek in the Himalayas

Kathmandu, Nepal

13 nights

from $146 Per Night

Based on rate for one guest
---
or talk to Vacayou travel concierge
Trekkers embark on the Gokyo Lake Trek in the Himalayas for many reasons. One might see it as a spiritual quest, while another wants the rush of adrenaline through an extraordinary adventure. Nevertheless, the sacred Gokyo lakes—of great importance to Nepal's Buddhists and Hindus—are a sight one can't prepare for. You might have an idea of what the views of the world's highest mountains are like, what sensations arise as you witness the holy lakes with intense blue color and sparkling beauty. But until you set your foot in this magical place, there is no way to really know what awaits. Accompanied by a true Sherpa mountain guide, Sherpa Himalaya has found a way to deliver this trekking adventure in the most authentic way to all curious travelers. 
Gokyo Valley Trek
The Gokyo Valley Trek takes you through exquisite glaciers, across spectacular natural vistas and traverses through the classic Everest route.
The Basics
Start and Finish: Lukla
Difficulty Level: Moderate
Maximum Altitude: 17,923 feet (5,463 m)
Length of Tour: 14 days
Minimum Group: 2 persons
Minimum Age: 7 years old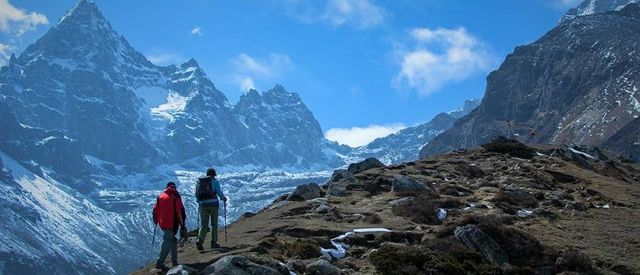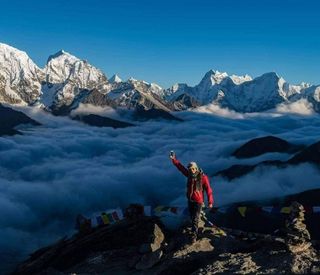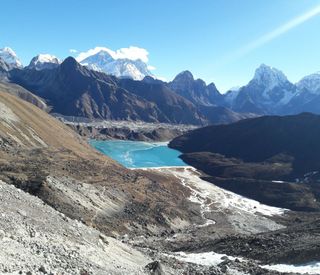 Experience
Trekking through the Gokyo Valley is one of the most well-known and desired experiences in the Himalayas. You will witness the beauty of the world's tallest mountains, incredible glaciers, visit traditional Sherpa villages and Buddhist monasteries, engage in the local culture and receive insights from wild nature. Get close views of Mount Everest, climb Gokyo Ri and observe unusual biodiversity. 
Discover what an authentic Himalayan trek can teach you spiritually and mentally 
Best panoramic view of the Everest mountain range
Breathtaking view of Gokyo Lakes and glaciers
Witness the longest Glacier of Nepal—Ngozumpa Glacier
Explore the Sherpa lifestyle, culture and traditions
Experience one of the best trekking routes in the Everest region
Get views of mountains including Everest, Lhotse and Cho Oyu
Climb Gokyo Ri at 17,575 ft (5,357 m)
Trek through Dole, Machhermo, Luza and Namche Bazaar
Itinerary
Today, you will arrive at the capital city of Nepal—Kathmandu (1,300m/4,265 ft) and will be welcomed by a Sherpa Himalaya representative. After a brief introduction, you will be transferred to your hotel where you can rest and freshen up and receive a local map to explore the area. Overnight at KTM Hotel.
Today you will be introduced to your respective guide for Gokyo Valley Trek. If you have anything to buy for your trek, this is the time to purchase. In the evening you will have to pack only the necessary and important items that you need during the trek and the rest you can either store at the hotel or with Sherpa Himalaya.
We recommend you use the company duffel bag as there will be less chance of misplacing in an airport and easier to find in case of missing.
Rise and shine! Today you'll wake up early to catch your flight to Lukla. Your guide will take you to the airport before you board the flight with incredible aerial views of the Himalayan ranges. As you arrive in Lukla, there will be time for a short rest and breakfast or lunch, depending on the time of arrival. Your first trekking adventure will start today where you will trek 2-3 hours from Lukla to Phakdhing, standing at 8,562 ft (2,610 m). You can expect a mix of steep downhill and normal uphill trekking. Two of the great sights on this day are views of Mountain Kusum Khangguru 20,895 ft (6,369 m) and Thad Koshi at 8,464 ft (2,580 m). Overnight at Phakdhing. 
Today, you will trek to the famous Namche Bazaar (3440 m/11280 ft/). After a comfortable stay in Phakdhing, you will climb up to Namche Bazaar, a small town in the Himalayas that used to be a very famous trade center. People used to get things from Tibet and sell it here, making it the main market point. There are plenty of souvenir shops and you'll have the option to buy any additional trekking gear and necessary clothes. 
During your ascent to Namche Bazar, you'll encounter five bridges that you will cross. This is one of the most memorable moments of the trekking trip in the Himalayas. You'll cross over the Hillary Bridge and as you cross the bridge, you'll hike straight uphill for 2-3 hours to reach the overnight stop. Today's difficulty level is slightly higher than the previous day but with recent updates, the trails are made easier than they were before. Overnight at Namche Bazaar.
Acclimatization is an extra day where you will be introduced to the new elevation. This is important to keep your body familiar with the new environment and avoid severe altitude sickness. You will hike up to Everest View Hotel with a height of 12,729 ft. (3,880 m), listed as one of the UNESCO World Heritage sites.
There will be amazing panoramic views of the Everest region such as the popular Mt. Lhotse, Mt. Everest, Mt. Amadablam, Mt. Nuptse and Mt. Kongde, Mt. Thamserku and Mt. Khangtega, and many more. You will return back to Namche for lunch which is followed by free time to explore. Overnight at Namche Bazaar.
Today you will reach higher altitudes as you head toward Dole, going beyond a 13,123 ft elevation (4,000 m). Now, your body will need more hydration, and the challenge, as well as the excitement, will increase. As you complete your climb, views of Mount Everest will now become visibly closer and the beautiful nature around you will make itself even more present. There will be a slow trek following the climb with several mountain views and time to slow down a bit. Overnight at Dole.
It's time to head toward beautiful Machhermo. Green forests, juniper plants—native to the Himalayas—and stunning views of Mt. Cho Oyu and Thamserku await. Overnight at Machhermo.
After breakfast, you will begin your trek to the final destination—the Gokyo Valley. This is what you have been waiting for. With Mt. Cho Oyo right in front of you, a descend to the fast-flowing river and then an uphill climb to the deposits of Nepal's largest glacier—Ngozumpa Glacier, where breaths of appreciation will quickly fill your lungs. Gokyo is a small village with a big sacred lake accompanying it. Overnight at Gokyo.
Today, you will climb Goyo Ri—a perfect place to capture the landscape of the village, lake and mountains. This is where your camera is your best friend, with breathtaking views everywhere you turn. After taking it all in, you will trek back to Dole. Overnight at Dole. 
Capturing the views of nature, villages and mountains, today's trek will take you back down to Namche Bazaar. Overnight at Namche Bazaar.
Today is the last day of your Gokyo Valle Trek. You will trek back from Namache Bazaar to Lukla with a lesser level of intensity than the way up. After a last-day meet and greet with the members you'll prepare for your flight to Kathmandu tomorrow. Overnight at Lukla. 
Today, you will fly from Lukla to Kathmandu and be picked up by a Sherpa Himalaya representative upon arrival and dropped off at the hotel. After the incredible and adventurous Gokyo Valley Trek, you'll have a proper rest at your hotel. If there is time left, you'll be able to explore, shop for souvenirs and do a short visit tour. Overnight at KTM Hotel.
This day is specially programmed for recovery if the Lukla-Kathmandu flight gets delayed due to uncertain changes in weather. With timely arrival, you can explore the Thamel market and shop for souvenirs. You can also make a short city tour to explore a World Heritage Site. You will be invited for a farewell dinner with a Sherpa Himalaya representative.
This morning your Sherpa Himalaya representative will meet you at the hotel for the last gathering and afterward, you'll be dropped off at the airport. You will receive a Buddhist scarf (Kha-tak) which symbolizes peace, prosperity, long life and harmony and a certificate of completion for the Gokyo Valley Trek with Sherpa Himalaya. Your adventure has come to an end but your memories will stay with you forever. Namaste!
Offers
14-Day Gokyo Valley Trek in the Himalayas
from
$146
Per Night

Based on rate for one guest
Unique to this Package
As a Vacayou guest, additional experiences such as yoga at a Buddhist Monastery and a massage during the trek are available to book.
The package price displayed is per person / per night. 
Package Includes:
All airport and hotel transfers
4 nights in a 3-star B&B hotel in Kathmandu
Domestic flight Kathmandu to Lukla
Domestic flight from Lukla to Kathmandu
Tea house and accommodation during the trek
All meals (tea, breakfast, lunch, dinner) during the trek
Everyday seasonal fruits after dinner
Chocolate bar each morning to boost energy
Tea and biscuits for snacks in the afternoon every day
Trekking duffle bag 
Sagarmatha National Park entry fee
TIMS card (trekking permit)
Experienced trekking guide
Assistant "Sherpa" (4 trekkers =1 assistant Sherpa)
Required number of potters (2 trekkers:1 potter)
Insurance for Nepali staff
All government and local taxes
Farewell dinner in Kathmandu during the last day
FAQ
The minimum age is 7 years. Upon request, an additional assistant Sherpa can be arranged.
Not included in the package:
Nepal Visa fee (please bring two passport photographs and cash on USD Denomination)
Personal, travel and rescue insurance
International air travel to and from Nepal
Excess baggage charges for air travel
Extra night stay in Kathmandu due to early arrival, late departure, or early return from the trip (due to any reason) than the scheduled itinerary
Breakfast, lunch and evening meals in Pokhara and Kathmandu if you return early from the trip
Extended activities and destinations
All cold drinks during the trek (mineral water, cola, beer and Bar-bills)
Hot Shower During the trek
Battery Charge (all electronic devices)
WI-FI charges (wi-fi is usually available but not 100% assured)
Tips for guide
Staff emergency evacuation by helicopter (in case of need)
During this trek, you will need:
A windproof jacket for trekking
Trekking t-shirt
Hiking poles
Water bottle
Sunscreen
Sunglasses
Socks
Raincoat
Sleeping bag 
Trekking shoes 
Trekking pants
Inner thermal top and bottom wear
Spring and fall are considered to be the best seasons for trekking in Nepal but people visit year-round. Trekking in a lower region can be done any time of the year. However, if you want to go to reach higher altitudes then September-November, as well as March-May, is recommended. There are heavier rainfalls during June-August and it can be quite cold and snow during December-February.
The trekking difficulty in Nepal varies and ranges from easy and medium to difficult. Normally, trekking in Nepal is at a distance of 9,842-29,000 ft (3,000-8,848 m). Expedition and peak climbing are considered as a difficult level whereas trekking only can be done at a moderate and easy level.
Trekking in Nepal can be done in two ways: tea house or camping. Tea house treks provide you with the facilities of hotels, lodges, menus for meals, etc. Tea house treks are easier and more comfortable. In the camping trek, the destination will be almost fixed to a certain place where we will camp and set up our things for convenience. All meals will be at the camp with nights spent in the tent. Camping treks require more staff and it is comparatively more difficult than a tea house trek. 
Trekking in Nepal can be done by almost all people, no matter their health or age. Peak climbing and Expeditions, however, are considered difficult which means these should only be taken on if you are in good health. You can choose the trekking itinerary and its difficulty levels and customize your trip upon request. If you are healthy then you are usually able to trek in all regions of Nepal when accompanied by an experienced guide. Special facilities for children, elders and those who are not in good health and shape are provided.  
Trekking in the higher altitudes of Nepal can sometimes be challenging. You can suffer from altitude sickness if you are trekking above 11,482 ft (3,500 m) elevation. There are precautions that can be taken for you to stay safe and away from altitude sickness. If you do get altitude sickness then we can help you with medication, increase acclimatization days, etc. If your health doesn't show improvements during the trek and you get very sick then the trek will be canceled for your safety. In this case, we will either take you to a lower altitude or bring you to the hospital, should that be necessary.
Trekking in Nepal and its route has caught much more modernization than before and in most of the popular routes you can get access to a Wi-Fi connection. Proper cell towers are also available which can easily let you get in contact with your family and friends.
That depends on the destination. If you are doing Peaks and Expeditions then you will need to have some extra money with you and if you are on a Trek only then relatively less. If your trek includes longer days then you can bring a little more. Extra expenses can be used on shopping, alcohol, hot showers, cold drinks, laundry, Wi-Fi and battery charge. If you want extra help along your trek that is not included in the itinerary or plan then there is also a cost to use a horse or a vehicle. We recommend bringing $25-$30 USD per day. You can only exchange your currency in many small cities so exchanging in Kathmandu is recommended highly.
Yes, a Sherpa Himalaya staff member will pick you up from the airport. There will be a display with our Sherpa Himalaya name card of and your name on a pamphlet. After finishing your trip, you will be dropped off at the airport.
Important note: Be careful at the airport and don't take any help from anyone who tries to help you with your luggage. Make sure that you only get help and are transferred by your Sherpa Himalaya guide. 
We will provide you with a porter that will be helping you to carry most of your stuff. You can leave extra luggage and clothes in the hotel in Kathmandu. You will have to carry a small day sack, sunscreen, first aid kit, waterproofs, warm hat, fleece jacket, water bottle (or camel back system), sunhat and water purification kit.
Terms
Booking
Before your booking is confirmed and a contract comes into force, the Company reserves the right to increase or decrease brochure prices. Please note that the company would not be liable to any warranty, collateral agreement, prior agreement, description of services, or conditions, other than as expressed herein.
Deposit
For Nepal Trip
For Nepal Trips, there is a non-refundable deposit of up to 20% of the total cost along with due airfares (if the client wants the company to arrange it) at the time of booking the trip. You can pay the remaining amount upon your arrival in Kathmandu or before the trip departure. 
b. India/Tibet/ Bhutan Trips
At the time of booking a non-refundable deposit of 20% is due along with due airfares (if the client wants the company to arrange it) 21 days prior to the trip departure. If you're booking 21 days or less prior to departure, full payment is due.
Please note that the Sherpa Himalaya is not liable for any delay or loss during the transfer process. If for any reason, due to the use of a mediator bank or any other reason, we receive a lesser amount than the amount sent, you are requested upon arrival to pay accordingly so that the total is equivalent to the product cost. E-mail us the bank reference number or remittance slips after you initiate the transfer. Sometimes bank forwards the money with a different name; if we have reference number/remittance slips and sender details, it will be easy for us to check.
Final Payment/Acceptance Of Booking/Client Details
a. Nepal Trips
Final payment of trekking, tours, climbing, expedition or any kind of trip in Nepal can be made upon arrival in Nepal. Final payment can be made by bank transfer, cash or by Credit Card (Visa or MasterCard). There is a 3.25% surcharge when the payment is made via cards (this applies to all payments; deposits, final balances, trip extension and miscellaneous purchases.)
b. India/Tibet/ Bhutan Trips
Regarding trips in India, Tibet, Bhutan; final payment should be made 21 days prior to the trip start date.
Cancellation 
Any cancellation by a Client must be made in writing and acknowledged by the Company. The date on which the request to cancel is received by the Company or its Agents will determine the cancellation charge applicable.
The cancellation charges are expressed hereafter as a percentage of the total tour price:
Cancellation 60 days or more before departure: Loss of deposit.
Cancellation 59-21 days before departure: 50% of the cost of services booked.
Cancellation less than 21 days before departure: 100% of the cost of services booked.
The Client is strongly advised to take out cancellation insurance at the time of making the booking.
Note: Please note that no refunds will be made if you voluntarily leave a trip for any reason after the trip has begun. No refunds will be made for any accommodation, transport, sightseeing, meals or services not utilized.
Cancellation of a Tour By The Company
The Company reserves the right to cancel any trip you booked unless guaranteed to run.
Sherpa Himalaya Treks & Expeditions (P) Ltd. reserves the right to cancel any trip, including a guaranteed trip, prior to departure due to reasons beyond its control (i.e. due to natural disasters, flight cancellation, consequences of strikes, industrial action, wars, riots, sickness, quarantine, government intervention, weather conditions, or other untoward occurrences. In such a case, Sherpa Himalaya Treks & Expeditions (P) Ltd. will refund the trip price only. If The Company cancels a departure that is guaranteed to run, we will refund the trip price, or you are entitled to take an alternative trip of the same value.
Please also note that significant alterations do not include a change of airline carrier, flight time tables or itineraries provided the departure and arrival dates remain unchanged, the substitution of a vessel, modification of itineraries, and change in cabin category or hotel accommodation provided it is of the same category.
The Company is not responsible for any incidental expenses or consequential losses that the Client may have incurred as a result of the booking such as visas, vaccinations, non-refundable flights or rail, non-refundable car parking or other fees, loss of earnings, or loss of enjoyment, etc.
Medical Conditions and Special Requirements
The Company must be notified in writing at the time of booking of any medical conditions, physically challenged conditions or any other mental and or physical condition which may affect fitness to travel and or any medical condition. Failure to notify the Company may result in the client being refused travel. Failure to notify the Company of any such condition that results in cancellation will result in 100% cancellation fees to the Client.
Some trips may be unsuitable for Clients due to age, mobility, pregnancy or physical or mental conditions. It is the Client's responsibility to check prior to booking. The Company is not required to provide any special facilities unless it has agreed to do so in writing. The Company will do its best to meet Clients special requests including dietary, but such requests do not form part of the Contract and therefore the Company is not liable for not providing these requests.
Medical facilities vary from country to country and the Company makes no representations and gives no warranties in relation to the standard of such treatment.
Travel Insurance
Adequate and valid travel insurance is compulsory for all travelers. Your travel insurance must cover accidents, injury, illness and death medical expenses, including any related to pre-existing medical conditions, emergency repatriation (including helicopter rescue and air ambulance where applicable) and personal liability. The Company also recommends it covers trip cancellation, curtailment and loss of luggage and personal effects. You must carry proof of insurance with you and produce it if reasonably requested by the company employees or suppliers. The company reserves the right to cancel or suspend your participation on a trip or in certain activities that comprise part of a trip, at any time, including after the commencement of your trip, with no right of refund, if you are unable to provide proof of insurance when requested.
Flight Delays And Changes in The Itinerary
Please note that mountain adventures are always unpredictable. Bad weather in mountain regions can cause domestic flight delays. In case of delayed domestic flights, Sherpa Himalaya Treks & Expeditions (P) Ltd. will meet departing city accommodation (Guest House) and food (Lunch & Breakfast) costs prior to your trip. However, in case of delayed return flights, the client is responsible to bear all additional expenses including food and accommodation costs. If you wish to make alternative arrangements such as a Helicopter flight to avoid flight delays, all additional costs would be your responsibility.
Moreover, Sherpa Himalaya Treks & Expeditions (P) Ltd. does not accept any responsibility for costs incurred as a result of a missed international flight, but would assist to make alternative arrangements wherever possible. Please also note that while on the field, we may have to make some changes in the itinerary due to unforeseen circumstances.
Trip Amendment
If the booking amendment request is received by Sherpa Himalaya Treks & Expeditions (P) Ltd. 21 days or more prior to your original trip departure, the company will make the necessary amendment with a charge of US$100 per person. In case you wish to make amendments within 21 days of the trip departure, the cost of amendment may be higher depending upon the company's arrangements with other parties such as hotels, Guest Houses, ground operators or airlines.
Visa & Passport
You must carry a valid passport and have obtained the appropriate visas when traveling with Sherpa Himalaya Treks & Expeditions (P) Ltd. Please ensure your passport is valid for 6 months beyond the duration of the trip. Nepal Visa is available on arrival in Nepal. For Tibet & Bhutan, the company can make necessary arrangements upon request. For India, the client will have to acquire the visa from their own home country.
It is your responsibility to ensure that you are in possession of the correct visas for the countries you are traveling to. Sherpa Himalaya Treks & Expeditions (P) Ltd. cannot accept responsibility if you are refused entry to a country or place because you lack the correct visa documentation.
Injuries & Evacuation
Sherpa Himalaya Treks & Expeditions (P) Ltd. would not be liable for any injury/health conditions/emotional or other conditions suffered by the client during the trip. Similarly, our package cost does not include any personal insurance. Hence, we advise the clients to take adequate insurance packages, including medical emergencies and evacuation by Helicopter.
Services Missed or Unused
There will be no discounts or money refunded for missed or unused services, this includes voluntary or involuntary termination/departure from tour, i.e. sickness, death of a family member, etc., late arrival on the tour, or premature departure either voluntarily or involuntarily.
Updating of Terms & Conditions
The Company reserves the right to update and amend these terms and conditions at any time. It is the responsibility of the Client to keep updated with any changes. The current version of terms and conditions will always be found on the website www.sherpahimalaya.com and will be the terms referred to in any dispute.