Explore Peneda-Gerês National Park in Portugal

Peneda-Gerês National Park is the oldest protected area and the only national park in Portugal. In Gerês, you'll find dozens of granite villages that haven't changed much since the 12th century. While the park can be explored by car, the best thing to do is walk the trails where you'll find majestic mountains, forests, wild pastures, picturesque forests, waterfalls, streams and riverside beaches. On your self-guided walking tour hosted by Portugal Green Walks, you'll discover a medieval castle, stone shelters built by shepherds and a mountain sanctuary. You'll marvel at the clusters of stone grain stores in the villages of Lindoso and Soajo and peer into the communal laundry tanks, ovens and water mills dotting the route. You may even spot some Garrano horses and will almost certainly encounter scary-looking but harmless long-horned Cachena cows. Accommodation is in renovated country cottages where you can make the most of the local community, fresh produce, peaceful surroundings and pure air. 
The Basics
Start: Ponte de Lima
Finish: Porto
Group Size: Minimum 2
Total Walking Distance: 53 miles / 85 kilometers
Type of Tour: 7 nights self-guided
Availability: March 1 - October 31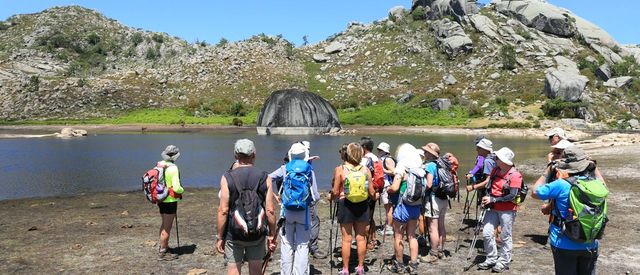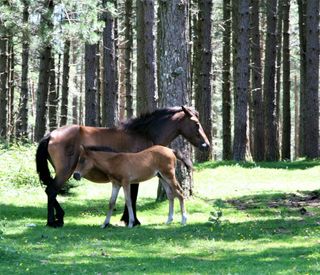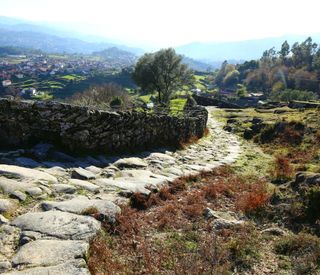 Experience
Discover a region rich in culture, traditions and history amidst the magnificent mountain scenery and rural communities of Peneda-Gerês National Park.
Enjoy fresh mountain air and the breathtaking landscape of northern Portugal
Explore authentic villages where tiny terraced plots and vineyards surround clusters of granite cottages
Follow the tracks that date back to medieval times and encounter native cows as they graze on the mountain slopes
Stay in charming country cottages and live a local lifestyle
Itinerary
Make your way to the charming riverside town of Ponte de Lima where you will be greeted at your accommodation by a member of the Portugal Green Walks team for a full briefing about your Peneda-Gerês National Park program and handover of the support documents and equipment. Spend the rest of the day exploring this attractive town at leisure. Among the highlights are the International Garden Festival, Arnado Park, the Gothic parish church, a riverside walkway and cycle path, the Roman bridge and a compact medieval center with interesting squares, shops and cafés. Choose from one of the town's many excellent restaurants and enjoy tasty local cuisine with a glass or two of vinho verde wine.
Accommodation: 3* hotel
After a satisfyingly tasty breakfast, your private driver will meet you in the hotel lobby to drive you to the small village of Branda da Aveleira to start the walk over Peneda Mountain along an ancient shepherd's trail. Cross wild rocky highlands with sweeping views over the surrounding mountains. At a plateau in this majestic landscape, you'll encounter an isolated reservoir, seemingly in the middle of nowhere. After relaxing by the water, a steep descent along a dramatic stone stairway and path brings you to the sanctuary of Peneda, completely hidden and almost beneath your feet. A comfortable overnight stop awaits in the modern hotel that has been tastefully installed in the former pilgrims' quarters alongside the sanctuary.
Accommodation: 3* hotel
Meals: Breakfast and packed lunch
Distance: 7 miles / 11 kilometers
Leave Peneda Sanctuary by walking down the valley along a centuries-old pilgrim route used by people from surrounding villages to attend religious festivals at the religious complex. Dramatic mountain scenery and enormous rock faces surround you as you follow the Peneda river through the small village of Tibo and continue down the valley to a place where two rivers converge. At this point, the river forms the frontier with Spain and it is easy to imagine the considerable flow of contraband that crossed this remote border. From the village of Várzea, it is an easy walk along a paved road beside the spectacular dam across the River Lima to nearby Lindoso, where the castle stands as testimony to its former importance. Spend the night in a beautifully restored traditional village cottage and take a while to examine the traditional tools and examples of embroidery on display.
 Accommodation: Country cottage
Meals: Breakfast and packed lunch
Distance: 12 miles / 19 kilometers
Walk the ancient streets of Lindoso village and through a forest to follow an unpaved road that leads gently uphill, offering spectacular views of the Soajo Mountains opposite. Once you begin your descent, the views get even better! Enjoy the utter peace and quiet and pure mountain air as you make your way downhill to the village of Cidadelhe. If this is enough for the day, you can take a taxi back to your lodgings. For those who want a longer walk, complete the circuit and walk all the way to Lindoso.
Accommodation: Country cottage
Meals: Breakfast and packed lunch
Distance: 13 miles / 21.5 kilometers
As you leave Lindoso and its incredible collection of 54 espigueiros (grain stores) and castle behind, you'll walk through the varied countryside with moss-covered boulders, oak forests, streams and waterfalls. You'll also pass through the village of Parada, once one of the most important in the area, before returning to Cidadelhe. From here, you'll make your way along paths and back roads to another village where you can see the hydroelectric power station that locals depend upon. Cross the River Lima then a final climb brings you into the village of Soajo where you will spend two nights in a wonderfully restored traditional stone house. Spend the rest of the day exploring this village and reward your efforts with a chilled beer sitting in the shade of a tree outside a local café.
Accommodation: Country cottage
Meals: Breakfast and packed lunch
Distance: 9 miles / 14.5 kilometers
A short, scenic drive takes you to Avelar, a small village of shepherds in the heart of spectacular Soajo Mountain. Your reward for a rather steep start to today's walk is striking views of unparalleled landscapes; the peaks and dips of the Peneda and Soajo Mountains and the lush Ramiscal Valley. You will also see rare examples of local heritage in the form of wolf traps and shepherd shelters. As you make your way down to the Mezio Park Gate, the going gets considerably easier. Stop here to learn about the natural and cultural treasures in this part of the vast national park. Make your way back to Soajo through mixed woodlands and natural and semi-natural mountain meadows. The finest views on this section extend across the Lima Valley to the Amarela Mountains opposite. Enjoy your last evening in the Peneda-Gerês National Park with a regional dish such as Carne Cachena, a succulent steak from the long-horned mountain cows.
Accommodation: Country cottage
Meals: Breakfast and packed lunch
Distance: 12 miles / 19 kilometers
After breakfast and check-out, your onward journey begins.
Offers
7-Night Self-Guided Walking Tour in Peneda-Gerês National Park
Package price displayed is per person based on double occupancy. Please inquire about single occupancy. Additional night accommodation and private transfers are extra. Prices may fluctuate due to current exchange rate. 
Package Includes:
7 nights accommodation with breakfast
5 packed lunches 
Roadbook with detailed route description
GPS tracking via an app (you will need a smartphone)
Private transfer from Ponte de Lima to Branda da Aveleira
Private transfer from Soajo to Avelar
Private transfer from Soajo to Porto city
Luggage transfer between accommodations (1 bag per person—max 33 lbs/bag)
In-person welcome briefing
24/7 emergency support
FAQ
Transfer from Porto to Ponte de Lima
Transfer from and to Porto airport
Lunches and dinners (except for the packed lunches during the walks)
Insurance
Tourist taxes
Personal equipment
Other personal expenses
Terms
Bookings
All bookings need to be confirmed no later than 30 days before start date. No bookings will be accepted within 30 days of travel.
Cancellation Policy
More than 31 days before the expected arrival—No payment
From 30 to 22 days to the expected arrival—50% of total cost
From 21 to 14 days to the expected arrival—75% of total cost
Less than 14 days to the expected arrival—100% of total cost